Activewear and sportswear are seemingly everywhere these days. Do it right, and your brand soars. Fail to address it in its various elements including both fashion and function, and you may find yourself in a losing position. With so many brands crowding the space, it may be difficult to pinpoint some of the larger shifts underway, and that's why we're here today: to discuss the major activewear and sportswear themes for 2020.
Sneaker prices creep up

Balenciaga, Alex Arigato, Veja
Take a peek at the footwear around you, whether you're standing on line at the store or hanging at the office, and what do you see? More likely than not you're going to be see a whole lot of sneakers.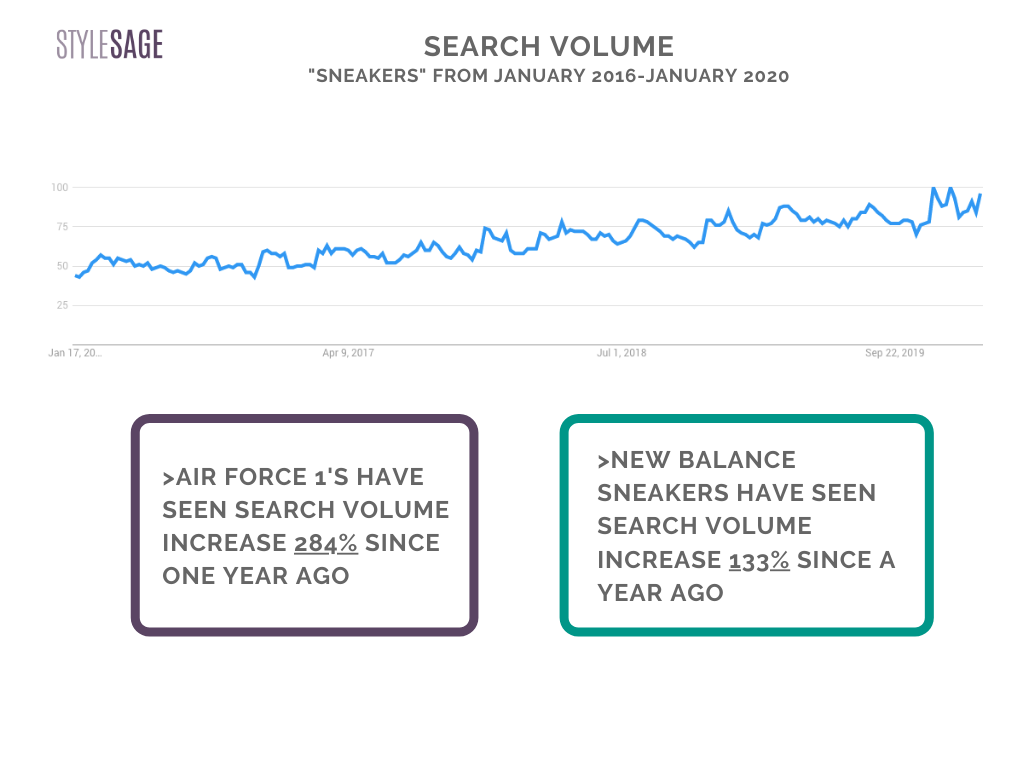 Some of the brands and models that have seen some of the greatest increases in search volume over the past year include Nike's Air Force 1s and New Balance.
But with interest in sneakers at record highs and showing little signs of slowing down, how are retailers differentiating themselves? Answer: by adding more premium offerings.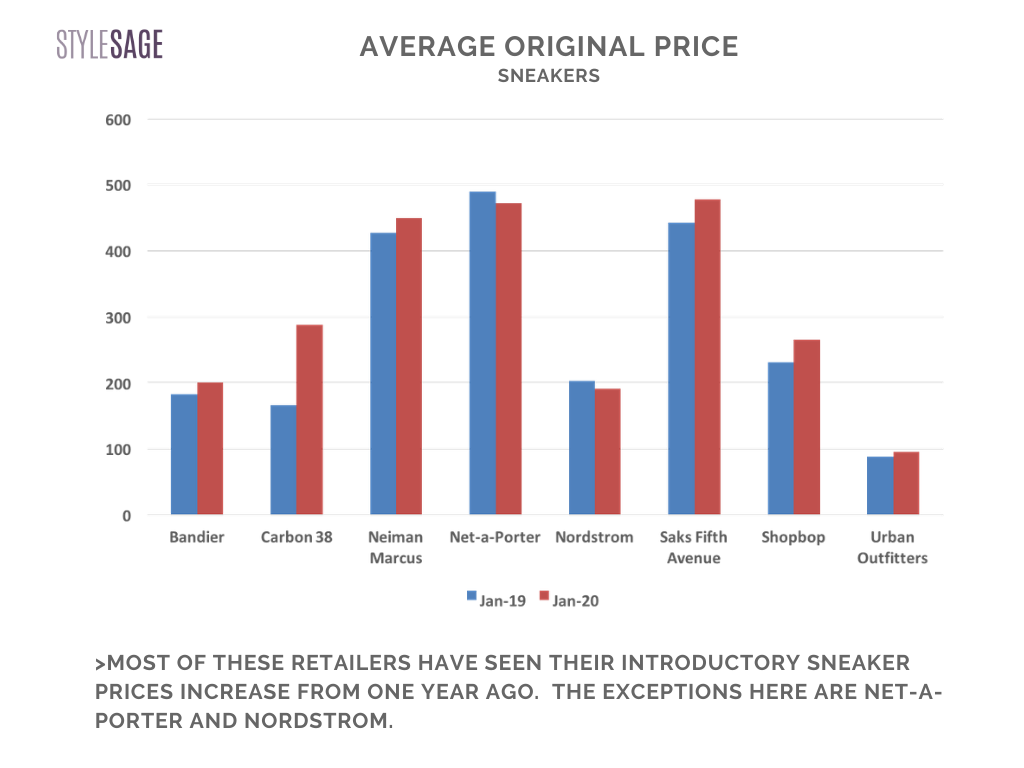 Six out of eight retailers in our sample size have increased their average (original) sneaker prices from one year ago. Luxury retailers see their prices in 2020 averaging over $450. The notable exceptions who have reduced average prices include Nordstrom and Net-a-Porter.
The question is: will we continue to see sneaker prices rise over the course of this year? Stay tuned here!
Men's active gains

O8 Lifestyle, Hill City, Lululemon
In some of our previous reporting, we've highlighted trends in activewear. One of the key themes was the opportunity for there to not only be more offerings in men's active but to also get the pricing strategy more aligned with the market. So where do we stand today?
First, we see that over the past year, the number of men's active offerings has increased by 25%. This increase is driven by brands like Lululemon and Hill City (Gap) investing more shelf space - of the virtual and IRL kind - to men's active and sportswear options.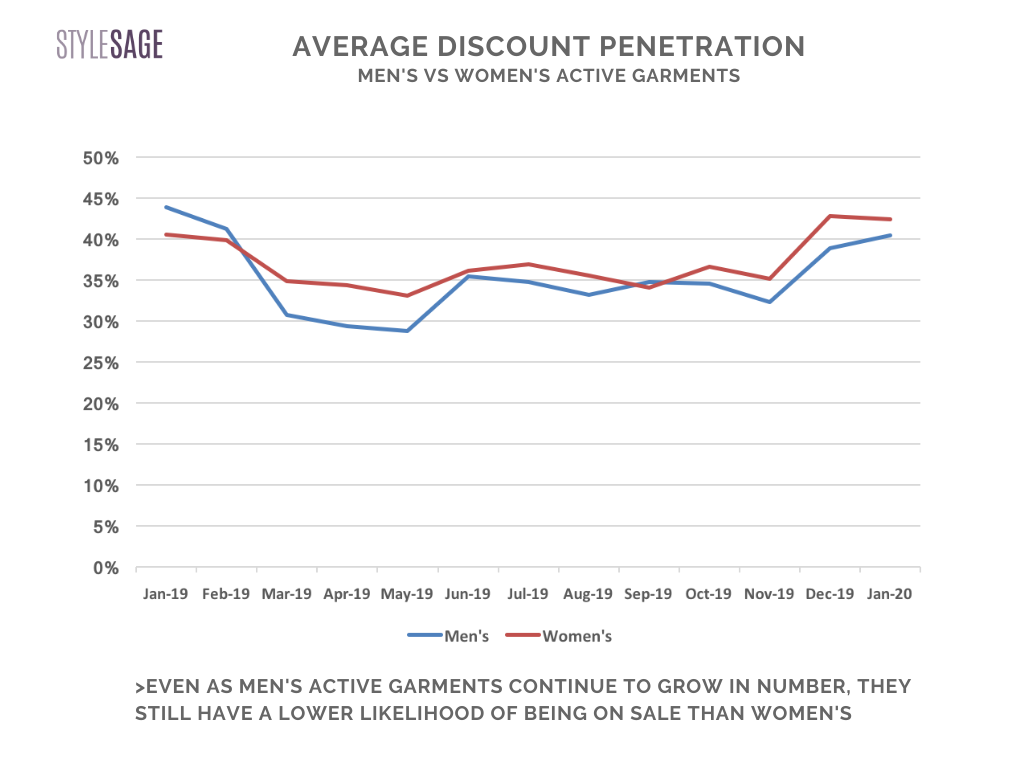 What's more, as men's has gained share, it's also shown resistance against discounting, with a lower likelihood of discounting (discount penetration) than women's activewear.
Menswear activewear and sportswear continue to be a terrific market opportunity for brands looking to differentiate themselves.
Sustainable activewear becomes more common

O8 Girlfriend Collective, Bruce Apparel, Outdoor Voices
With a lot of activewear being made from plastics and with more and more consumers choosing activewear as an everyday garment, it's crucial that retailers focus on the intersection of performance and sustainability in this category. And in positive news, we do see more and more mentions of sustainable keywords in activewear apparel product descriptions from one year ago, but there's still a long ways to go here.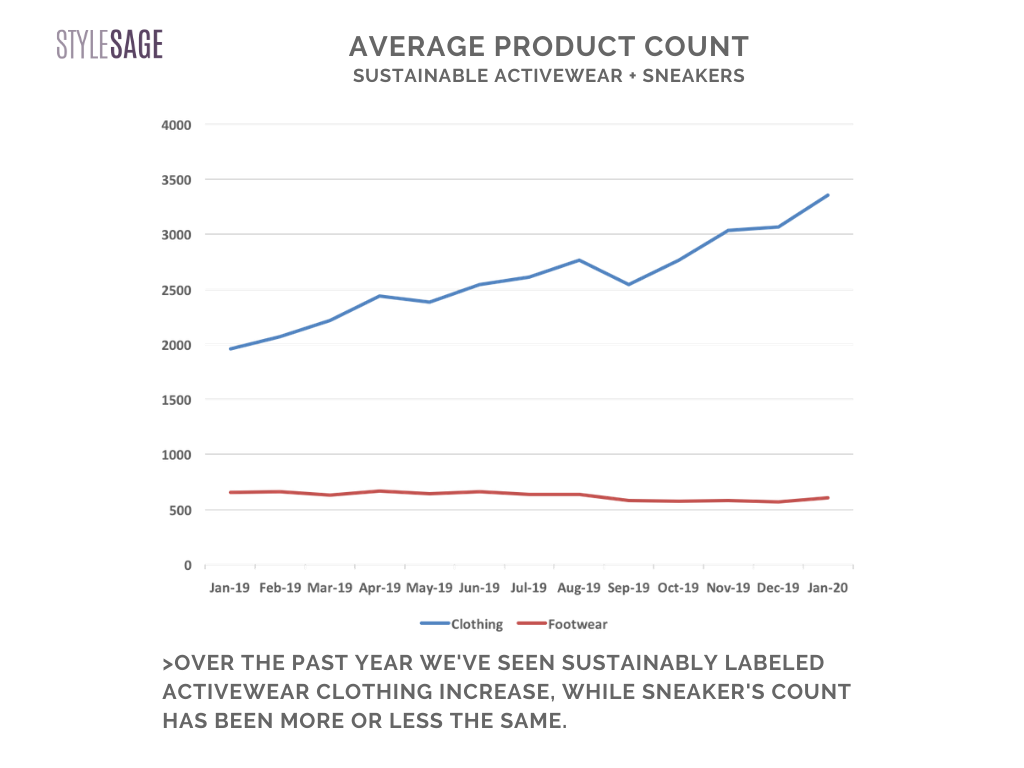 However, an opportunity still lies is in more responsibly sourced and manufactured sneakers. Above, you can see that the number of sustainable sneakers has remained flat from one year ago.
Interested in learning more about sustainable footwear? Clients can log into the StyleSage platform trend reports and find out more about emerging brands and consumer search trends!