Last week we talked about some of the trends, especially as it relates to technology and preferences, that are predominant amongst today's teens. Today we're taking our analysis one step further to see what the latest data tells us about those retailers who cater to the teen market. Of course, there's not a hard and fast definition of a teen retailer, as teens shop a plethora of retailers from specialty to fast fashion that cater to shoppers of all ages. Nonetheless, there are generally brands whose target customer tends to be younger, and the product assortment and pricing tend to reflect that. Let's take a closer look at those.
Discount likelihood is high, but it's lower for footwear
We pulled data from retailers including American Eagle, Abercrombie, Forever 21, Hollister, Urban Outfitters, and PacSun, and at first glance, we see a pretty high amount of assortments are on discount. Presently, that clocks in at 54% of apparel and 45% of footwear. Just to add context here, for a sample of specialty non-teen retailers, we saw 42% and 39% on sale for apparel and footwear, respectively. Out of the gate, that tells us that discounting is higher for teen retailers than non-teen specialized ones.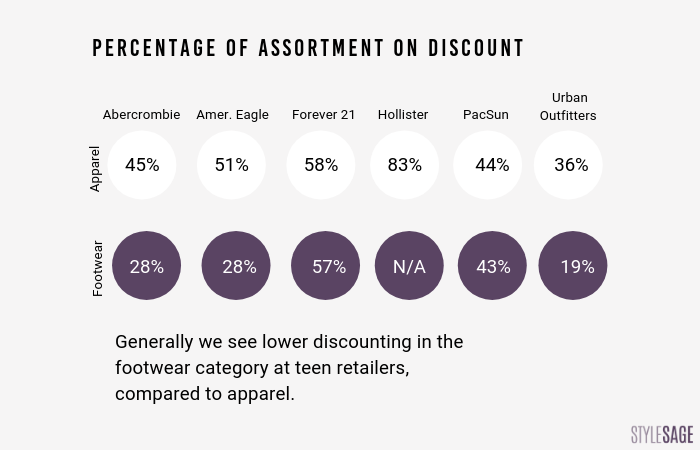 What else do we learn here? We also see that for teen retailers who have footwear in their assortments (and that's most of them), the footwear category tends to see a lower likelihood of discounting. There's two primary factors driving that which are that sneakers tend to be the single largest category within footwear in terms of SKU count, and sneakers also tends to have lower discounts than other footwear categories.
Market positions vary by teen retailer
We took a closer look at the pricing distribution by retailer in our sample and it quickly showed us that each retailer takes a unique position in terms of pricing. First, let us give you some background on how to read this chart. The three dots represent the following: the red dot is the average of the top 5% price points, the yellow the overall average, and the green, the average of the bottom 5% price points. This helps you see the outliers in pricing and where there's premium and entry pricing in play.
What you see first is that Urban's top 5% pricing is significantly above that of its peers (2-3 times higher). On the other side of the spectrum, Forever 21's entry price points (bottom 5%) are the lowest of the group, at roughly $10. Aside from that, who in this gang looks most similar to each other? In terms of pure averages, PacSun and American Eagle's average prices (in yellow) are closest to each other at $41.37 and $37.32, respectively. Other close cousins - at least in terms of average pricing - are Forever 21 and Hollister. Hollister takes a slightly more premium position when we look at bottom 5%, average, and top 5% prices.
Abercrombie and Urban have the highest average jeans prices
We know that denim is a key category for teen retailers - in particular this is American Eagle's signature category - and the data shows us an interesting array of price points amongst the teen retail gang.
Coming in at the top price points are Urban Outfitters and Abercrombie, at $80 and $77 respectively. While similar in price point, the merchandising strategy is quite different between the two retailers: Abercrombie sells only its private label while Urban has 37 different denim brands in its assortment, many of them brands like Levi's, Calvin Klein, and 7 For All Mankind.
The rest of the brands are clustered around the $40 price point, including American Eagle. Within this group of retailers, it's interesting to see how Hollister (Abercrombie's sister brand) is positioned, from a pricing and promotion perspective, relative to Abercrombie. Hollister's denim prices (after its current 50% flat discount) average $29 a pair, compared with Abercrombie, who is currently running a "buy one, get one 50% off" promotion, incentivizing the purchase of multiple garments. Here we see two different promotional tactics meant to differentiate the two brands.
Fast movers are swimwear, summer dresses, and sandals
The big question you're probably wondering by now is, "what are the top sellers for teen retailers?" Glad you asked. Using our fast movers analysis, we looked at what's been moving off the shelves at full price within the last month.
What we see is that tops, swimwear, sandals, and summer dresses are amongst the top fast movers. It's also worth noting that it's not private labels, but rather a brands being sold through wholesale, that are most prevalent amongst the fast mover ranks.
Like what you saw here? Our full report on the teen market will be available very soon!