Plus Sizes Still Comprise Less Than 20% of Assortments
It's a stat you've heard here before, but with more than two-thirds of American women estimated to be plus-size (for our intents and purposes a size 14 and up), we wanted to see if the size empowerment conversation has resulted in retailers responding accordingly. We know at least anecdotally that retailers like The Reformation and Ann Taylor are extending their size ranges to be more inclusive, but has the rest of retail caught on?
Our analysis shows that, unfortunately, little has changed on the aggregate. Overall, only 16% of retailer's assortments are considered plus-size, and from 2017, this is only a one percentage point increase in plus size's share of SKUs. Where do plus sizes get the most real estate? In the value and mid-tier department store sector. Fast fashion and premium department stores woefully lag behind in their catering to the 14+ size range.
Premium Price Points Are Missing
So we took a look at retailers who carry both plus and core (0-12) sizes in their assortments to see how average prices stack up. Are the average prices between plus and core sizes similar when you compare the two?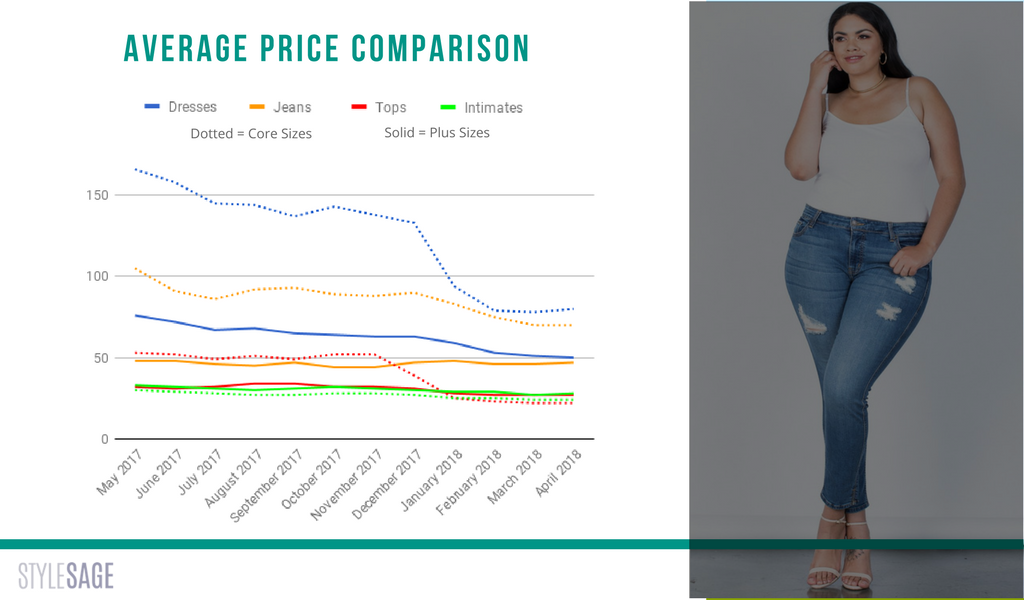 We analyzed four key product categories - dresses, tops, jeans, and intimates - to see if any category-level differences emerged. What did we see? Well three things of note here. The first is that average prices are higher for core sizes versus plus. Why's this? Well it's because there are simply fewer plus offerings in play - and most importantly - fewer premium price points for the plus shopper. Second, and tying into this, is that the average price difference gap between plus and core has narrowed from one year ago - a positive indicator. Perhaps brands are realizing that plus shoppers want and are willing to fork over the cash for higher-ticket items. Don't forget plus size is a market that raked in over $21B in sales last year and is on an upward trajectory. The last key takeaway from this analysis is category-specific: in dresses and jeans the price gap between the two size ranges remains the greatest, and we think this translates to revenue growth opportunities in these plus-size categories.
Product Introduction Rates Lag...But Not Significantly
So while we know, of course, that offerings aren't nearly as numerous in plus as core, are they still dropping fresh plus-range product at a similar rate as their core-range counterparts?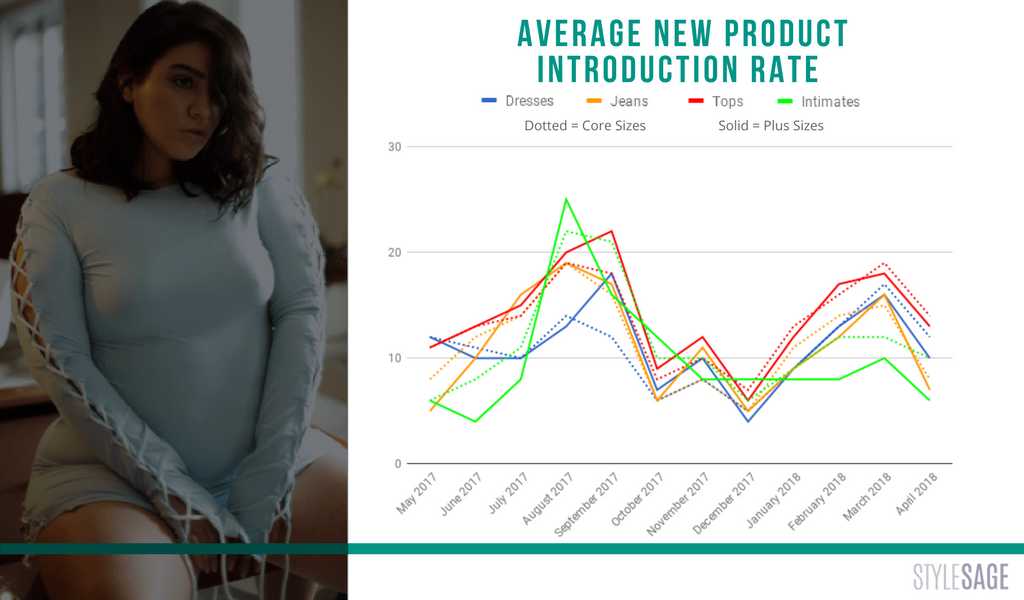 Taking a look at the last year, you see some peaks and valleys, but as you zoom in closer to the present, you generally see that the timings of plus and core size product drops are similar. Yes, there are slightly higher rates of refresh in core sizes, but the good news is that plus doesn't lag too far behind. In fact, in November of last year, we saw three of our four focus categories have higher rates of refresh for plus sizes relative to core.
Shorts + Swimsuits Have Highest Average Sell-Through
What categories are most popular in plus size ranges? Well for this analysis, we took to the experts - that is, retailers whose focus is catering to extended sizes. They know, better than anyone in the market, what sells. The results might be surprising to you.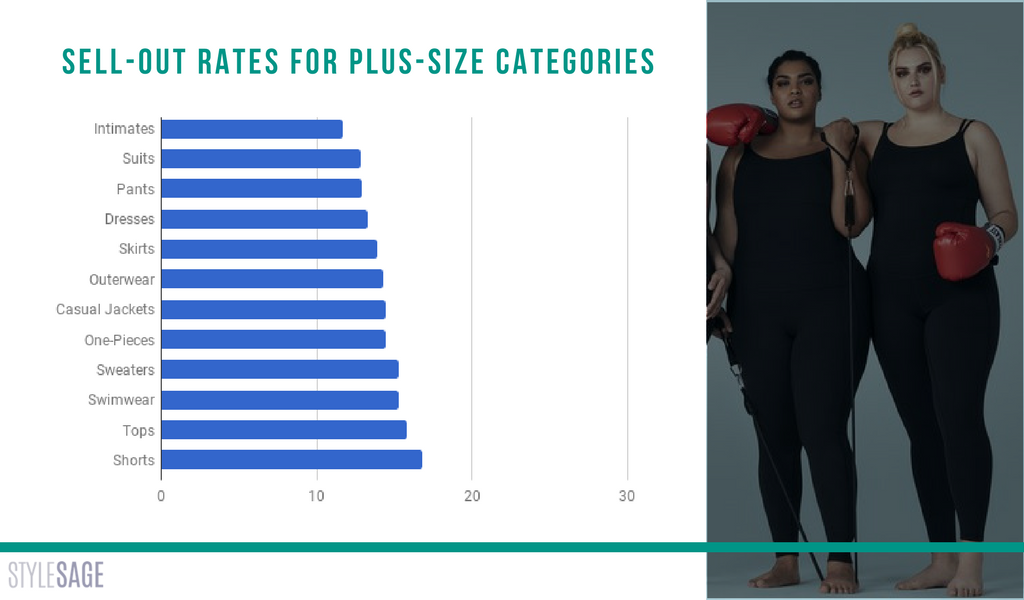 What had the highest average sell-through rate for the past 12 months? Shorts, Tops, and swimwear, thank you very much. Was that what you were expecting? Our advice is to put aside those assumptions about what you think plus size ladies are looking for. They are looking for stylish items that will show those curves off - no one's taking cover here.
This is just a sneak peek of the insights we'll be covering in our upcoming plus-size report. Check back here next week for your copy.