Image courtesy of Purse Blog
Daniel Lee's takeover of storied Italian luxury house Bottega Veneta is the stuff of both commercial and creative dreams. In June 2018, the little known British designer was announced to be taking over the role of Creative Director at Kering-owned Bottega. In an early days interview with Vogue, Lee spoke to the heritage of the brand, "What Bottega represents is an idea of true luxury that I really don't feel is so much around right now." Indeed, it's a luxury brand free of logos, yet its signature "intrecciato" woven leather is entirely recognizable at a glance.
Despite its legacy, Bottega had seen several years of falling sales, and bringing on Lee was one part of reversing those fortunes. Fast forward to Q1 2020, amidst a global pandemic, and the brand reported an 8.5 percent revenue increase on a comparable basis for the first 3 months of the year. This is notable as its larger sister brand, Gucci, reported severe decreases in sales (23.2% on a comparable basis) during the same period. So what's behind the good news? Specifically, what is Bottega's commercial and creative strategy, enabling them to grow during the most challenging of times for retailers?
One part of Bottega's success, as seen during the first few months of 2020, was strengthened relationships between the brand and its global wholesale accounts. In fact, Kering cited a 55.1% growth in wholesale account orders, indicating that buyers were putting a lot of faith in the refreshed Bottega assortment.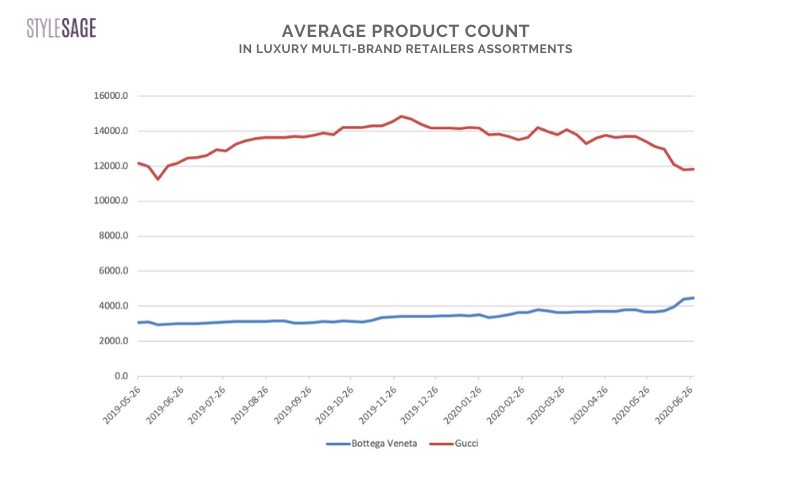 StyleSage data shows that from January 2019 to the end of June 2020, the number of Bottega products (in blue) in wholesale accounts more than doubled. Notably, Gucci (in red) has seen its product count decrease at the same wholesale accounts by 20% from its December 2019 peak, even as it remains a larger overall number of products.
As a NYTimes writer noted about the luxury industry recently, "Typically, bags have been a financial crutch for fashion brands, propping up ready-to-wear sales, and, thanks to their logos, serving as a form of advertising." But Daniel Lee has sought from the start to also build a strong ready-to-wear collection stating, "For me, I want to add a big culture around the ready-to-wear. I really think that's where it starts, in terms of building a vision and building a brand. That's my main focus."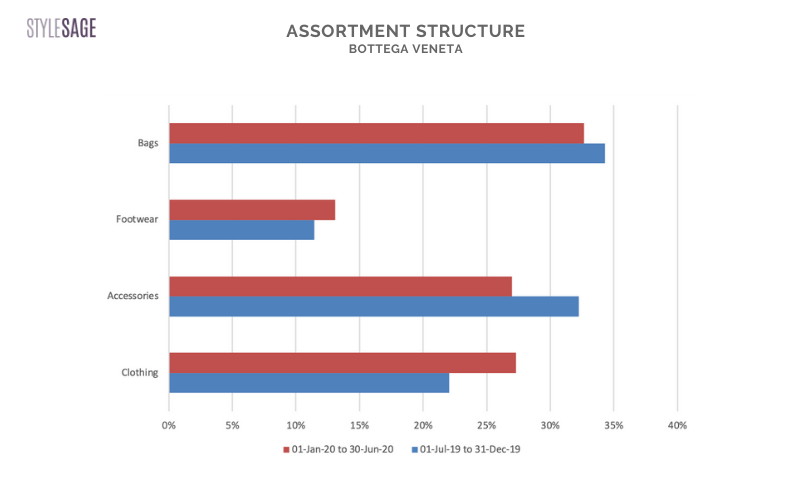 Indeed, you can see this process has begun, as clothing has grown its share of assortment by five percentage points from the last six months of 2019 compared to now (the first six months of 2020.) As well, lower ticket accessory items have decreased in share of assortment (also by five percentage points.)
Those in the know have always known Bottega for its understated luxury, but its price points are anything but. In fact, relative to millennial fave Gucci, Bottega's price points for shoes and bags currently average 55% higher. (If you're interested, the average handbag price for a Bottega Veneta handbag is $1,700, while it's $1,083 for Gucci.)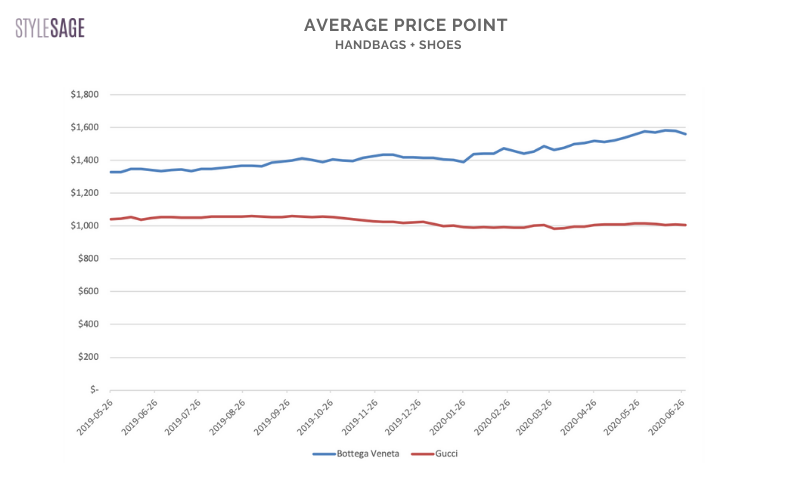 What's more, price points at Bottega have been on an upward trajectory, not an unusual trend in luxury, as we see that since the beginning of 2019, Bottega's price point has increased by 17%. During the same timeframe, Gucci's price point has actually declined by three percent.
On the topic of handbags, Bottega's pricing strategy within a particular line of bags perfectly illustrates a thoughtful approach.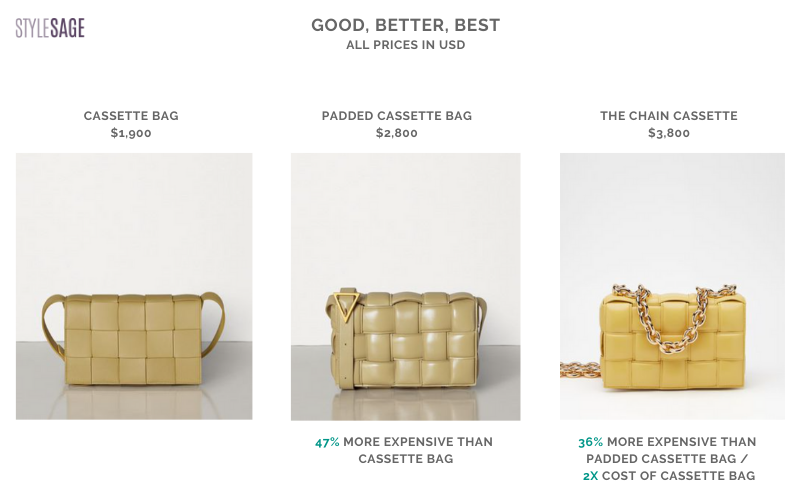 Images courtesy of Bottega Veneta
Its cassette bags, as seen above, are the stuff of Instagram influencers' feeds, but you can see how a focused approach to pricing clearly defines what each design element is worth. The handiwork of a "padded" style gets a 47% premium from the base style, and a chunky chain strap doubles the price of the base cassette model.
Clearly there's the secret sauce of Lee's design, which has injected an element of desirability to a new audience, but this great design is also combined with a smart, premium price point.
Looking ahead, if previous recessions have been any indicator, understated or "quiet" luxury, the kind that is Botega's essence, will resonate with today's luxury consumer.