During the pandemic, brands and retailers alike were forced to accelerate and optimize their e-commerce efforts in order to stay afloat. In addition to that, with all physical retail locations being shut down, the direct-to-consumer online business model gained momentum and saw strong growth in both the US and Europe. As we are now seeing the end of the pandemic era for retail, how are consumer behaviors changing? How are shopping habits pivoting, and what role does wholesale play in the modern retail landscape?
The Resurgence of Wholesale
High online penetration and owned presence remains essential, but the wholesale business model has come roaring back. According to the latest Vogue Business Index survey, 31% of luxury consumers worldwide find new brands via online multi-brand platforms, and a further 25% do so via visits to physical destinations such as shopping malls, department stores and curated boutiques. Among the 30 brands for which detailed sales information is available in the report, around a third of revenue on average comes from wholesale partnerships.
It is evident that a multi-brand retail environment is an important model to consider for brands who want to build brand recognition, as well as for established brands looking to expand or revamp their positioning. As wholesale relationships deepen, many brands have begun to partner with specific retailers for exclusive drops. Earlier this summer, Salvatore Ferragamo unveiled a partnership with Farfetch, and Chloé presented a capsule with Mytheresa. The wholesale retail model is unmistakably a powerful tool to increase brand presence and reach untapped audiences - we analyzed four brands and their wholesale strategies to help you navigate the new post–pandemic era of retail.
Alice + Olivia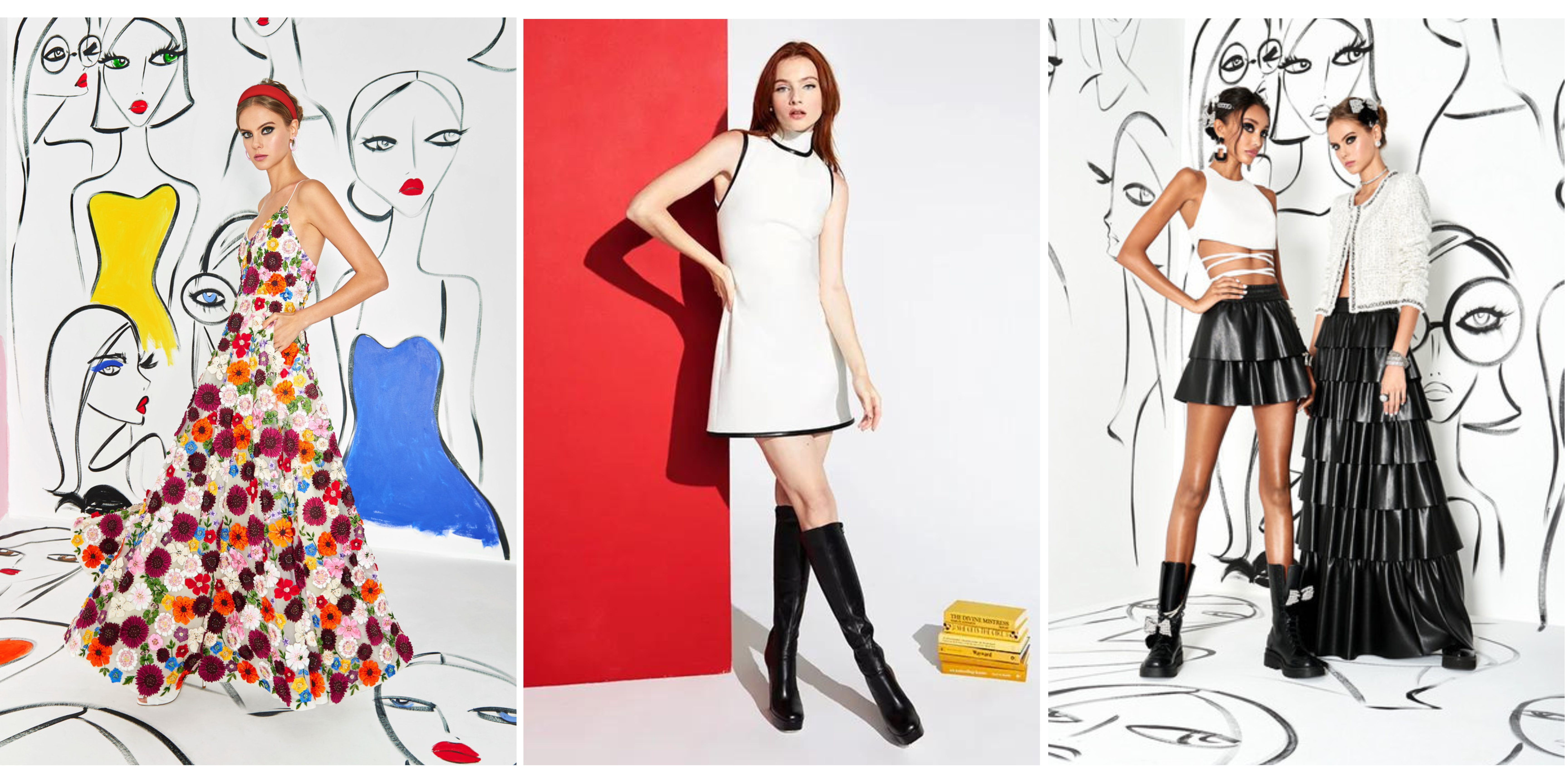 Alice + Olivia, a brand that celebrated its 20th anniversary this year, is known for their whimsical and playful aesthetic. The origin of the brand can be traced back to the quest for the perfect pair of pants, but since then their focus has shifted. Their flirty dresses with a hint of retro inspiration have become their signature, and their wholesale strategy directly reflects this focus. StyleSage data shows that 36% of their total wholesale assortment at major retailers consists of dresses, making it their top category. Tops and shirts are coming in second at 24%, and pants comprise 10%.
With an average original price of $492 dollars for dresses and $318 for tops, Alice + Olivia sits at a contemporary price point that remains accessible to a substantial pool of consumers who want to dress in high fashion without breaking the bank. The brand's coats and jackets have an average original price of $761 dollars, and this more premium priced category only makes up 1% of their total wholesale assortment. The takeaway? The brand is betting on a contemporary priced wholesale strategy to drive sales. Interestingly enough, the numbers show that consumer demand for their outerwear is apparent -  it is the category with the highest sold out rate, reaching 54% over the past 30 days.
Anine Bing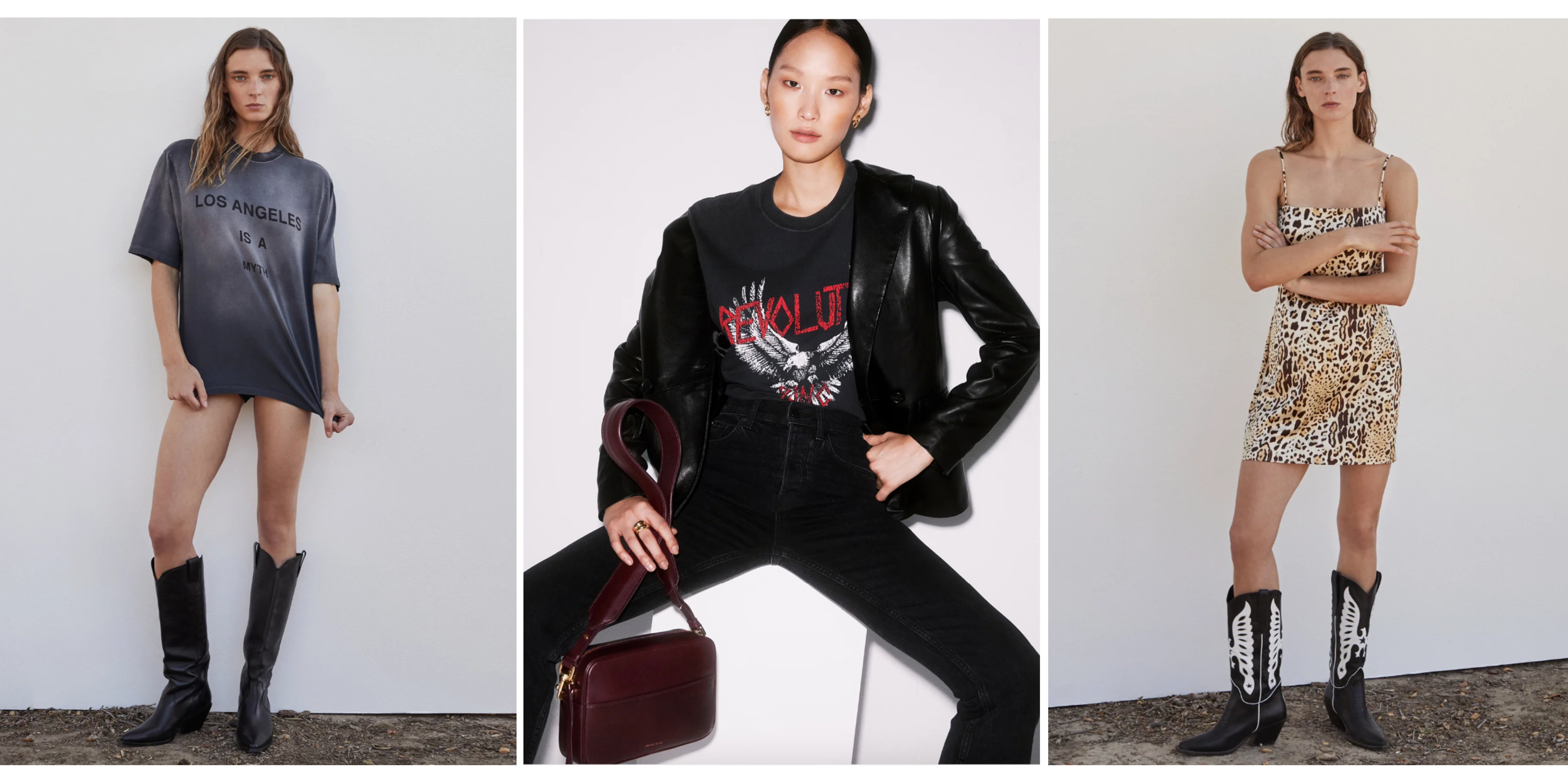 Danish designer Anine Bing is a brand on a global mission. Her aesthetic embodies the perfect balance of Scandinavia meets Los Angeles, and speaks to the woman looking for easy and luxurious staple pieces that won't go out of style anytime soon. This year, the brand unveiled Irina Shayk as the new face of the brand to celebrate their 10-year anniversary as well as Women's History Month, and they also have plans to open 10 more retail stores around the world in addition to debuting in China. As if that was not enough, the brand is also looking to wholesale partnerships as part of their expansion strategy.
In May this year, Anine Bing signed a collaboration with LVMH Group's shopping site 24S.com, for a capsule collection imagined "as a link between France and California which can bring together both the dynamism of the West Coast and the effervescence of Paris." The line offered t-shirts and sweatshirts only, and this goes exactly in line with the brand's overall wholesale model; shirts and tops are the leading category that make up 30% of the total assortment, and sweaters come in second place at 13%. Known for her signature rock'n'roll inspired T-shirts and graphic sweatshirts, this comes as no surprise. The average original price for sweatshirts is $234, and over the past 30 days the category reached a sold out rate of 33%.
Further speaking to the brand's success is that Anine Bing is resistant to markdowns across all product categories, and not just her best-selling ones. Over the total assortment analyzed over the past 30 days, only 4% was discounted at an average discount as low as 12%, and nothing in the top-selling sweatshirt category was marked down.
LoveShackFancy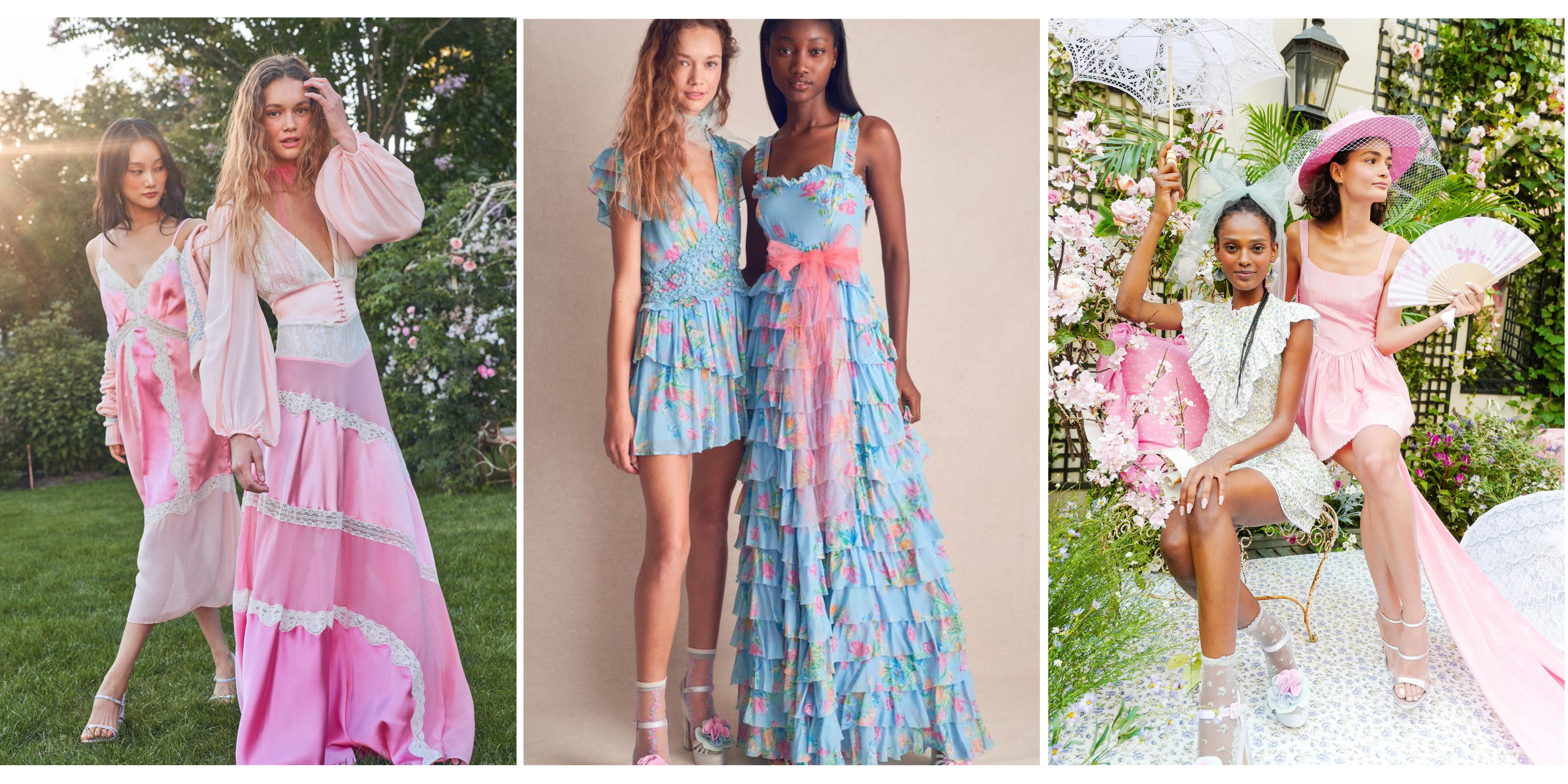 LoveShackFancy is a brand that speaks to a love of travel and unabashed femininity. Their ruffle miniskirts and bright floral prints have gone viral in sorority rush videos and become popular during sorority recruitments (the #loveshackfancy hashtag has over 176 million views on TikTok), but a big part of the brand's success story lies in their wholesale strategy. Their business is divided into thirds, with equal parts wholesale, e-commerce and retail. The wholesale part is a crucial customer acquisition tool, and it's clear that their distribution strategy has paved the way for the rise of the brand.
"[Wholesale] definitely helped us, as a brand, get new customers in areas that we aren't in currently, and it helps us to learn where our future stores could be," said Stacy Lilien, the brand's president.
Across all wholesale accounts analyzed, their dresses make up almost half of the total assortment at 48%. Except for skirts at 17% and tops at 12%, all other categories fall within the single digits. The dresses can retail for as much as $900+, but that is not where their main focus lies, and the majority of their dresses are priced at $500 or less. Over the last 30 days, the brand's sold out rate reached 28% across wholesale accounts, versus just 10% a year ago. At a contemporary price point and with an eye-catching and bright aesthetic that appeals to Gen Z, it's easy to see why consumers are noticing them in multi-brand environments.  
Nili Lotan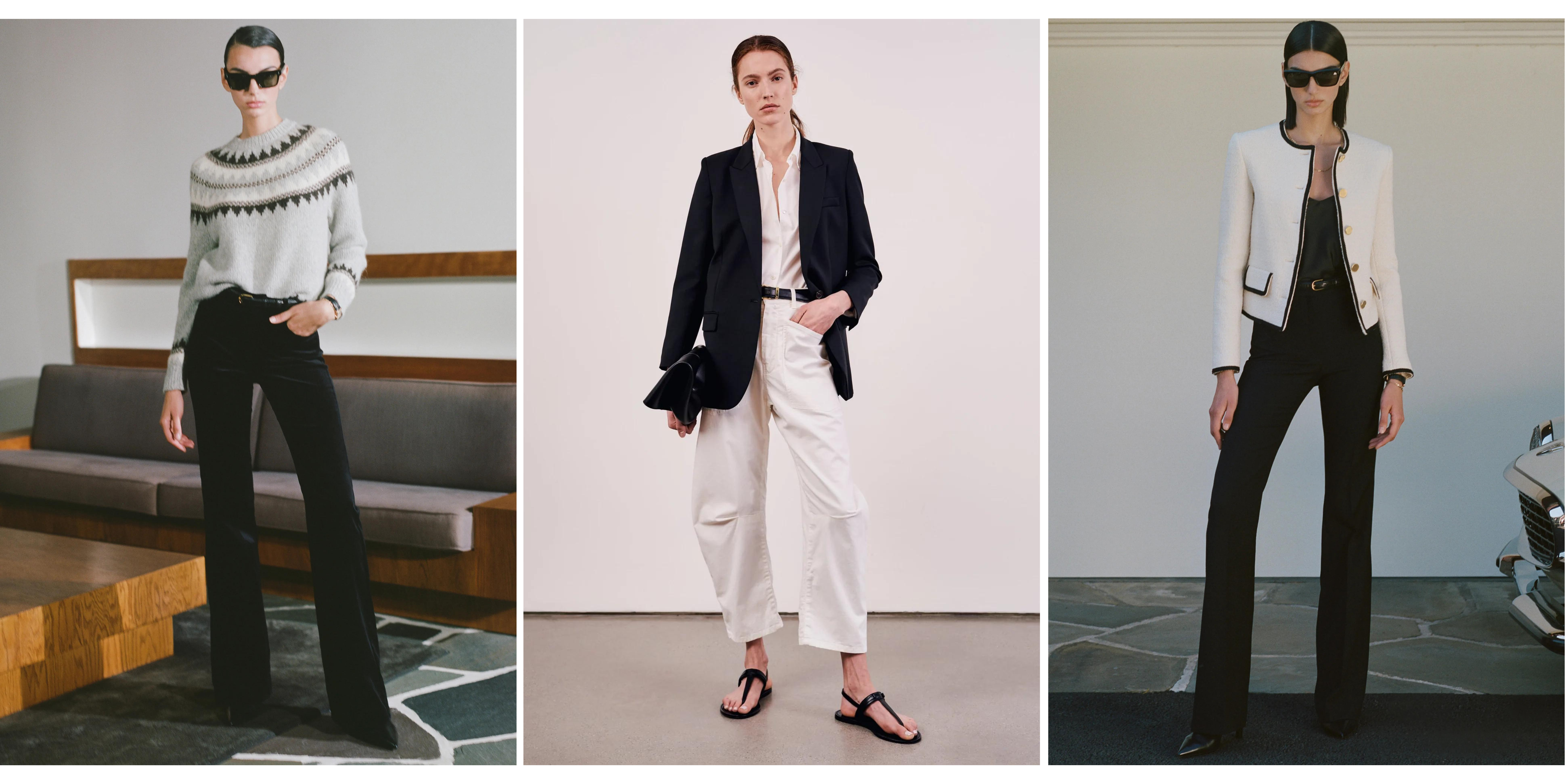 Israel-born designer Nili Lotan has become synonymous with elevated basics. Fit, quality and feel are main attributes that apply to all of her pieces, and her iconic Shon pants featuring strategically placed seams forming a uniquely curved shape are no exception. Focusing on grounded color palettes and relaxed silhouettes, she has created a line of timeless staples that customers are willing to invest in. Pants have an average original price point of $443 dollars, and they make up 23% of total assortment.
In terms of wholesale strategy, it is something that the brand is strongly betting on - 42% of their whole business is in wholesale, and it is easy to see why; the brand thrives in a wholesale environment. Over the last 30 days, the brand hit a 29% sold out rate, and that with only 6% of the total assortment being marked down. Being so resistant to markdowns, as well as its ability to speak to customers across all age groups, are big parts of the brand's success.
"What we're seeing in the US with our customer, in general, but for Nili, is no price resistance," said Loehnis. "There's a real appetite to invest in special pieces [that] aren't cheap. They want to build on them, season after season." says Alison Loehnis, president of the luxury and fashion division at Yoox Net-a-Porter.
As the retail landscape is constantly changing, it remains important for brands to audit the health of their distribution channels. As department stores are seeking out new brands to attract consumers, newcomers especially can benefit from their marketing resources and reputation. Interested in more insights on competitive assortment and positioning? Get a demo here.