Image courtesy of Gucci
When you're one of the world's most successful luxury brands, you're going to have a target on your back. Specifically, you're aware of the process of cycling in and out of a state of desirability, an annoying, albeit natural, part of any fashion or luxury brand's lifecycle.
You could say this is the position that Kering-owned Gucci currently finds itself. While it remains the French group's most profitable brand and its growth under the design leadership of Alessandro Michele has been remarkable, its growth has slowed considerably in recent months. And in the last quarter of 2020, Gucci's revenues dropped 10 percent. While the pandemic has posed obvious challenges to all luxury brands, Gucci's sister brand, Bottega Veneta, saw sales increase by 16 percent during the same time period.
So is Gucci in real trouble? Or is this just a natural part of the brand maturing? We took to the data to understand what's going on in the market.
Decreasing or increasing product counts?
First up, we're taking a look at a set of retailers who stock Gucci. This is a mix of digital multi-brand sites, a luxury department store, and the Gucci site itself. This first analysis looks at the average number of Gucci products across the categories of apparel, bags, footwear, and accessories. What are we looking for? Any shifts in product count that would indicate an increasing investment or pullback in the Gucci brand from the wholesale point-of-view, as well as any changes in Gucci's own D2C channel that might shed light on shifting priorities.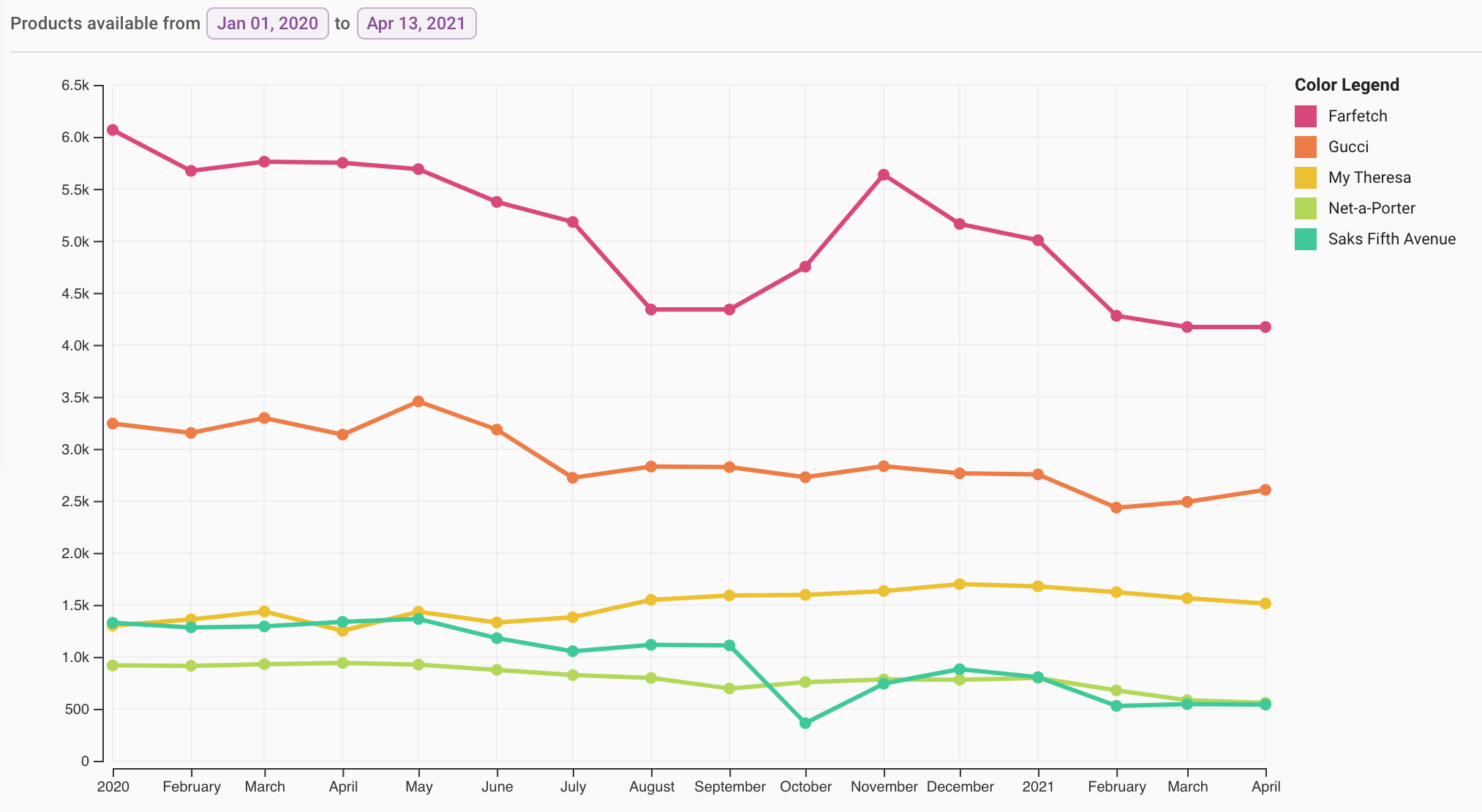 Examining this, we can see a few interesting trends. First, we already know that Farfetch's concession model means they "stock" a significantly higher number of products. But aside from this, we see that between April and August 2020, the count of Gucci products offered at Farfetch dipped 26 percent. While it picked back up since then, at the end of March 2021, the product count had again retreated to its August 2020 lows. In fact, it's not just Farfetch that has seen a pullback in Gucci merchandise: Saks, Net-a-Porter, and even Gucci's own site have seen average product counts decrease. Only Mytheresa has seen its product count increase since the beginning of 2020.
Redistribution of assortment
We can also see these assortment shifts play out in more detail with our historic assortment architecture charts. This shows us how the assortment structure has shifted between product categories between two timeframes.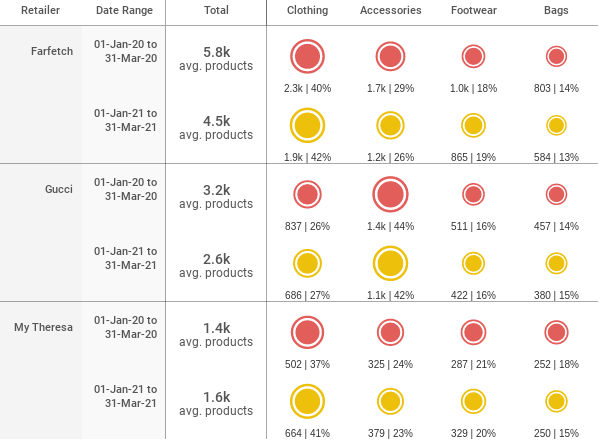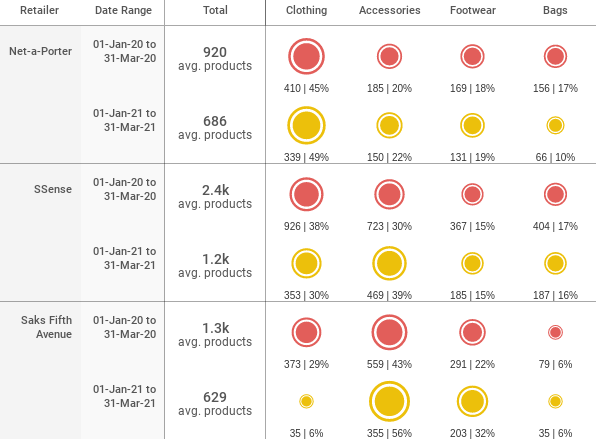 Aside from the notable drop in product count between 2020 and the present which also means the raw product counts at the category level drop, we see that Gucci, Farfetch, Mytheresa, Net-a-Porter increased their share of apparel, while mostly pulling back assortment share for bag categories. On the other hand, Ssense and Saks dramatically decreased their share of Gucci branded apparel products.
A changing pricing strategy?
As we consider the assortment shifts that have played out over the past year or so, we ought to also examine if - within those shifts - pricing has changed.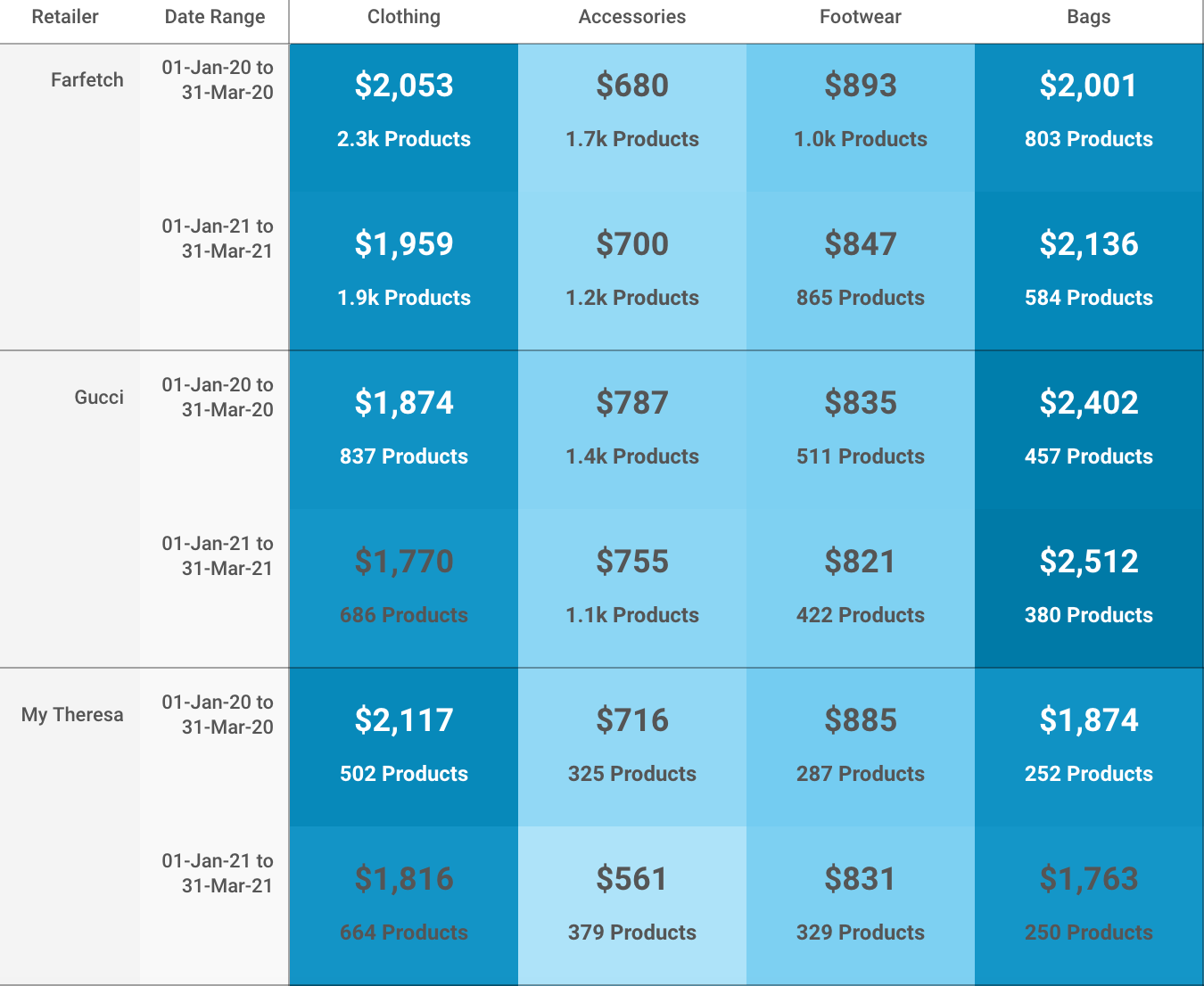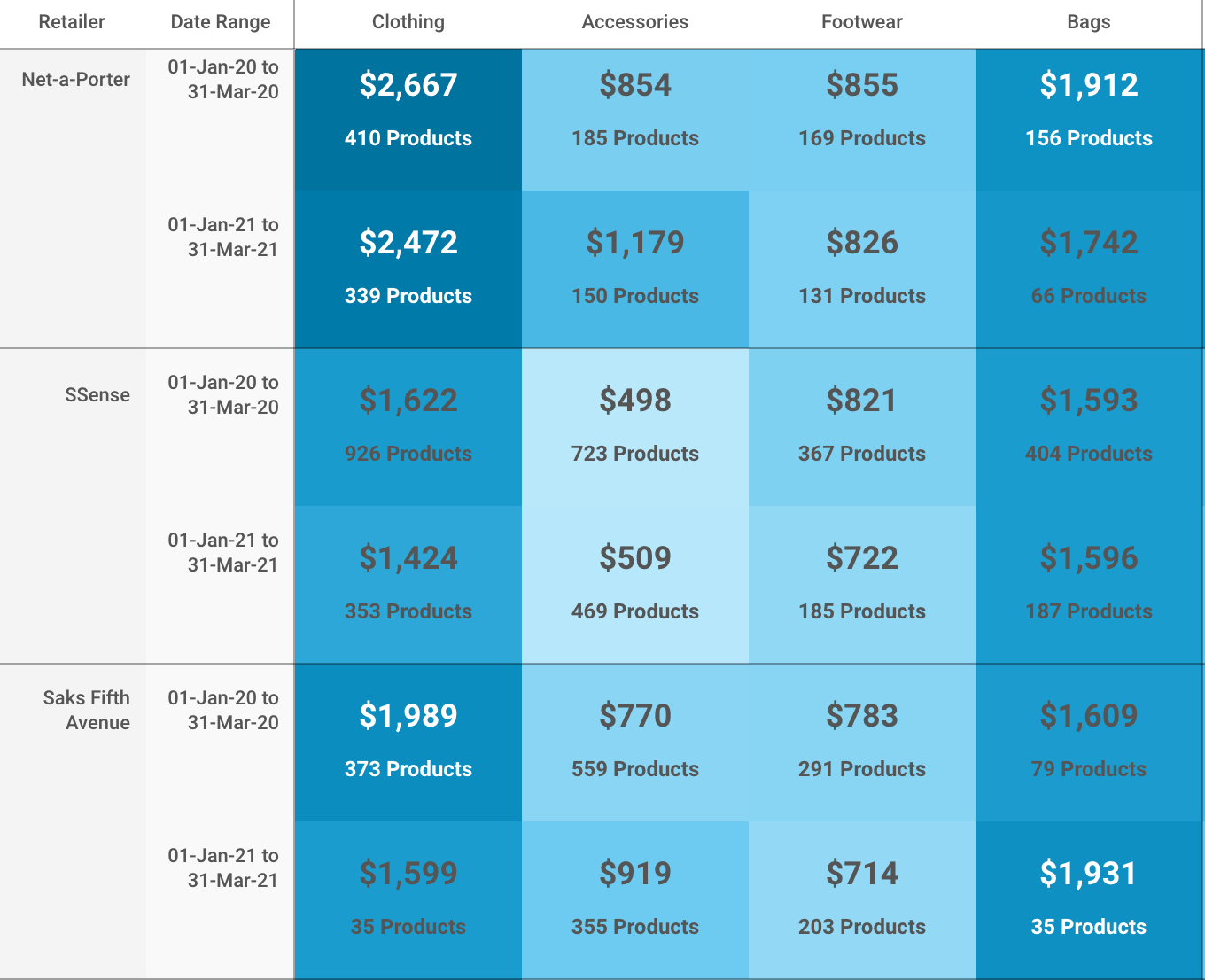 The overarching trend here is that most retailers and categories saw average prices decrease for Gucci brand products when comparing January to March 2020 versus the same time period in 2021. The interesting exception was that average bag prices actually increased from 2020 to 2021 at all retailers except Mytheresa. Net-a-Porter and Saks also saw the average price for accessories like sunglasses and jewelry increase between 2020 and 2021.
So taken altogether, what does this mean? It's true that both decreasing product counts and decreasing prices indicate a changing wholesale relationship. But it could also mean that Gucci, like many other brands, is tightening its wholesale distribution in order to control brand perception. But in the case of business models like Farfetch, which represents the collective inventory of boutiques spread all over the world, it could also indicate that some Gucci products might be losing their peak consumer appeal.
Our verdict is that Gucci has won with consumers previously because they are attuned to opportunities, whether that's cool brand collabs like its recent one with The North Face, or finding interesting ways to merge the online and offline like its Gucci Pin shops do, and they're likely to find continued success, so long as they continue to push themselves beyond the luxury status quo.
Want to read other brand case studies from us? Find them here!