Holiday season is a crucial time of the year for the retail industry, and advance planning for it is vital to ensure success. This year, retailers and brands have to navigate not only rising costs and inflation, but also changing consumer behavior. Citing inflation, more than half of U.S consumers surveyed by 4over are "stressed about holiday spending." It is clear that the upcoming festive season will be defined by shifting consumer priorities, and fashion brands and retailers need to make informed business decisions in all aspects from promotions and marketing activities to value-building in order to make the most of it.
Today, we're diving into the central data points and strategies needed to navigate this holiday season successfully.
Inflation and Discounts
77% of holiday shoppers say they will buy clothes and accessories this season. With inflation rising, how much of it is actually impacting this gifting favorite category? StyleSage data reveals that all key apparel and accessories categories are seeing significant price increases YOY.
The steepest price hike is seen in the Dress category, where average prices are up from $310.88 to $396.94 - an increase of 28%. Next are the Pants & Leggings category (+24%), followed by Casual Jackets & Blazers, Swimwear and Jeans - each up 13%.
One thing is for sure, consumers are feeling the pinch, re-prioritizing their baskets, and making trade-offs. As inflation and economic uncertainty are causing consumers to pull back on discretionary purchases, retailers have been forced to put more assortment on sale versus last year. Since this time last year, discounts in the apparel category have risen 4%, and footwear is up 22%.
Strategies To Make This Holiday Season a Success
Stay Nimble
Your holiday promotional calendar might be planned months in advance, but it needs to be flexible and adaptable so it remains relevant and effective for consumers. Whether it's the latest TikTok trend or the roller coaster of consumer sentiment, your promotional campaigns - on social, email, in-app and on-site - need to reflect what's top of mind for consumers at this moment. As fashion trend cycles continue to churn faster, thanks to social media, retailers need to be quick to adapt and reflect virality. One key way retailers are adapting? StyleSage data shows retailers are updating their home pages 47% more in October 2022 than the same time last year.
Empower Stress-Free Gifting
Further inflation is pushing some holiday spending earlier, and 44% of shoppers polled by NRF agree with the following: "It's better to purchase holiday gifts and other items now because things are just going to get more expensive before the end of the year." Retailers should make sure that holiday items and gift sets are marketed and available to shop in good time, to be able to capitalize on consumers who are ready to start the holiday shopping early.


Nordstrom Gifting Guide 2022
To make gifting stress-free, make sure your gifting guides are curated - at the very least - by price point. And no matter the price point, give shoppers a sense of plentiful choices when it comes to gifting. Nordstrom's current guide (as pictured above) targets both price point and interest group, by catering to categories like 'stocking stuffers', 'under $100' and 'for the toy enthusiast'. Macy's also offers their customers plenty of choices, with categories like '$15 and under', 'luxe gifts', 'the warm and cozy shop' and 'the jet-setter'. Macy's is also wisely capitalizing on consumers growing demand for inclusion and diversity, with a gift guide named 'diverse-owned brands'.
Don't Neglect Self-Gifting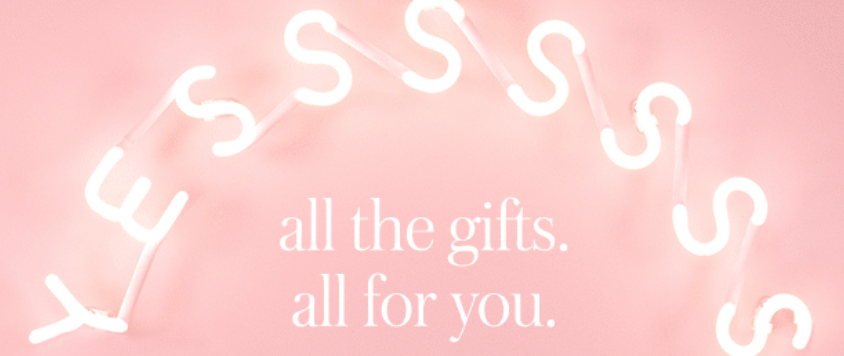 Stressors abound for shoppers this year, but self-gifting messaging can be a lucrative standalone and add-on opportunity for retailers. Data from Mintel in 2021 showed that nearly a quarter (24%) of shoppers in the UK planned to buy themselves something during the holiday shopping season; it went up to 42% for the 16-24 age cohort.
Promotions that reward higher discounts for greater spend, BOGOs (Buy one, get one), and gifts with purchase are all tried and true methods for encouraging this type of retail therapy. As stated in a report by AMG, 67% of consumers confirmed that they preferred BOGO the most out of all discount promotions.
In conclusion, while consumers will continue to prioritize holiday spending, they are doing so more carefully and in a more informed way than ever.
Want the full StyleSage Holiday Fashion Report with all the data and tips included? Download your copy here.