That Time of Year
We get a lot of questions about activewear these days - not just because Q1 is a big season for consumers to hit the gym and thus restock their active favorites - but also because brands and retailers are increasingly wondering whether we've hit peak active. Both lines of interest are valid - and timely - because our latest active market data sheds light into the latest movements the active market is making.
But first let's briefly talk about some of the top trends in working out - of course everyone knows that active no longer means just working out - but still fitness activities remain a key driver of movement in the category, quite literally. The American College of Sports Medicine's annual survey found that HIIT (High Intensity Interval Training), Group Classes, and Wearables would be the top three fitness trends of 2018. While on the surface HIIT and group classes are nothing new, per se, they do give a first indicator as to the types of materials and profiles that will best fit with consumer usage needs. And if you're still yoga focused, don't sweat it too much, yoga remains in the top 10 fitness trends, "as it keeps reinventing itself."
Let's take a closer look at the market.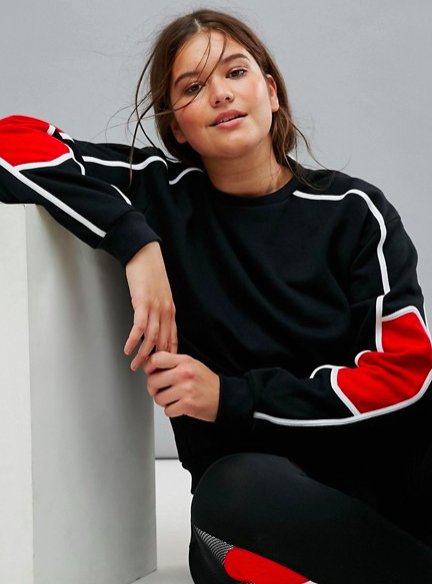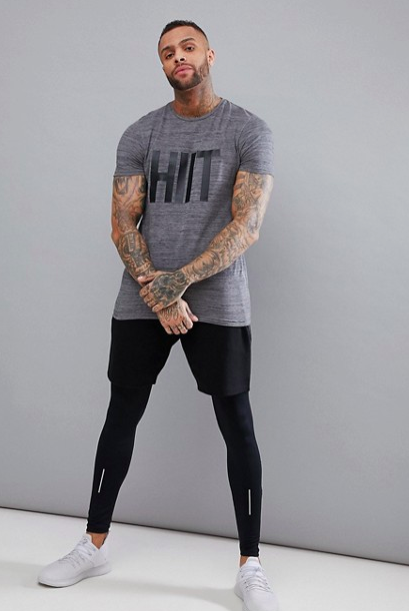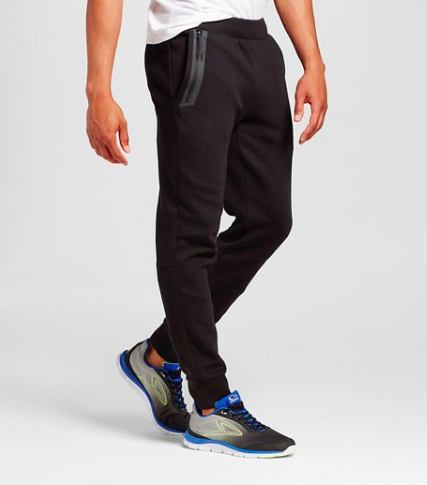 Looking Back At Last Year
We took a look at YOY data for activewear across three sectors: Mass, Mid, and Premium, and some interesting themes have emerged.
We're seeing increasing strength at the lower price points, steadiness in the Mid-market, and some wobbles in the Premium sector. In terms of increasing strength in the Mass market, by the numbers this means that average prices are up and discounting is down. For Mid-market players, holding steady means few notable changes in discounting, and an increase in the average price point. Those wobbles we mentioned in Premium? Those are manifesting themselves in lower average prices, and higher likelihood of discounting. These seem to be tied moreso to women's SKUs than men's, with the average price currently clocking in for women's at $91 vs men at $99 and an average likelihood of discount (penetration) five percentage points higher for women's products (22% vs 27%). As we've talked about before, women's is a more competitive and established market across all price points relative to men's, and you can see the downward price pressures evidenced in the Premium women's activewear market.
The Latest Product Drops
Not all categories are created equal, right? So as we kick off the year and this key season for active, what's getting added at the highest rates to retailers' assortments? Well, interestingly, within the given categories tracksuits and ladies' skirt and skort styles are seeing high rates of new product introduction.
We'd definitely attribute the tracksuit to a category that seamlessly crosses lifestyle to active needs, and retailers have definitely taken the hint. Skirts and skorts - well we have to wonder if there is some ladies' power in play in that category - and shoppers looking to take to the courts in the upcoming warmer months. As far as the lowest rates of product introduction, we see coats - unsurprisingly due to warmer temps around the corner - being introduced at reduced rates relative to their other activewear category counterparts.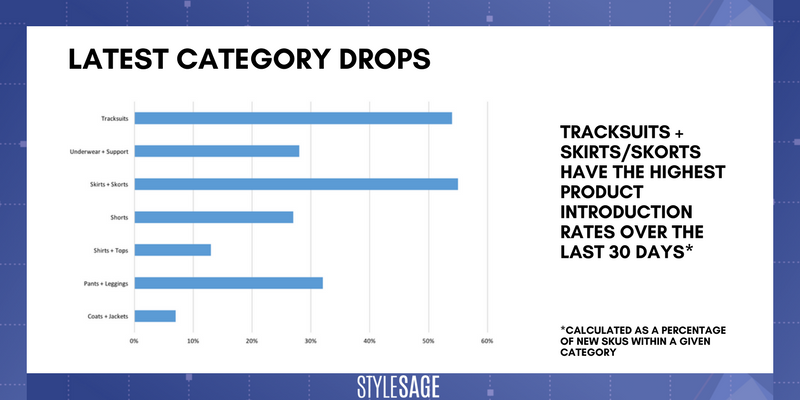 The Colors of Active
With more and more brands and retailers entering the active space, we get a lot of questions around what's trending in colors - and ultimately how a retailer can pick a color palette that will not only fit with consumers' preferences but also help them to differentiate from their competitive set. Let's take our new historic color wheel for a spin and see if there have been any key palette changes over the past year.
As you can see, unsurprisingly, black and greyscale colors still reign supreme - with little YOY change evident in the color assortments (43% in 2017 and 44% in 2018). Interestingly, even when you remove the black and grey shades, you see little change - with blue shades dominant at nearly 40% of the non-greyscale color spectrum. We can't help but wonder whether the consumer might also be noticing some degree of sameness in the color assortments on offer - and be looking for something to break up the monotony?
Plus Product Freshness
It's a familiar drum we're beating at this point, but looking at activewear without taking into consideration the full spectrum of sizes doesn't provide the full picture. So we looked at something we call product freshness - specifically the rate at which new product is being introduced - for plus women's and big and tall men's size ranges - to see how they are trending.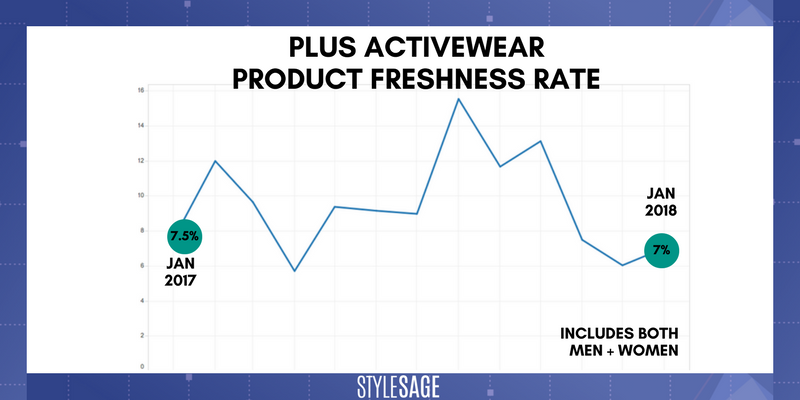 We saw that the freshness rate is down slightly from one year ago (7.5% to 7% across market sectors) - though compared to the non-extended size ranges, it's a healthy rate of product introduction, and one that is trending upwards! (For non-extended sizes, there was a 12% freshness rate in January 2017 vs 10% in January 2018.) We're happy to see a more inclusive set of products and sizes available to all body shapes.
Have more questions about the activewear market? We have the answers - contact us here.