The reboot of Queer Eye, two seasons of which I recently binged on, got me thinking. Not about why my hair lacks the shine of Jonathan's, but rather how a man's relationship to fashion is evolving. Let me be clear here: I'm talking specifically about the US market. I think we can all recognize that, on the whole, we've long been behind the curve when it comes to recognizing and celebrating a man's personal sense of style as simply that: an individual expression of what makes that man look and feel good. And as with the other changes that are occuring in the fashion industry, specifically those driven by social media, mobile commerce, globalization, and a desire for instant access, so has menswear been right in the mix of those changes. So whether it's Bonobos recent "Evolve the Definition" campaign or Nordstrom's opening of a dedicated men's shopping experience in NYC, let's look more closely at two brands who are "evolving the definition" of what shopping for men's fashion is.
Of course, this kind of discussion wouldn't be complete without my friend and seasoned retail expert, Paco Underhill, who has studied firsthand, from Paris to Sydney, how men shop. He, more than most, can give both cultural and historical perspective on how today's case studies and digital disrupters, Bonobos and UNTUCKit, fit into this story.
The Actual Place
Setting: Bonobos and UNTUCKit at Brookfield Place, NYC
The first question really is, what makes these companies so special? How have digitally native UNTUCKit and Bonobos ended up as two brands that men, across the spectrum of fashion savviness, feel comfortable in? Bonobos is, as you likely know, owned by Walmart, but back before that was its biggest claim to fame (and PR issue), it was founded on the idea that men should have "better-fitting, better-looking" wardrobes. And indeed, you'll see sizing beyond big and boxy, print and color options that cover basics and beyond, and most importantly, a retail and customer service model that helps men understand what works for their lifestyles and bodies. On the other hand, UNTUCKit focused on shirts and creating the perfect one that would look good both tucked in and out. And while UNTUCKit now offers more than just shirts, the MO remains the same: proper fit and comfort needn't be mutually exclusive.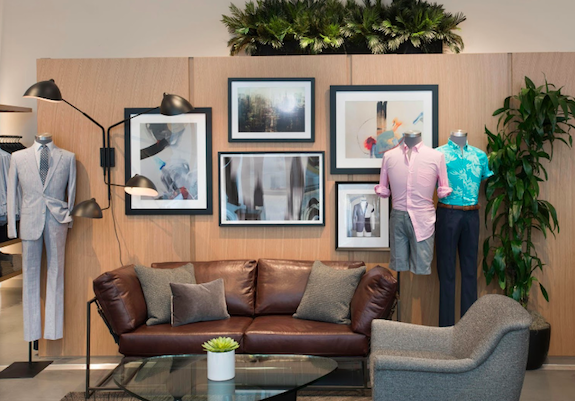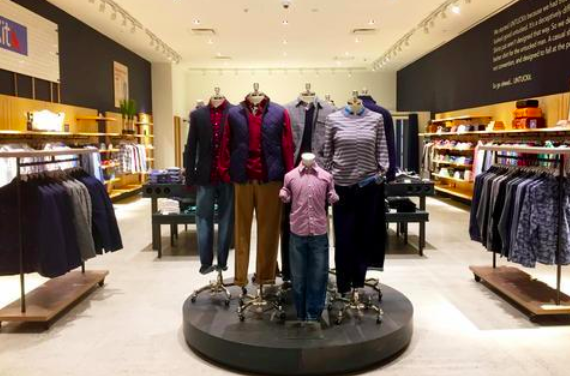 It's also worth discussing why Bonobos and UNTUCKit would choose a location like Brookfield Place for their early physical store locations. Indeed, Brookfield Place is something of a unicorn when it comes to real estate in New York City: it's a mix of residential, office, and retail space that caters to people who live, work, and tourist nearby. As for the former two groups, Paco notes that, "shopping here is a choice driven by convenience and speed." And as one might expect, these profiles very much match those of the Bonobos and UNTUCKit customer: one with disposable income and the need to "look the part."
The Evolving Uniform
Oversized white button down and pleated trouser be gone. "There were so many people who were assigned a uniform at Brooks Brothers at age 17, woke up one morning and went 'this doesn't work for me any more,'" Paco says. It's true that men's apparel options have historically sat in three well-defined buckets: the athletic and active stuff, the core workwear that is bought in bulk and on repeat, and the bespoke. However, at a time when lines are blurred between work, home, and recreation, men's wardrobes need that same flexibility. The UNTUCKit shirt is the perfect example of that. Worn in or out, its wearer still looks put together.
But we'd have to say it's kind of ironic, how menswear in its previous limitations, has really foretold the greater fashion industry shifts, particularly those in the dominant womenswear space. Think about the brands and experiences that are connecting with the highest relevance to today's up-and-coming consumer: clothes that cross from workout to workday (Lululemon), curated basics (Everlane), and increased personalization (StitchFix). Sound familiar? While menswear is growing its offerings, it would seem womenswear is taking those very cues on curation and customization to heart.
For every woman coming into one of these stores helping her guy shop, there's as many who come in solo and say, as one Bonobos associate told us, "Help me. I have no idea how to dress myself." Here's where customer service has to strike that perfect balance of being informative, authoritative, and empowering to a less informed shopper. What Paco suggests, using both virtual and physical merchandising, is directly communicating "what belongs in the work week suitcase and what belongs in the 3-day weekend suitcase."
Your Brand and Your Staff Are Me
Plenty is said about poor customer service, yet too little is said about the oftentimes intangible, yet lasting value, great customer service brings to the table. While these store visits didn't start out as an exploration of these brands' customer service, we couldn't help but walk away from both shops feeling like not only were their staff experts in what they sold, but they actually liked what they did! What makes all this even more poignant is that many stores' essential functions have shifted (i.e. Bonobos doesn't hold stock - it works as a "Guideshop" for fit and order placement), yet employee performance metrics are still relatively unchanged. How does one account for the guy who comes in, figures out his size, but ultimately orders from the convenience of his home? It's a question that both technology and human touch will have to collaboratively address, but in the meantime, a big shout out to all those dedicated sales staff who see the big picture.
So whether it was the Bonobos team member who told us how she recommends her female shoppers try out (competitor) Everlane or the UNTUCKit associate who tells his male shoppers to come back later in the afternoon when it's deemed more office appropriate to sample their bourbon selection, these people get who their customer is. Today's customer wants to buy from a place whose culture and values reflect their own, so keep it real and please be nice.
Getting menswear right, well, these brands make it seem pretty darned simple.