With Memorial Day in our rear view mirror, it's time to get serious about what to wear as the temps creep up. A season for showing a bit more skin (and then promptly covering it back up in that office AC), there are several apparel categories that get extra air time during the summer months. Today we're digging into the shorts, swimwear, and dress categories to see how the market is shaping up this summer season.
The Long and Mostly Short of It
Did you know there are officially 17 types of shorts out there? Whether your preferences fall to Bermudas, Daisy Dukes, pedal pushers, or cut-offs, there's something in every imaginable material, color, and length for you.
As a retailer selling this leg-baring style, when's the best time to start introducing them? Looking at historic trends in this category, we see that introductions started picking up in March, while discount penetration has dropped off significantly as the weather has begun to warm and shoppers search for the latest category trends. And while short on fabric, the price points for men's and women's shorts are very competitive, at $61 and $64, respectively.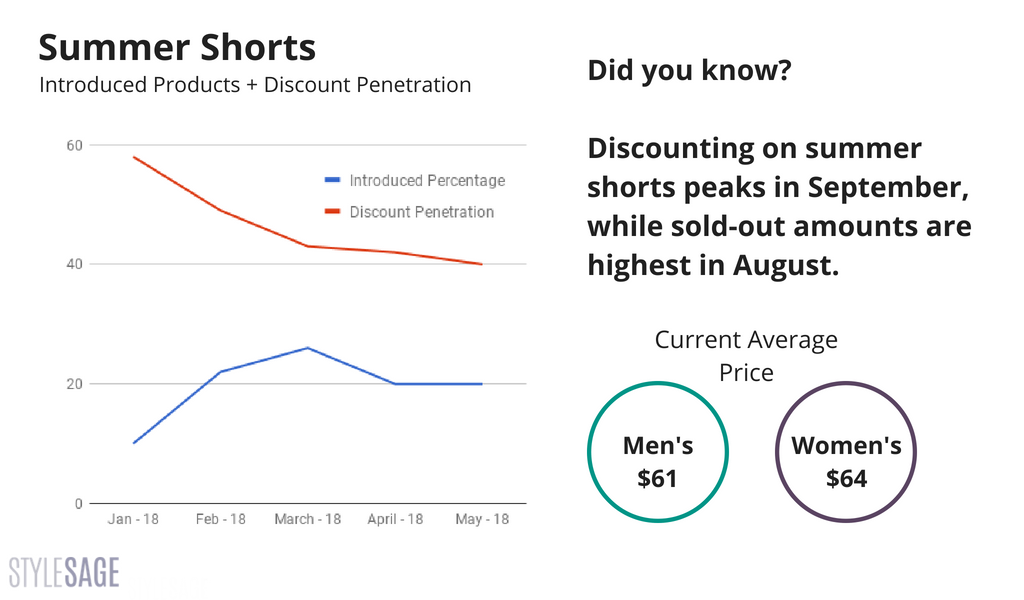 We took a look back at the last year's data and historic data trends show that discounting on shorts is highest in September, while sell-out rates are highest one month earlier, in August. Makes sense, as in the heat of August the products are still very much wearable and in season, while moving in September, demand begins to dwindle and thus the discounts dial up.
To One- or Two-Piece It?
It's been interesting to observe the increasing strength of the one-piece swimsuit trend. We don't see that fading any time soon, either, as women embrace what is comfortable over what looks sexy. But does the data reflect the strength of this trend? Let's take a look.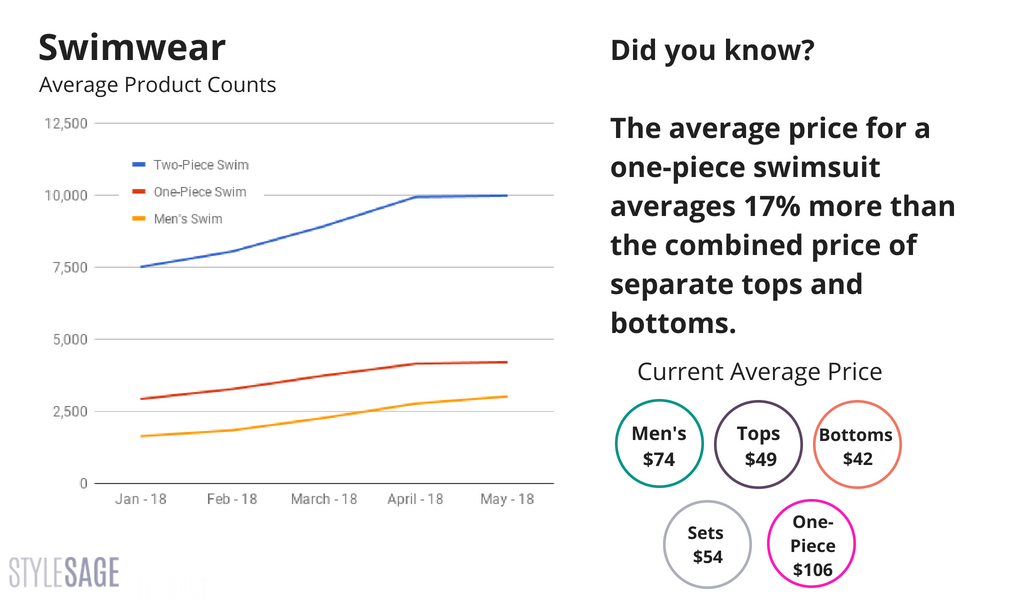 Well, you still have a lot more choices in the separates and two-piece categories - in fact nearly three times the number when you combine two piece separates and sets. But the good news for retailers selling one-pieces? They command a premium over separates and sets. The average price for a one piece is more than double that of a set - and even if tops and bottoms are purchased separately - there's still an 17% premium on one-pieces. Looks like brands selling two-piece sets and separates have the opportunity to nudge their prices upwards and earn a wider margin. Oh, and we can't forget about men's trunks - those average a healthy $74 each (or $37 per leg).
Dresses From Day To Night
While dresses are far from only a summer item, they get extra wear during the warmer months. In fact, we see in the transition of seasons between December and April, that the sell-out rates for the dress category more than double, from 9% to 19%.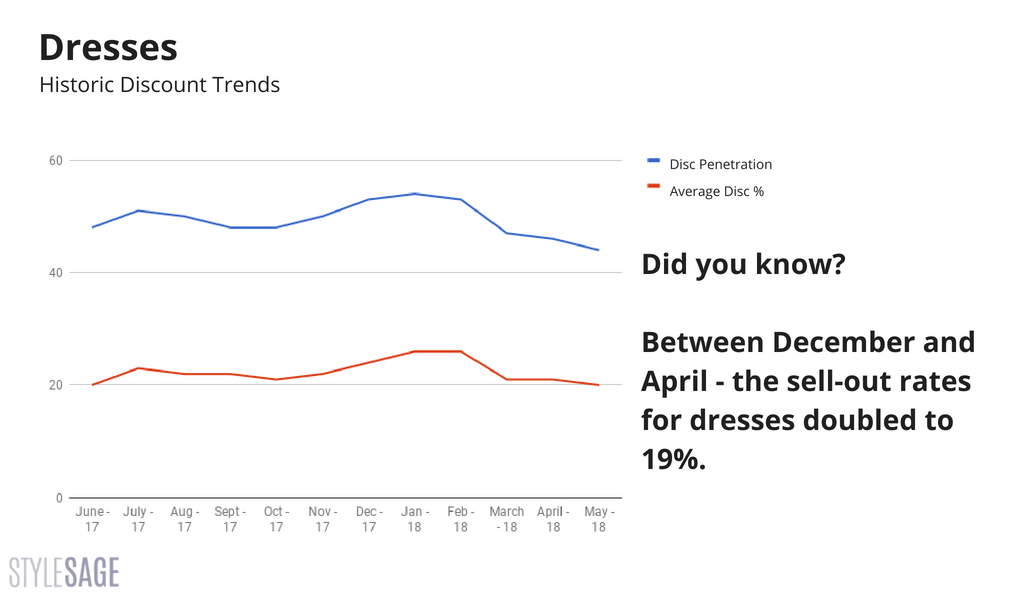 Discounting in dresses tends to have fewer dramatic seasonal spikes relative to the previous two categories we've discussed. It does, however, reach its climax during January and February. And in positive news, this season is seeing lower discounting likelihood than one year ago. Keep in mind, however, dresses are a price-competitive category. Almost exactly 50% of the dress assortment we surveyed is priced under $100.
Interested in more insights and how we can help you optimize the timing of your seasonal product drops and pricing? Find out more about our solution here.