Photo credit: CNN
Retail has continued its post-holiday momentum right into February with Sunday's Super Bowl spending estimated to ring in at $15.3B. That's up 8.5% from last year, a per-person spend of roughly $80 for the big day. While much of that spending goes towards food and beverage, some of that is spent proudly wearing your favorite team's gear.
While you might have tuned in only for the halftime show or to see the fastest way to drop $15M (hint: it involves Jeff Bezos, there's a good chance you also kept an eye on the scoreboard for what turned out to be a major upset. So whether you call yourself a Philly, Patriots, or anything-but-Patriots fan, we decided to run the numbers to see how the teams' gear performed.
How do you know a team has had a good, long run? Well, it's not only the count of trophies, but the SKU count can also inform you of that. When we looked at key sports and athletic retailers in the US, we saw that there were 43% more Patriots SKUs than Eagles SKUs. Underdog indeed!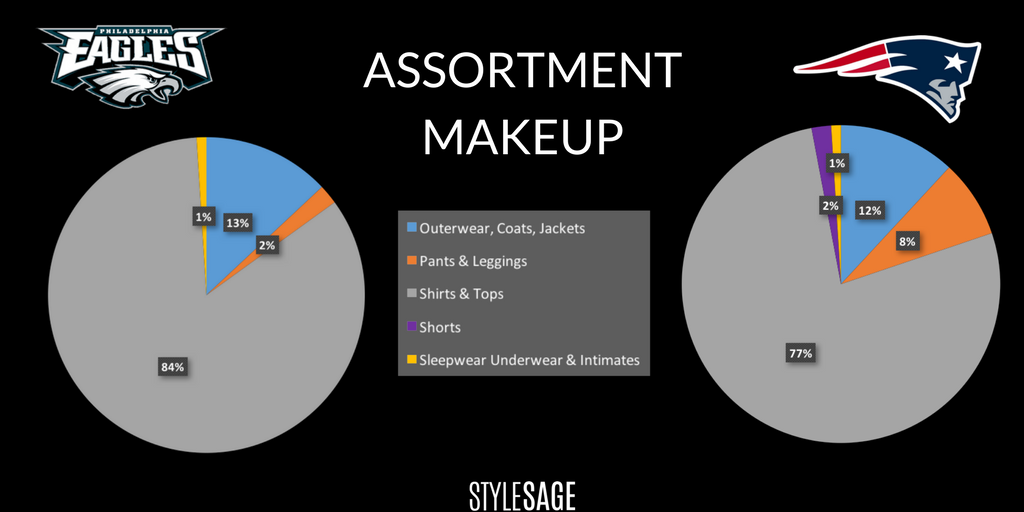 Shirts are generally the go-to (and least costly) way to show your team spirit - and when we looked at each team's assortments, more than three-quarters were indeed shirts. (There was a slightly higher proportion of shirt SKUs for Eagles.) The next most popular category was outerwear - which makes sense - both teams are based in cities that get the cold temps.
The next logical question is who is willing to pay more? (Not for tickets, but for that gear, of course.) Well, interestingly, even though they walked away with the trophy, the average Eagles gear rings in less than the Patriots, $50 versus $56, respectively. But don't worry, Eagles fans, you're more than twice as likely to find Patriots gear on sale right now (43% versus 19%).
Lastly, we wanted to see both how retailers reacted to the big game and whether the teams' gear has been selling out. In the two weeks leading up to the Super Bowl, key US retailers dropped 23% fresh gear for these two teams, but they seemed to have been a bit more surprised by the Eagles making it to the final game - dropping 30% fresh SKUs versus only 18% for the favored Patriots. And well, we're not surprised the latest data shows us that Eagles gear is selling out at a higher rate than Patriots (36% versus 26%). (Is it just us or does that look oddly similar to the final score 41-33?)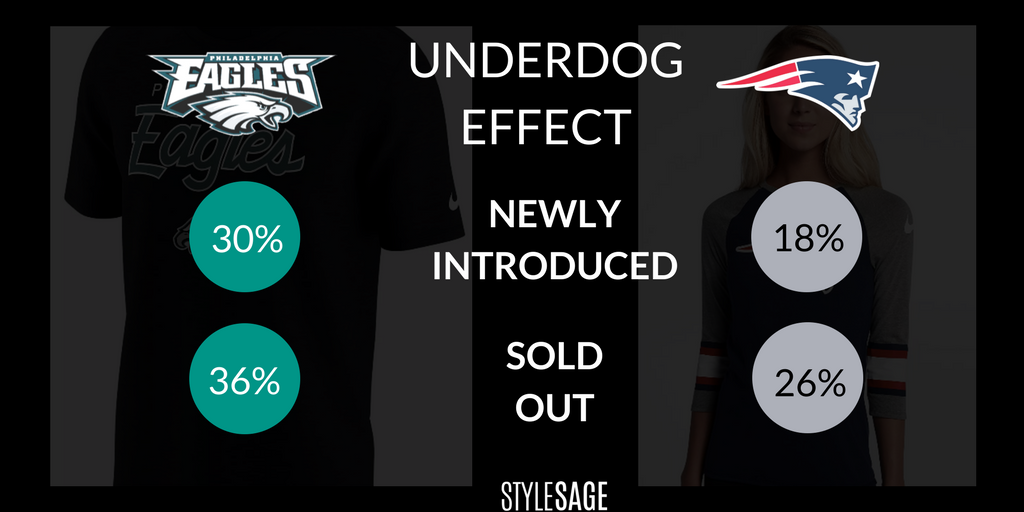 Have more questions about how the licensed sportswear category is performing? We've got some cool image recognition tools that can give you the home field advantage. Message us here to learn more.