As the end of the year creeps closer, the drama in the retail industry shows no signs of slowing down. This week it was the departure of the Hudson's Bay Company CEO and ratings agency Fitch adding a whole slew of retailers to their secondary watch list. So with the immediate outlook for retail being cloudy with a chance of sh*tstorm, which sectors are being most closely watched? Look no further than Activewear.
Today we released our latest Activewear category deep-dive, unpacking the pricing, discounting, and assortment trends that have played out over the past year. To whet your appetite, here are a few of the key insights we uncovered. Download the full report here.
Premium prices are facing downward pressure
Our analysis shows that while Mass and Mid-market sectors have actually increased in average price over the course of the year, the Premium market has seen a decrease in average price of $12 from last year to present.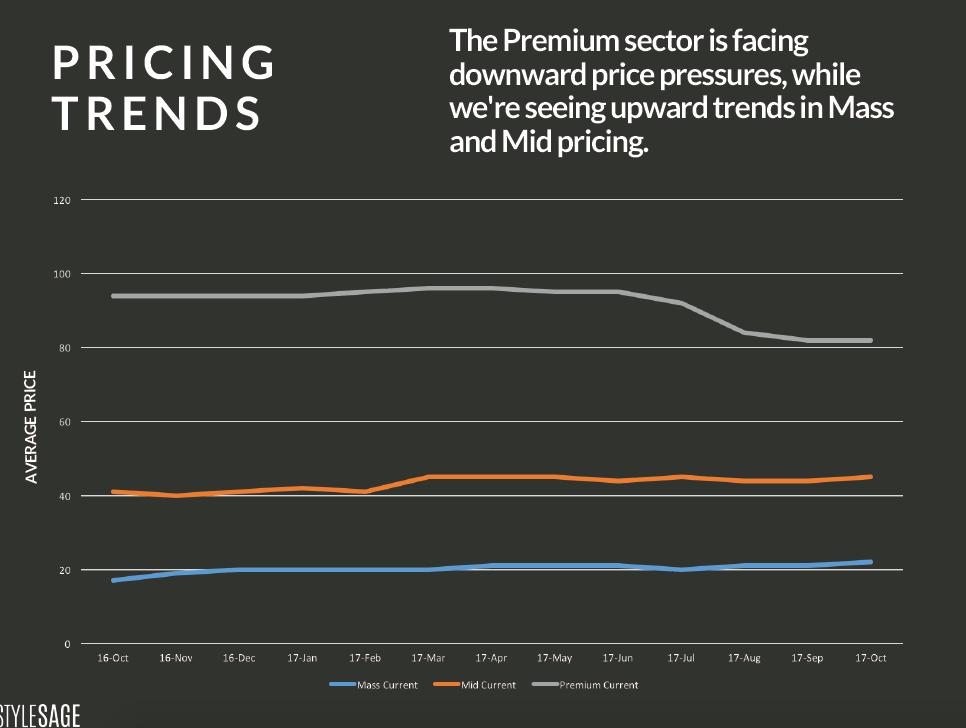 Mid-market brands have been able to dial down the discounts
While the Mid-tier did have the highest levels of sustained discounting over the past year, we have seen them starting to decrease as we move closer to holiday. While we will certainly see discounts pick back up as holiday promotions kick in, it's worth pointing out that the average discount amounts in Activewear are significantly lower than other apparel categories (which in the Mid-tier market average closer to 40-50%).
Also noteworthy is that while average discount amounts are low in Premium market, they have been dialing up ever-so-slightly as the year has progressed. Last but not least, in the Mass market, you see a big spike in discount amount in the early parts of the year (the annual seasonal fitness boom), which has since tapered off to levels below 10%.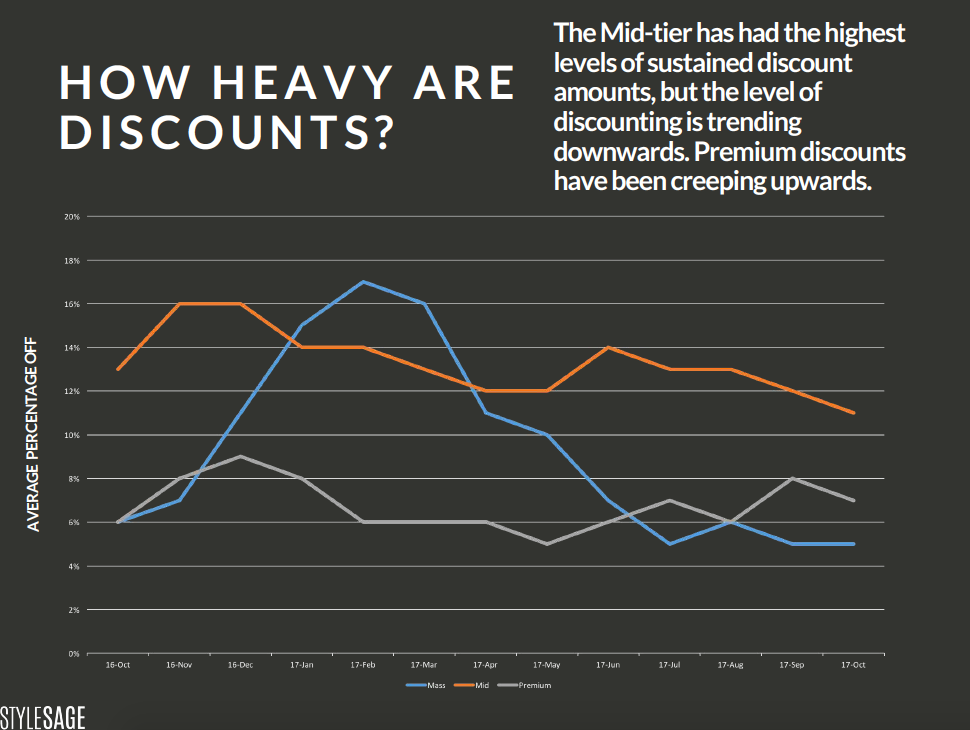 Price points in women's lag men's
Sorry guys, but the ladies are paying less for their Activewear. However, what's good for the consumer's wallet doesn't necessarily mean the same for brands and retailers, as there are signs of the women's Activewear market becoming increasingly crowded.
The Premium sector saw the biggest price disparity between men's and women's prices, while men's prices have undergone some correction as we moved through 2017.
Curiosity piqued? The full report is available here.