Activewear brands have been the envy of many a non-activewear fashion brand during the struggles of 2020. The truth is, many of these activewear brands had momentum well before heading into the global pandemic. Nonetheless, in a matter of a few short weeks in 2020, everything changed, and consumers were staying home to stay healthy, wearing leggings, sweatpants, and sneakers.
Bad times, yes, but relatively good times for those in the business of selling the right kind of gear.
So now that we're well into the first month of 2021, and because it's also the time of year when traditionally both consumers and retailers are focused on fitness, we're turning our attention to the activewear space and its performance over the past year. Specifically, we'll be looking at what's on sale, what's new, and how different brands are performing.
The US has more on sale, while Germany has higher discounts
Global brands must perform on a local basis, so let's first take a look at markdown performance by market.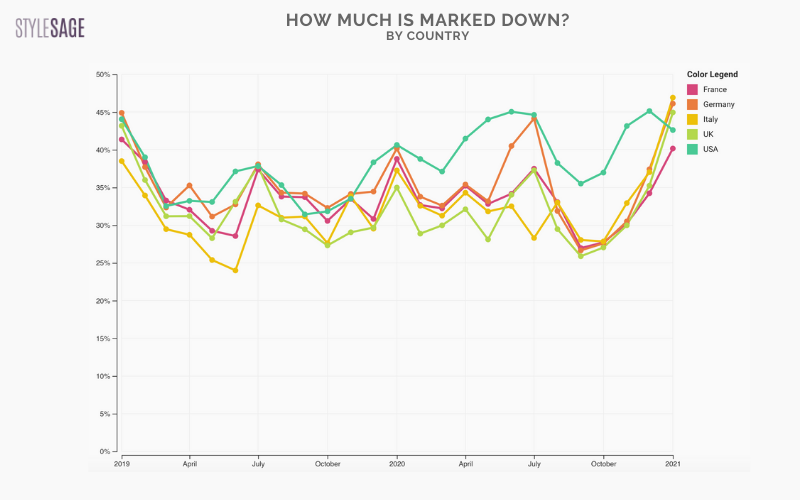 We first see that the US (in aqua), has generally maintained a higher proportion of discounting during the past year than the UK, Germany, France, and Italy has. US discounting is trending downwards since January, however, but this is due to the seasonal winter sales that are typical in Europe. An additional point worth noting: in Europe, the markets generally moved through cycles of discounting together and at a similar rate.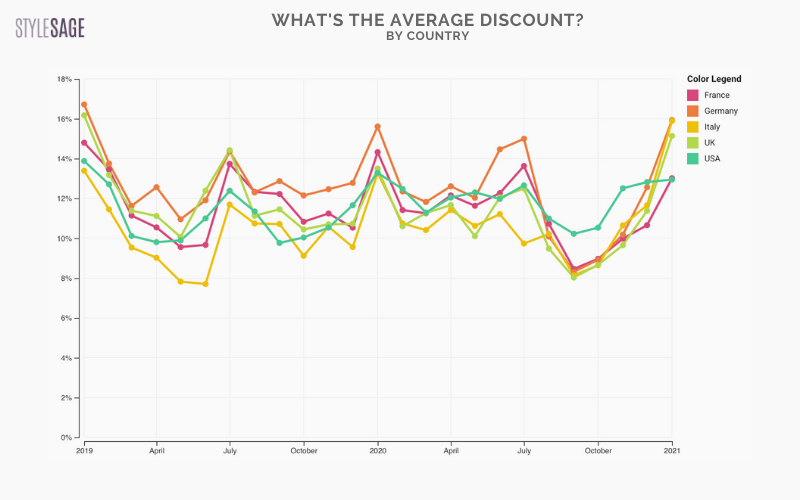 Examining how high those discounts were, we saw a slightly different trend. Germany (in orange) had several notable peaks in average discounts, in January, and also during the spring and early summer months. However, from August to December, average discounts in the US outpaced all the other countries in the sample.
Sneakers are most likely to be marked down as they grow in count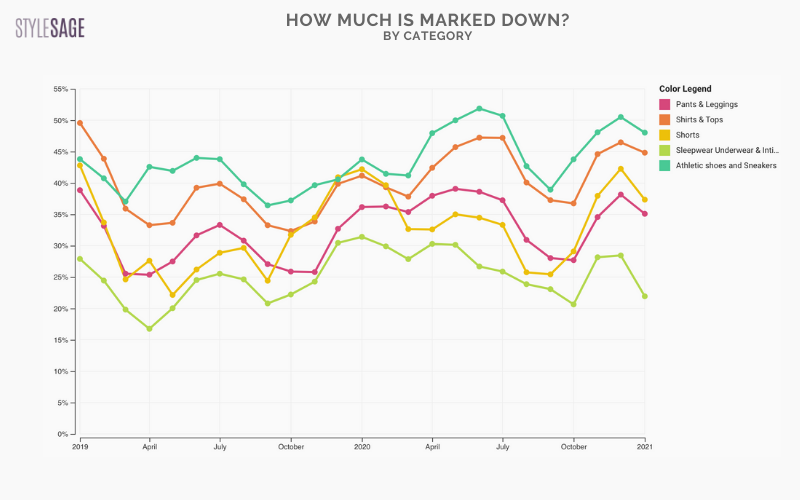 As we look at how each active product category stacks up, we can quickly see that sneakers (in aqua) stand out as being most likely to be marked down. What's more, sneaker markdowns increased in two waves during 2020. The first wave was from March to June, and the second wave occurred between September and December.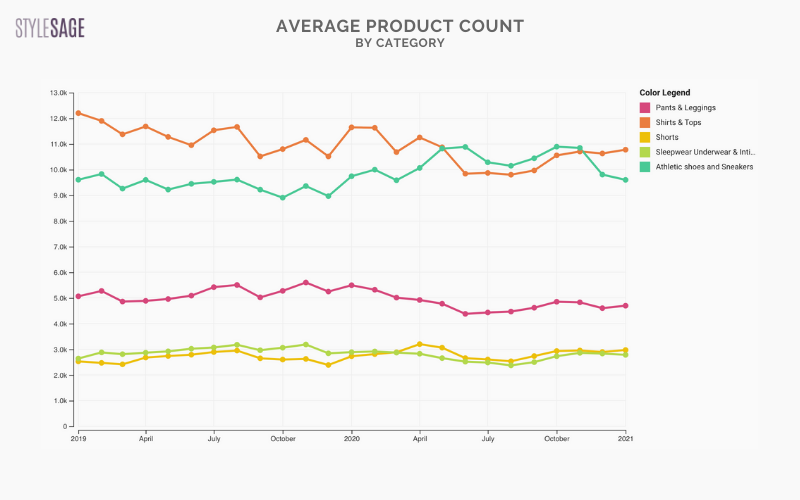 And not only were discounts for sneakers increasing in 2020 from their 2019 levels, average monthly product counts also increased - 14 percent between 2019 and 2020. Based on the timing of the discounts and product counts, it would seem to indicate that retailers have misaligned sneaker supply and demand.
Across categories, new product introductions increased in 2020
We already know that a number of publicly traded activewear brands have fared extremely well during the pandemic, and they, along with other competitors, have doubled down on their category positions. The following data illustrates this clearly.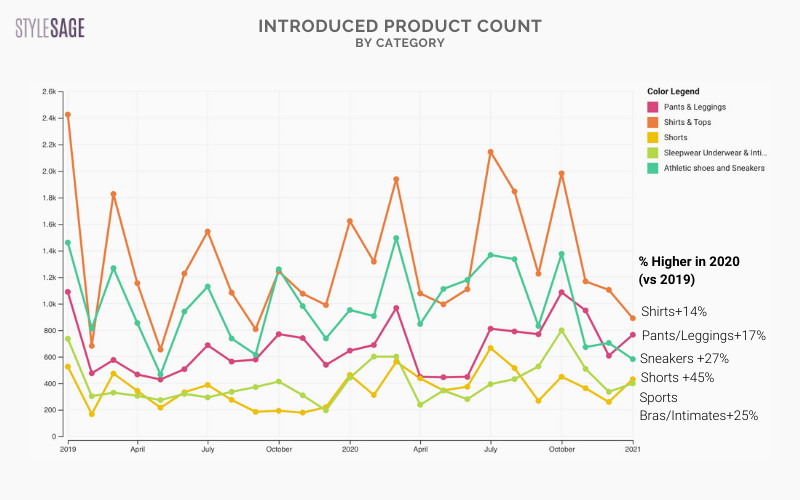 What we see is that between the start of 2019 and the end of 2020, new product introductions have increased by double digits. Shorts saw the highest increase in new product introductions (+45%), followed by sneakers (+27%) and sports bras (+25%). Interestingly, tops (+14%) had the lowest YOY growth in new product introductions.
Adidas maintains more discounting overall, but Nike increased discounts at the pandemic's onset
Both Nike and Adidas have seeing rising share prices since the beginning of the pandemic last spring, but despite this shared momentum, the two have differing product strategies. Let's take a closer look.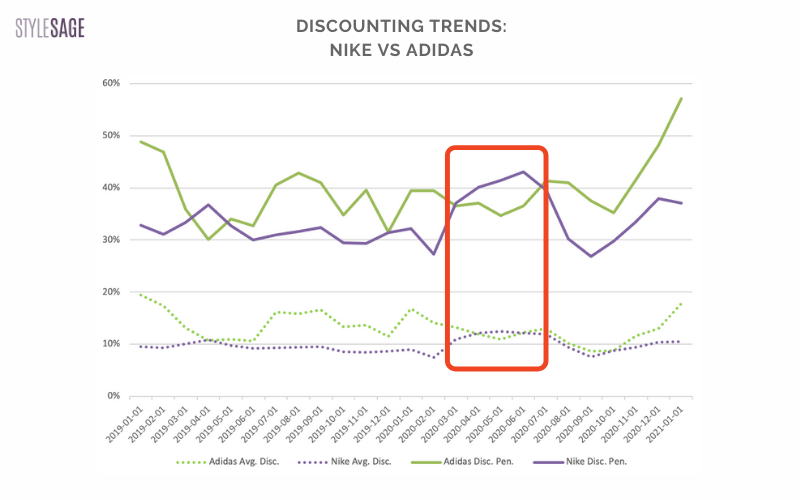 Adidas (here in green) has for most months of this sample, had both a higher proportion of goods on discount and higher average discounts. There's just one important caveat here: during the early months of the pandemic, namely March to July 2020, Nike had a higher percentage of goods on markdown and higher discounts. Since then, however, Adidas has reversed this trend, dialing up the proportion of markdowns on their site.
Interested in more insights around the state of the activewear industry? Keep an eye out for our upcoming activewear report!