It's almost time to start showing those legs again. It's scary, we understand. So before you break out the self-tanner and your Korean foot peel mask, what are the hot shoe styles to know for spring and summer?
First let's dip our toe in the pond
Let's do a quick pulse check of what's dropping, discounting and selling out in shoe styles right now. Retailers are clearing their remaining inventories of boots, and the push is working. Sell-out rates are correspondingly high with their discount levels. Which category is getting the most new products? Glad you asked; that would be espadrilles which are leading the march right into spring. And flip-flops are the category seeing the lowest levels of discount right now. ![shoes, boots, sandals, discounts](https://cdn2.hubspot.net/hubfs/2539836/blog%20article%2030%20Jan/shoes%20overview.png)
Sneakers continue to dominate
Time to tie on or slip into a new pair of athletic shoes, as they continue to dominate.
Not only are they one of the categories with the most consistent sell-through, there's been a rapid rate of fresh product introduced in the past two weeks.
One fast fashion retailer we audited introduced 14% new sneaker styles while simultaneously selling out 23% of their inventory.
This season's variations? Cotton candy shades, full satin bodies, and the continued popularity of the slip-on (a knotted detail for all you trendsetters). The key: keeping up to date with color and material trends at price points that make sense for shopper experimentation.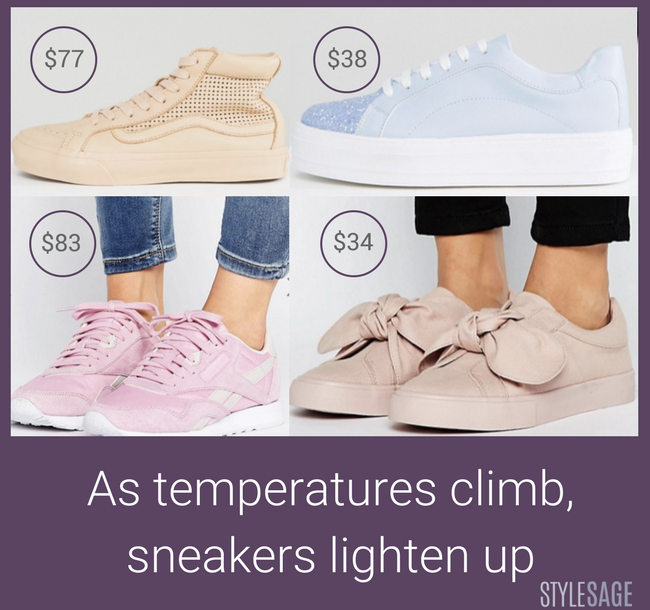 The Bootie v. The Mule: Battle of the Spring Shoe
Otherwise known as, 'how badly do I need a pedicure?' For two styles known for their seasonal and dress code versatility, which one is winning the POS battle as we tiptoe into spring?
What we saw are more bootie styles being discounted, and they're being marked down at a faster and deeper rate than total shoes. On the other hand, the mule is trending at a higher price, a less shallow discount, and more of the assortment remains at full-price. The verdict? The bootie has peaked (along with the rest of its winter cousins) and is being replaced by its transitional sister, the mule.
Pedicure Sorted, Bring On The Sandals
Sandals started trickling into assortments at the beginning of the year (for you lucky people who needed them in January), and retailers have been rapidly adding styles since early February. It's at its seasonal peak with nearly 2,000 sandals styles added this week. Is it too late to add more? Our historical analysis says no; retailers still add high percentages of styles well into April.
And that's all for our spring shoe analysis. Time for an inventory of your assortment? Talk to us at hello@stylesage.co.