In case you hadn't noticed, wedding season is right on our doorstep. June through October is the time to get married and while we hear it's also peak season for bridal meltdowns and catfights, really, the biggest question is, 'what do you wear?' As a bride, it's what best expresses your individuality, as a bridesmaid, (if given a choice) it's the lesser of evils, and as a guest, well, it's whatever won't distract from the bride on her big day. Okay, so we jest, mostly, but there are a few things to take note of if you want to throw your ring into the nuptials game.
Frocks For All
You might have noticed that a lot of retailers are getting into the wedding business right now. Just like the rest of the retail industry, it's ripe for disruption and no longer just for specialized retailers. Rental outfits like Rent The Runway and The Black Tux, as well as 'democratic bespoke' brands the likes of Fame and Partners and Anomalie have paved the way to a new world of formal wear, but that's just the start. Forever 21, Asos, Topshop, and H&M in the mix? You heard that right. With a millennial consumer base ready to tie the knot, not to mention the very real likelihood they don't have a small fortune to spend on a wedding, the options popping up in the fast and mid-priced retail channels are arriving at the perfect moment.
So we started researching exactly how the assortments are being merchandised on retailers' sites, and what we discovered was that many of the products could easily be given a different description and repurposed for another non-wedding occasion, ie. those products live in several places on that brand's site. In fact, even the language around the merchandise is not just centered on weddings but on 'occasions.' What this tells us is that younger consumers are approaching weddings, as they are many other rites of passage, on their own terms, stripping away the unnecessary and overly formal for what they are comfortable with and value most.
Best Dressed
So back to the question of what to wear. While we won't be able to help you make peace with the fact that you have the privilege of wearing a universally unflattering bridesmaid dress, we can give you some stats on what's happening in the dress category. So we looked across the fast and mid-price sectors and saw
stock-out rates of wedding occasion dresses at 5%, while the rest of the dress assortment clocked in at 7%
.
Price points are speaking to the millennial wallet with their accessibility, too, with more than half of formal dress assortments ringing in at under $100. And let's not forget to complete the look with shoes. Formal heel and sandal styles are selling through at similar rates to their less formal counterparts, 4% and 5% respectively.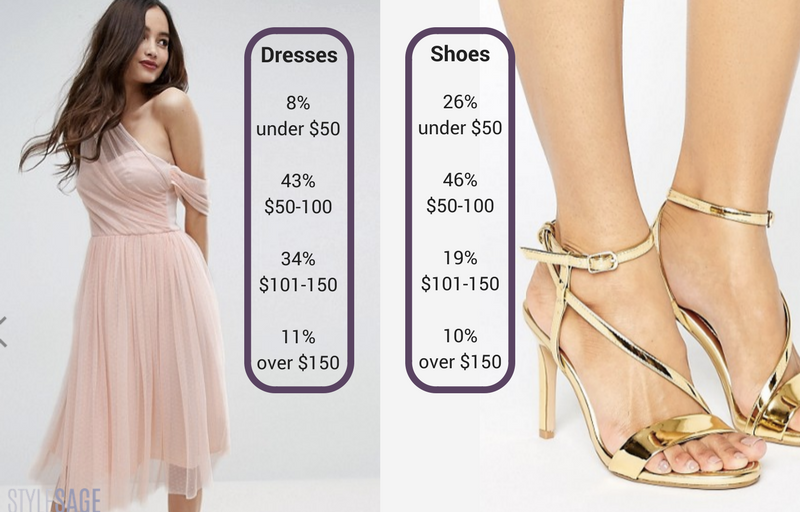 Speaking of comfort, some of the most interesting trends we are seeing in bridal attire are taking cues from everyday wear. Two-piece sets, jumpsuits, and non-white color palettes are starting to make their way into the mix. Why buy something that will be worn once and subsequently sit in the closet collecting dust when you can have something that has a life outside of the wedding occasion? Asos alone has 160 styles of 'occasion' jumpsuits on offer. As far as color goes, black and grey tones may still dominate, but we are seeing a lot of blues, pinks, and reds emerging as alternative color choices for those in the party and attending the big day.

Guys Need Something To Wear Too
Girls get all of the attention when it comes to weddings, and while we get that, men need some help in this department as well. The variations in men's formal attire may not cover as wide a spectrum as the ladies, but we are still seeing some interesting trends emerging for the guys. We give a big shout out to those sporting short suits, cropped suit pants, and head-to-toe prints. We're not sure, but you've definitely got our attention.


As far as color goes in the suiting market, well, there's not too much deviation from the standards of black, grey, and dark blues. But we all know that the fun's to be had with neckwear. So how are men tying one on when it comes to weddings? Across key fast fashion retailers, we're seeing an impressive 22% of neckwear sell out.


So with that, we leave you our expert advice on picking a wedding outfit:
Think about how you will feel about your life choices when you see these photos in 10 years.
Avoid any necklines or skirt lengths that might compromise your personal relationships.
Try to avoid matching any of the h'ordeuvres at the reception.