The latest data shows that Amazon has more than 70 private labels across a world of product categories, from diapers to furniture, and, oh yeah, clothing. (See the full list of brands here.) We know they're super focused on fashion in their private label efforts, so we took a quick look to see how some of their key brands are performing.
Prices Have Gone Down
It's trial and error, right? With best-in-class analytics in-house, they know exactly the who, what and where of their assortment. But still you can see some downward price pressures in play, especially for its labels Ella Moon, Peak Velocity, Lark + Ro, and Buttoned Down, which have seen the greatest decreases since the start of 2018. Seems they are still trying to figure out the right product and pricing mix, especially in the greater context of established national brands in play on their marketplace.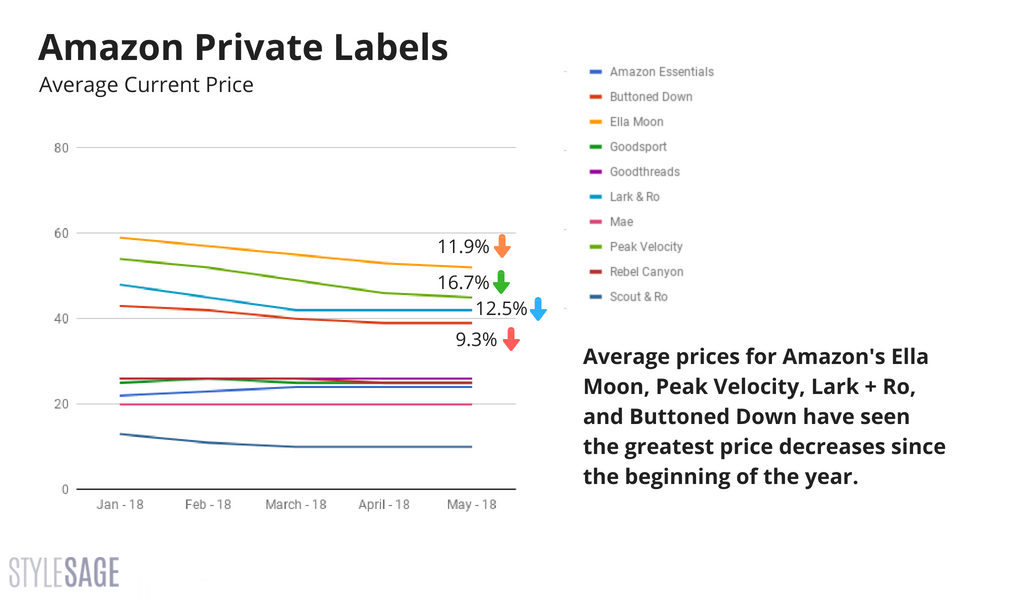 Discounts Are On The Upswing, Too
Which of Amazon's private labels are subject to the highest discounts? Scout + Ro and Lark + Ro (someone throw their brand naming team a bone, please) have seen the highest average discounts, at 37% and 31%. These are two notably crowded and price-competetive categories, with Scout + Ro in childrenswear, and Lark + Ro in womenswear. Again with money to burn, we will see how long it takes Amazon to figure out its assortment and price strategy to keep in front of and relevant to its shoppers.
Nike Gets The Short End Of The Stick
In particular, Amazon's private label efforts in the burgeoning activewear space, specifically with brands including Peak Velocity, Goodsport, and Rebel Canyon, has been getting lots of press. Surely they can't go head-to-head with one of Amazon's biggest brand partners, Nike, right???
Well, Amazon has been able to keep a big chunk of its activewear brands (which admittedly don't have a huge number of SKUs...yet) off discount. Yet, as 2018 has progressed, we've seen the number of Nike brand items on discount increasing. As others have questioned, is this a partnership that is working? Time will tell.
In the meantime, check out our other Amazon insights.