If you haven't figured it out already, it's the end of August which means the kids are going back to school. But lest we forget the college kids because back to school isn't just for the little tots. College-aged students represent a large portion of school spending, but often with more purchasing power and diversified product needs (aside from red solo cups and ramen). With more students enrolling in college this year than ever before, it is important to look at the impact this demographic has on the retail landscape.
Total Back-To-College Market
The total back-to-school spend across all age groups for the 2017 season is expected to reach $83.6 Billion according to the National Retail Federation. Of this total, $54.1 Billion is expected from just college spending alone - up $5.6 billion from last year. Going even further, $8 billion is expected to be spent on clothing and $4.5 billion on shoes. For each family this accounts for an average of almost $970 on college spending with $143 spent on clothing and $81 on shoes. Additionally, according to a report by Deloitte, 57% of college students expect to pay for at least half of their purchases - meaning many independent purchases by a largely millennial customer base.
Category Differences
With 15% of total college back to school spending within clothing, we took a closer look at category patterns compared to last year's season. Looking at women's wear across major mid-market and millennial retailers, the assortment has increased significantly in jeans (up 33%), shirts and tops (up 21%), and rompers (14%) from August 2016 to August 2017. Category decreases between the same time periods include pants/leggings (17%) and sleepwear/intimates (14%)
Pricing and Discount Differences
In terms of pricing, the overall average orignal price has dropped by about 4% across the back-to-college womenswear apparel market. Some of the most significant drops are within women's outerwear which has dropped from an overall average price of $131 in August 2016 to $102 in August of 2017. Across the board, the only category with an average original price increase is within shirts and tops which had a slight increase from $37.30 in August 2016 to $37.90 in August 2017.
What might be playing into the overall price drop is also the overall drop in discounting levels. Overall the average discount has dropped from 23.6% in August 2016 to 21.3% in August 2017. Interestingly, many of the same categories that saw the biggest price drops also saw the biggest discount level drops. Casual jackets and blazers went from a 27% discount in 2016 to 17% in 2017 while outerwear dropped from 32% to 18%. The only category in womenswear that actually saw a discount increase year-over-year was within intimates and sleepwear that went from 12% to 18% this year.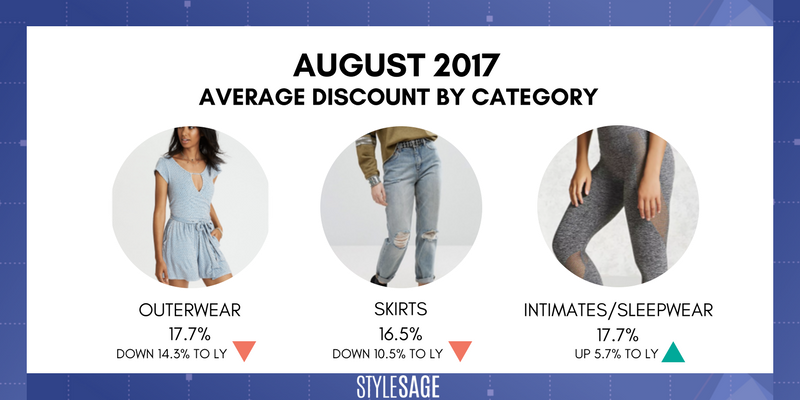 Ultimately, it seems that while prices are dropping so are discounts accounting for similar final prices at checkout for customers. While it may be an effort to preserve margins and brand integrity on the part of the retailer, it could also provide room for additional promotions to create a sense of urgency to purchase before the start of the school year.
Men's Back-To-College Market
Men go back to college, too, and the retail patterns are a bit different than women during this time period. For one, while pricing and discounting dropped in the women's back-to-college assortment, both have remained relatively flat year-over-year with an average original price around $58 and discount levels between 23-24% for the total assortment.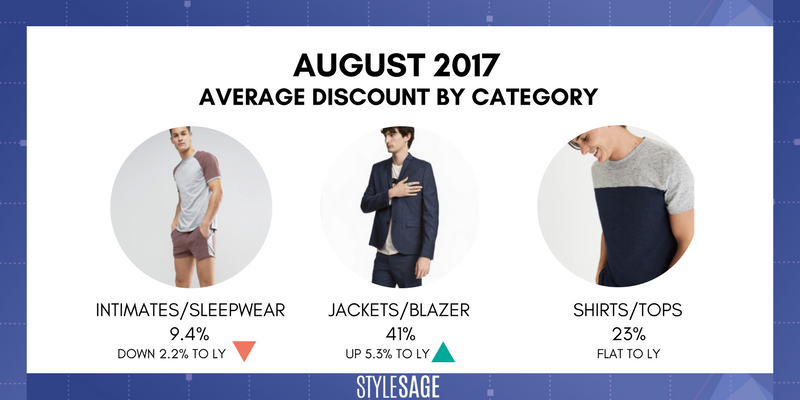 Additionally, most categories saw a total assortment SKU count increase from August 2016 to August 2017 including shirts and tops (15%) and outerwear (30%). So while pricing and discounting may be stable in the men's assortment, it doesn't mean that it isn't growing.
Top Trends
While pricing and promotions are an important part of the decision process for the back-to-school shoppers, so are trends. Trend-specific items are most relevant to the college-shoppers amongst all of the back-to-school shoppers, especially with increased independent purchasing power. According the the Washington Post, some of the top "trends" for 2017 include millennial pink, flashy sneakers, and tech-friendly pieces. How are these trends adopted by college kids this back-to-school season? Looking at #backtoschool across top Instagram stars, we can see influencers mixing these key themes in, especially when it comes to backpacks and sneakers: think millennial pink Nike's and camera-friendly accessories like phone cases and bags.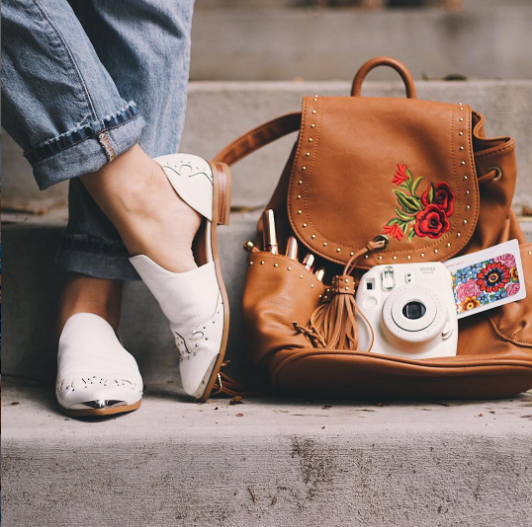 What Are Retailers Doing Different This Year?
While apparel and accessories may be the most fun part to back to school shopping, retailers also know that there is money to be made in school-specific accessories like books, laptops, and other dorm needs. In these instances, convenience is key. So how have retailers adapted this back-to-school season? The king of convenience, Amazon, has started offering a free instant pickup service for Prime and Prime Student members. Additionally, Target and Barnes & Nobles have partnered together for a buy online, pickup in-store operation out of small on-campus retail locations across the country, most likely in response to Amazon's move.
How Is College So Different For The Back-To-School Market?
Not only is the back-to-college shopper interested in more categories that meet their dorm and school needs, they also have the independence and greater purchasing power to buy heavily into apparel and accessories. Therefore, while retailers must meet the demand for necessities with extra convenience (ala Amazon and Target/Barnes & Nobles), they also must be conscious of trends and category shifts in the fashion world as well.
So, while all the college kids may be finishing up their shopping and heading back to campus this week, we're going to sit tight and keep an eye on the market - and thankfully we don't have to go back to class.