In 2020, what does "back-to-school" even mean?
It's definitely not going to be a season like we've had before, with COVID-19 fundamentally changing what school looks like. Whether kids will go back to school or have already done so, will depend on the parent, the geography, and how scientific research on vaccines and therapies progresses.
Back-to-school has historically been huge business for retailers especially in the US, being the second busiest time for retailers in terms of sales and demand. Last year, NRF research found that families in the US spent an estimated $240 just on clothing and accessories for their kids in grades K-12.
This year, because of economic recession and changes in school attendance, spending will likely be down from previous years. In the context of these things, it's going to be important to make sure your assortment, pricing, and promotional strategy communicates value. Let's take a look at the current state of kidswear as we head into the season.
Pricing and Discounting
One question that we've been asked is how kidswear is faring in terms of discounting. We know, of course, that over the past months, discounting for everything else has reached new highs as retailers' unsold inventory grows. So is it the same story for kidswear?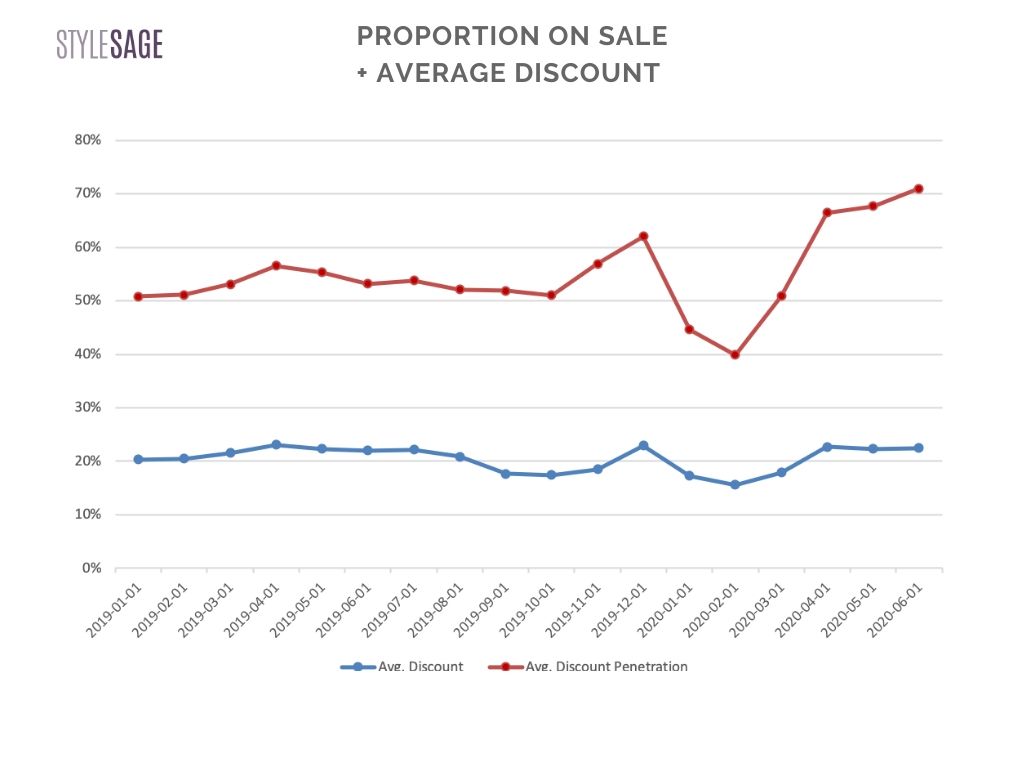 We pulled in data on discount penetration and average discounts for kidswear (including footwear), and saw that how much of assortments were on discount (penetration) ticked upwards in March. This is similar to what we saw in adult apparel. Heading into June, more than 70% of kid's apparel and footwear is marked down.
On the other side, average discount amounts haven't increased quite as markedly, with discounts averaging around 22% for the past three months.
What does this mean? Going into the back-to-school season, there's a lot of unsold merchandise at high markdowns still on the digital shelves. Consumers will be searching after a good deal and will likely find a lot still on sale heading into the school year.
Understanding average price points is also important, so we examined the average prices for items in some key kidswear categories. Here we tracked current, as well as original asking price.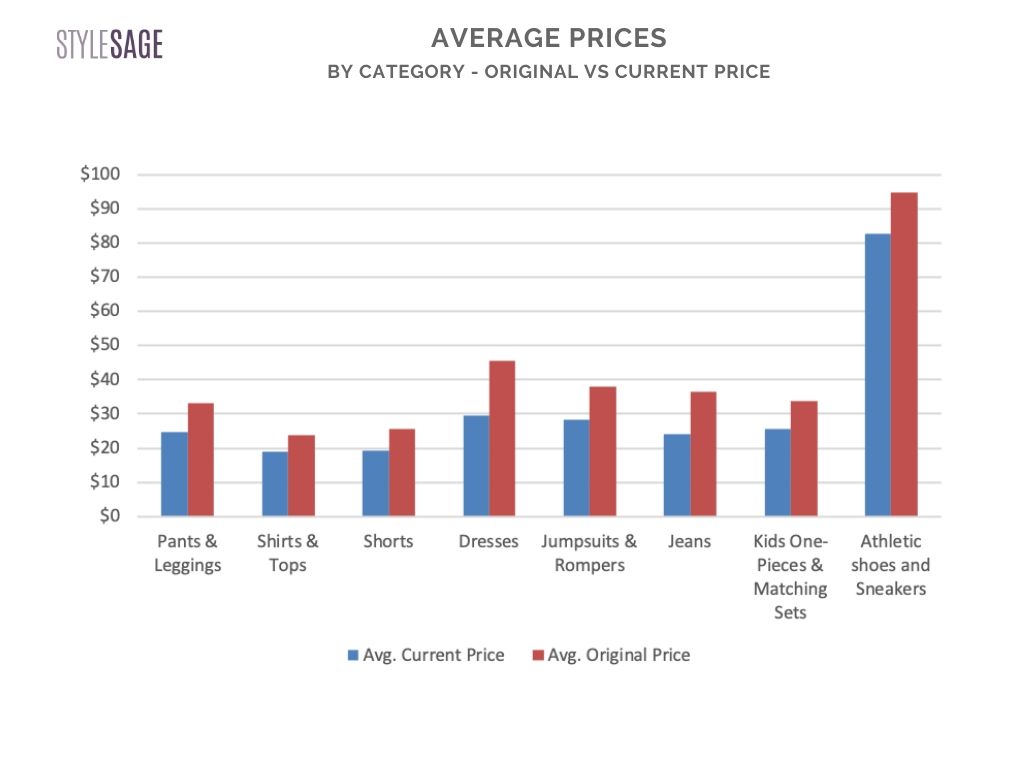 This data also helps you understand the discount data in a different light. For example, you can see that there's a pretty significant difference between the average current and original price in the girls' dress category, indicating major markdowns in this category. Overall, you can also see that shorts and t-shirts have the lowest original and current price points, while kids' sneakers have the highest. (And those are quite some high price points, with an average current price north of $80! Now we see where that clothing budget is going.)
What's New?
Next up in our analysis, we wanted to see whether retailers have pulled back on new merchandise going into back-to-school season, in particular compared to last year at the same time.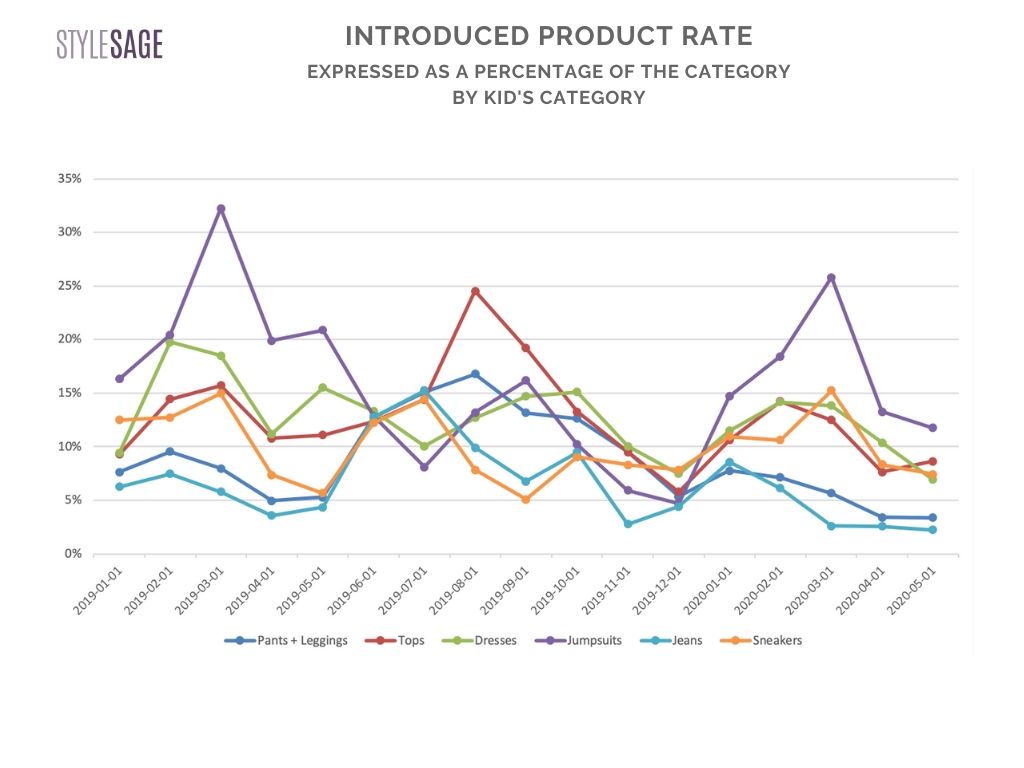 Compared to May 2019, new product introduction rates were down in dresses, tops, and jumpsuits. Interestingly, in May 2020, introduction rates for kids' sneakers were up from one year prior. Jeans and other bottoms remained flat in new product rates from one year ago.
Looking specifically at what's happened over the past few months, across most categories in question, new introductions peaked in March and have declined since that time. Jeans, a key BTS category, have remained relatively flat in new product introductions in the last two months of observation.
Color Stories
Last but not least, we took a look at colors, to see how color trends have changed from last year. Note: while the unisex trend is gaining traction, it's still not reflected in the organization and merchandising of mainstream kids' assortments.
To start, we see that compared with May 2019, a lot less pink in the girls' apparel assortment. However, there's more red and purple to be found this year. We also see a bit more in the green family as well.


Checking out the color wheel for the boys' assortment, we see that there's less red and cream tones, compared with last year. Blues, greens, and yellow have remained pretty similar in makeup.

So what do you think? Will kidswear and back-to-school be a bright spot in what's been a tough year for the industry?
Stay tuned, as well, as we'll be releasing a kid's trend report in the coming weeks. You won't want to miss some key themes for the seasons ahead.