Things are weird out there, folks, considering the global pain of inflation, the ongoing war in Ukraine, and record-breaking temperatures, all of which puts us in unfamiliar territory as we consider a key season for retailers: back-to-school.  
While the data and research is constantly evolving, the outlook from the National Retail Federation (NRF) on US back-to-school (and college) spending remains largely optimistic.  The NRF predicts that US back-to-school spending will top $37 billion and back-to-college will reach $74 billion.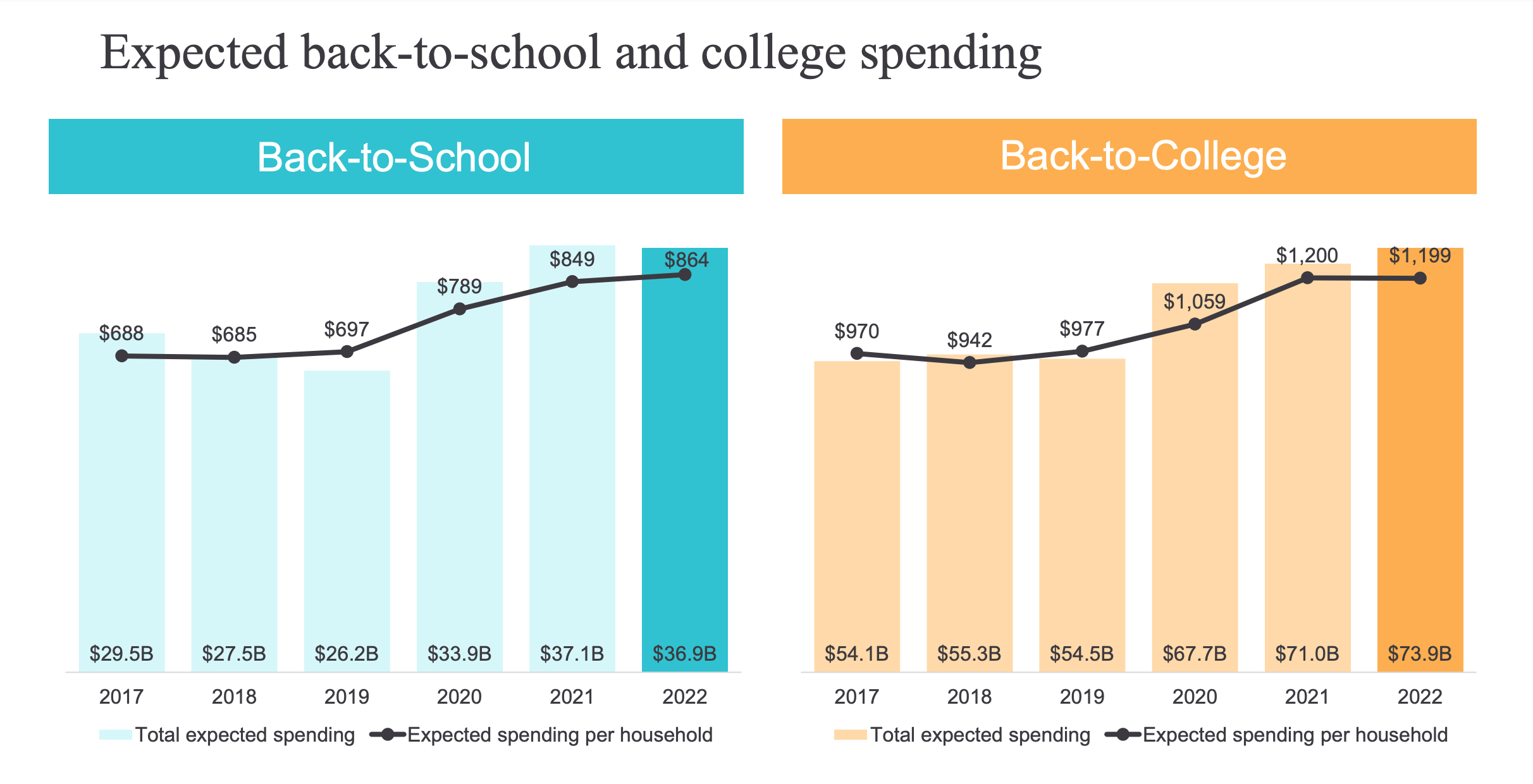 Source: National Retail Federation
Broken down by household, they anticipate a modest increase in back-to-school spending, $864 per household (+1.8% from last year), and flat spending for back-to-college, averaging $1,199 per household.  
In light of increasing prices and the anticipation of spending more money, consumers are making modifications to their traditional shopping behaviors.  Deloitte found that 77% of consumers will trade brands if they find prices too high, while NRF research uncovered that 38% of shoppers plan to navigate higher back-to-school prices by "cutting back in other areas."  This all came home earlier this week, when Walmart cut their quarterly and full-year guidance, reporting that consumers are cutting back on non-food categories, including apparel, as the prices of essentials take their toll.  
With these macro-economic pressures and shifts in behavior in mind, let's take a look at some key trends happening online in back-to-school categories.
Key Discount Themes
As reports of retailers' growing inventories become widespread, questions on how they will move that inventory are coming into the spotlight.  Naturally, discounting comes into focus as it remains a key lever retailers use to move aging inventory.  We wanted to understand, particularly in the context of the past few years, what's happening with key discounting metrics for retailers who rely on back-to-school sales.


Source: StyleSage
We split our analysis between retailers who cater to the kid's market and those who cater to teen and college age consumers.  With that nuance in mind, we see several different trends playing out.  In the kid's market, discount penetration and average discounts have come down significantly from both 2019 and 2020. You could say the 2021 BTS season marked a reduction in discounts - call it a return to "normalcy".  In fact, between 2021 and 2022 we've seen discount penetration amongst kid's retailers decrease even further - from 53% to 47%.
On the other hand, amongst teen and college focused retailers like American Eagle, Abercrombie and Urban Outfitters, we see that discount penetration is up significantly - 10 percentage points - from previous years' levels.  Average discounts have also creeped upwards amongst this cohort of retailers - from 15% to 17%.
What does this mean?  While speculation continues about where we are in the cycle of inflation, the market should be tracking whether going into August and September, discounts will continue to creep upwards as retailers continue to face inventory pressures and the possibility of consumers cutting back.
Key Category Highlights
On the topic of inflation, it goes without saying we've all experienced its effects, in more ways than one.  But have all back-to-school categories seen major price increases?  We took to our data to find out more.


Source: StyleSage Average Prices
We looked at kid's retailers and focused on three key categories including backpacks, jeans, and sneakers.  What we found is that there certainly were price increases, but they weren't the case in every single category.  We found that backpacks increased in price by 11% from last year, reaching an average price of $51, kid's jeans hit $25 a pair, an increase of 8% from 2021, and sneakers hit an average of $41, which is actually a decrease of 7% from 2021 averages.  Retail's response to rising costs doesn't have to be limited to raising prices, they can also consider introducing lower-cost, basic options, in order to meet a price-sensitive shoppers' needs.
These findings highlight an important nuance when it comes to the conversation around inflation, and that is not every single category - nor every brand - is seeing significant increases.  Taking a closer, more focused examination of retailers' assortments helps paint a clearer and more accurate picture of what's happening during this key back-to-school season.  
Check out this link for our full back-to-school report, including a look at what's happening in the European markets.