Over the past eighteen months, it wasn't just our wardrobes that evolved. Our personal care and beauty routines also transformed themselves. For most, staying at home meant simplified (or completely nixed) makeup routines, while also putting extra focus on care that could be done at home, like hair color, taking beauty supplements, and skincare regimens. With everyone stuck at home and in front of our screens, it comes as no surprise that many beauty trends emerged from TikTok and Instagram. (More on that here.)
But we're in a new, albeit slightly inbetween, moment now, as most professional beauty services have reopened their doors, and many of us are seeing our social calendars fill. And so it begs the question, "What do beauty shoppers want right now?" To answer that, we took to our Trend Radar, which breaks down global search trends down to the category and keyword, to understand which beauty topics are top-of-mind right now.
Let's take a look at beauty searches at a macro level. To orient yourself to this chart, note that, from left to right, these are the keywords that are seeing the greatest monthly growth in online searches. As you fall beneath the x-axis, those are keywords which are shrinking in monthly search volume. For today's analysis, we're looking at searches compared to one year ago.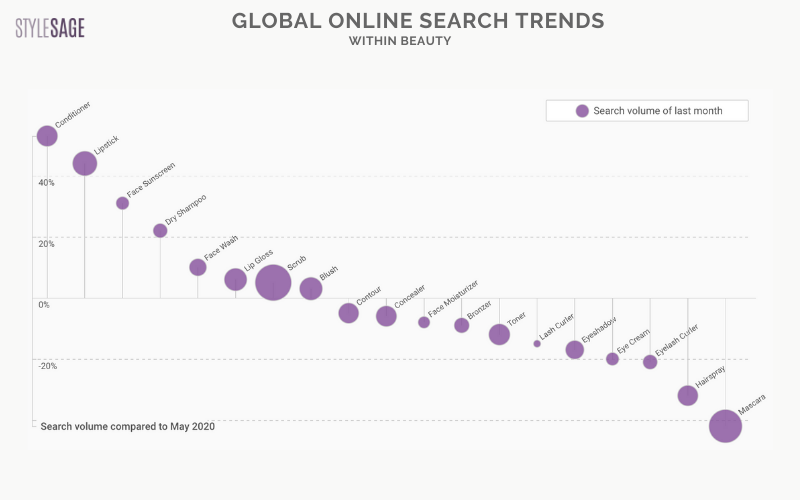 One of the first things we see is that searches for lip products, namely "lipstick" and "lip gloss," are growing from one year ago, at 44% and 6%, respectively. However, there are also clues here that consumers might also be simplifying their makeup routines as they re-emerge into the world. Specifically, if you look at declining searches, you'll see that "contour," "bronzer," and "eyeshadow," are all declining in monthly searches, decreasing at a rate of 5%, 9%, and 17%, respectively.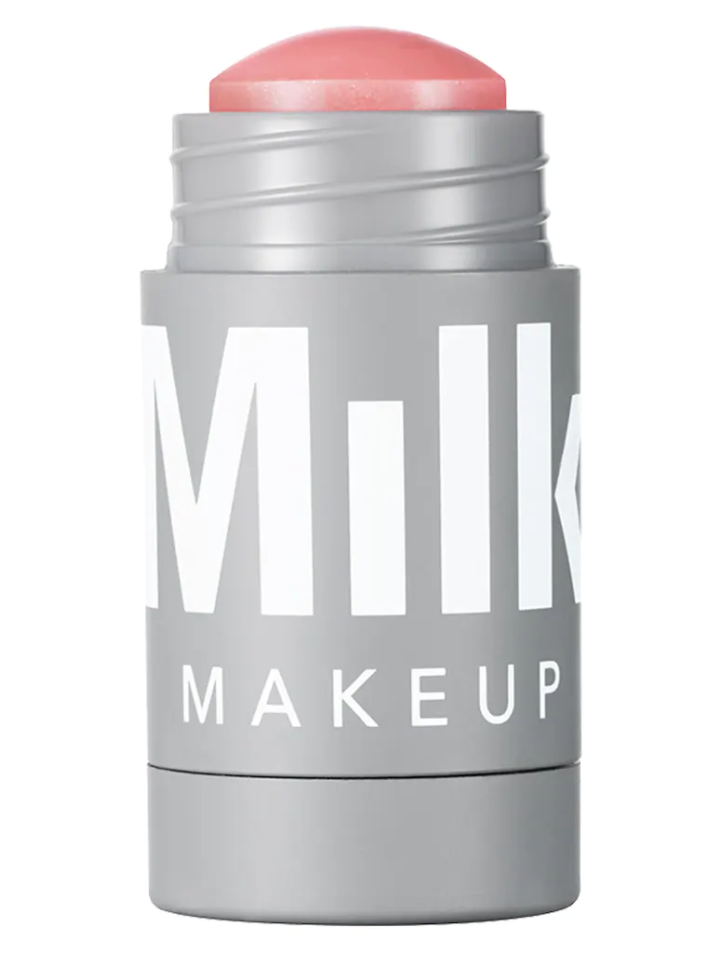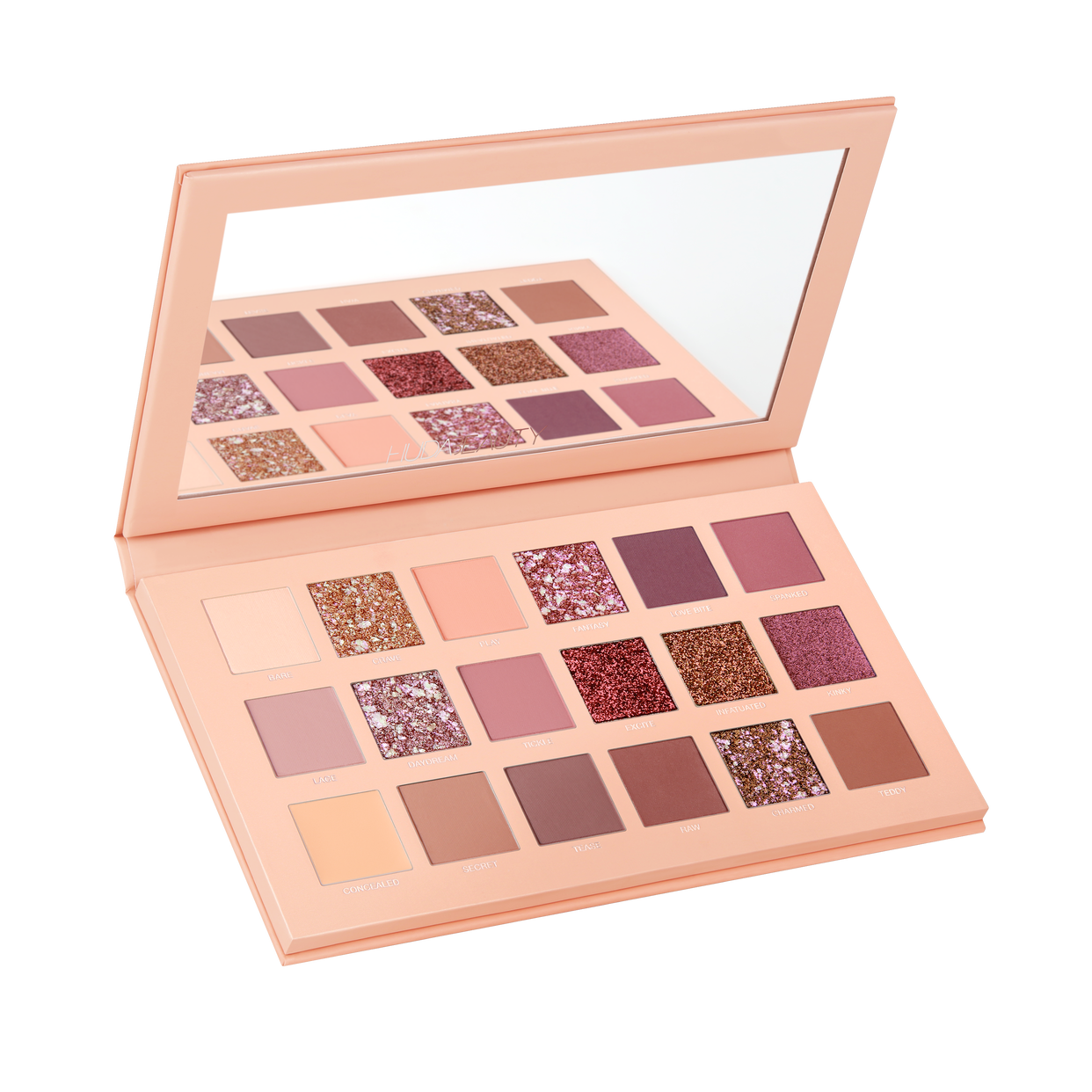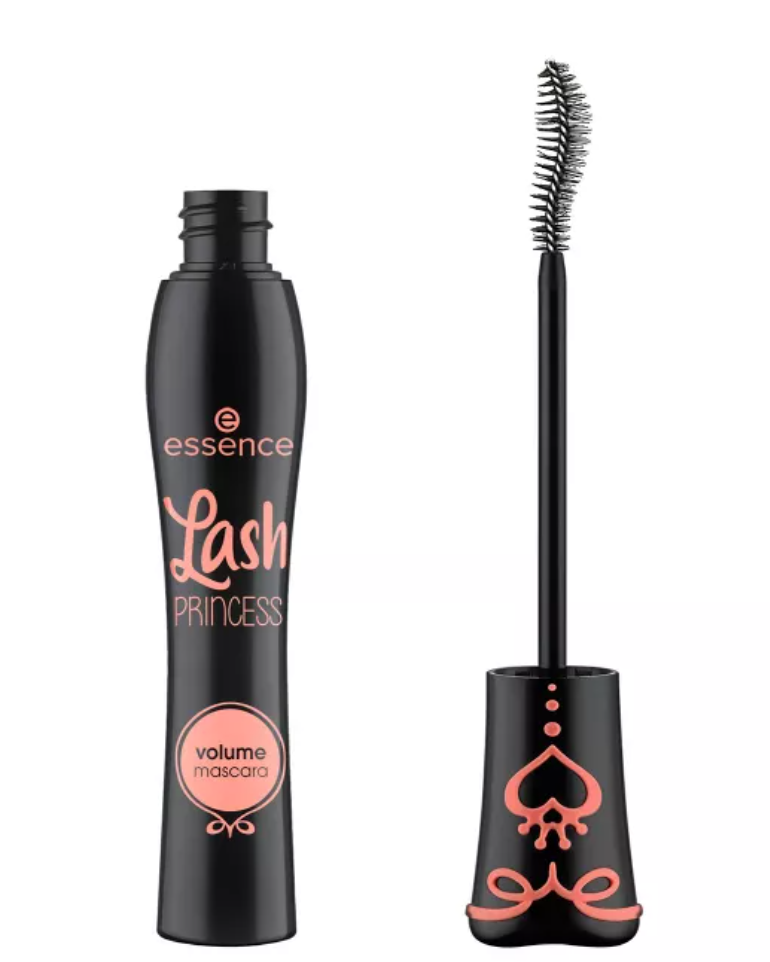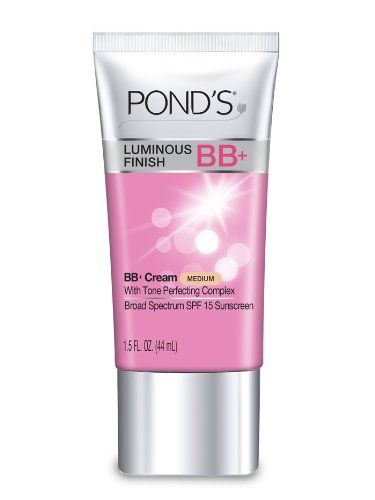 On the "care" side of beauty searches, we see that consumers still have a health mindset. This is most evident in increasing monthly searches for "face sunscreen" and "scrub," with increases of 31% and 5%, respectively.
Let's now drill down more into both color and care categories, in order to understand where there are product and brand level opportunities.
For cheek color, blush is product du jour. Charlotte Tilbury, Milk, and Nars were some of the brands most searched within the blush category. When it comes to face makeup, skincare plus light coverage is what consumers are after. CC and BB Creams, as well as tinted moisturizers, are the winning product types.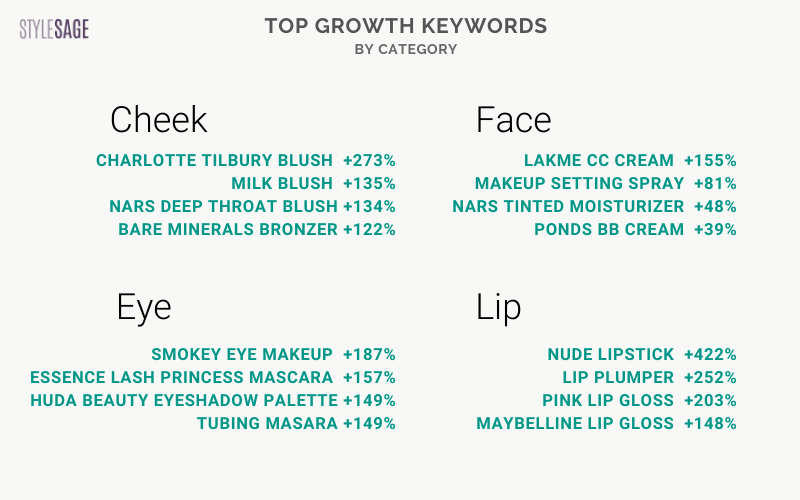 As we examine eye makeup trends, we see that the smokey eye and Huda Beauty's eyeshadow palettes (which also happen to give you said smokey eye), are top growers. Essence Last Princess mascara, a cheap and cheerful brand very popular on Amazon, has seen online searches for it grow more than 150% from one year ago. Lastly, moving to lip products, we already noted earlier that searches for lip products are up from a year ago, but specifically which kind? Glosses and nude lipsticks are most desirable at the moment, indicating that beauty shoppers are looking for natural looks.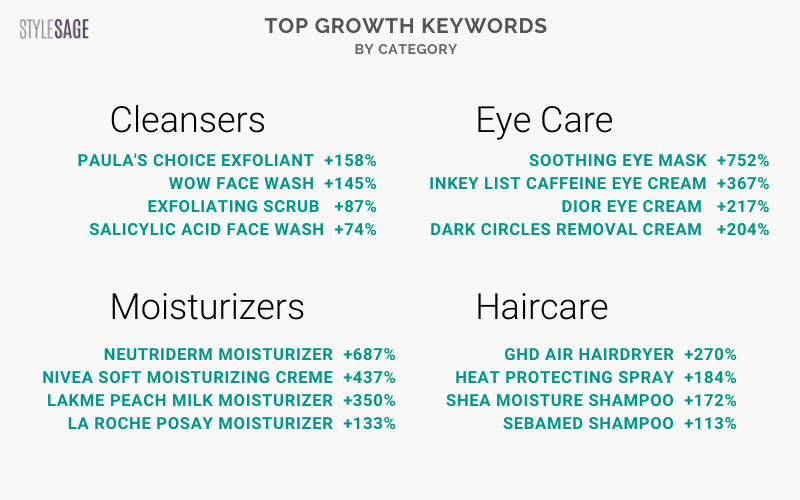 As we shift gears to look at skincare products, we see that in the cleanser category, exfoliants are making major moves, and Paula's Choice no-nonsense, cult-favorite version is top of this list. For care of the eye area, British brand Inkey List has seen 367% growth in searches for its caffeine cream, which also happens to ring in at only $10 a tube. (It, like several other products on these lists, also happens to have gotten a major boost from being repeatedly featured on TikTok.) For the moisturizer category, we are seeing growth in searches driven by specific brands, including Neutriderm, Nivea, Lakme, and La Roche Posay.
In fact, if you want to understand just how much a boost TikTok has given certain brands, look no further than drugstore and L'Oreal-owned brand, CeraVe. Gen Z users on TikTok picked up on the minimalist brands easy pricepoint and serious efficacy chops and made it go viral, increasing the brand's "like-for-like" sales by 82% in the first nine months of 2020.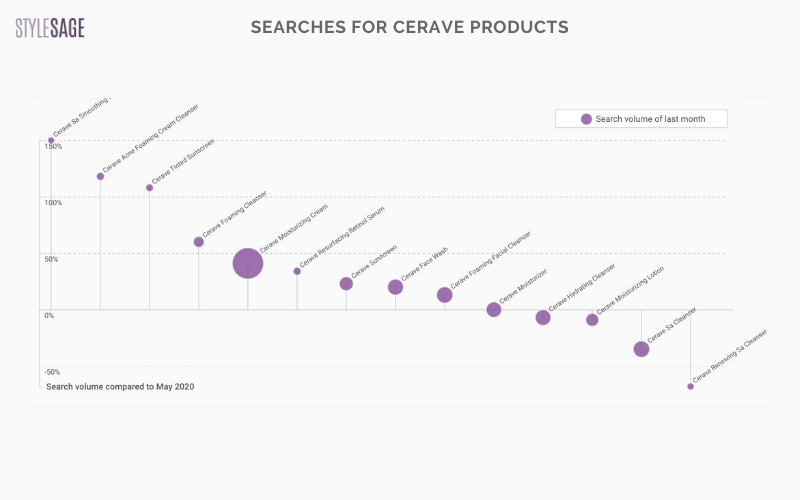 And our search data shows just how hot CeraVe remains. Of the top 100 most searched keywords in the skincare category, the brand comprises fourteen of those! Its SA Smoothing Cleanser (+314%), Foaming Cream Cleanser (+118%), and Tinted Sunscreen (+108%) are seeing the greatest increase in monthly searches.
Before we close, we can't forget haircare! Top growing searches in haircare include the GHD Hairdryer (+270%) heat protecting sprays (+184%), and Sebamed's medicated shampoo (+113%).
Interested in seeing more beauty trend data? With their subscription, StyleSage clients can access this data and more inside the Trend Radar.