Founded by Simon Porte Jacquemus in 2009, Jacquemus is the brand that first caught the attention of Paris' fashion elite and later the whole world. The label has taken the fashion world by storm, considered by many the brightest star among new French fashion houses, and although having been around for only a short amount of time on the fashion scene with many heavy-hitting heritage brands, it has surely made its mark on it. We decoded the label's success, and analyzed the synergy between the elements behind it; their design aesthetic, competitive positioning, marketing strategy and assortment mix.
The Jacquemus Brand History
Jacquemus stands out as being unconventional in the fashion market for many reasons - unsurprisingly so considering how the founder and creative director himself started off his career in an untraditional way. At the age of 18, he moved to Paris to pursue a degree in fashion design. When his mother passed away after only a few months into the program, he dropped out and started his own label, with no formal fashion education or intern experience. He named it after his mother's maiden name: Jacquemus. In 2012, the designer became one of the youngest ones to ever show at Paris Fashion Week. His innovative point of view, fresh vision and unique business strategy resonated with the fashion audience and consumers alike, and industry professionals noticed. In 2017, he was invited by the prestigious Maison Méditerranéenne des Métiers de la Mode to stage a catwalk in his native Marseille, and his Spring/Summer 2018 collection named "La Bomba" was picked up by some of the world's biggest retailers including Selfridges, Moda Operandi and Net-a-Porter. The Jacquemus story had not only started, but created a major imprint on the fashion scene.
The Jacquemus Aesthetic
The label seamlessly melds sensual minimalism with youthful freshness and playfulness, and is able to create something that not only perfectly balances the commercial and the conceptual, but merges the two into something completely unique. Inspired by his roots from southern France, Jacquemus inspiringly communicates the romantic story of folklore and artistry from the French coast in every collection. Every runway show is highly personal, designed to do more than just push apparel out, but to tell the story of his life and how he sees the world. Jacquemus himself says that "I don't do clothes, I do stories", and it is clear that these are stories that consumers can't get enough of. StyleSage data reveals that there are over 335k global monthly searches for 'Jacquemus Bag', vs. 59k in June 2019.
At all times, Jacquemus designs are unmistakably stylish, showing off the female body in the most flattering way, while still holding their commercial appeal and the most important of all: wearability. It's a French concept with a very contemporary and playful twist, that goes against much of traditional luxury as well as ​​the classic Parisian brands who historically have expressed themselves in a much stricter fashion. Jacquemus playfully experiments and makes a statement with size and silhouette, and is able to create true accessibility without losing its luxurious appearance.

Following runway shows set at extravagant locations like a blooming lavender field in southern France for Spring 2020 and a beach in Hawaii for Spring 2022, the brand touched down in the otherworldly salt mountains of the Camargue for Fall 2022 and its Le Papier collection. The backdrop of salt flats created an ethereal scene, where models descended from the mineral hills presenting a collection featuring tulle, deconstruction, sheerness and cloud-like outerwear. The overall collection was true to the poetic romance always present in Jacquemus work, but it also spoke of something different: repositioning and refinement.
The line was a step away from the brand's pop vibes of recent years, as well as from any bright candy colors, and instead showed a highly finessed version of the brand in earth tones of white, cream, beige, sage and brown. His signature lingerie style was present in multiple looks, a nod to the playful and fun, but the collection was in many ways a clean slate and something completely different than what the brand had ever presented before. "I started working on the collection with the obsession to restart from nothing, like a white page," Jacquemus said after the show.
The fall 2022 marked a new era of Jacquemus, something off-the-beaten-path and a clean slate for the designer. He showed that he is anything but a one trick pony, and although different from previous collections, the audience showed their love. Jacquemus stuck to his buy now-model, and several pieces were sold out immediately after the live streamed show.
The Jacquemus Marketing Strategy
It is clear that Jacquemus himself has a strong sense of brand identity and a clear story to tell, and one of his strengths is his ability to portray all of that through marketing. Truly understanding the power of social media as a marketing channel, the brand has not only utilized it but mastered it to its fullest capacity. Through the power of community building for a digital age and an ultra-transparent narrative through social channels, Jacquemus has been able to create a powerful online presence with an Instagram account holding 4.8 million followers. Jacquemus is certainly not alone in betting on social media, but just as his approach to design is untraditional, so is the one to Instagram - his personal account, and the account of the brand are one and the same. This convergence has created a unique sense of human connection with followers, who get to partake in personal photos of the designer, as well as his childhood memories, mixed with behind the scenes photos of fittings and commercial brand campaigns. Instagram has become a direct contact between the designer and his audience that feels warm and personal, all playing to their brand strategy of being accessible and down-to-earth. In June, the designer posted a playful image with the text "bonjour! do you want to see my first nike sneaker?", hinting at the upcoming collaboration, as well as personal images of himself and his partner wishing for a happy Pride. This strategy is the absolute opposite of many other luxury brands', where the key is to present an untouchable narrative.
Jacquemus truly understands how to keep an audience engaged, and where the tools lie in order to do so. The brand is carefully creating events and pop-ups, all of them aesthetically dominating in a way perfectly designed to be posted and go viral on social media. In December 2021, the brand presented all-pink vending machines, open 24 hours a day, as the ultimate marketing strategy to reach Millennials and Gen Zs (read: audiences that live for a good photo-opportunity). Transactions were credit card-only, and customers received a locker number and code post payment to unlock their prize. The installation was a captivating way to promote the new coloring of the Le Bambino Long bag, and also a catalyst for social media likes.
In May 2022, Jacquemus did it again: he presented another retail pop-up that was more about an experience and a concept than simply buying. Staged at Selfridges in London, the brand painted everything in blue for "Le Bleu", which involved a  surrealistic interpretation of the designer's own bathroom, another vending machine, and an interactive experience called Le Vestiaire that played on visitors' "sense of discovery and excitement." The installation featured exclusive colorways of the label's Chiquito and Bambino bags, as well as exclusive apparel. Ultimately, the Jacquemus magic in his marketing comes from how he treats his audience and fans as if they were his friends, and how he invites them into his world of fun and play.
A Smart Merchandising Strategy
Merchandising is the backbone of any fashion line, and the Jacquemus brand makes differentiated choices in how it builds its assortment, especially when compared with other luxury brands.

To start, you can see that much of the assortment is actually apparel, versus the typical luxury brand which is skewed towards accessories and handbags.  Across retailers who carry the brand in the UK, we see that nearly 70% of the assortment falls in the apparel department.  (For comparison's sake, Bottega Veneta's apparel offering at these same retailers comprises 23% of the total assortment.)  Jacquemus bags make up 15% of the offering, even as specific retailers like Selfridges assort a higher proportion of the brand's bags than other retailers.
However, we do see that bags, even though a smaller share of assortment, are an outsize performer for the Jacquemus brand.  Over the last 30 days, we've seen 36% of Jacquemus bags in the UK market sell out, the best performing category of the brand's items.  Apparel has a much lower sold out rate of 15%.  When it comes to what a summer shopper is looking for, especially emerging from the pandemic, the Jacquemus brand certainly resonates.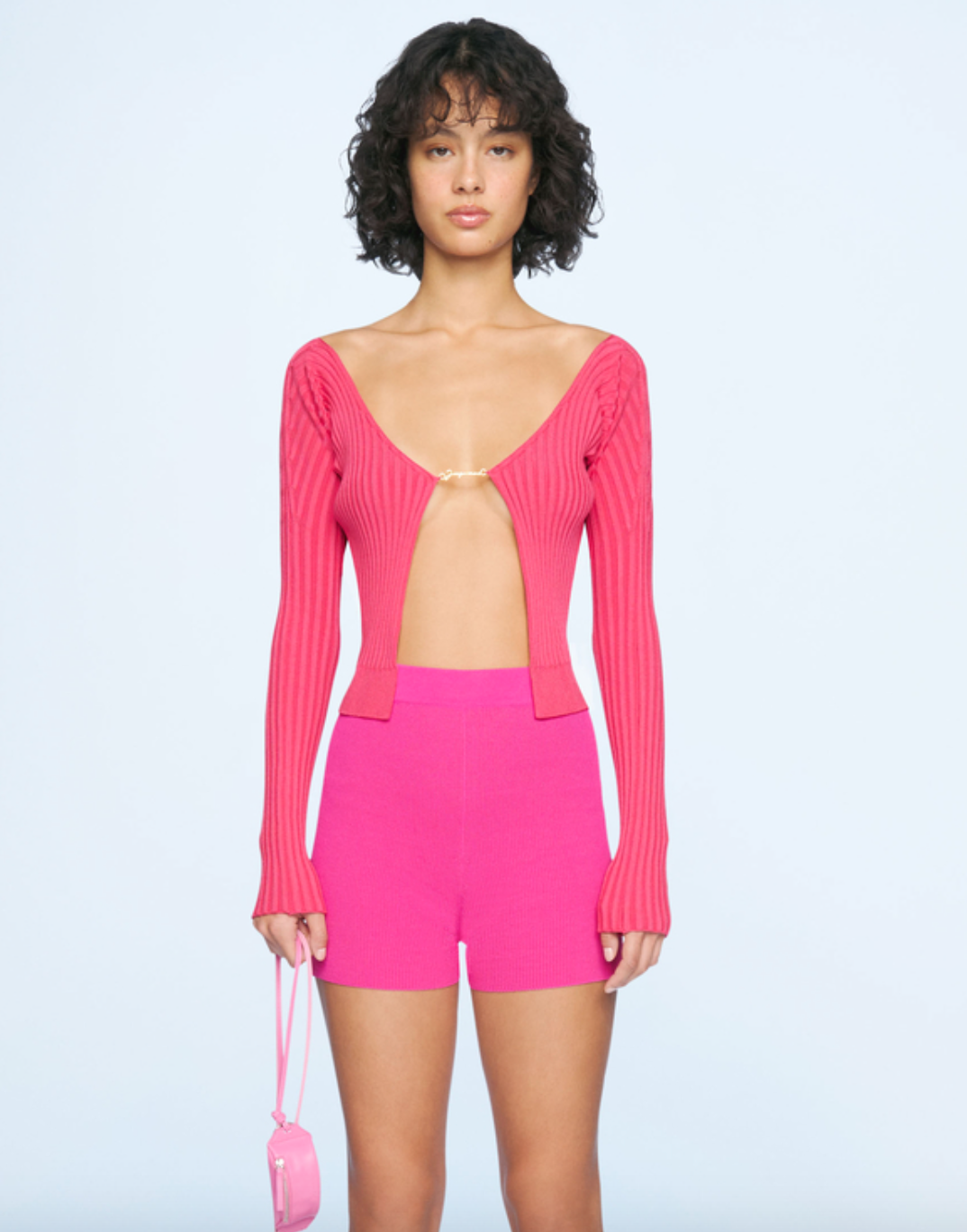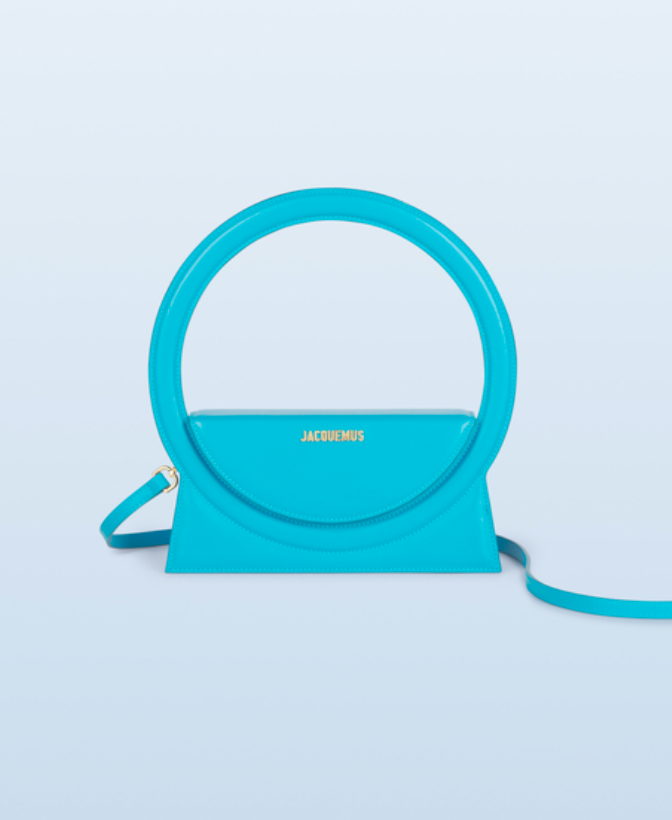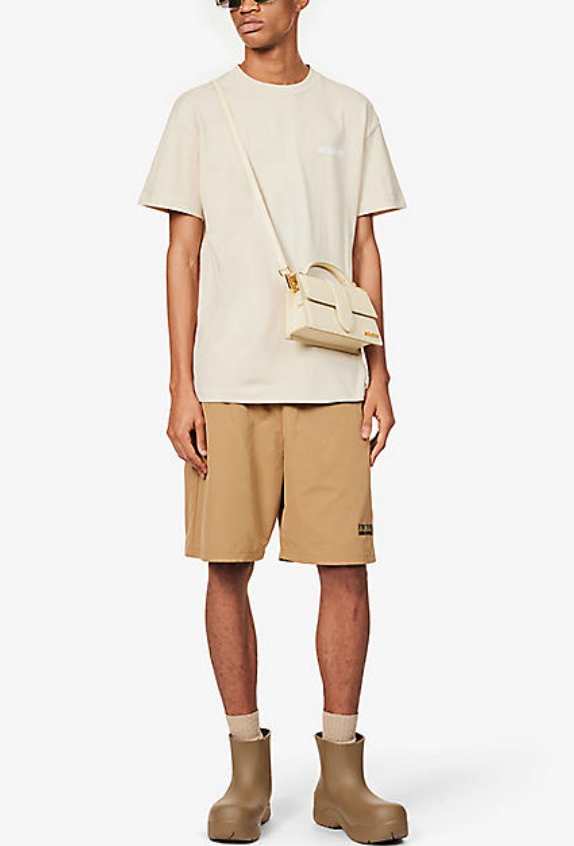 Another tenet of success in fashion today is having iconic items that add recurring value to a brand.  It's on this theme that we've seen the Jacquemus brand really shine.  From its signature cardigan to its boxy Chiquito bags, the brand has a knack for viral items that can convert to long-term brand staples.  From offering a tiny bag in multiple larger sizes that hint at more practical usage, to creating items that can be seasonally updated via new colorways or materials, one can see the brand's structured thinking blending seamlessly with the creative.
On the note of color, a novel approach to its application can also be seen via StyleSage's color wheel above.  Even as the most recent collection was more neutral in tone, the brand has a history of picking a few strong color themes and applying them across the collection.  What we see in its current apparel offering includes 20% neutral shades, 19% in golden tones, 16% in blue hues, and 5% in its signature pink color way.  
An Accessible Luxury Pricing Strategy
In addition, we can see an attainable luxury positioning in Jacquemus' pricing strategy.  Compare the average price of a Jacquemus bag above, £528 (614 € / $640 USD), with a Saint Laurent one, at £1,384 (1,608 € / $1,678), and you can see the unique space the brand occupies.  A similar theme also plays out in its apparel offering too.  Ultimately, as a growing brand popular amongst a youthful cohort, this strategy clearly lays the groundwork for future growth and market opportunities.
The Jacquemus x Nike Collaboration
On June 28th, the brand's much anticipated collaboration with Nike dropped. Together they presented a 15 piece collection, featuring refined silhouettes in an athletic take. All pieces spoke of the designer's love for the outdoors combined with the activewear giant's expertise in technical sportswear. Jacquemus, an avid collector of Nike's ACG (All Conditions Gear) line, wanted to bring that functionality to his own womenswear obsessions, like "late-'90s lace miniskirts, Lady Di's sport looks, and the DNA of tennis."  The result was a neutral-​toned collection that managed to feel ultra-light and airy, and look very ready to wear, but thanks to Nike's specially engineered knit it was clear that the pieces would work for movement too.
On Jacquemus' website, every single piece is already sold out (luckily, the collection will also arrive in Nike's online store as well as in brick-and-mortar locations later this summer). Jacquemus is here to stay, and his fanbase now has plenty of Jacquemus branded products to choose from for any occasion.

Jacquemus has successfully created his own universe through the stories he is telling. His tales about women, himself, and everything he finds beautiful and inspiring in the world has translated into an impressive body of work, and our only question is what his next move will be.