Love 'em or hate 'em, the Kardashian family is a formidable force in business.  From Khloe's Good American denim line to Kylie's beauty line, Kylie Cosmetics, each member of the family has taken on a category of products and put their unique stamp on it. Kim Kardashian's Skims line is no exception; since its launch in 2019, the company has reached a valuation of $3.2 billion, with constant demand meaning many new products sell out nearly instantly.
Today we explore Skims' strategy and how they stack up in the market for intimates and loungewear.
A growing and diversified offering
Don't know about you, but when I think Kardashian, the word "bodycon" comes to mind.  And when Skims launched, the line was meant to bring an updated approach to shapewear in a market dominated by brands like Spanx.  From its inception, materials to achieve sleek silhouettes - and more specifically how they intersect with function and comfort - have been a major focus of the brand.  
This focus on shapewear means that shoppers can focus on specific areas of their body they want to support, while also enabling shoppers to select how much support they want in their garment.  Thoughtful details, like one shortened leg in a pair of shaping shorts for an outfit with a leg slit, show that the brand is thinking creatively about the category, while also capturing customer feedback.
But it's not just about shapewear.  As the brand has grown, it's been about expanding into adjacent categories like lounge and swim.  While intimates comprise nearly half of Skims assortment, swim now comprises 21% of the total number of products.
Product innovation and newness are cornerstones of the brand and Skims product drops happen frequently, with new collections featuring either new colors, materials or categories.  The visual presentation is eye-catching and often features celebrities and other influencers donning Skims IRL.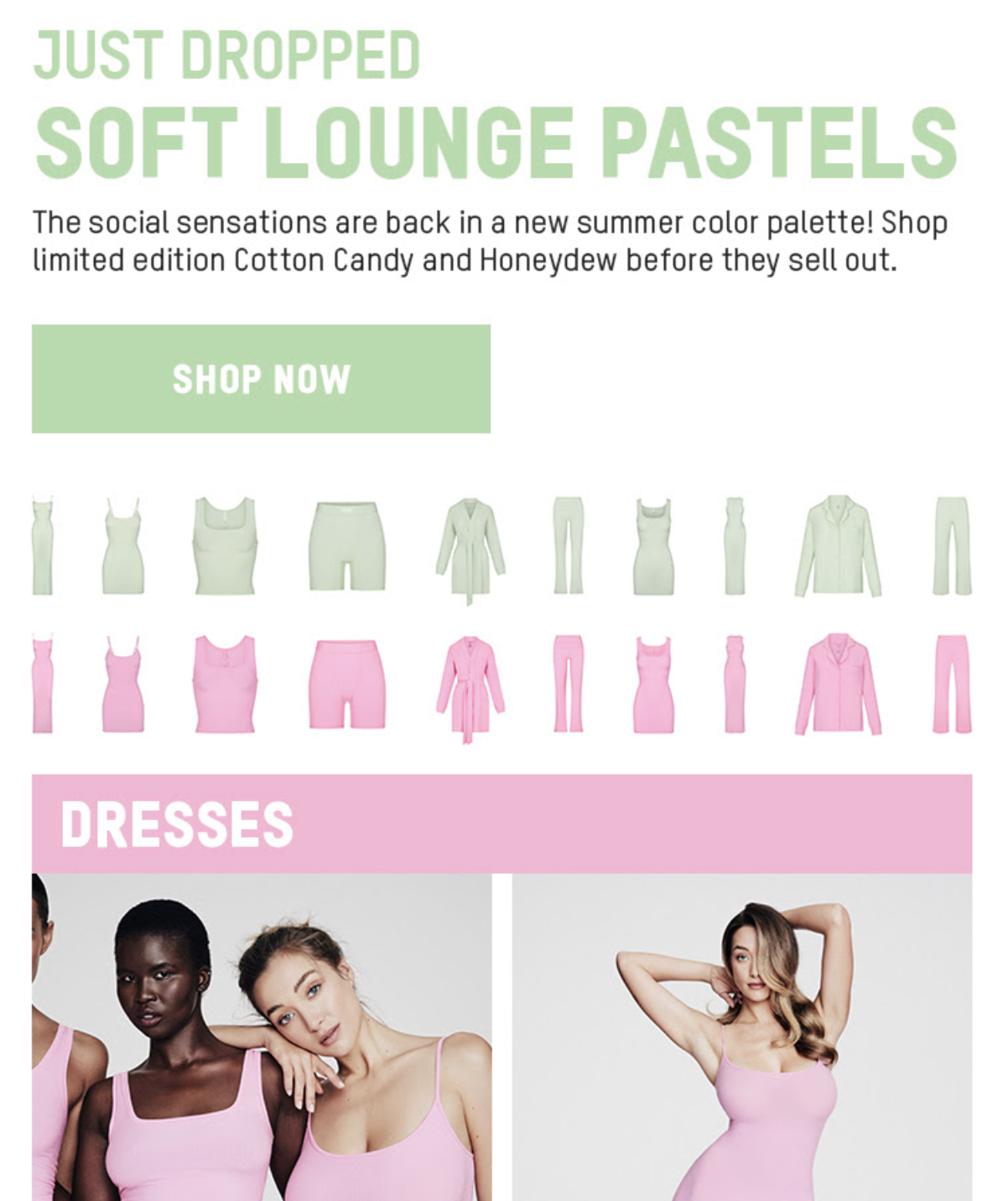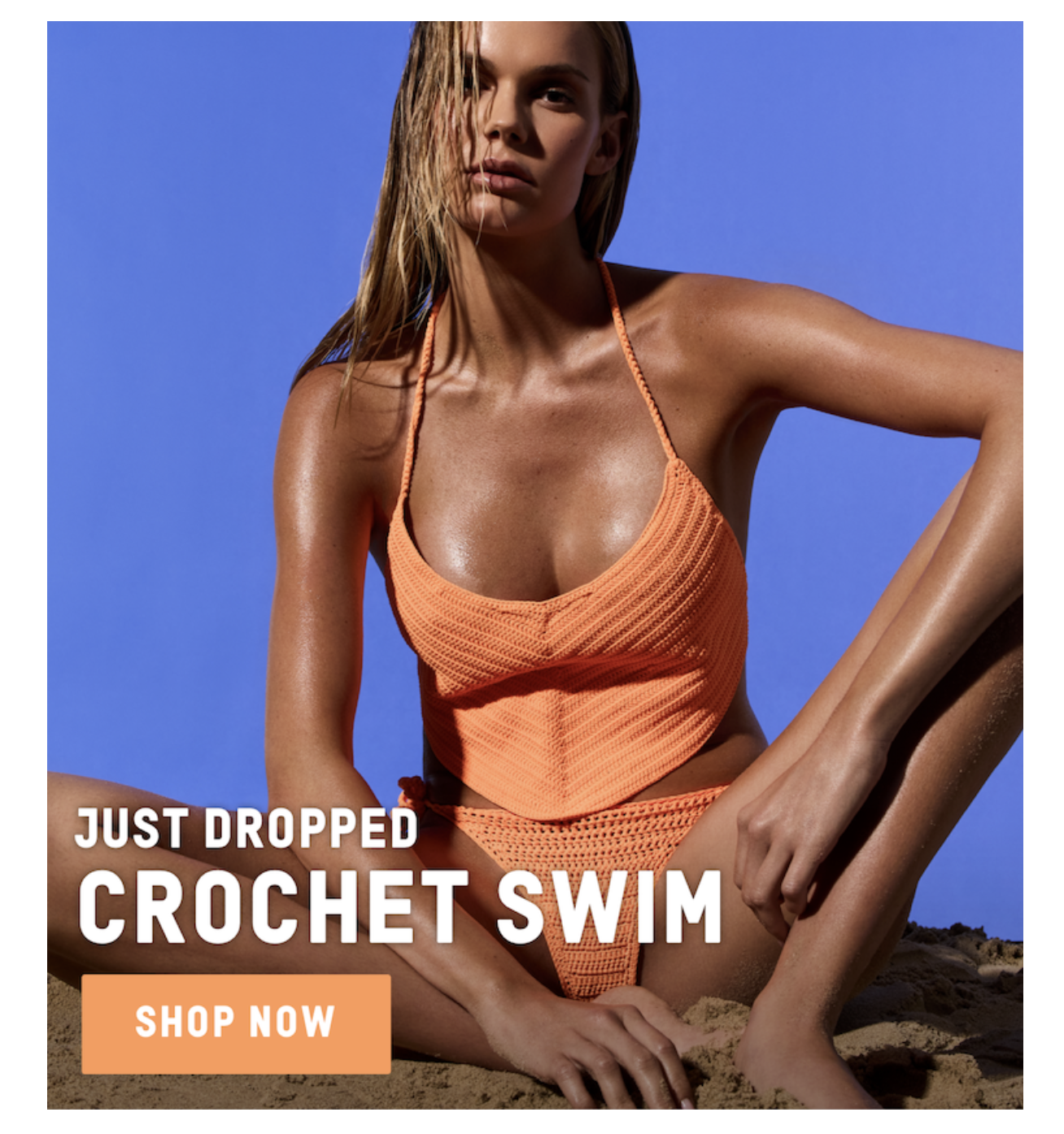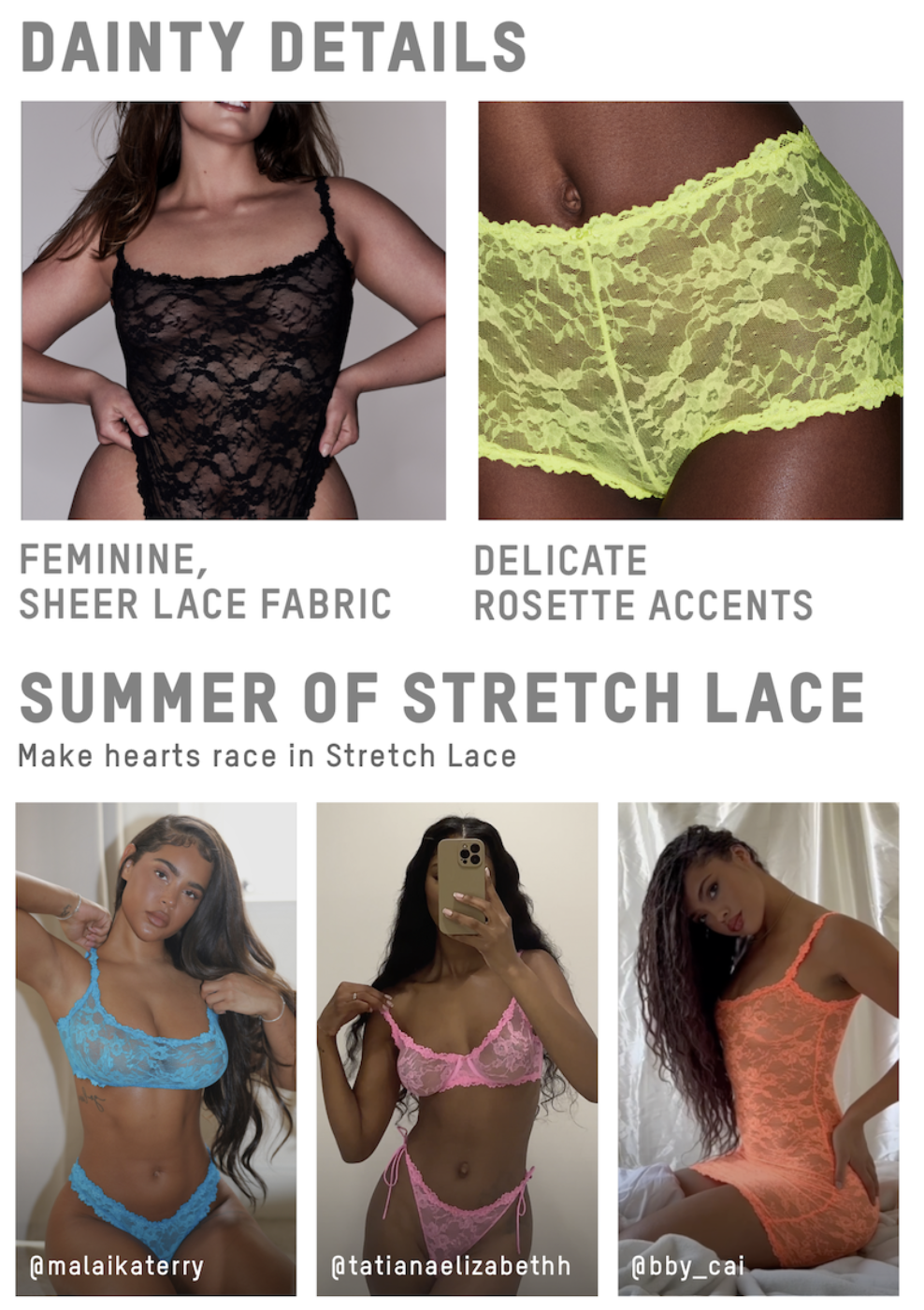 Priced to move, yet preserve premium status
Even though Skims moved into a space that has many competitors, the brand occupies a unique position in the market in terms of pricing and promotional strategy.
Our analysis shows a selection of Skims' direct competitors in the market for not only shapewear, but also other intimates.  Of the competitors selected here, which include Aerie (American Eagle) and Savage x Fenty, you can quickly see that generally, Skims occupies the most premium market position in terms of pricing.  But when you examine promotional strategies, this is where you start to see very different approaches between the brands.  
Savage x Fenty, Rihanna's intimates line, has a membership format, where for $60 a month, you can select a certain number of products and access "VIP" prices. It's a slightly confusing subscription model that at times really cheapens the brand.  
American Eagle's Aerie takes a more traditional promotional model, where there are frequent item-level discounts levied across the assortment.  Our analysis shows that an average of 80% of Aerie items have been marked down over the past year.
Contrast these two with Skims' approach, which focuses primarily on its bi-annual sale, and product bundles, a commonly used tactic to encourage buying in multiples. Otherwise, the brand averages 10% of its slower-moving assortment on sale.
An inclusive approach
Many brands have been under the microscope of late for their lack of inclusive sizing.  Additionally, in intimates, skin tone is an important part of a product's overall fit; many brands have traditionally offered only one version of "nude" - which obviously doesn't at all align to a diverse set of skin tones.
Skims has tackled both of these challenges with its offering.  Our analysis shows that in its "Fits Everybody" line, sizes for panties range from XXS to 4X, and there are 12 classic shades made for all skin tones.  In bras, sizes range from a 30A up to a 46F.  
Savage x Fenty has also taken on an inclusive sizing approach in its assortment; its panties are offered in a similar size range with the exception of XXS, and its bras go up to 46DDD. Where Savage x Fenty doesn't compete is in the range of nude colors as most of its products come in 3-4 neutral shades.  In fact, the brand takes a more "fashion" approach to its assortment, with many products in prints and having extra embellishments.  
Aerie by American Eagle is also a major inclusive player in the space, with a range of 8 inclusive nude colors and sizes in bras from 30A - 42DD.  
It's encouraging to see the leading brands in this space putting money behind a more inclusive approach - not only in their marketing but also their product assortments.
Interested in how to benchmark your intimates assortment against the market?  Log in today and get started!