The Spring '23 shows at Copenhagen Fashion Week confirmed something that has been set in motion for some time now - Scandinavian fashion is undertaking a pivotal shift.
As a contrast to the minimalistic aesthetic the Nordic region has been characterized by, often with the Hygge trend used to describe a blissful state of coziness and conviviality at the forefront, this season's collective of both rising newcomers and established brands were more cutting-edge and boundary-pushing. Within the relatively small pool of designers and brands that make up the Scandinavian fashion scene, multiple identities that are everything but homogenous are starting to emerge and diversify what Nordic fashion means.
Sustainability Focus
The Danish capital is in many ways a leading example of urban sustainability, so it should come to no one's surprise that their fashion week would follow suit. In 2020, the event introduced a Sustainability Action Plan, meant to spark long-term change within the fashion industry, and a set of 18 minimum standards to which all show schedule brands must conform. In order to join the event for AW23, CEO of the event Cecilie Thorsmark reiterated that designers will be required to meet the event's sustainability goals such as "producing collections that are at least 50% certified as made of preferred materials or new generation sustainable materials, upcycled, recycled or made of deadstock". With the recent announcement that they are also banning the use of fur, it is clear that an industry shift is taking place.  Get acquainted with 5 brands at the center of this new chapter that is all about sustainability and the updated Scandinavian vibe ahead.
A. Roege Hove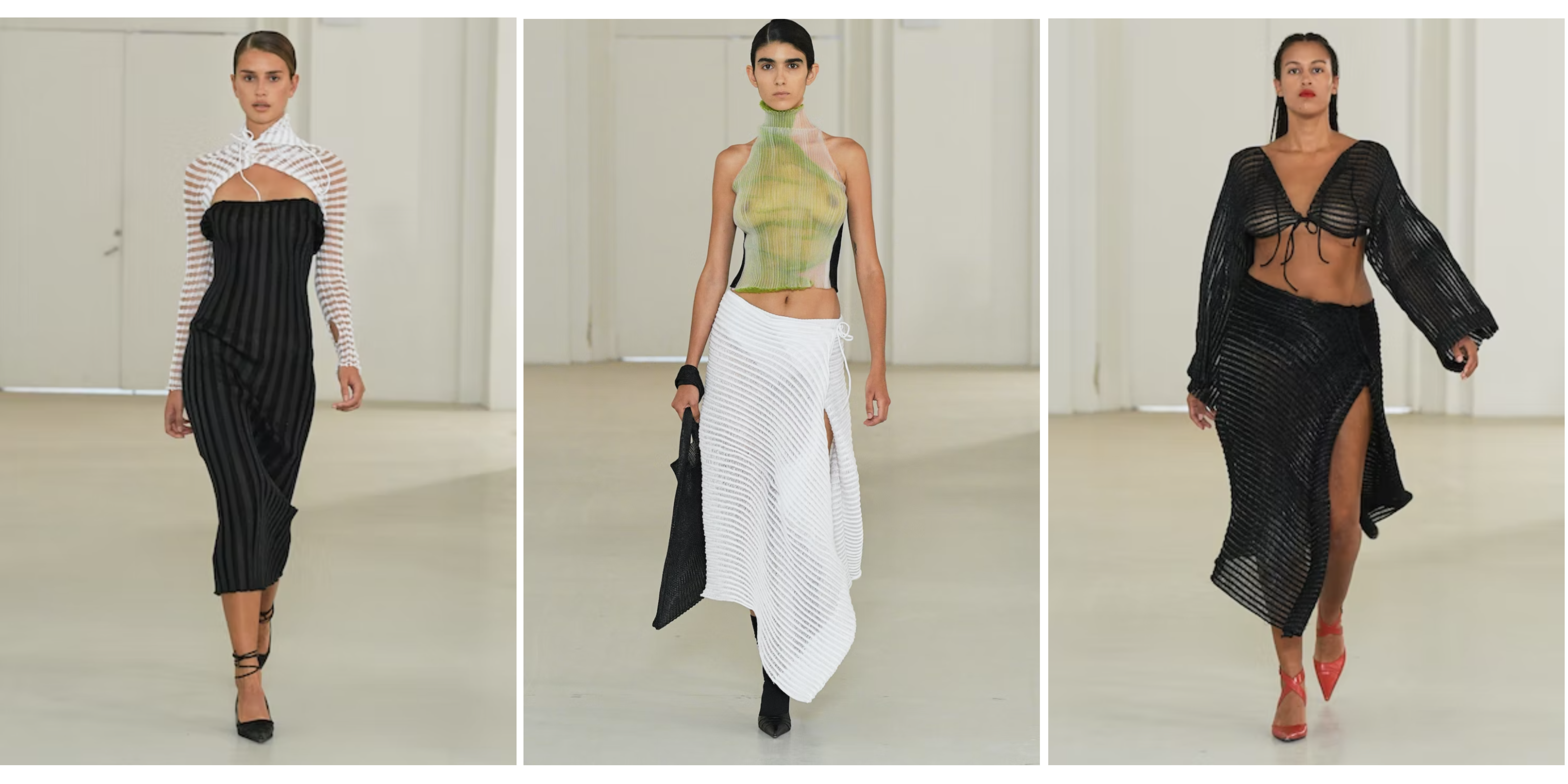 A. Roege Hove is anything but a traditional knitwear brand. Highly conceptual and sculptural pieces are brought to life when put on a moving body, and they resemble wearable art more than they do any classic knitted creations. The line featured extravagant silhouettes that challenged traditional perceptions of shape and design, most of them clingy and sensual that truly embodied second-skin dressing, but some voluminous looks that bounced as models walked were weaved in and created a diverse yet cohesive collection. Every garment spoke of intricacy and complexity, but especially so one creation in particular - a striped dress made from 13,000 rows on the knitting machine that took three people several weeks to construct, and miraculously was made in a single piece. It is clear that Røge Hove designs for a highly aware consumer, who can fully appreciate the garments and their sustainable practices. Each style is manufactured in Europe and "engineered and created to minimize waste, and for some styles zero waste, for the production to have a natural responsibility in mind throughout the entire process, using high-quality European materials such as Italian cotton and German monofilament."
The Garment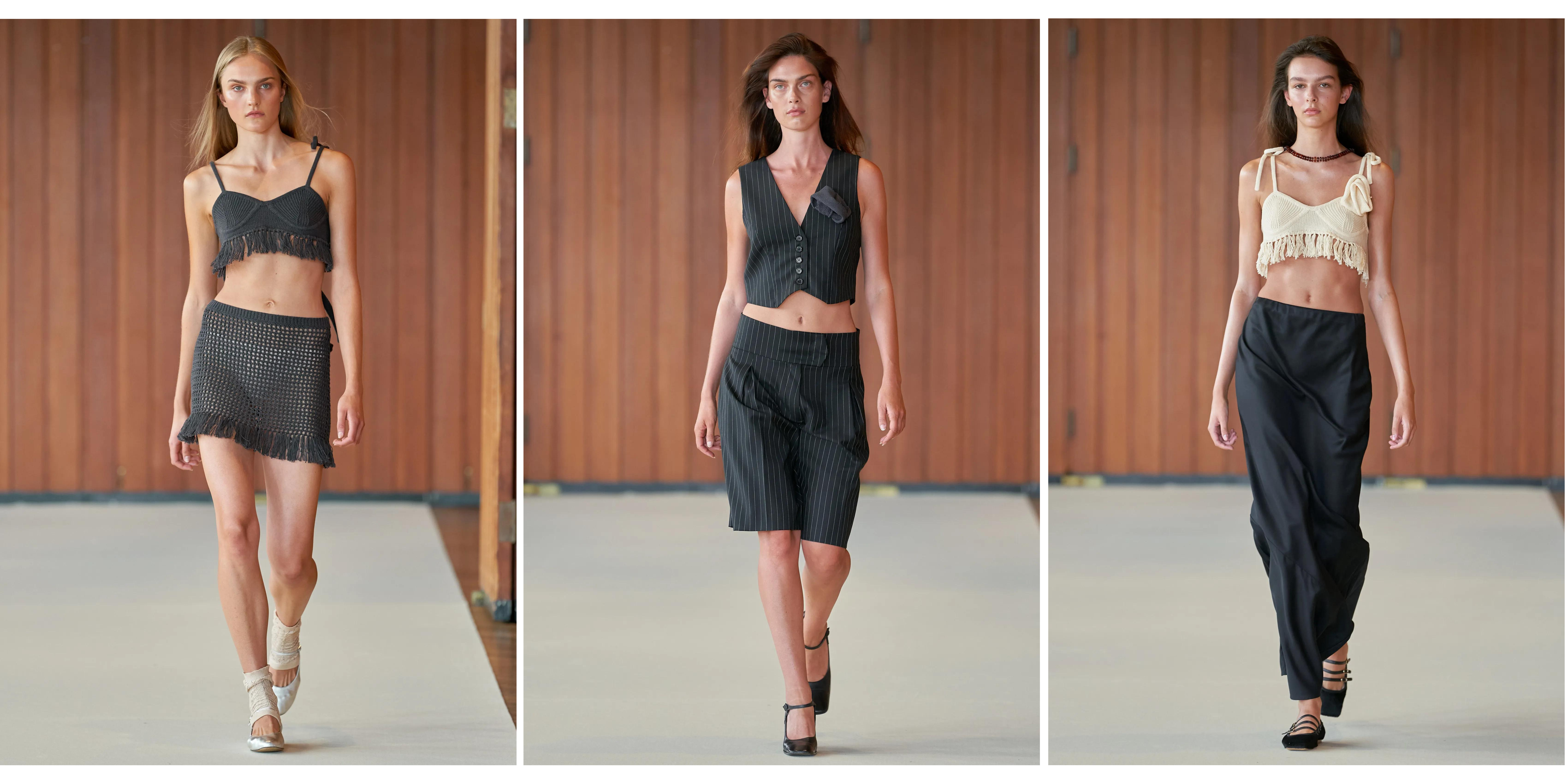 Cofounders Sophia Roe and Charlotte Eskildsen's collection was a love-letter to the conventionally dressy and vacation ready simultaneously. A silky maxi-skirt was sent down the runway with a fringed bra, and the show's opener, a low-waisted fringe mini skirt with a matching bra top, was balanced out by the following looks that featured dress shirts, pinstripes and sharp tailoring. Also in this collection, clingy knits prevailed, in every shape imaginable; from slip dresses to matching pant sets and vests.  
Both of the creative directors share a passion for quality and "owning less by buying right", and the firm calculates the Co2 impact of each garment it produces throughout its production process and by offsetting the equivalent amount, each garment represents a tangible way of combating climate change.
Jade Cropper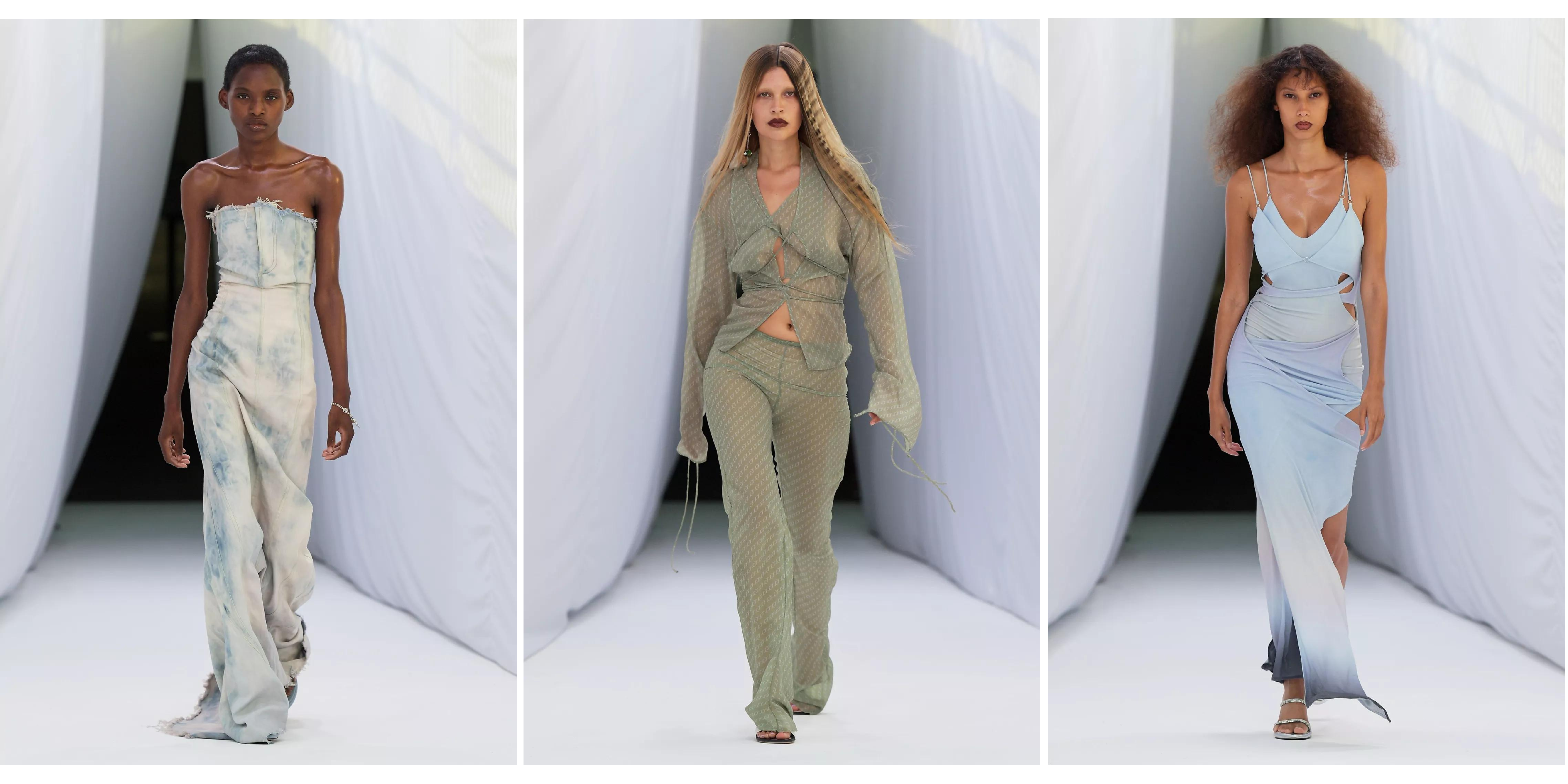 The Swedish talent claims that she has "grown tired of perfection", and for the latest season she presented a raw and gritty-feeling line featuring design details as distressed unfinished hemlines, ashy hues and crinkled edges. Hand-made in her Stockholm atelier, the line was inspired by Cropper's mother's "photographic studies of decaying leaves and flowers."
Highlights of the line included a tie-dye ensemble, hand-dyed with a raw neckline, and a sky-blue ombre-effect layered dress with unexpected cut-outs. The latter creation drew humble connections to nature with its water-like flowy fabrication, and so did a sage-green matching set in sheer organza. Inspired by decay and death, the collection felt inspiring and refreshing nonetheless.
"I am always designing for the same woman," says Cropper. "Exploring and challenging the conventions of femininity."
Ranra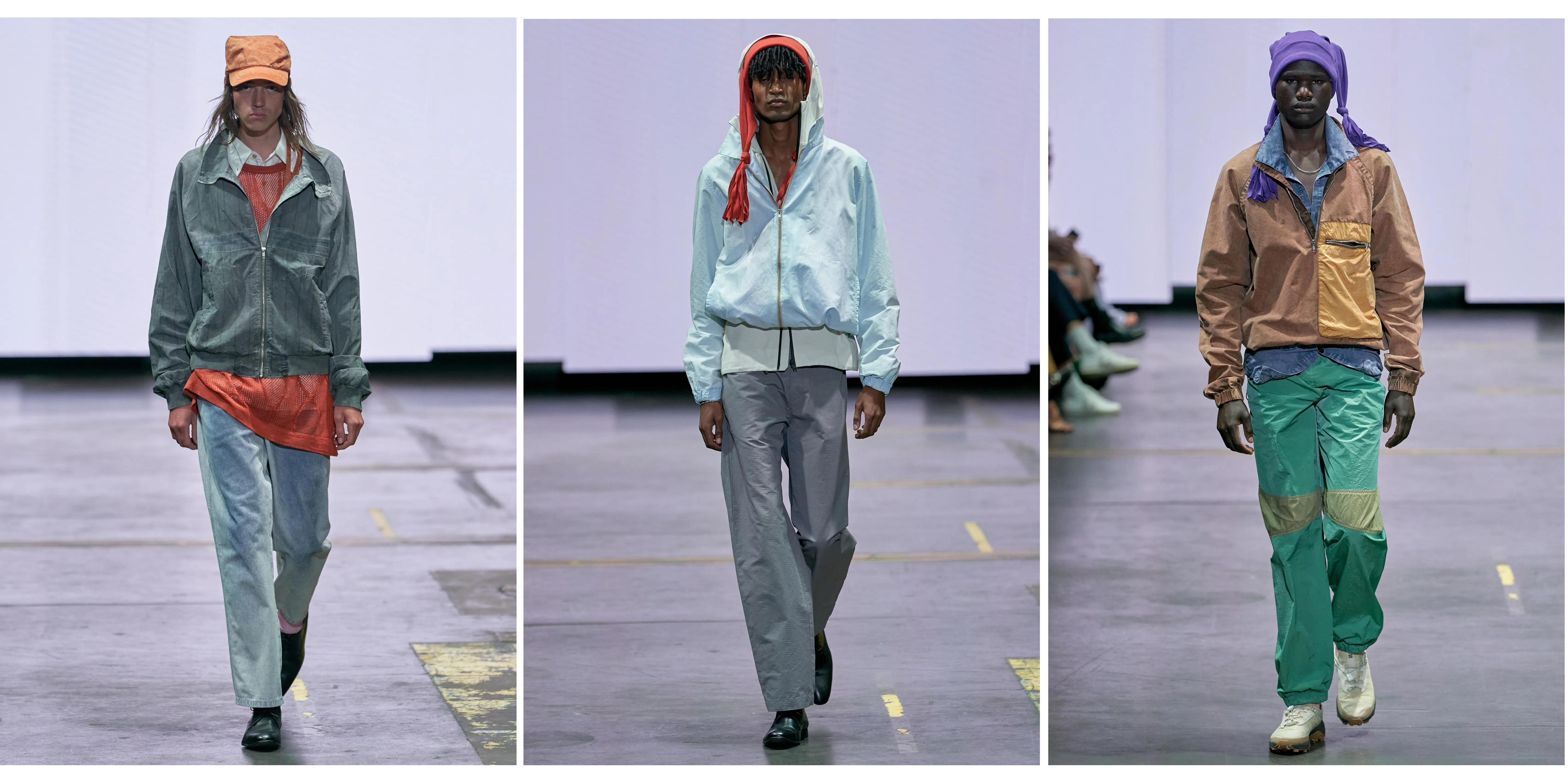 The London/Reykjavik-based design studio won this season's Zalando Sustainability Award for their colorful collection designed with longevity in mind. Zalando stated that Ranra "particularly impressed the jury with an unexpected mix of colours and textures on the runway", and the colors were truly worthy of a moment in the spotlight.
The soft but powerful color palette looked as taken out of an ethereal forest, featuring dusty teals, muted daffodil yellows and multiple shades of or green, and for good reason - the hues were actually obtained with aid from plants. "We've been experimenting quite a lot with natural dye, plant dyeing—not that everything is dyed like that, but we wanted to see how far you can take that and not just make these subtle beige cream colors," explained Jónsson. Overall, Ranra's collection felt low-key and effortless, and equally suited for both nature and an urban environment.
Ganni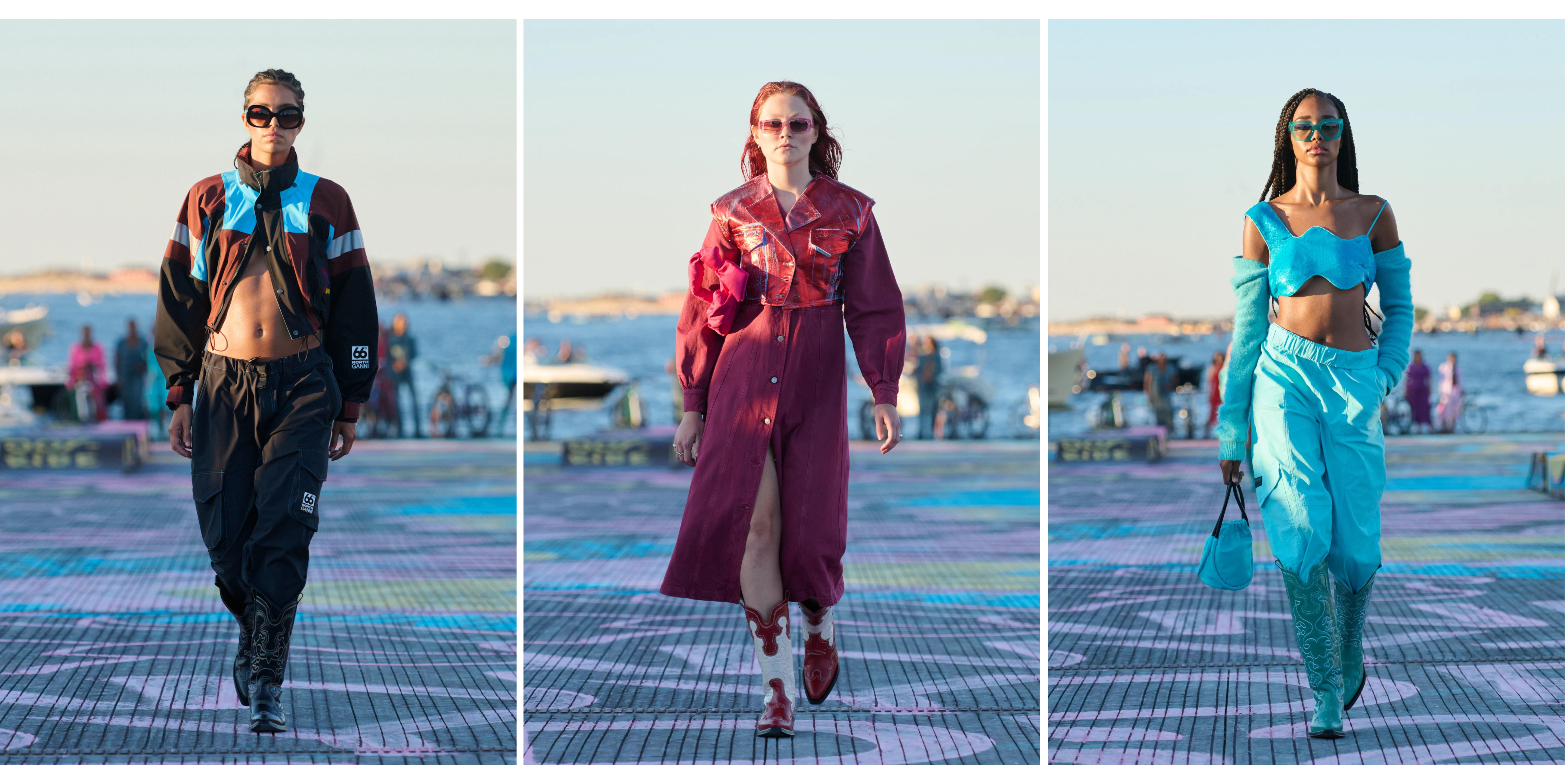 Ganni, Denmark's leading fashion export, closed the week with a joyful outdoor show full of color, where some of the models rode BMX bikes down the runway to really double down on the brand's Danish heritage. Named "Joyride", their chic and technical-focused collection was truly a jolt of energy, featuring utility-driven essentials like cargo pants and cowboy boots in happy hues of green, yellow, and turquoise.
The show debuted 3 collaborations, with Levi's, Barbour and Icelandic heritage brand 66°NORTH. The latter made a big impact on the runway, where Ganni merged their Copenhagen core with 66°North's upcycled outdoor apparel, in colors inspired by Icelandic northern lights and volcanic landscapes. Other major highlights of the season were sparkling sheer dresses, and the launch of its first T-shirt made using Infinna, a 100% recycled fiber made using textiles waste that would otherwise be sent to landfill or burned.
After this show, we can expect to see even more 'Ganni girls' roaming the streets of not only Copenhagen but any major fashion capital. Thanks to their competitive and firmly contemporary price point, Ganni holds a unique position in the fashion space. The average price for a Ganni dress is $249, and outerwear, coats and jackets cost an average of $340. Their pricing is more accessible than those of its direct competitors, a strategy which has proven to be a success with the brand's prominent growth in recent years.
Want more insights on emerging trends? StyleSage clients can check out our trend reports inside the platform.