As we've been inundated with coronavirus messages in our respective inboxes over the past few weeks, it's clear that retailers' customer-facing responses to coronavirus have been all over the map. As brands have checked off the 1) operational and 2) "we're with you" emails, we gingerly move into, "So what do we say now?" territory.
It's new ground for us all, and there's no perfect playbook, but there are ways as a retailer, you can be your best, no only during, but after this crisis.
Figure Out Which Categories Matter
In times like these, not all categories are created equal. It's true, shoppers are stuck at home for the foreseeable future, and as a general rule they're going to be putting their "outside" clothes on ice. Despite that, at this moment opportunity still exists for other categories.
What do those opportunities look like? Take, for example, online searches for "grey sweatpants." Our Trend Radar shows a 171% increase in searches for this product from one year ago.
Another opportunity might be a pair of sneakers for that sanity-preserving (and properly social distanced) run outdoors, a fun pajama set, or a soft cardigan that can be thrown on to go outside to walk the dog. Think of items that are functional, versatile, and durable, as the stars of your assortment right now.
Being Mindful
Speaking of a nice pair of sweatpants, let's make sure our language in emails to customers is as understanding as our favorite pair of sweats is. (Worn a few days in a row, has a coffee stain...and offers up zero judgements of us.) But in all seriousness, over the past week, we've seen increasing mentions of words like "soft," "cozy," "comfortable," and for good reason. These words evoke good feelings, and aren't immediately associated with being "sales-y."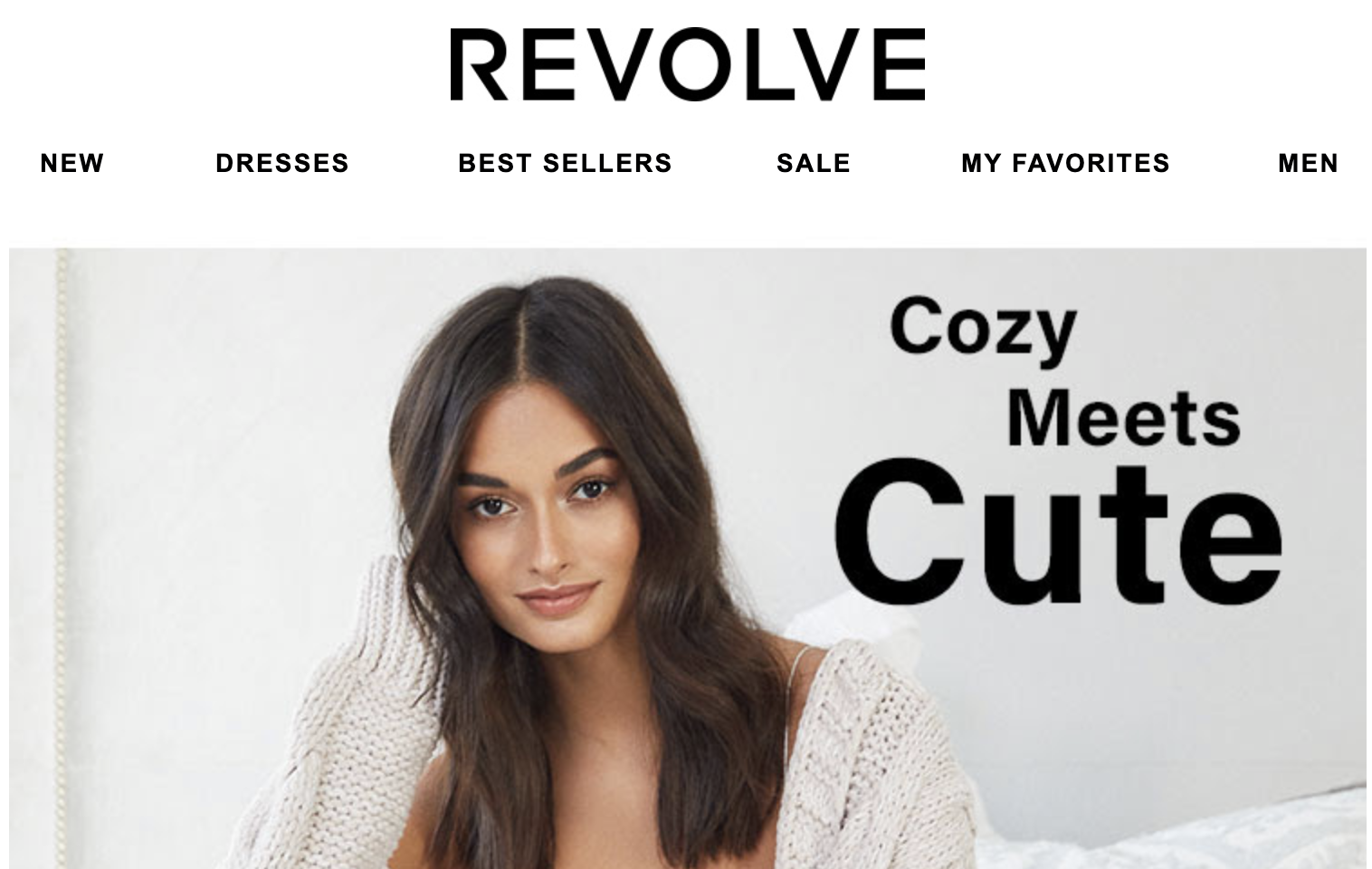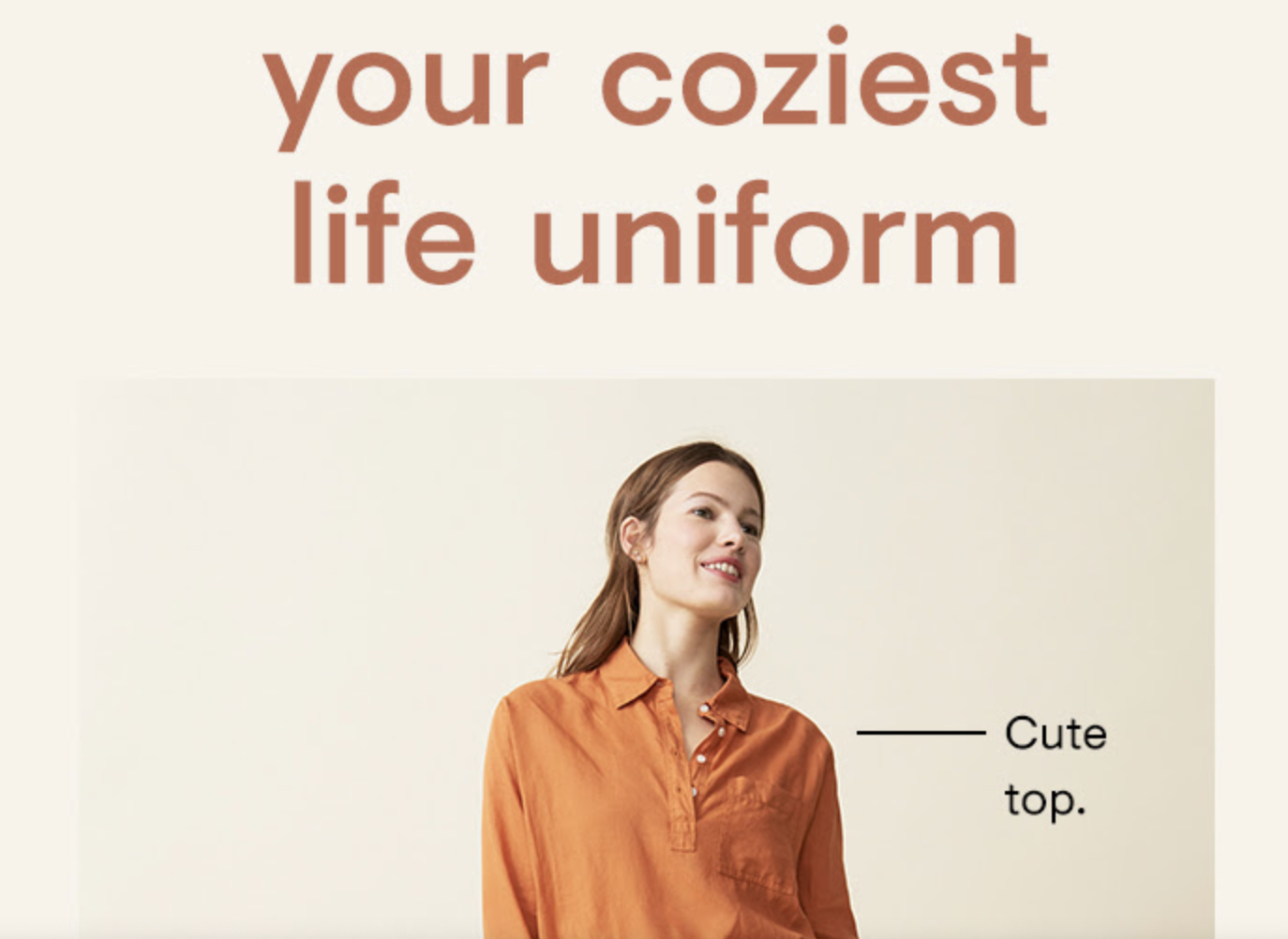 Promotions from left to right: Revolve, Free People, Lou & Grey
Is it ok to send promotional emails? Yes, but don't be tone deaf. Be paying close attention to your email open rates and social post engagements, test subject lines and images, and take the consumer "temperature" as best you can. As the COVID-19 scenario evolves, consumer confidence improves, and customers begin to make more future plans, you can evolve your message to match how your consumer is feeling.
A Time for Storytelling
In a time when customers are going to be spending more time on their phones, you have the benefit of their attention. What is it that you have to tell them? Some brands are taking advantage of this moment to talk about brand heritage, product craftmanship, and founder stories. These themes resonate particularly well in a time when folks are focused on the stuff that matters.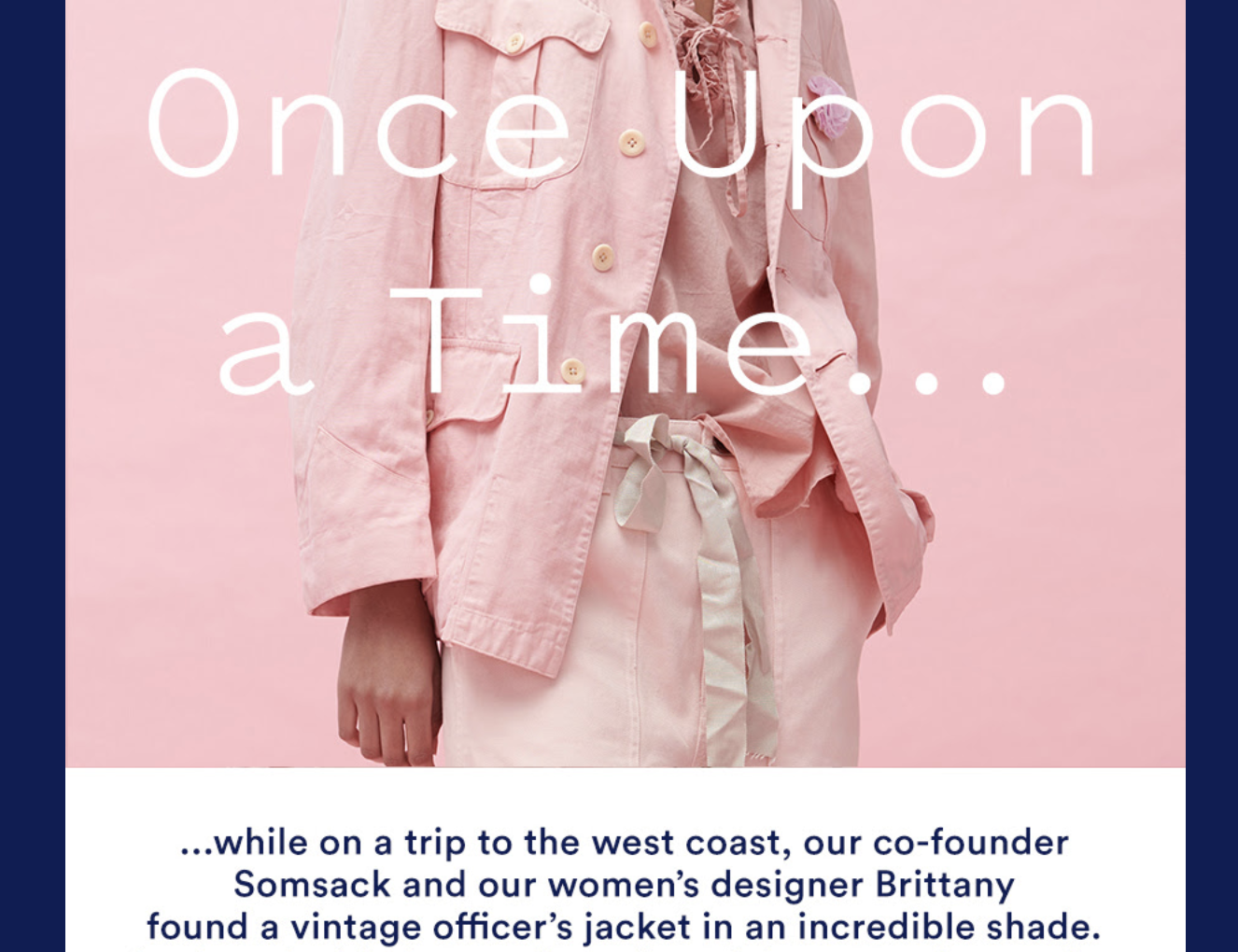 Promotions from left to right: Alex Mill, Office of Angela Scott
So take this moment to say something substantive about your brand to your customer. You may not get an opportunity like this again.
A Customer Now...Is Your Best Customer Tomorrow
You know who your most valuable customers are, and in a crisis customer behavior is going to be shifting significantly. The customer who buys in a crisis may look different from your usual best customer, so study their behaviors and motivations closely.
Are there any surprising demographics emerging? What are they buying? Did they buy only after a markdown or major promotion? Was it a practical or feel-good kind of purchase? Do they live near a store location? Data points on these things can help guide more effective customer acquisition (and retention!) in the future.
And let's also not forget, how are you going to thank them and build customer goodwill? Their purchases mean a lot right now, don't they? Perhaps you send a personal note or follow-up? Or maybe you include an unexpected gift with purchase? Why not consider a future discount or gift card? While the present moment might be fraught, we have to be thinking about preserving this customer relationship for the future.
We've already seen the fashion industry come together in new and unprecedented ways over the past weeks, and it's that collaboration that makes us so very proud to be a part of this industry.
We're here, covering all the retail market's movements due to coronavirus. Also, if you have questions for us, don't hesitate to reach out here!