Highlights:
-Luxury discounting is down in the US from one week ago.

-Discounting in active and sportswear continued to increase.

-US specialty retailers have slightly increased proportion of merchandise marked down from last week, but average discounts are holding steady.

-Sold-out product rates are higher in tops and sweatshirts than bottoms.
There's nothing that's been normal nor easy over the past week as we've watched retailers make major moves to shore up their cash positions and save jobs. With stores closed, factory orders cancelled, capital expenditures halted, and many retail employees now being furloughed, it's critical to see what moves retailers are taking to move inventory now.
Luxury
Starting with luxury, our last update saw significant increases in the amount of merchandise on sale at US luxury department stores and multi-brand retailers. What's notable from previous weeks is that one of the key retailers in this space, Net-a-Porter, has taken the steps to close its warehouses in both the US and Europe. While the site is shoppable, delivery is delayed until further notice. Let's check out what else has changed from last week.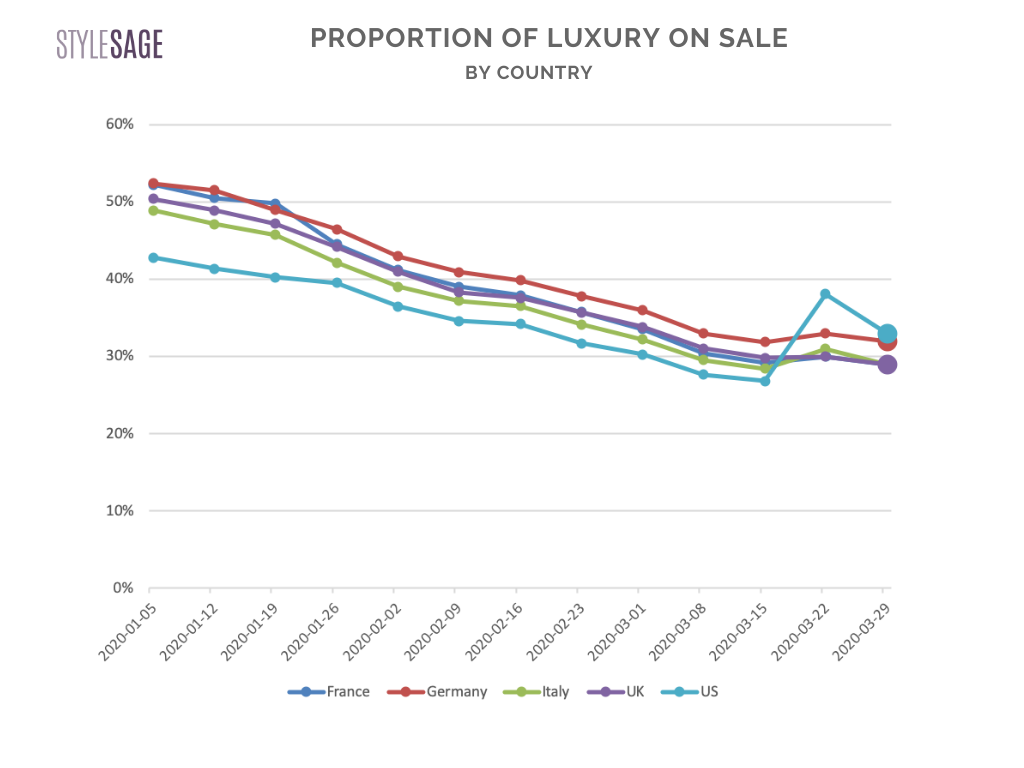 We saw discount penetration in the US pull back from last week, and in other countries it remained largely stable.
As we looked to the average discount amounts, these also decreased slightly across geographies from the previous week. Luxury is not a market accustomed to sustained discounts, but with projections of luxury's losses growing larger by the week, we may see some unusual moves in the weeks and months ahead.
Active + Sportswear
Last week, we found that active and sportswear weren't immune from discounts, so the question for this week is, will those discounts go up or down?
The week past saw discount penetration increase, by an average of three percentage points in each country in the sample size.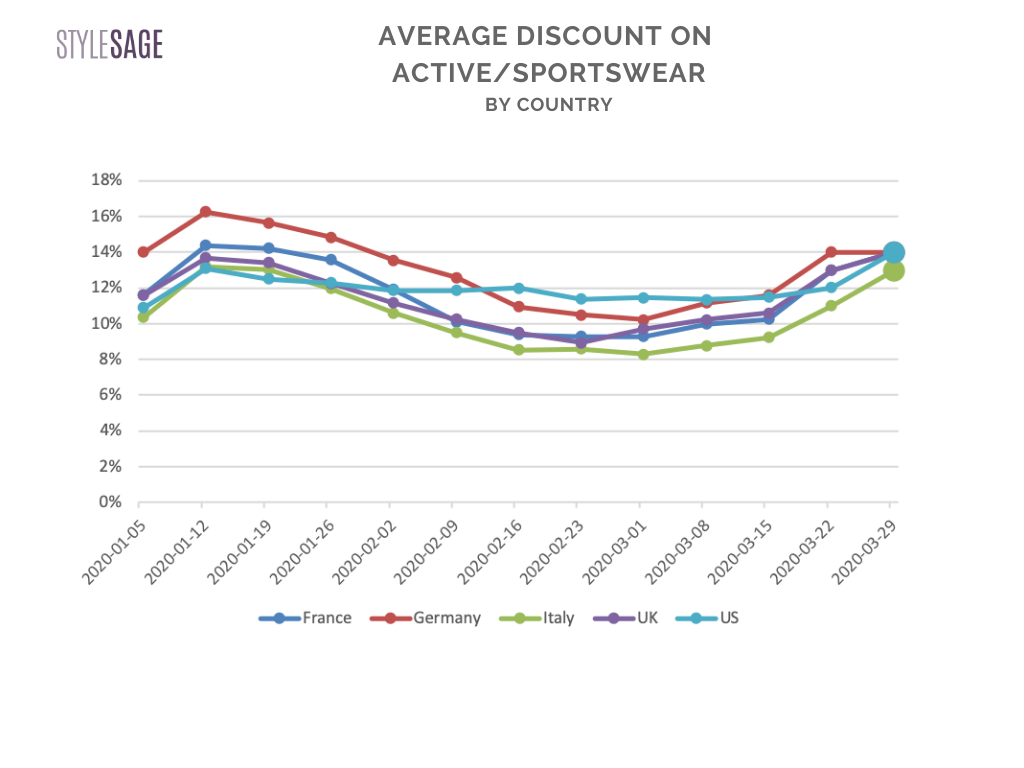 This increase of how much was on sale also showed up in how large those discounts were. It's worth noting that there does seem to be some corresponding lift in sold out numbers, which reached a peak of 9% the week of 3/22 (but a peak that was also seen pre COVID-19 in the middle of February - data not shown.)
It's worth noting that several of the giants in this space have strong liquidity and are well-positioned to weather the storm. In addition, their product assortment tends to be more seasonless. Nevertheless, they face the same pressures as everyone else, to move merchandise that if unsold, will weigh down their bottom lines.
Specialty Retail
Moving onto specialty retail, the story in previous weeks, as it was with other sectors, was that discounts were climbing upwards with no end in sight. Let's examine if that was the case over this past week.
Well, it probably comes as no surprise that discount penetration was up (red), but the good news was that average discounts were stable from the week prior (blue.) How long they will hold at this level remains to be seen.
Walmart recently mentioned that they're selling more tops than bottoms these days due to teleworking. But we wanted to see if that trend holds true amongst a larger set of retailers. Which apparel items, in times of quarantine, are shoppers actually buying?
It turns out that the trend Walmart acknowledged also holds true for our set of specialty retailers. Sweatshirts, hoodies, and tops all had higher sold out rates than casual bottoms, including joggers and leggings (week of 3/22).
What else is interesting here is that, during the same time frame, sleepwear and pajamas had even higher rates of being sold out than the other apparel categories in our sample did. It seems likely that increased teleworking is going to become mainstream post-COVID-19, and as a result, there will likely be corresponding demand shifts in specific product categories, shifts that are only just beginning to play out.
Have questions about these data points, how your specific sector looks, or other data trends we're seeing? We've got you! Email us here to learn more!