Highlights:
-Luxury discounts remain high in what's becoming the new normal.

-Active and sportswear discounting is showing a decreasing trend from one week ago.

-Amongst active and sportswear retailers, when marked down, swimwear and sandals had some of the highest sold out rates.

-Specialty discounting has increased, but it's discounting driven in large part by clothing and not footwear.

Luxury
Last week we saw a trend of deepening discounting emerging in the luxury sector. Is discounting the new norm or was that just a test? Let's take a look.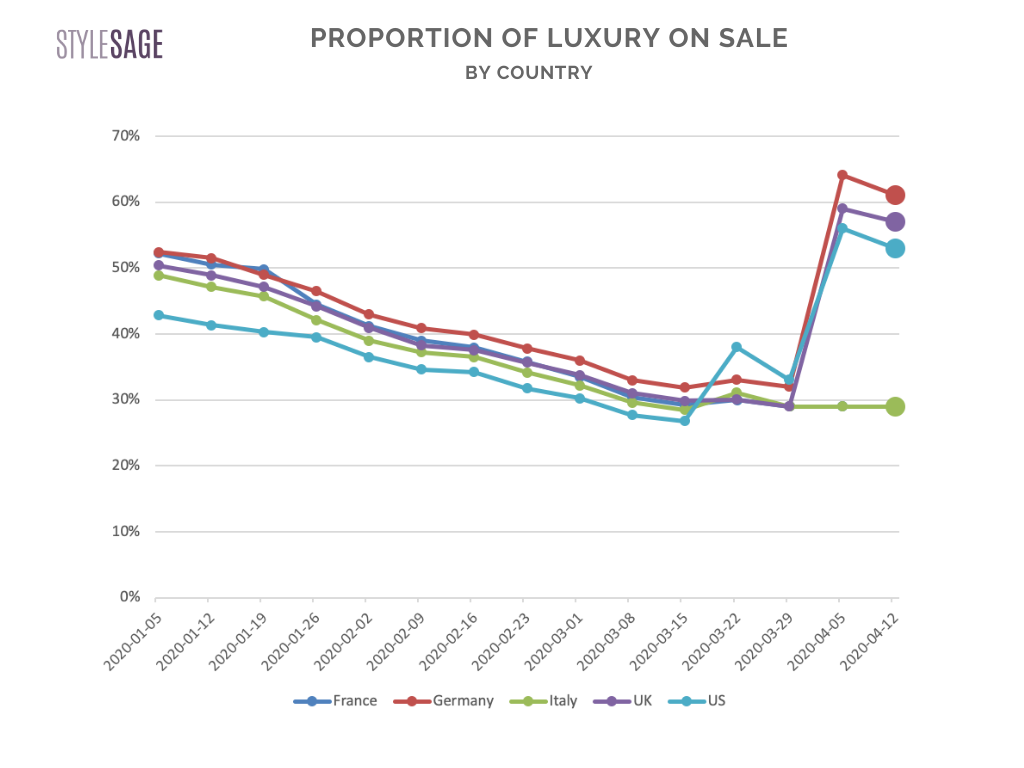 First off, we examined how much of luxury assortments are on sale. Otherwise known as discount penetration, we saw that while down a few points, discounting levels remained high in markets including the US, Germany, and the UK.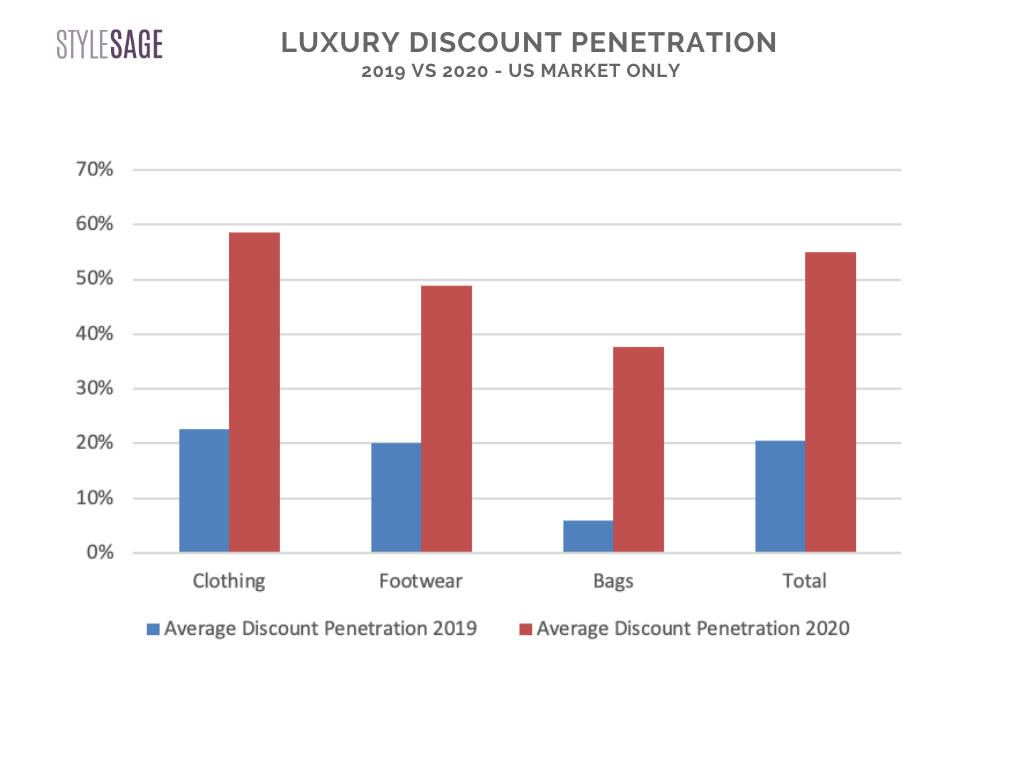 In order to understand how high these are this year, relative to what they'd typically be this time of year, we looked at historic discount penetration for US luxury retailers. Comparing this past week to the same time in 2019 (blue), you see just how much more is on sale now (in red) than would typically be.
Last but not least, we took a look at how high discounts were. Much is unchanged from last week, where Germany, the US, and UK had the highest average discount amounts - hovering around the 20% mark.
Active + Sportswear
As we move onto the active and sportswear sector, things are looking pretty strong, relatively speaking. Let's take a closer examination of what's happened over the past week.
We saw some decreases in how much of assortments are marked down. The US market still shows the highest proportion of markdowns, at 38% for the week ending April 12.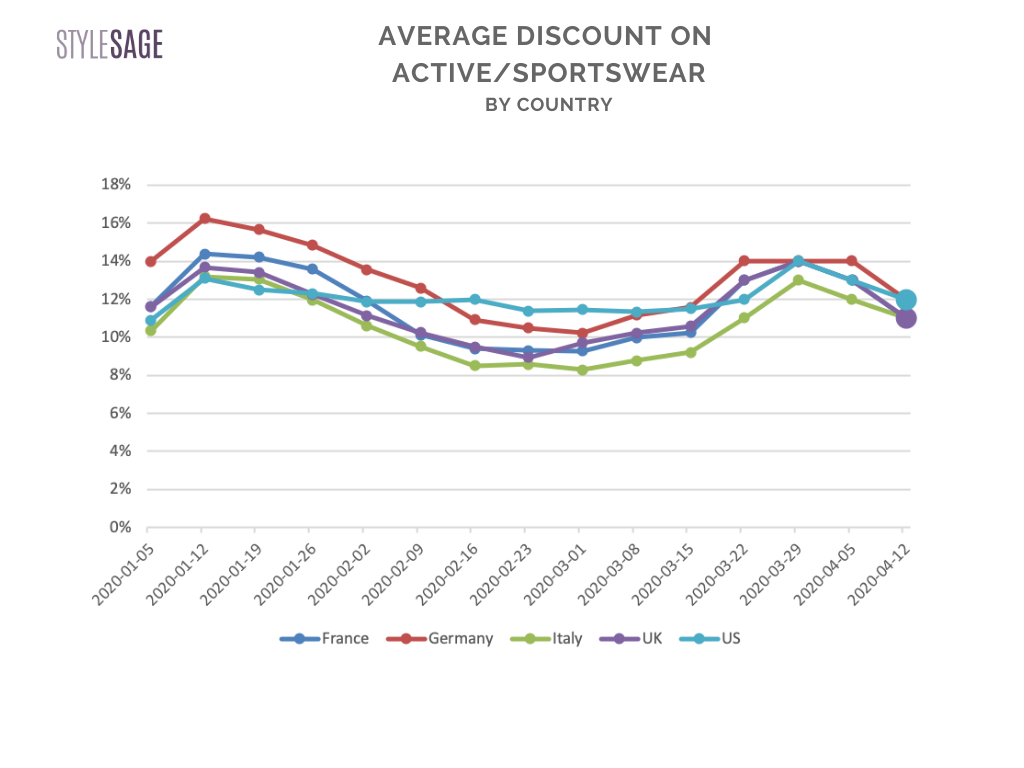 Shifting over to average discount amounts, we saw that these also decreased slightly, between 1-2 percentage points across geographies, from last week.
We also wanted to take a look at what's selling out at the highest rate over the past seven days. We split this by what's marked down versus what's not. As you can see amongst products not marked down, underwear (like sports bras), hoodies, and bottoms were most likely to have sold out over the past week. For products marked down, more forward-looking categories like swimwear and sandals were most likely to move.
Specialty Retail
Moving onto our last sector, specialty, let's see what's happening amongst this group of retailers since we last checked in.
For specialty retailers in the US, we've seen a slight increase in both the proportion of sale merchandise, as well as the discount amounts, from one week ago. The current discount penetration is 48%, and the average discount amount is 20%. (Keep in mind this doesn't include additional promotional discounting.)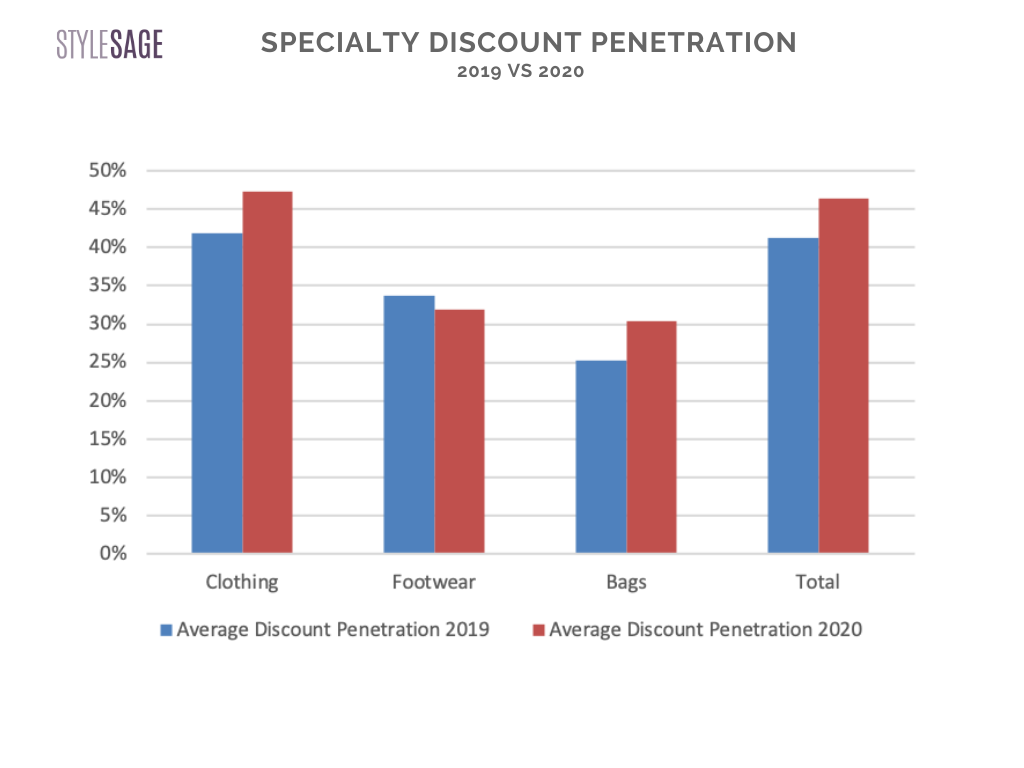 Lastly, it's worth noting that overall, how much is on sale is still greater than it was last year, however, it's an increase reflected in clothing and bags, and not in footwear.
Have questions about what this means for your business? Email us here!