Highlights:
-There are signs that discounting is stabilizing as April goes on, even while we see discounts higher than the same time last year.

-Unsurprisingly, discounting is driving higher rates of sold-out products.

-Yet for the luxury sector, since early April, discounting has had a seemingly negligible impact on sold out product rates.

There are signs of life emerging as we near May, and while we're a ways off from anything approximating normalcy, there are signs that e-commerce is settling into this new way of business. Let's check out what's happened since last week.
Luxury
For better or worse, discounting levels remain high and unchanged in the luxury sector, especially as we look at the US, UK, and Germany markets. Average discounts have also remained even to their levels over the past week. (Data not shown.)


Examining where luxury retail stands relative to last year is also important, and here we see (in the US market), that how much is on sale is more than twice what it was during the same time last year.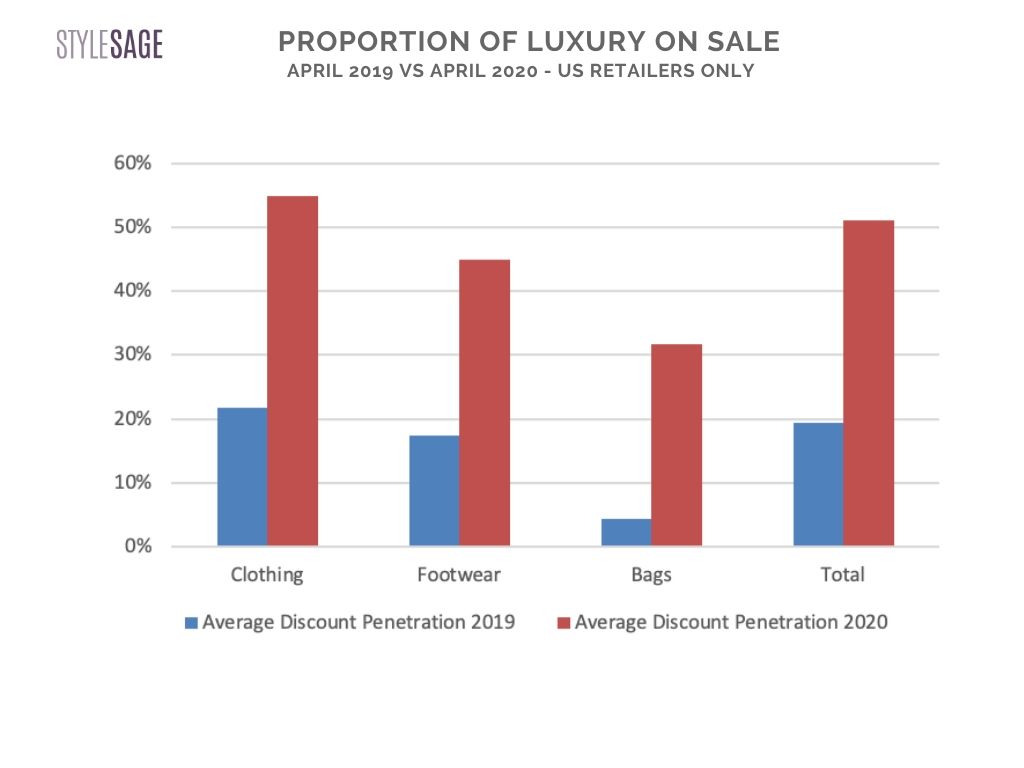 Lastly, we also took a look at the impact discounting, as an infrequently utilized tool in luxury, had on whether products sold out. While it helped moved product through the end of February and into March, what we saw was that over the month of April, as lockdowns and uncertainty continued, discounts seemed to have a diminishing effect..
The question many luxury brands and retailers are asking themselves currently is, "What will it take for someone to feel comfortable enough to plunk down a couple thousand dollars on a new handbag?" It's a thought to keep in mind in your merchandising and marketing strategies over the weeks and months ahead.

Active + Sportswear
As we turn our lens to activewear, there's been a mixed bag of results, most recently with Adidas citing a 90%+ decline in Q1 profits, due to coronavirus store closures. Do we see steadiness or instability over the past week? Let's check it out!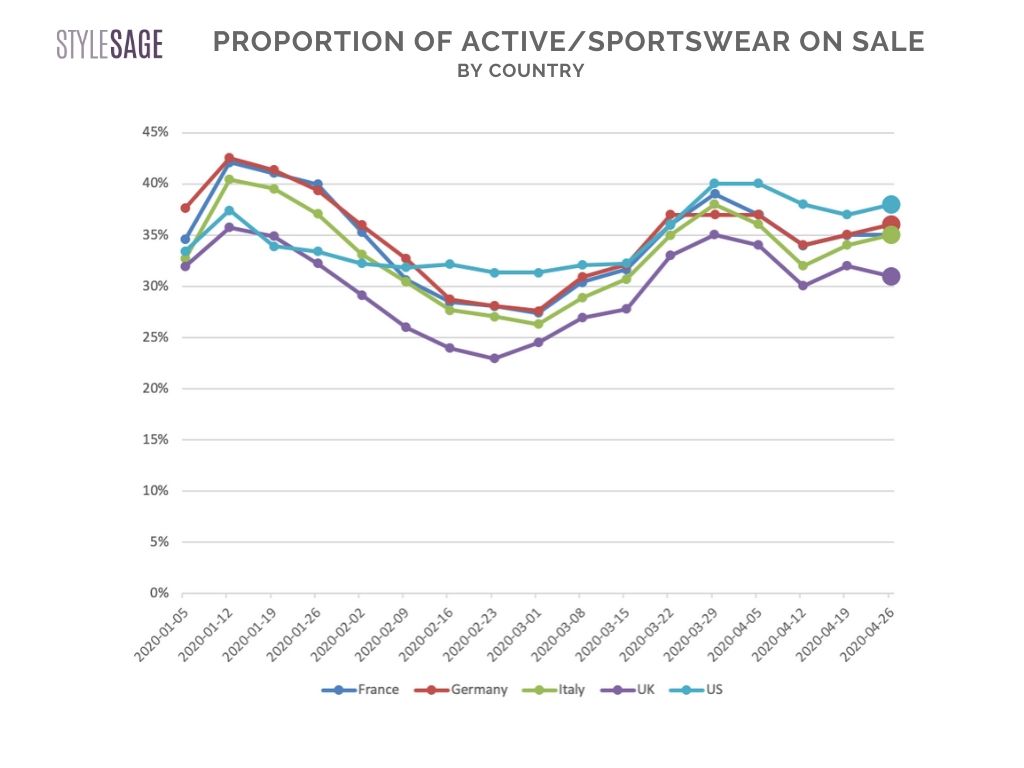 Positively, we see stable trends from the previous week in terms of both discount penetration and average discounts (latter not shown).


Nonetheless, there still are differences between where we are currently and last April, in terms of how much is on sale. This year, active footwear (sneakers) is more likely to be discounted than active apparel, a trend that also played out last April.


For activewear, we also examined what, if any, impact on sell-through exists for discounted versus non-discounted products. Unsurprisingly, for sale products the average sold out rate has averaged around 10% since March, with a jump in early April. For non-discounted products, sold-out product rates remained low, but they have been climbing slightly since early April.
Specialty Retail
In specialty retail, there's been a trend of high discounts for some time, and as some stores start to come back online in the coming weeks we'll be tracking whether these discounts decline.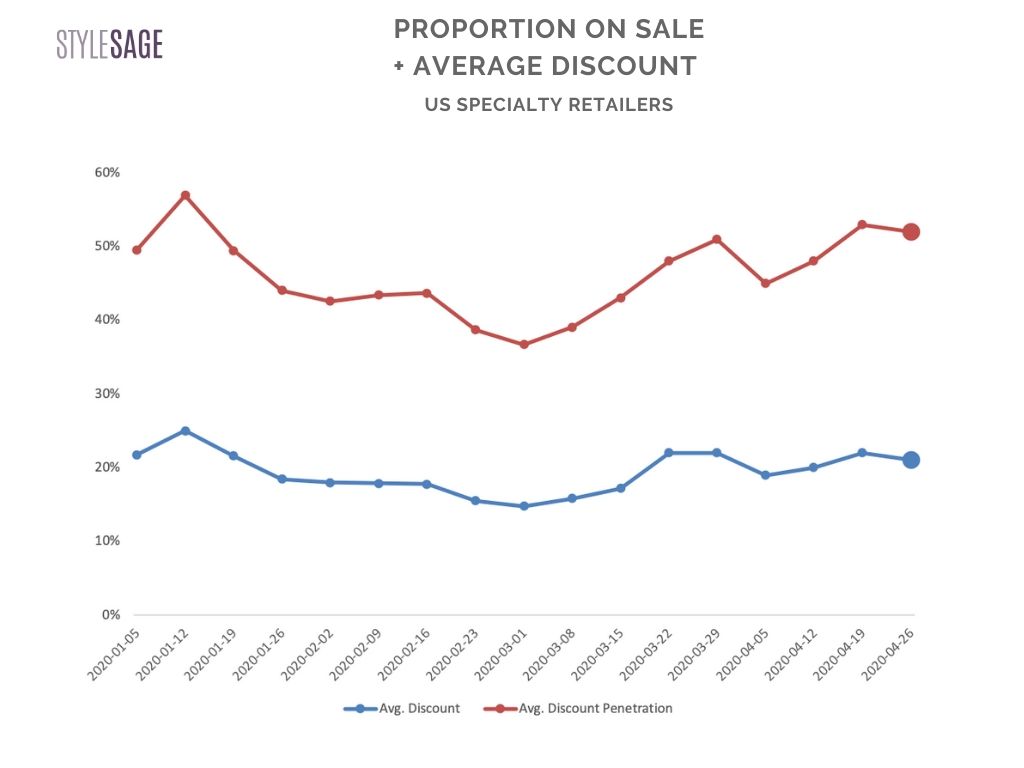 First up, we see that there's been a 1-2 percentage point decline in how much is on sale and how high those discounts are, both positive signs.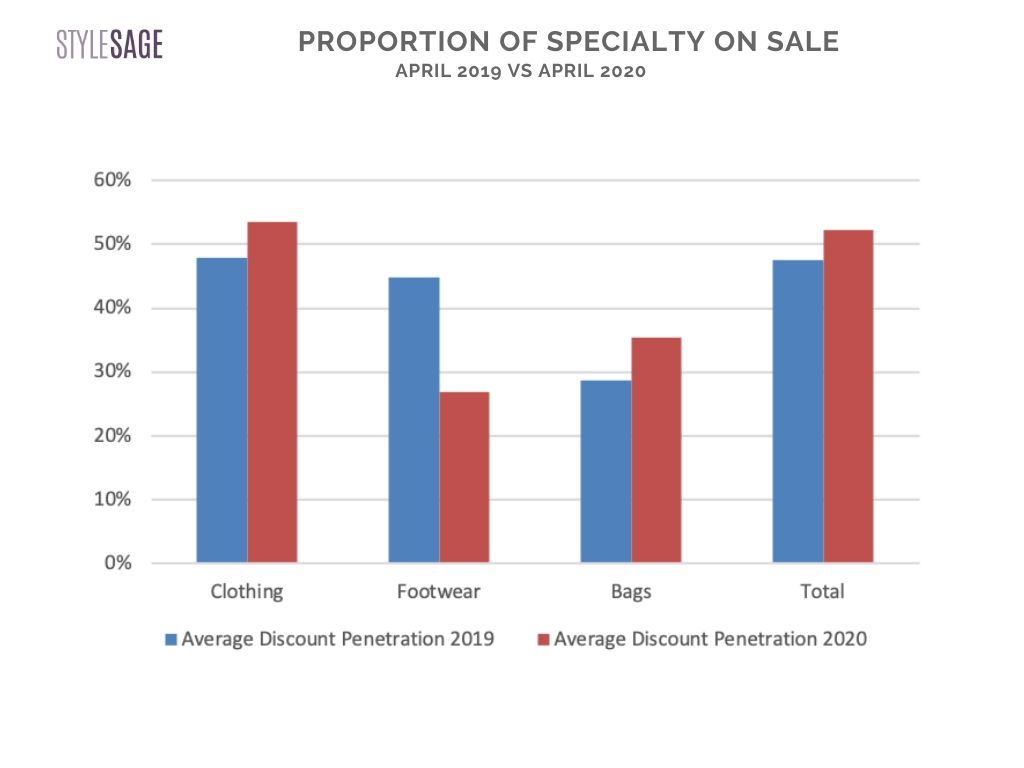 We also see that these discount levels are, unsurprisingly, higher to what they were last year at the same time. What's interesting to note is that clothing and bags are where you see this year's discounts higher than last year, while interestingly, footwear is considerably lower this year than in April 2019.


Closing out our analysis, we took a look at whether discounting has propelled higher sold out product rates in recent weeks. We see that at last measurement (April 19), the sold out rate for discounted products was double that of non-discounted products.
Our advice to maximize the efficacy of promotions and discounting during this time is to keep people engaged - discounts that rotate categories and/or brands, offering future gift cards, and sales positioned as archive or sample sales, where appropriate.
You've got questions, and we've got answers. Just drop us a line here and we'll be in touch!