Highlights:
-Luxury department stores in the US have increased discounting over the past week.

-Amount of active and sportswear on discount also went up, but average discount increases were minor.

-While a discount is the norm, specialty retailers also dialed up how much was on sale, particularly in apparel.

Things have been evolving quickly as the coronavirus continues to unleash disruption across the globe. The last week has seen fashion retail face blows that were previously inconceivable, yet it's also seen us come together to find a way forward. And for that, we're so very proud to be standing side-by-side with you during this time.
Let's take a moment to check in and see the latest data trends from the past week.
Luxury
Last week we reported that discounting was pretty much stable, coming down from peak winter sales, but this week we're seeing some shifts underway.
First, several luxury department stores in the US have started discounting more items, leading to an uptick in discount penetration of more than 10 percentage points from the previous week. The other European countries in the sample have more or less remained even from previous weeks' levels. If you weren't on sale, you were likely a handbag, where only 10% were on sale (versus 34% of apparel - data not shown.)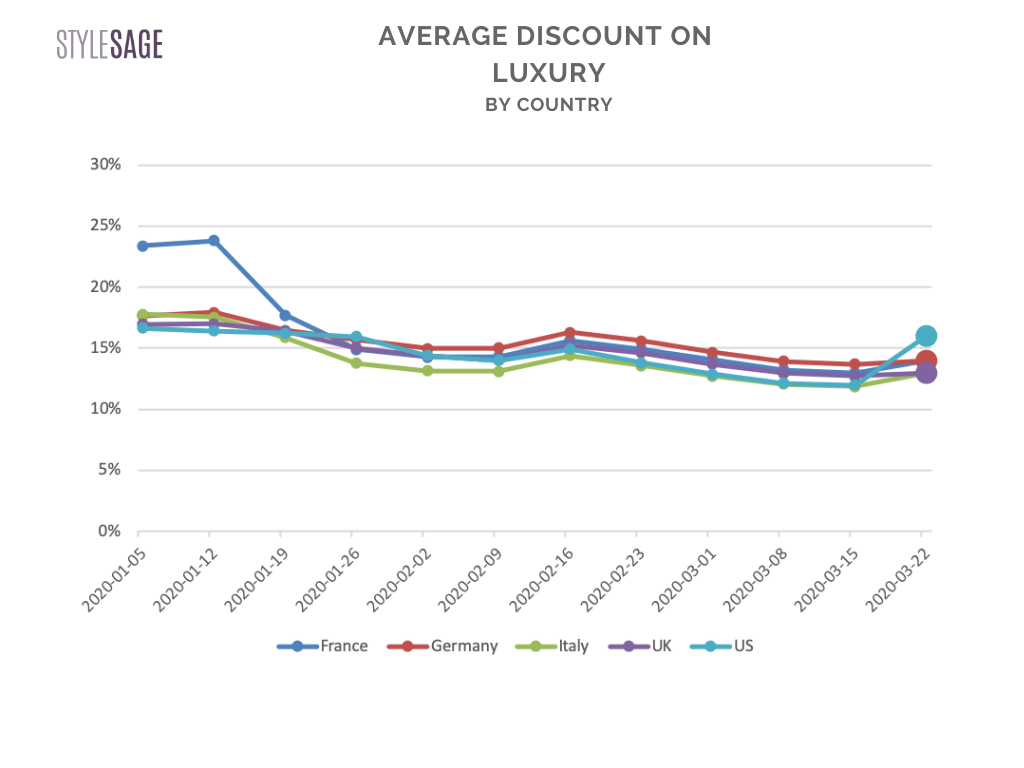 Next, we looked at how high the discounts were, and again, average discounts were stable in the European countries in our sample, but in the US they had increased from last week (from 12% to 16%).
The coming weeks should shed light into whether this uptick in the US is temporary, or whether it might start to spill over into other retailers and geographies.
Active + Sportswear
Last week we offered up the hypothesis that active and sportswear, due to their sustained strong performance, might be at an advantage. While we're a long ways from seeing whether that's actually the case, we can report that active and sportswear markdowns did increase over the past week.
In fact, there were consistent increases in 4-5 percentage points, across geographies, in discount penetration. Even retailers like Nike, who rarely offer sitewide discounts, had a 25% discount last weekend.
The good news was that while the number of markdowns increased, the average discount amount ticked up only slightly, by an average of two percentage points. What's more, while both discount penetration and average discounts are nearly identical to their levels at the same time last year (data not shown).
Specialty Retail
In this sector, a discount is far from the rare occurrence, so we have to wonder, "What, if any, reaction should we expect in this retail sector?"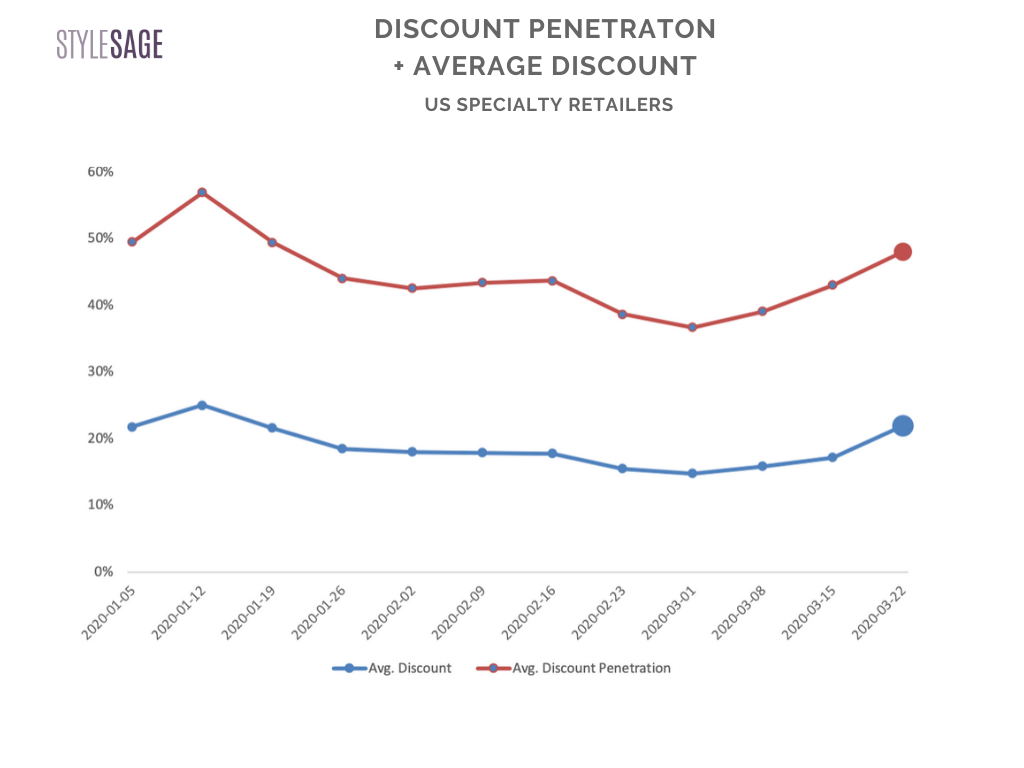 You wouldn't be incorrect, if you'd assumed that both markdowns and their volume, have increased from when we checked in last week. Indeed, both the proportion of products marked down as well as the average discount went up by five percentage points, landing at 48% and 22%, respectively.
Where you see the biggest change in markdowns from last year is specifically in clothing. where there's been a five percentage point increase in how much is marked down, compared to the same week last year (43%-->48%). Notably, this isn't a trend you see playing out in footwear and bags.
Have questions about these data points, how your specific sector looks, or other data trends we're seeing? Email us here to learn more!