"Extraordinary," "unprecedented," and "once-in-a-lifetime," are all phrases we've summoned over the past weeks as business as usual becomes anything but. Due to the coronavirus pandemic, it's a difficult time for us all, so we want to first send our warmest wishes for wellness to you, your friends, and your families, as you navigate this new reality.
Second, as your partners, we want to remain a trusted source of data and insights for what's happening in the retail world around us. We'll be updating you weekly on what's happening in fashion retail across different geographies and categories.
Luxury
With data our trusty beacon, let's first take a look at a sector that many are in fashion are focused on: luxury. While the numbers are constantly evolving, China alone represents one-third of the global market for luxury spending. Not only was China consumer spending down 20% in the first two months of this year from the same time a year ago, the same disruption is now unfolding elsewhere around the globe.
With the question of how luxury should respond top-of-mind, it's important to examine the recent behavior of luxury department stores and multi-brand retailers in the US, UK, Italy, Germany and Spain, in order to gain clarity on their merchandising strategies.
The chart above shows you how much of luxury retailers' assortments are on sale. As retailers held their winter sales through January and February, as you'd expect, this proportion peaks in the first two months and then declines into March. Notably, over the past two weeks, the number of products marked down has remained stable. Let's next take a look at how high discounts were.
Average discounts have also remained stable, post winter clearance season. Keep in mind that while luxury brands need to clean house (and rid themselves of unwanted merchandise) every once in a while, they must do so with care. For a luxury brand, its prestige and image is correlated to its pricing, and therefore any discounts need to be undertaken with extreme caution.
The verdict? Despite the troubles ahead, we don't believe luxury retailers are likely to take any drastic pricing or discounting moves. Will they try to start a sale a few weeks earlier to clear excess merchandise? Entirely possible. But they're also as likely to double down on clienteling strategies that will engender future loyalty. Check back here and we'll keep you posted.
Active + Sportswear
Next up, let's take the pulse of active and sportswear brands and retailers. While it's become a more competitive space, in theory, it's also a sector positioned better than most, as it faces the coronavirus headwinds.
If you take a look at proportion of active and sportswear marked down, it illustrates the seasonal clearance pattern in January and February we mentioned previously. But what we also see is an upwards creep in discounted goods going into March. To see if this is significant, it's important to examine this side-by-side with how high those discounts are.
While each of the brands and retailers across geographies have seen their average discount go up by one percentage point since the beginning of March, it's even with where average discounts were during the same week in 2019 (not shown).
As with luxury, active and sportswear's response to market dynamics and consumer sentiment will continue to evolve. There's market share to be grabbed for those retailers and brands who unlock the opportunity to be a digital platform, community, and resource for customers who, like never before, are tuned into their health and wellness needs. Watch this space for updates and boss brand moves.
Specialty Retail
We don't want to leave you without touching base on the state of the specialty retailer. By the time of this writing, many specialty retailers, who call the mall home, have either voluntarily closed, or been required to do so for an indefinite time period due to social distancing. Undoubtedly, these retailers are feeling the blow, so let's take a look at if and how they're responding digitally.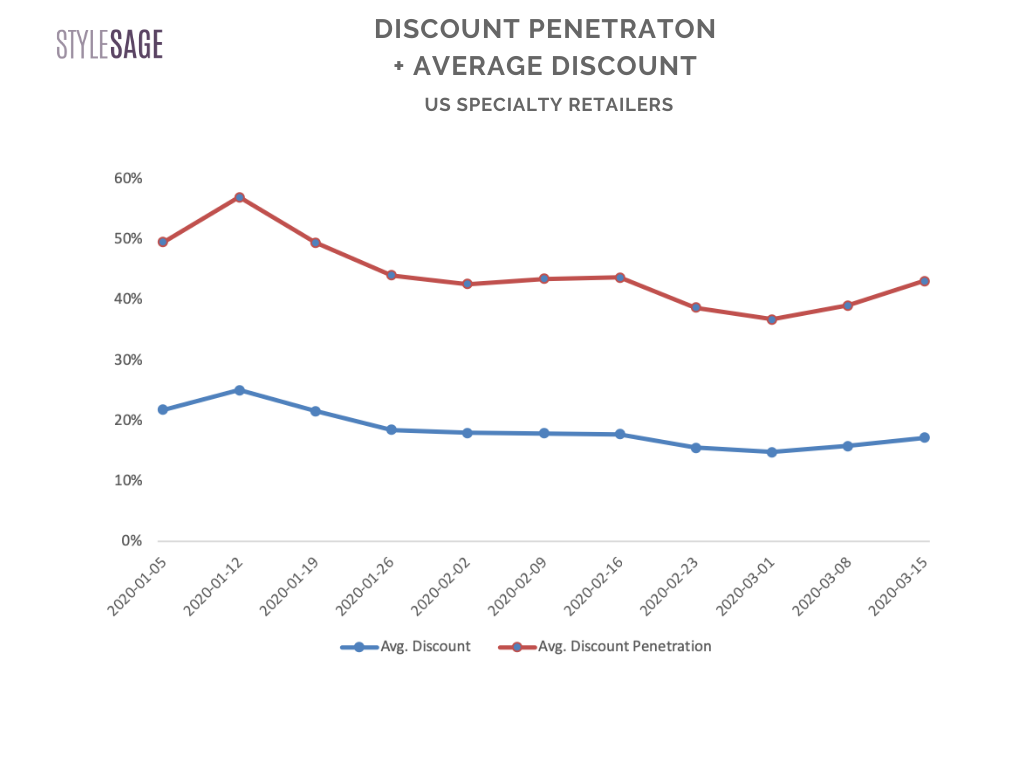 For January and February, more than 40% of specialty retailers' merchandise was marked down (red line). That declined into the beginning of March, at which point in early March, we've seen it once again exceed the 40% discount penetration mark. From the beginning of March, discount penetration amongst this group of retailers has increased by six percentage points.
Next, if you look at the blue line, which tracks how high those discounts are, the same theme follows: after seasonal highs, discounts fell in late February, only to pick back up in early March. From the beginning of March, average discount amounts are up two percentage points. What's more, both discount penetration and average discount are up from the same time last year (not shown), highlighting potential vulnerabilities in this sector. While these are not drastic shifts, they are a benchmark from which to gauge the market's future movements.
Responding with Humanity
If we're honest, the recent events make it feel awkward to be selling stuff. If now's a time for anything, it's to be informative. But looking forward, take inspiration from these brands who have tapped into social media to virtually and authentically connect with their audiences over the past few days.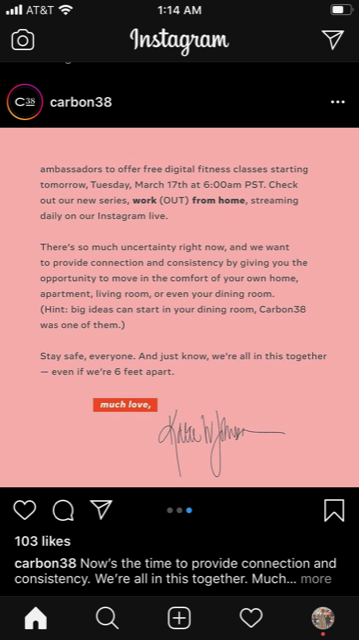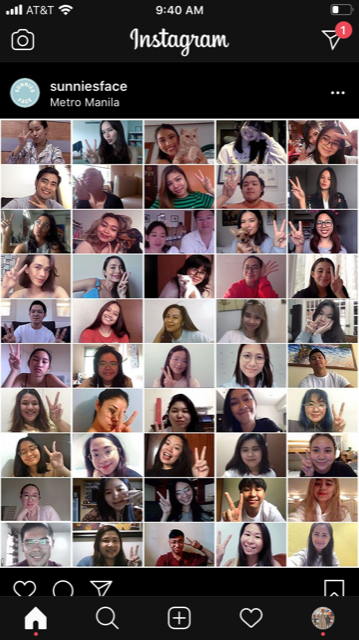 Carbon38, a premium active lifestyle retailer, is hosting free digital fitness classes streaming live from Instagram, while the founder of jewelry brand Stone & Strand, who usually goes live to show shoppers how to make "earscapes" and models their products, took a pause on Instagram live to "check up on how their followers were doing" and get feedback on what they wanted to talk about going forward. And up-and-coming beauty brand Sunnies Face showed solidarity with folks around the world who are working from home, sharing a screenshot of its team's video conference.
We know what's ahead is going to be tough, but we're here for you! How can we help you, and what information would be most useful to you and your teams? Get in touch with us here!