This week sees France, Germany, UK, and several other European countries going back into full or partial lockdowns due to skyrocketing cases of COVID-19. In this dumpster fire of a year, are we even allowed to say this is the "worst possible timing?" Probably not. But still, by some estimates, holiday sales are nearly a quarter of annual sales, and with lockdowns coinciding with the start of said holiday season (and quite possibly beyond), yeah, the timing is going to be problematic.
With the situation changing by the hour, it's a critical moment to review what's happening around the globe in terms of discounting in various sectors. How does everything stack up relative to one year ago? Have we made up any of the ground we lost over the past eight months?
Specialty and Mall Retail
First, we're taking a look at specialty and mall retail. The two metrics we're honing in on include discount penetration and average discounts. The former indicates what proportion of items are marked down, and the latter indicates how high or low those discounts are.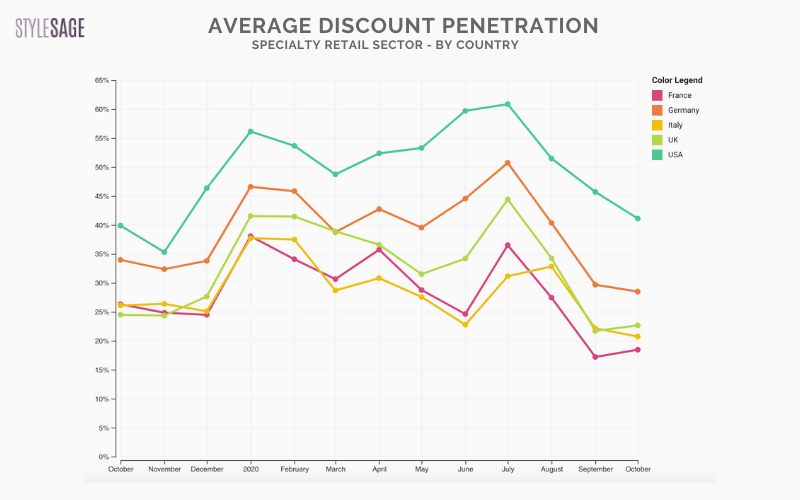 In the US market, we see that discount penetration is the highest of the five countries in question during the entire past year of data. From July to September, we saw a decreasing trend in discount penetration across geographies, but in the UK and France, October saw an increasing trend in proportion of goods marked down.
The US is the one country where we see 2020 discount penetration higher than 2019; in Europe discount penetration was down from one year ago.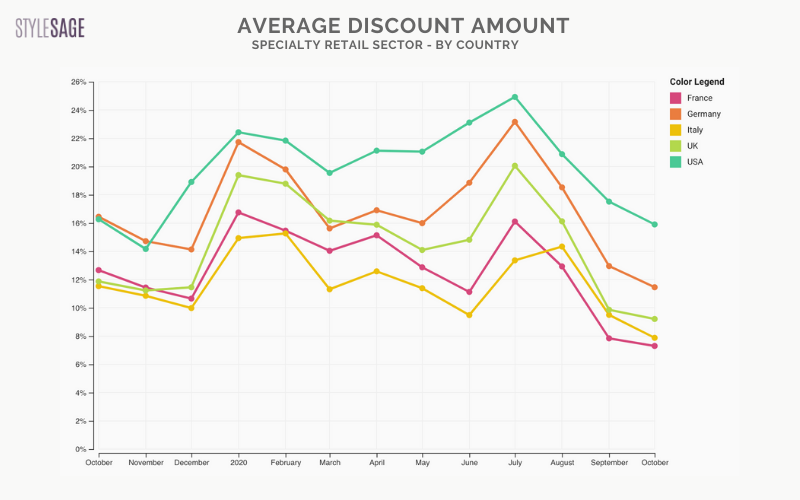 As far as how high those discounts were, we see similar trends in the chart above. Namely, discount amounts were highest in the US (of the five markets), those discounts have decreased from their July peaks, and all except the US are at or below where they were a year ago.
Luxury Retail
In most other years, the words luxury and discounting wouldn't belong in the same sentence. Alas, it's 2020 and retailers are having to resort to measures that are less than ideal.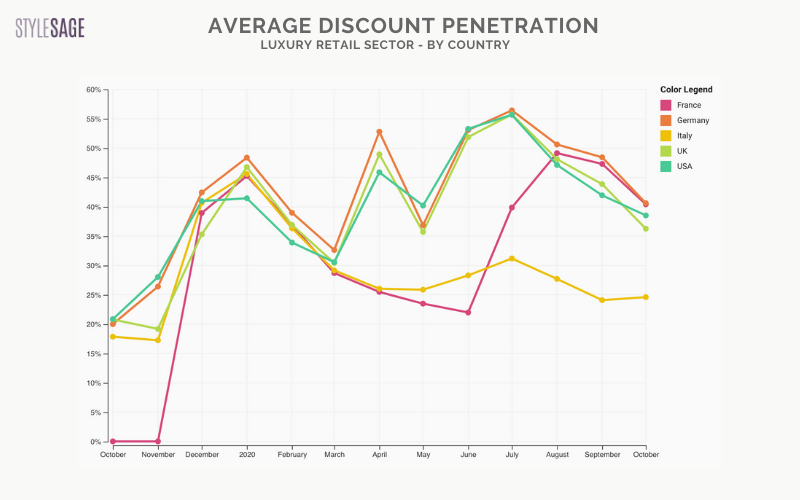 We know this because in the US, UK, and Germany, how much is marked down in the luxury sector is significantly higher than it was one year ago. In these countries, the amount of goods on discount in the luxury sector increased from March through July. It has, however, trended downwards since then.
In France, it's a slightly different scenario, where the proportion of goods on sale jumped dramatically between June and August. Since then it has decreased. Italy really separated itself from the rest of the countries, mostly maintaining a lower proportion of goods on sale throughout the last eight months.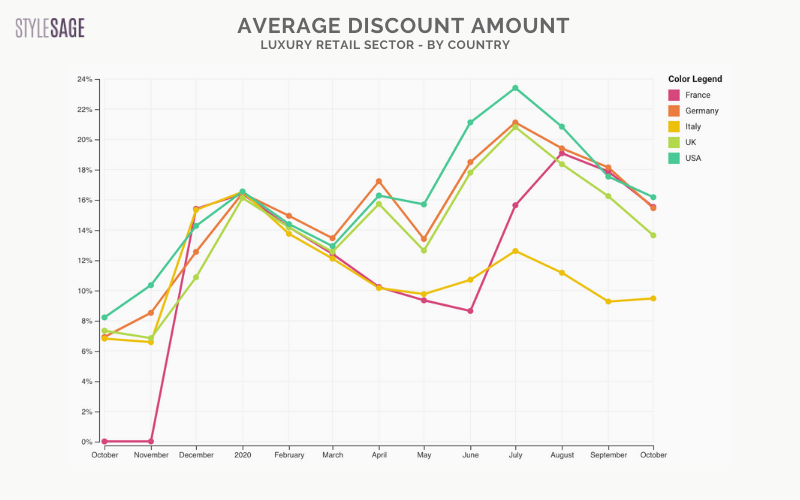 How high those discounts illustrated a similar theme to discount penetration, where discount amounts are down since their late summer peaks, yet they're significantly above where they were one year ago.
Active + Sportswear Retail
As we look at retailers whose business it is to sell things like sneakers and workout gear, we'd hope for some better news. And generally they didn't see quite the same levels of discounting as the specialty sector. That being said, stuff was still marked down. Let's take a closer look.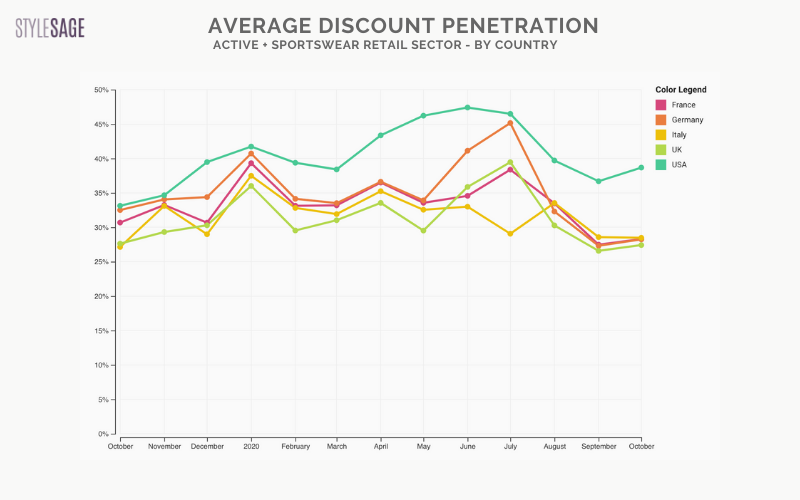 Here we saw that in the US, unsurprisingly, how much was marked down was the highest of the geographies in our sample, and the arc of discount penetration increased between March and June. However, after decreasing since then, these levels are now increasing again (between September-October), a trend to keep an eyeball on.
In addition, it's worth noting that discount penetration in the US market finished October higher than one year ago. However, for the UK, Germany and France, this metric was actually down from 2019.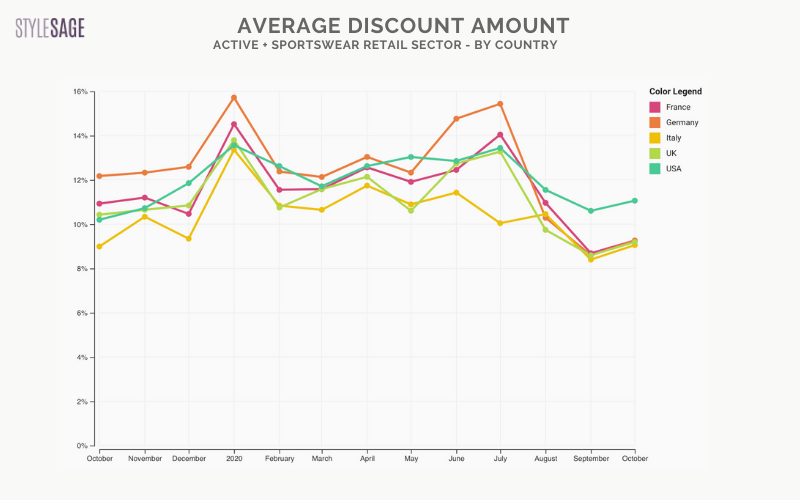 As far as how high those discounts have gone, the peak was 15% - for Germany in July. In fact, most countries saw peak activewear discounts around the June-July timeframe, and have dramatically decreased since then. However, similarly to discount penetration, we see it starting to tick up across countries, perhaps indicating that retailers will be dialing up discounts significantly in the next two months.
Beauty Retail
The beauty industry, while certainly impacted by the pandemic, has not suffered the same extent of losses that apparel has. Let's take a closer look as to why this is the case.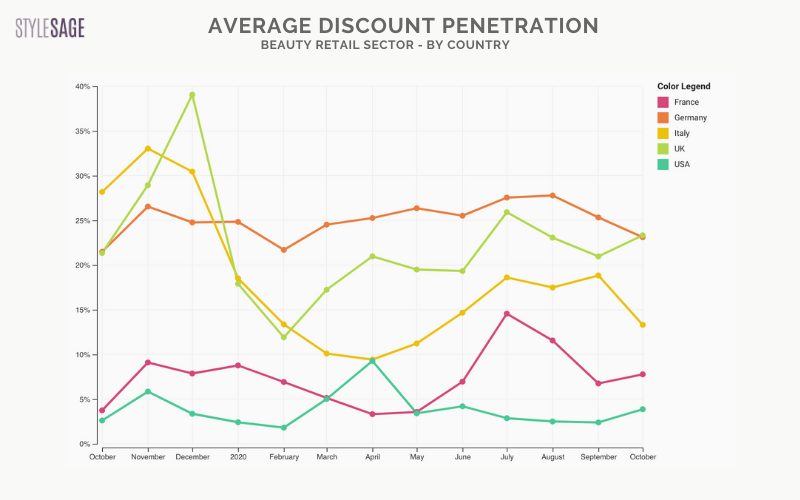 First off, note just how much lower these discount penetration levels are than in the previous retail sectors we've talked about. Here, no more 25% of goods were marked down during the height of the pandemic, across geographies. (Compare this with upwards of 50% of goods being marked down in other sectors.)
The highest levels of beauty products on discount during the pandemic have been in the German market, but they didn't demonstrate significant fluctuation while at those levels. The UK, Italy, and France have, however, markedly increased discounting penetration since around the April timeframe. Perhaps surprisingly, the US market had the lowest average discount penetration in the beauty sector, staying at or below 5% for nearly the entirely of the past eight months.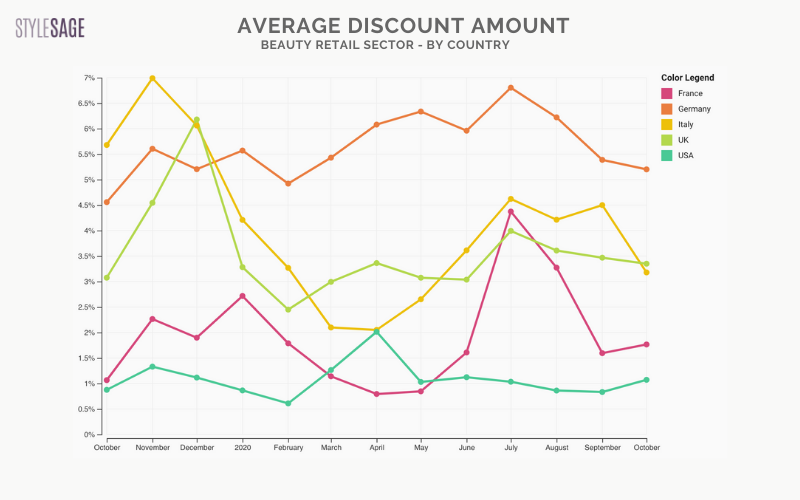 When looking at how high those discounts are, we see a familiar theme. Note how low these average discounts are, comparatively speaking, to other sectors. Again, Germany had the highest discount amounts, and in July, these discounts peaked for all four European countries in our sample. (Keep in mind, since the average discounts were so low, the peaks and valleys illustrated above aren't as extreme as they might appear at first glance.)
Final Thoughts
First, you'll want to keep tabs on this data as the lockdown situation and holiday season evolve in our COVID-19 Dashboard. There you can see both current and historic discounting mapped alongside the case counts, as well as trends in what consumers are searching for in these times.
Second, many retailers have had more time to plan for the kind of holiday scenario that's about to play out - whether that's modifying inventory levels, investing in e-commerce technologies, or bolstering their fulfillment plans. Clearly, no one is going into this season on autopilot. Retailers, while battered, are more ready than they've ever been to take on the challenges of the season.
Third, and most importantly, while we talk retail all day, the most important thing is the health and well-being of your loved ones. So we want to extend our warmest of wishes for the health and safety of your friends and family through the months ahead.