In times like these, it's important we look at bright spots, things that are doing well despite the tough circumstances. In the fashion industry there are some clear winners right now, and they also happen to be opportunities for retailers willing to hop on them. Let's take a closer look.
Sleepwear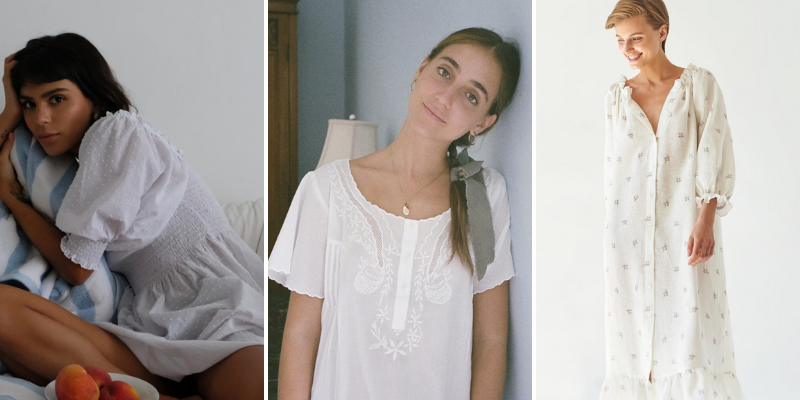 In the market for a "nap dress?" It turns out quite a few people are, actually. The sleepwear category has done quite well, for pretty apparent reasons, over the past few months of quarantine. Now, as we enter the summer months, nightgowns and sleep dresses are trending because many can easily cross over into daytime wear. Brands like Hill House and Sleeper offer nightgown styles so chic, it will give a whole new meaning to "sleep walking!"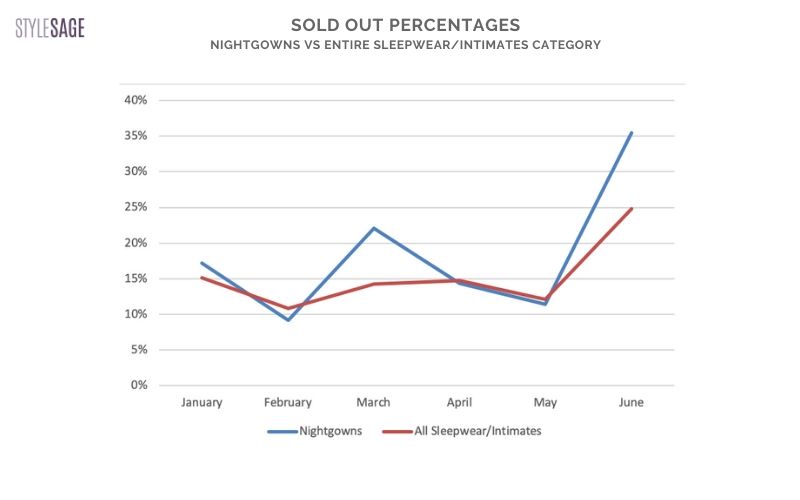 And the data backs this up, showing us that nightgowns are outperforming the entire sleepwear and intimates category, in terms of sold-out product percentages.
Understanding how to subtly and chicly blur the line between sleepwear and daywear is key here. Don't sleep on this one!
Bike Shorts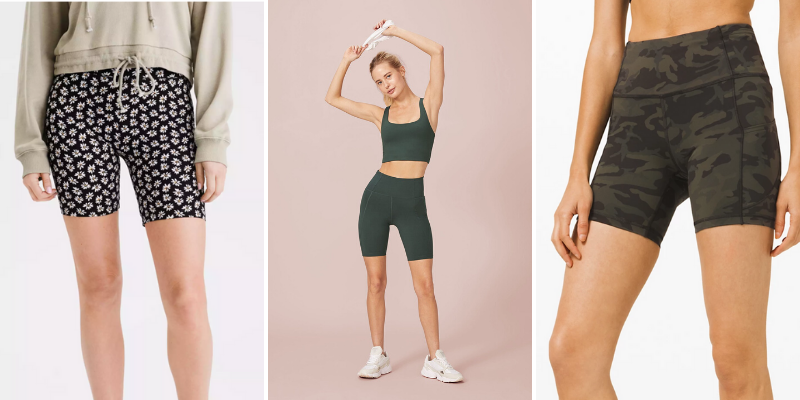 News flash: cycling is on the rise. (Hot tip: cycling fashion is more searched for now than it's been in the past five years.) But let's be honest, while many of us aren't actually getting on a bike, we are, however, borrowing one of its signature garments - the bike short.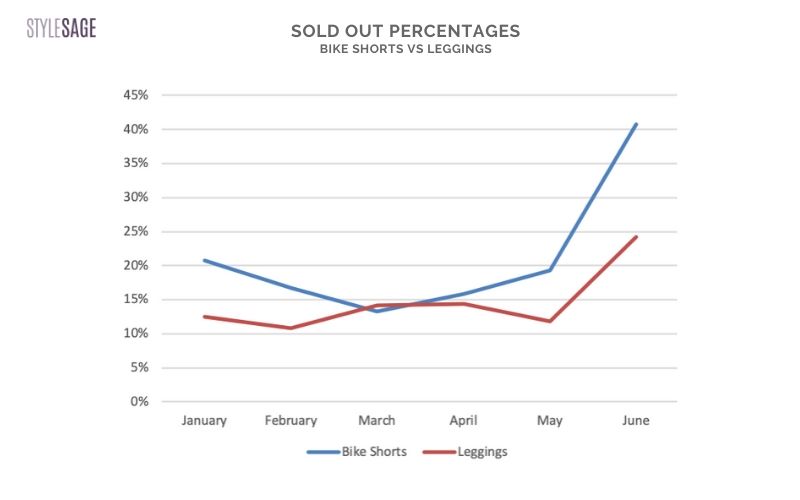 While during March and April bike shorts and leggings sold out at similar rates, since May (and also before March), bike shorts have been performing better. The category is seeing sold out rates north of 40% currently, indicating our waist-up approach to work calls has a comfy secret. (Shhh, we won't tell!)
High Quality Basics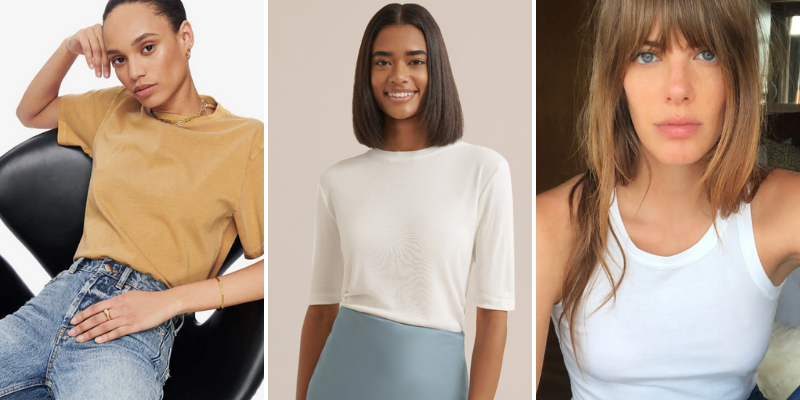 Let's take a moment to appreciate the basics in our wardrobes, those pieces going the extra mile, putting up with the extra wear and tear. These pieces, it turns out, have also been star performers over the past few months.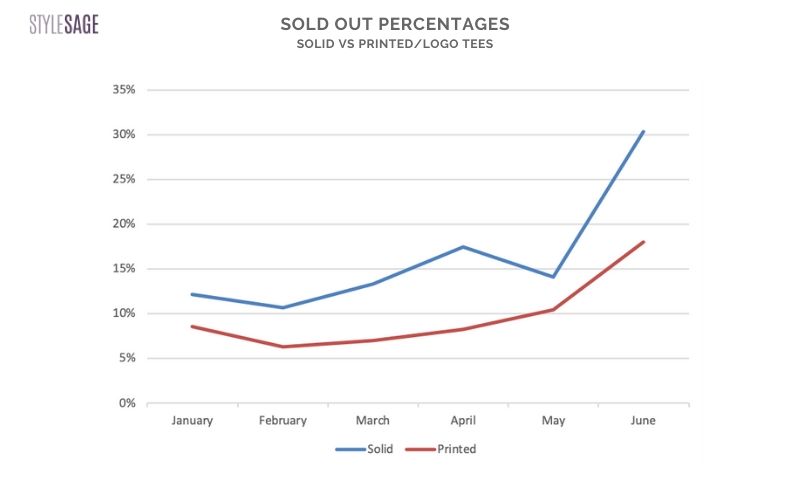 In particular, examining solid versus logo or printed tees, we saw a distinct difference between the two in sell through rates. Solid tees have consistently sold through at higher rates, especially since the May timeframe. What's more, solid tees priced $50 or less have similar sell-thru rates as those priced $51-100 (23% vs 20% - data not shown here.)
Takeaway? Consumers will increasingly be looking to invest, where possible, in better quality goods that are both timeless and versatile.
Face Masks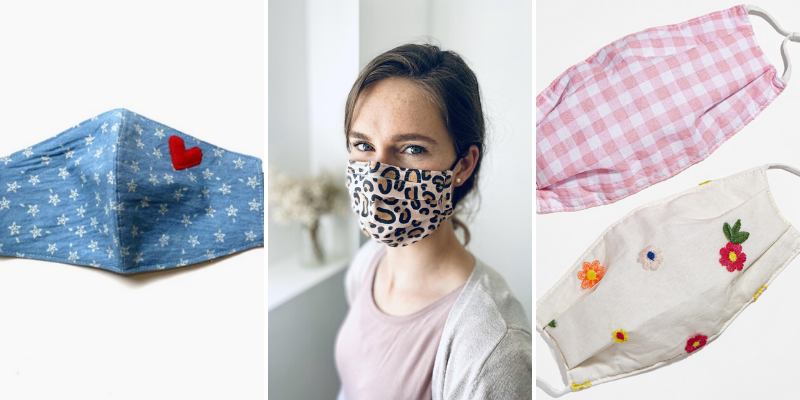 We'd be remiss if we didn't mention face masks as a category bright spot. (Hope you're wearing one when you're out in public!). Etsy, the marketplace for independent sellers, rang in $133 million in face mask sales just in April, shooting their stock to all-time highs. Now do I have your attention?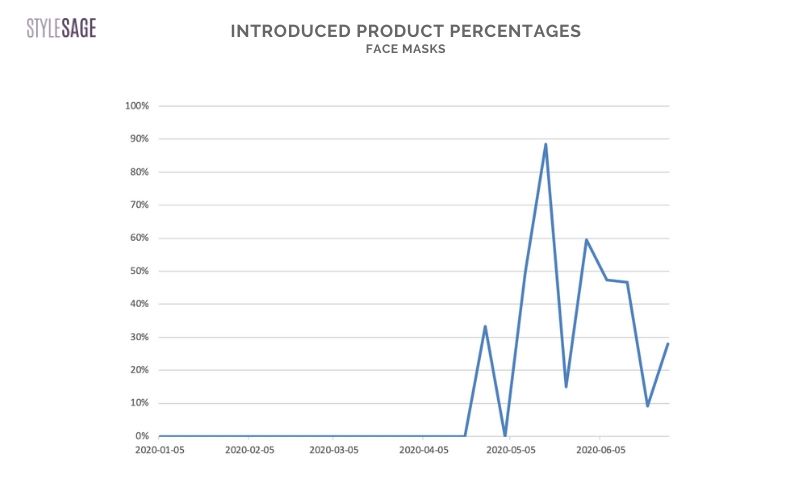 As you can see across a wider swath of US retailers in our sample size, face masks weren't a thing until mid-April, early May. And then of course, new product introductions skyrocketed. Those have since come down a bit, but we anticipate face masks staying around for the foreseeable future as COVID-19 continues its spread. Oh, and the average price point for a single mask is $18. (Data not shown.)
Easy Going Shoes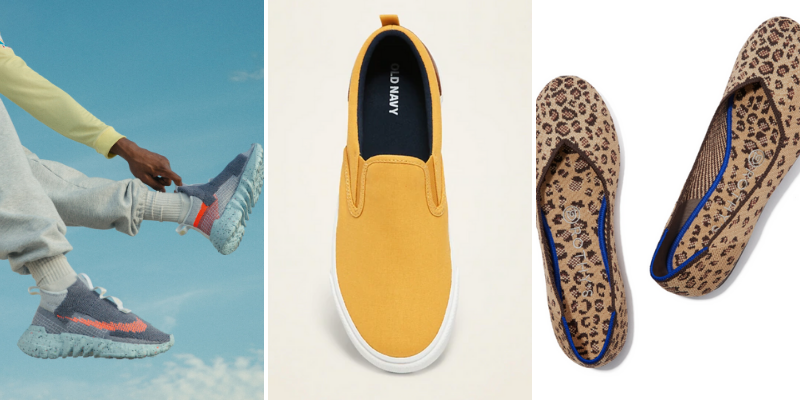 When it comes to footwear, these days it's "easy does it." Footwear needs to be a multi-tasker, going from errands to long walk.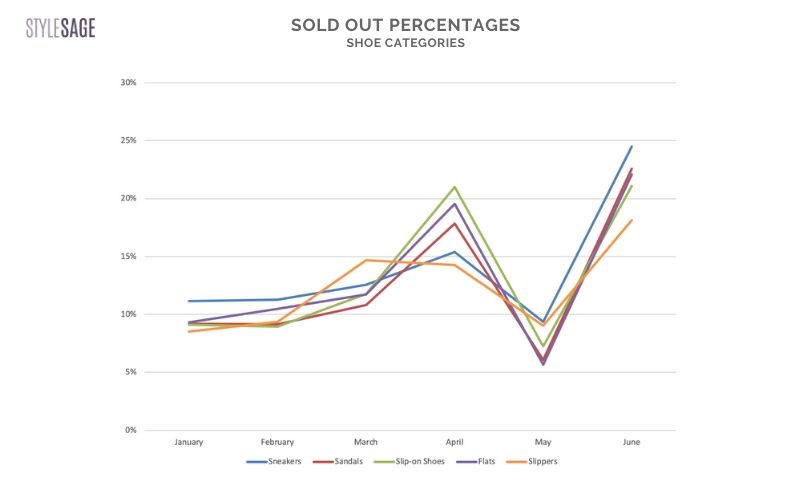 The need for multi-tasking is why we're calling this winner - "easy going shoes." In particular, sneakers, sandals, flats, slip-ons, and even slippers have seen similar rates of sell-through over the past few months, and are trending upwards since June. (Specifically, sneakers and sandals are increasing, while slippers are declining, all trends that are in step with easing lockdowns.)
While shoppers might not be donning heels as often, think of whether a pair of shoes works across multiple occasions when determining whether the shoe fits the market. (Couldn't help ourselves there - sorry!)
So, which categories have been surprisingly strong for your business? Let us know here!