It's two days after Cyber Monday and our inboxes have barely survived the deluge of offers coming in over the past week. As we all come up for air (and hit bulk delete), it's time to survey the damage and consider what's in store for the rest of the season.
First off, let's discuss the spending statistics. Data from Adobe Analytics recorded that this year's Black Friday sales reached $7.4 billion, $1.2 billion higher than 2018. This year's Black Friday saw a larger share than ever of mobile sales - $2.9 billion.
Seeing as Black Friday originated as an in-store event, this gain in mobile shopping shows the extent to which consumer behavior is shifting and retail channels are blurring.
And then there's the main event, Cyber Monday, which has handily outpaced Black Friday sales, clocking in at $9.42 billion, according to Adobe Analytics. This was $1.5 billion higher than last year, and the increasing spend on mobile was also present during Cyber Monday, where smartphone sales exceeded $3 billion.
While both Black Friday and Cyber Monday sales were higher than last year - neither day beat analysts' expectations. While Cyber Monday is typically the most significant event of the holiday shopping season, we have to remember that the success of the season relies on its total performance, and a lot can happen between now and the end of December.
With that in mind, what were retailers up to in terms of discounting in order to drive sales this season? Let's take a closer look.
Discounting Trends
Let's start by looking at how much of assortments were on discount leading up to Black Friday, and then what actually took place on the days of Black Friday and Cyber Monday.


To start, you can see that the sector with the highest likelihood of discounting was the Mid-tier department store, and it climbed through early November, peaking on Black Friday with 74% of all products on sale. The next sector most likely to have products on sale was Specialty stores, where both promotional days saw an average of 48% of products on sale. Premium department stores also saw an uptick in likelihood of sale, climbing from early November to Cyber Monday, where it peaked at 37% of products marked down.
Next up we examined average discounts to see how much off shoppers could expect leading up to and including both Black Friday and Cyber Monday.


Here, regardless of sector, we see that there was little difference between Black Friday and Cyber Monday discounts, while the Mid-tier sector shows a marked uptick in average discounts during the month of November.
Let's zoom in a bit more closely at category discounts and see what was most and least likely to be on discount this past weekend.


We've broken it down by sector to see what, if any, differences were relevant to a certain type of retailer. To start, we see a few common categories that were most likely to be discounted by regardless of sector and those included dresses and jumpsuits. On the other side, we saw that handbags were amongst the least likely categories to be discounted across sectors. The other notable trend here was that in the mid-tier department store sector, in-season merchandise, including outerwear and sweaters, ranked amongst the most likely to be discounted - a trend that wasn't present in other sectors.
Not Just the US
While Black Friday and Cyber Monday may have originated in the US, they're far from limited to this market. Here we take a closer look at discounting behavior across a segment of retailers in Germany, France, and the UK - and how it stacks up to the US.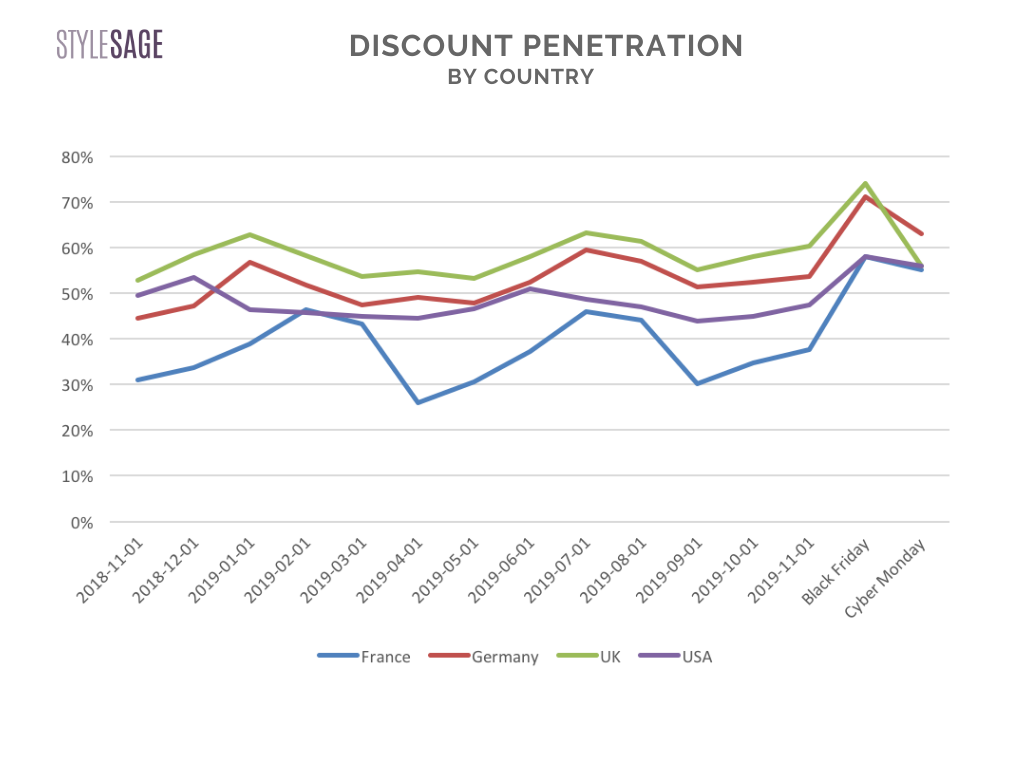 What's super interesting to note is that the UK has the highest likelihood of discounts in the group, indicating the softness in this market during the past year. Close behind it is Germany. For all countries we see a peak in the likelihood in discounting on Black Friday, showing that this holiday has taken on global scope and scale.
Next we turned our lens to average discounts by country. Here we see a similar story, where the UK has the highest average discounts on Black Friday, while the US clocks in right behind it, followed by Germany and France. Keep in mind that promotional discounts tend to be more prevalent in the US market, which are not reflected in these item-level discounts.

Promotional Themes
Last week we shared some data on promotions leading up to Black Friday, the highlights of which included an average promotional discount of 44.3% and 6.63 promotional emails sent per retailer. Keep in mind, for most of the year, the average promotional offer remains at or near 40% so this isn't particularly remarkable. Black Friday and Cyber Monday promotional discounting looked similar to each other with the average discount ringing in at 43.9% and 43.2%, respectively. Not only you can see that promotions were ongoing throughout the Thanksgiving weekend, but also that deals were similar, regardless of whether you purchased on Black Friday or Cyber Monday.
Below you can see some typical examples of Cyber Monday promotions.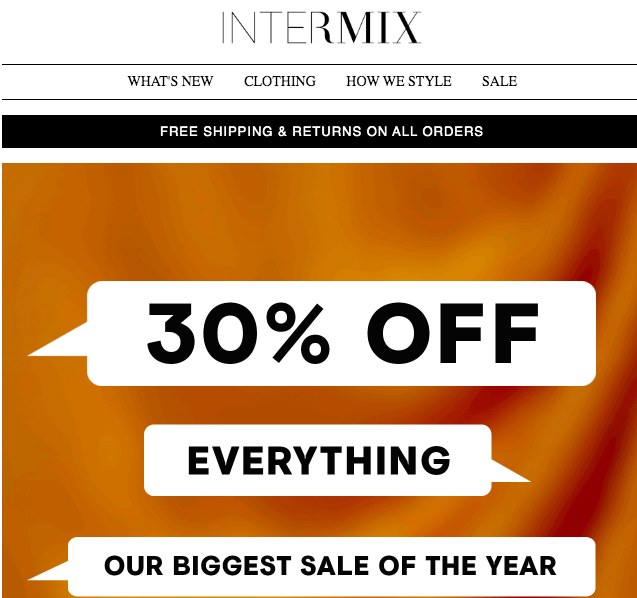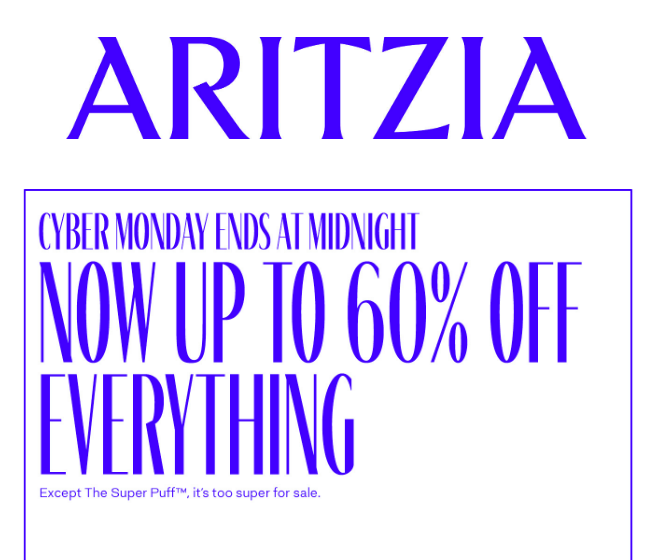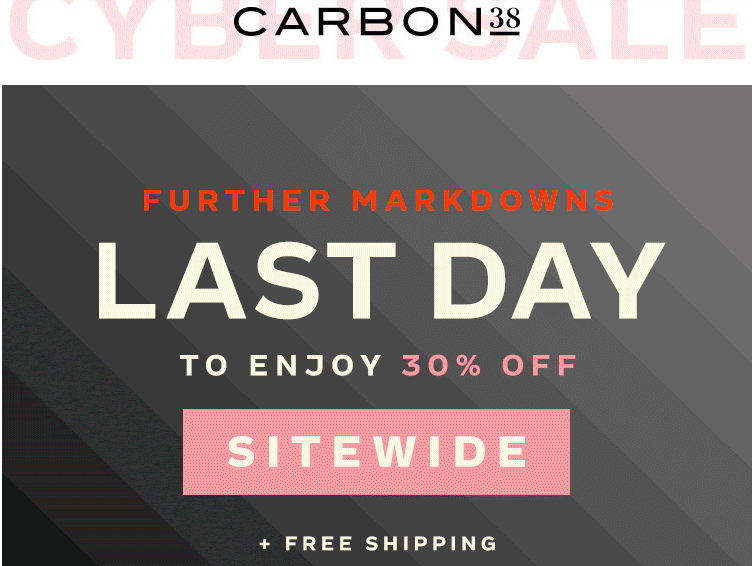 Intermix, Madewell, Aritzia, Carbon38
But of course there's the fine print. Plenty of brands are excluded from straight promotional discounting. Get your magnifying glass out and check out this fine print.
Even though many digitally native brands may avoid promotions as a year-round strategy, the holiday season can make it hard to resist. Some of the brands who joined the Thanksgiving weekend promotional discounting trend included Reformation, Glossier, and Outdoor Voices. You can see samples of their offers below.


Reformation, Glossier, Outdoor Voices
Other creative alternatives to discounting included special gifts with purchase, limited edition gift sets, and Everlane's annual "name your own price" event. Check out these retailers' non-traditional approach to Cyber events this past week.


Lively, Mack Weldon, Everlane
And of course, let's not forget about "Giving Tuesday," which took place on December 3rd, the perfect excuse for retailers to encourage purchase that supports various charitable causes. Retailers including H&M, Uniqlo, and KOIO got behind different causes, by donating a percentage of purchases made that day to their charities of choice.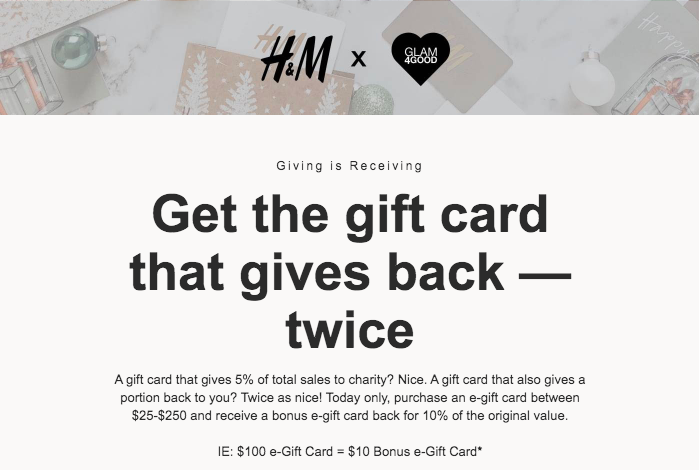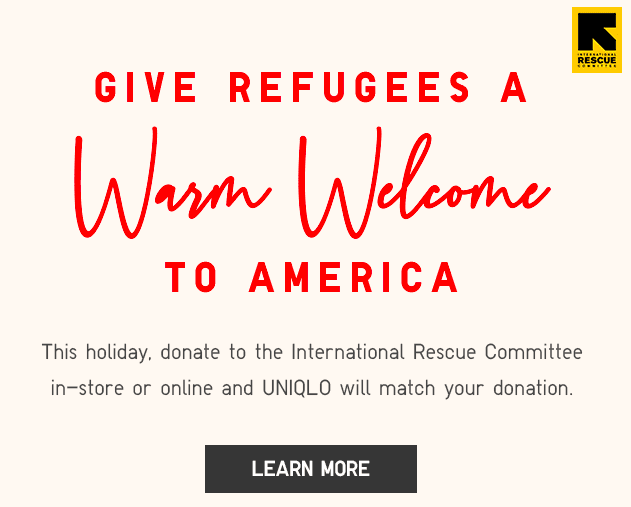 H&M, Uniqlo, KOIO
What's Next?
As we write this, there are twenty days before Christmas. And as we mentioned before, a lot can happen between now and then, and execution is key to retailers' continued success this season. From here on out, a focus on fulfillment, customer service, and product availability will separate the winners from the losers. So while the data from Cyber Week shows a strong start to the season, keep that eye on the ball and make sure you're ready and responsive over the next few weeks.