You might say this has been a year of reversals in retail - reversals of fortune, reversals of market strategies - yet none of these have been more interesting to observe than the reverse movement of digitally native brands into the land of brick and mortar retail. And while many may question the future of physical retail, that prognosis doesn't take into account the full picture, as we know that the effects of store closures have been unevenly distributed across different geographies and retail sectors, and even more importantly, more stores are opening this year than are closing. While digitally native brands make up a small fleet of those openings, they're symbolically important as they represent the newest breed of experience retail, and they bring with them flocks of brand fans and curious alike, not-to-mention the ever-studied millennial demographic. So whether you're talking about Glossier's and The Reformation's newest tech-enabled store formats or M.Gemi's and Everlane's first brick-and-mortar outposts in New York, digitally native retail is now a fully-sensory, IRL experience.
Yes, we could talk about brick and mortar all day, but what better way to take it all in, than to go there in person? And there's no one I would rather walk the floor of a store with with than Paco Underhill. You likely know him as the pioneer of retail anthropology, founder of retail consulting and research firm Envirosell, and bestselling author. Oh, and he also happens to be my former boss and always mentor. So come take a walk with us through Everlane's first store and learn more about what digitally native brands (and all brands for that matter) need to do to make real-life retail a religious experience.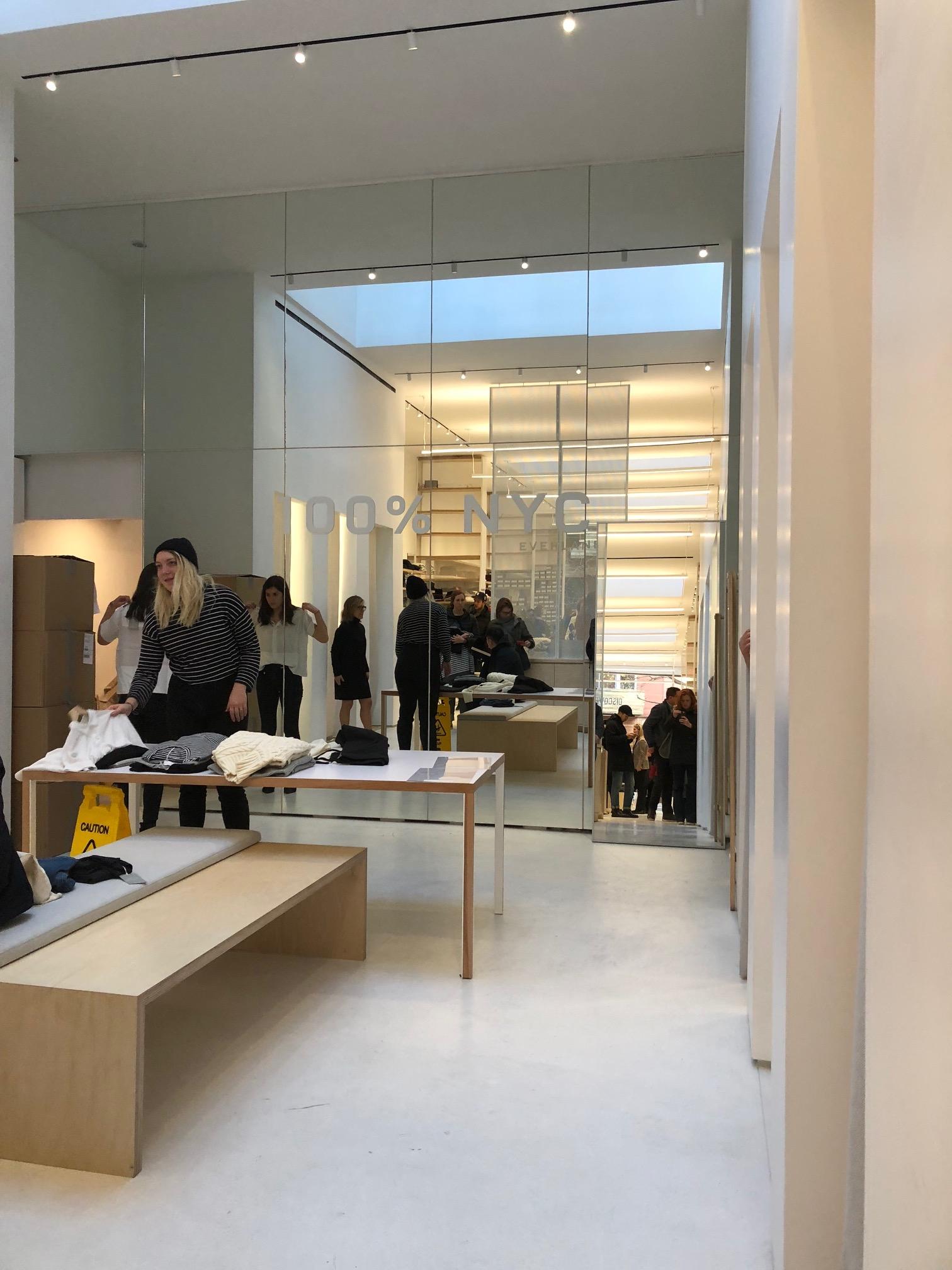 It Needs To Evangelize
On the topic of religion - what gives a brand a cult-like status? Well, fervent and open admiration, for one. Case in point? A quick check of product reviews on Everlane's site includes statements like:

"Ugh, I love this sweater so so so much."

"It's so high quality that it's a pleasure to wear."

"These jeans. Love at first wear. They're magical."
So yeah, you get the sense that customers really, really love Everlane's products. Yet the other equally important part of Everlane's brand ethos, beyond great product, is transparency in sourcing and pricing. Paco sums it up like this, "I have women in my office who know the brand, love the brand, have made the pilgrimage here. For them, it's like coming to visit a chapel. It's not just a new store format, it's something that they understand. Part of the reason you have a store in a place like Soho is because you want it to be evangelical. Now the question is, how evangelical is this location? To what degree is the premise of the brand, whether it's complete transparency or ethical sourcing, if you happen to walk past this store, would you know that?"
It's a good point - while there are bits and pieces of that messaging throughout the store - the product itself is the main focus and the transparency message fades into the background. It's a delicate balance to strike; store real estate isn't cheap, especially in these parts, and you want to maximize its productivity. Yet Everlane isn't a brand just like others - and there are ways in which they could bring the story of transparency to life in a way that is both memorable and deepens the (already very existent) customer love.
It Needs To Be Social
The first thing you see when you walk into the Everlane store is a pink wall - in front of which are bleacher-like seats to park yourself (or your significant other) while shopping. The wall and seating area, while wholly functional, serve another critical purpose, which is that social media moment. The wall is the perfect shade of pink (I'm talking to you, millennials), and we saw no fewer than 10 people during our time there, stop to take a photo of it. This wall acts as a virtual postcard, if you think about it, whether you're visiting from uptown or halfway across the globe.
But there are other opportunities as well. Underhill notes that in Envirosell's research, they see time spent in dressing rooms going up. If we're all so pressed for time, why is that the case? "They're using social media and taking pictures in there. So what I want to do is to be able to brand this dressing room in some way. So that anytime someone posts something on social media, you'll see it there." It's these little details that take on a life of their own, as they help widen brand awareness and spread the desire amongst those who see these very details, to have this experience themselves.
It Needs To Offer Up A Solution
As I'm sitting there I point out something interesting to Paco - I don't see lifestyle imagery anywhere. Which in a fashion context strikes me as unusual. As we talk about it, Paco reminds me, "One of the reasons we use lifestyle graphics, whether they're in stores or online, is to clue people in on how we wear things. What we're selling here isn't costumes. No one one is wearing this out on a Saturday night date, they're wearing this in their everyday life. Which, look, is where the money is. But that said, we would like to have our staff be able to mix and match, to inspire a little bit. That's how you build trust and a relationship."
He continues, "Everywhere else in retail, everywhere else in the world, no one is selling an item, they're selling a solution. But here, it feels like there's no connection between tops and bottoms, there is no connection between blouses and sweaters. What you want to do is communicate to the consumer, this top, this sweater, this shoe, that's you, and that's how you can put it all together."
While there are plenty of staff milling around, and yes, they're sporting the signature cashmere and jeans, he's right, there's something missing here.
I want to be inspired, just a little bit more. Because at the end of the day, that's what's going to get me to pull out my credit card.
It Needs To Remember Where It Exists (And For Whom It Exists)
We're standing in this store at 3 pm on a Thursday, and we're taking in the crowd. For someone who's spent decades observing and analyzing these very types of environments, Paco notes that, "There's a predictability to who's in the store when. Here it is the middle of the afternoon, and a third of the visitors are tourists. How do I respond to that? Do I showcase language skills? What do I do with what is obvious, so that I can move the needle?"
He's got a point that sinks in as we hear no fewer than 5 different languages being spoken as we sit there. "While it may seem obvious, this type of revelation gets to a very interesting problem in retail, and that is often the people in charge aren't sitting where we're sitting right now. There was an old adage in our business, the point furthest away from the door, that's where the person in charge always sits." It's a poignant issue that, in today's age of endless amounts of analytics around who, what, and where, sometimes seeing a place and the customer firsthand is the only way in which to connect the dots - and not miss a critical opportunity for conversion.
As we walk out the door, reflecting on our experience there, Paco sums it up perfectly, "This store's very existence is a reaction to the Twentieth-century heroin of retail, which is discounting. Wondering why it's one price on Sept. 15, and another price on Nov. 15th, and yet another price on January 15. We've all been subjected to the process, so will we ever go back to paying full price again? And I think that is the retail math that smart consumers have gone through and that leads someone (a brand like Everlane) to do something like this."
What he said has stuck with me. Everlane is the antithesis of all the things we've tired of as consumers - it's not just about transparency on how much and from where. It's about being treated as an equal - a modern day consumer who is smart and can figure out these things on their own - and will vote with their business.
It's food for thought and a message that retailers, both old and new, need to keep top of mind.