When it comes to shopping, we're admittedly spoiled for choice in New York, with the added bonus that we often get to experience new concept stores before anyone else does. Case in point? The slew of digitally native brands who have set up shop, both of the temporary and permanent kind, on the streets of our city. From Everlane to Glossier, many of them have found their physical homes in the Soho and Nolita shopping neighborhoods, notably not on the main drag of Broadway, but tucked away on the side streets where you still get the sense that you're finding something under-the-radar. Today we're taking a long walk, to see what we find and what these new-ish brands can teach us about physical retail.
As a bonus, there's a link at the end of the article to a Google map where you can find all the locations.
L'Appartement Sezane
Ask anyone who's knows retail which brand they think is doing something new in physical retail, and you're likely to hear "Sezane" as the answer. Why? This quintessentially French womenswear brand provides simple, well-made classics made for a modern woman. As they've grown from digitally native to physical store, they've created a concept, called L'Appartement, that takes the shopper straight to Paris. From the seasonal floral displays both inside and out, to the French cafe seating, it immediately communicates the DNA of the brand (while also providing Instagrammable moments). It feels decadent, yet the beauty of the brand is, it's all pretty affordable. Sezane is certainly blessed with an abundance of cultural references from which to draw, and they bring it all together perfectly; the store experience and curated product assortment stay with you long after you've left.
254 Elizabeth Street
Naadam
A few blocks away sits a little nugget of a store called Naadam. Naadam is the "$75 Cashmere Sweater" brand that has set out on a mission to "democratize cashmere." They do so by promoting sustainable manufacturing processes, cutting out the middleman, and passing along those savings to their shoppers. Inside the tiny shop, they give a nod to the origins of their cashmere with an interactive display where you can touch and feel the different stages of cashmere as it goes from raw to processed material. The shop currently features only their $75 essential sweater in unisex sizing, from XS to XL. (Their online shop has a wider range of products for both men and women.) One of the services they offer in-store is shopper favorite embroidery, where you can personalize your sweater with a name or graphic, done while you wait. When you're here, you're here for the cashmere, and on that, they deliver.
7 Prince Street
Allbirds
The tech bro's favorite shoe has spread to the masses. I know this not just from unofficial audits of footwear while commuting and at work, but also because of all the shops I went to on my tour, this one was the most jam-packed with people. Young, old, male, female, tourist, and local, there was every type of person you could imagine at Allbirds, trying on sneakers made from merino wool, eucalyptus tree fiber, and sugar cane materials. Aside from being super comfy shoes, why are these shoes so darned popular? It turns out nondescript is the new logo-emblazoned, and Allbirds shoes are exactly that: recognizable, but low key. And insofar as many digitally native brands use the supply chain as the central part of their brand story, Allbirds really sets the tone for how to do that well in a physical space. The store segments its assortment into sections by the material the shoe is made from: tree or wool, and then by shoe type: lounger, runner, and skipper. They educate shoppers on how the shoes come to be, but at the same time, they also don't take themselves too seriously, naming their tree and wool materials "Twiggus lightandbreezius" and "Sheeplus softandcozia," respectively. It's a fun and social store that offers up a product that is arguably best-in-class, three of the most important ingredients in experiential retail's secret sauce.
73 Spring Street
Koio and Greats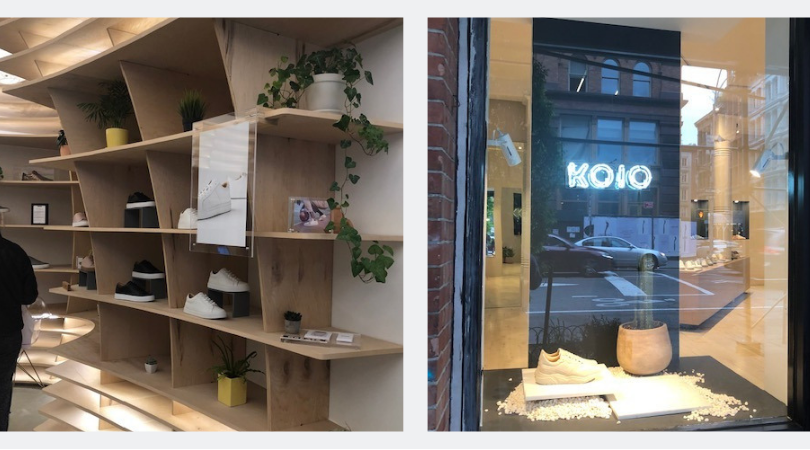 If you need any further evidence as to the casualization of our modern wardrobes, look to the count of sneaker brands on the digitally native roster. While Allbirds is the best-known, two lesser-known but growing sneakers brands on this list include Koio and Greats, and I'm combining them here because the two brand's products are pretty similar. In fact they're so similar that the Koio salesperson asked me if my Greats shoes were theirs. Nonetheless, the two offer up sleek alternatives to your Nikes or Adidas (or Allbirds) sneakers, if that's what you happen to be in the market for.
The two stores are around the corner from each other, and are pretty bare-bones in their layout and merchandising. Greats imagery and store fixtures relay its Brooklyn-born DNA (at about 30% of the price of its neighbor), while KOIO positions itself as an upscale, made-in-Italy brand with its minimalistic interiors and videos showing how the shoes are made. Truthfully, neither is particularly exciting, but hey, they've got snearkers. In a neighborhood as competitive as Soho, they can and should do more to create excitement and storytelling around their brands.
Koio 199 Lafayette Street
Greats 42 Crosby Street
Outdoor Voices
Think there's already too many athleisure brands out there? Think again. You're likely quite familiar with Outdoor Voices by now, as they were part of the early gang of digital natives. Founded on the idea that activity should be inclusive, not just for performance purposes, their product range is straightforward, selling active separates for men and women. The store space skews towards their women's offering, but men's gets a sizeable chunk of real estate at the front of the shop too. There are no gimmicks or tricks here, as you can try an item on and take it home with you that day. But beyond the physical space, it's a community meeting point, for dog walking or their OV jogging club, bringing together the brand's fans in types of activities that cater to all types of physical activity. It's a functional, simple space that checks all the digitally native boxes.
251 Centre Street
Dagne Dover
If there's to be one theme that ties together many of today's digitally-native brands, it's functionality. It's functionality in the sense that they're reinventing an established product or category of products for modern day life and its needs. One brand who's taken that on as its central mission is Dagne Dover. A brand of handbags and accessories "designed for life in motion," every individual element of their product line is considered as to how it can help address and organize the needs of a life at work, working out, and going out. Familiar with the brand in name only, this was my first time experiencing the brand up close and personal. And I sure walked away impressed. While the space checks many of the digitally native boxes: nice store windows, minimalistic interiors, and a good soundtrack, the part of the shop that most impressed me was the corner where they laid out their product range and in cubby hole compartments below, had all the things that you could imagine carrying in your bag (including laptops, beauty products, and shoes), so you could literally try it all on for size. It communicates a strong degree of confidence in their products and helps the shopper walk away feeling like they made an informed and practical purchase.
419 Broome Street
Modcloth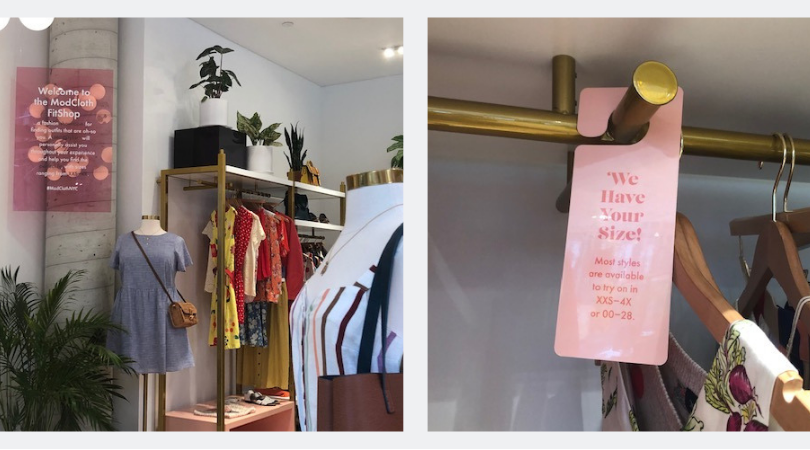 Just a stone's throw away from Dagne Dover, you'll find Modcloth. The Walmart-owned brand, known for its quirky and size-inclusive assortment, opened its first permanent location in New York earlier this year, part of a greater strategy to grow its physical presence in the US and international digital footprint, on the corner of Broome and Crosby. Even before you step foot inside, it already reads outside-the-box, eschewing the monochrome and minimalistic vibe of many its digitally-native counterparts. The window reads, "We believe in unconventional spirits," and the colorful merchandise on display can't be missed by passing traffic. Inside you'll find an eclectic assortment of products which convey the feeling of being in a vintage boutique where you're finding one-of-a-kind items. The model is that of a FitShop (something they're borrowing from brother brand Bonobos), where shoppers can try on a selection of items in the store and have them shipped to the store or their homes. Inside, they go out of their way to message that they have a wide range of sizes to try on (from XXS to 4X) and the fitting area feels like it belongs on Madison Avenue, with spacious rooms and plush seating. More than most of the digitally native brands stores, this physical space is dripping with personality and Walmart shows itself again to be incredibly savvy at bringing digital brands to life.
42 Crosby Street
The RealReal
This shop, located on the Western edge of Soho is a buzzing hive of activity for all things luxury. If you're not familiar with the brand, they offer up authenticated, pre-owned luxury goods, and their showroom is a treasure trove of brands from Chanel to Hermes. They organize the space (which covers two floors: upstairs for women, downstairs for men) by size, with accessories like jewelry and handbags getting special display space in the back of the first floor. The product curation is unparalleled and you immediately get a sense of scarcity. It goes without saying, you're not here for the discounts, you're here to find one-of-a-kind merchandise.
What's more, the space is productive beyond just selling product, it's a place where you can bring your products to be consigned and authenticated by their team of experts. It's clever, dual-usage of expensive real estate. But that's not all, as they have a cafe and patio in their basement, utilizing the well-proven formula of mixing dining and retail together. During the warmer months, it's sure to draw even more throngs of shoppers to this destination.
80 Wooster Street
Want to see for yourself? Find all of the shops mapped out here.