Courtesy of Getty Images
When I first set out to write about the exercise dress phenomenon, I was trying to figure out what exactly to call this category of active apparel. Is a dress you wear to both work and work out in called a tennis dress? Never played tennis but it sure seemed niche to me. So I started doing some digging in order to figure out the back story, "What's the deal with working out in dresses and skirts?" Which took me down the entertaining road of seeing women boxing in heels as well as exercising in "slimming suits" designed to maximize sweat and, I daresay, discomfort.
The history of women exercising has gone something like, "Women shouldn't sweat," to, "Women should be skinny but exercise in private," to "Women should exercise wearing this pink thing," finally to, "Women should be able to workout how they want." As you imagine, along with that evolution of mindsets, exercise wardrobes have also changed. We can thank Billie, Serena, Simone for helping us arrive at the modern-day exercise dress which is an inherently female expression of the versatility we bring to our everyday lives.
So what's the market data behind dresses and skirts at active and sportswear brands? Great question! The current buzz is around digital native Outdoor Voices and their best-selling Exercise Dress. It's been so popular that they've restocked it six times. With features like built-in bike shorts and a side pocket for holding a phone, what sets this dress apart is its functionality - it's not just made for tennis - it's made for all activities.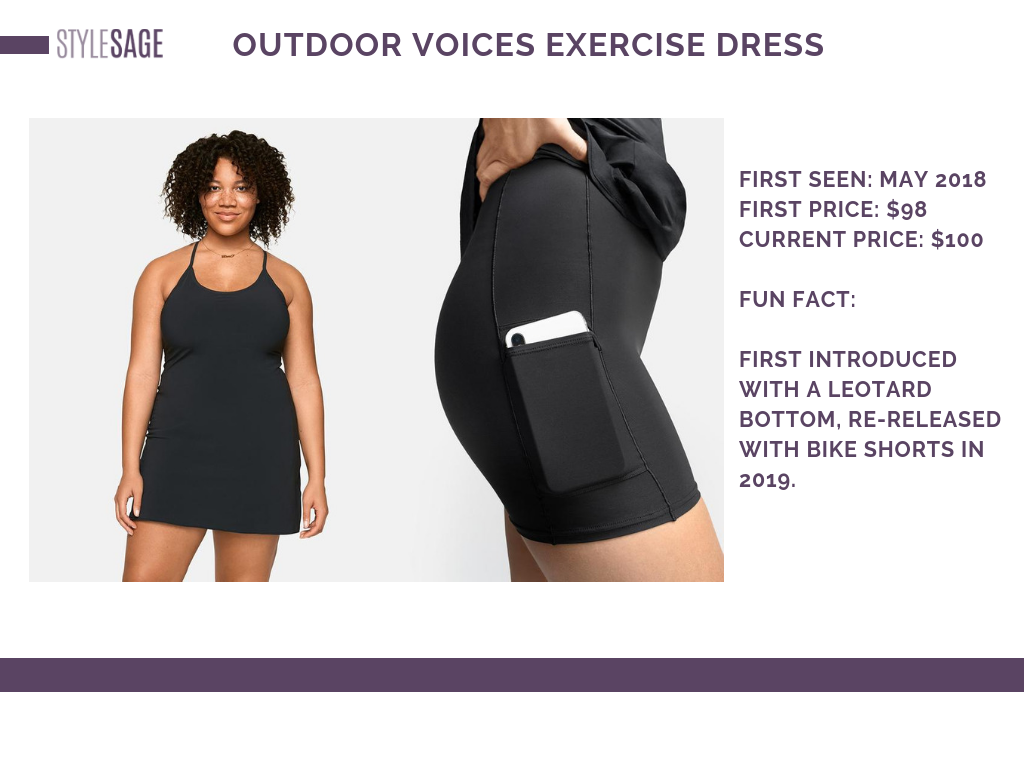 Here's what some reviewers said about it.
"I am obsessed with this dress—I've worn it on planes, to bars, to walk around hot cities during the day—it's so flattering and comfortable."
"Not only is it cute and super flattering but its also so liberating."
"I love this dress! I want to wear it every day ... for #doingthings but also... to just sit on the couch. It is just that comfortable."
The exercise dress best illustrates the great line blurring of what's for working out versus what's for everything else.
It's the incorporation of technical fits and materials into garments meant for the office, and specifically, why you see retailers like Athleta growing their "City" line and Lululemon building out their "Office Travel Commute" category. While the latter really aren't meant for working out, there's a clear linkage to an active lifestyle that each of these brands is promoting. With that in mind, let's look at the dress and skirts category offering at other brands.
What the data shows us here, is that there seems to be a general upward movement in the average number of skirt and dress offerings at these retailers - in particular you can see this upward trend at Lululemon and Adidas (green and blue respectively.)
We also looked at how well these skirts and dresses are performing and it's surprising to see that there have been frequently sold-out rates of 40% plus at retailers including Lululemon, Adidas, and Athleta. Remarkably, Nike has seen lower sold-out rates versus these three others.
The data indicates that the active dress and skirts category is a real opportunity - and hybrid items like the exercise dress are leading the charge. So, like Outdoor Voices asks, "What will you do in a dress?"