Following years of volatility and economic uncertainty, it is clear that the pandemic has accelerated changes in the fashion industry on a global scale. During the pandemic, retailers reported steep rises in bag sales, and the relatively stable market for accessories overall made designers feel confident in pushing the boundaries in the category. For consumers, accessories are an effortless way to find creative expression, as well as to incorporate objects that spark feelings of joy in any outfit. On the brand side, accessories are a healthy addition to any merchandising selection, as they usually benefit from higher profit margins.
The rising importance of social media is also becoming apparent, as many brands that today have expanded their selection into ready-to-wear all started with an Instagram-hyped accessory. Cult Gaia truly took off as a brand when they introduced their Ark bag in 2014; it was attention-grabbing, out-of-the-ordinary and made for social media. It took the then small accessory label and launched it into a global phenomenon.
What accessories are really making a mark on the industry and can be expected to stick around for the upcoming seasons? We've done the research for you, and backed it all up with data.
Unconventional Scarves
Scarves have a long history in fashion and have had a major resurgence lately, especially so when worn in unconventional ways. Truly evoking nostalgic feelings of the Hollywood 50's are silk ones wrapped around one's head -  not only can they conceal a less-than-perfect hair day, but also elevate and add elegance to any outfit. TikTok was early to jump on the trend too, with endless videos showing 'how to tie a head scarf', but it showing up on multiple SS22 runways was the true revival of the classic accessory. Moschino took the lead in New York with a monochromatic version, and Fendace followed suit in Milan where almost all looks were styled with silk headwear. Versace truly paid homage to the accessory, and had models walk down the runway underneath a ceiling of scarves. According to Donatella herself, foulards (the modern french word for neckerchief) have been important for the brand since it all began, "The foulard has been with us since the very beginning of the brand, but this season turns everything on its head; it is no longer fluid or dreamy – the scarf is provocative, sexy, wound tight."
The scarf also speaks to the hyped Y2K-aesthetic, and contemporary retailers like Revolve and Intermix are marketing scarves either styled into bandeau tops that tie in the back, or wrap tops tied into a halter. The word 'scarf top' currently has over 1.1 billion views on TikTok, and for this piece, styling is key to turning it into a form of self expression. Fall styling? Simply throw a blazer or bomber jacket on top.
Retailers are understanding the market for scarves that serve a different purpose than a solely functional one of keeping the wearer warm, and StyleSage data shows that product counts of scarves in delicate materials like silk, linen and viscose are on an upward trajectory. Compared to June 2021, scarves are up 33% and 44% in the US and UK, respectively.  
Perhaps the most fun way to style a scarf with the most room for individualism, is to incorporate it with another already very personal accessory - the handbag. It is an easy way to make any purse feel fresh, by simply letting the material hang down to show off a print, or wrapping it around the straps or handles. Beyond the nostalgia of it, the scarf is an ultra-versatile and stylish accessory that can easily elevate any handbag, or turn into apparel and headwear. StyleSage clients get all the insights on headscarves in our trend report here.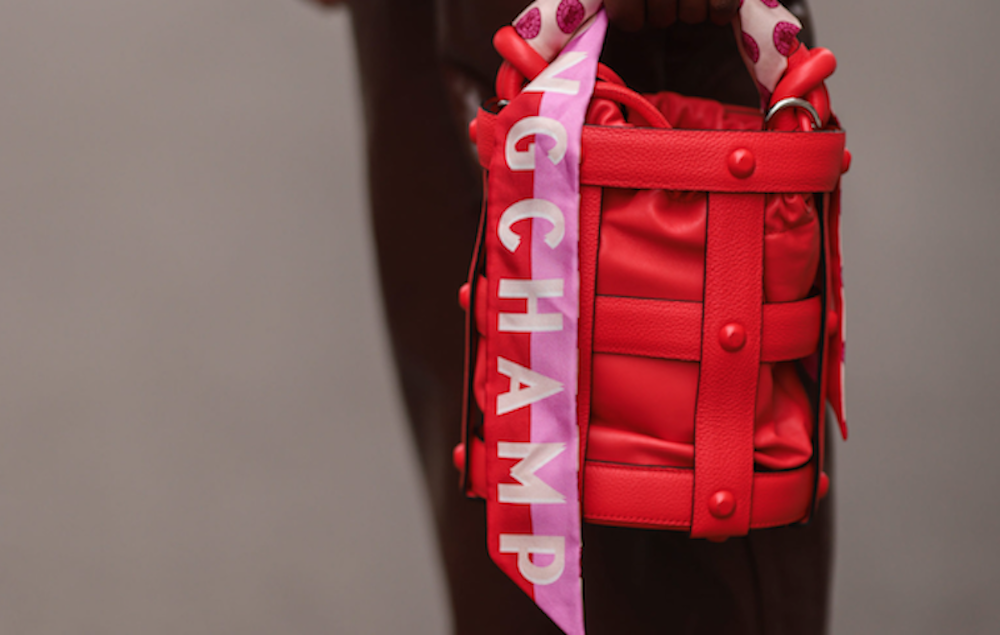 Gloves
Much thanks to Netflix show Bridgerton, evening gloves are now embellishing the arms of models and celebrities within the fashion elite. The silk evening glove trend that dates back to the 17th century has, over time, become interchangeable with 'opera gloves', and has been spotted on runways of major fashion players like Valentino, Erdem and Rokh. The long gloves didn't just make an appearance in the shows, rather they took center stage and served a main part of the overall collection styling.
Gloves also got a special mention in the Sex and the City reboot, And Just Like That, when Carrie sports a pair as a nod to a post-pandemic fashion choices.
Shorter driver style gloves are more functional than the opera ones, but likewise, they are a true fashion statement accessory to keep an eye on for fall. Originally created to keep drivers' hands warm in cars without heating systems, today they are more relevant from a fashion and style point-of-view. It all started with Prada, who sent models down the runway last year with leather gloves featuring a zipped bag compartment. Ranging in colors from bright purple to refreshing turquoise, they went viral and generated thousands of comments of people chiming in on what could fit into the modest sized compartment.
Whether short or long version, the glove is not a one season wonder. If the fall/winter runways are any indication of it, they are truly here to stay, as designers like Jil Sander and Dion Lee incorporated them into their FW22 collections and convinced any prospective buyer that they are worth the investment.
Looking at data from fashion-forward retailers, gloves that are more fashionable than utilitarian in nature are up in product count, by 119% in the US and 151% in the UK since June 2021. The glamorous and remixed accessory is back, and post-pandemic response or not, it's a welcome one.
Baseball Caps
One of the major reasons behind the baseball cap reigning supreme for fall in the hat department is its versatility - it goes with just about everything from sharp tailored suit to flowy dress. The humble headpiece has been an off-duty favorite for models for several years, but recently it is enjoying an elevated comeback as it has been seen in several fashion capitals during fashion weeks and also in Chanel's latest cruise collection where it served a major role.  

Originally introduced in the 19th century for the great American game, baseball hats are now a key accessory for many fashion houses, and luxurious designer versions are available from brands like Celine, Isabel Marant and Miu Miu. In the US, baseball caps have grown in product count by 68% since September 2021. As cooler months approach, cotton and polyester caps are swapped for ones made in corduroy, wool or velvet.

As with everything in fashion, accessory trends go dormant just to resurge again at a future time. None of these key accessories projected for fall are anything new, but rather evoke a feeling of nostalgia and escapism, and the innovation comes in the shape of styling and material.
Have any additional fall trends we should cover? Email us at hello@stylesage.co.