This fall season marks a somewhat special shift in the fashion calendar, as it is the first fall in years where consumers are ready to dress up beyond their homes and virtual meetings. As we are beginning this transition into the new season, fall fashion has started to hit the stores, and shoppers are already planning out their colder months buys. Which key themes are defining the Fall 2022 season? Which colors, silhouettes and materials are key players to keep track of? We explored runway trends, e-commerce data and consumer search demand to break it down.

Color Trends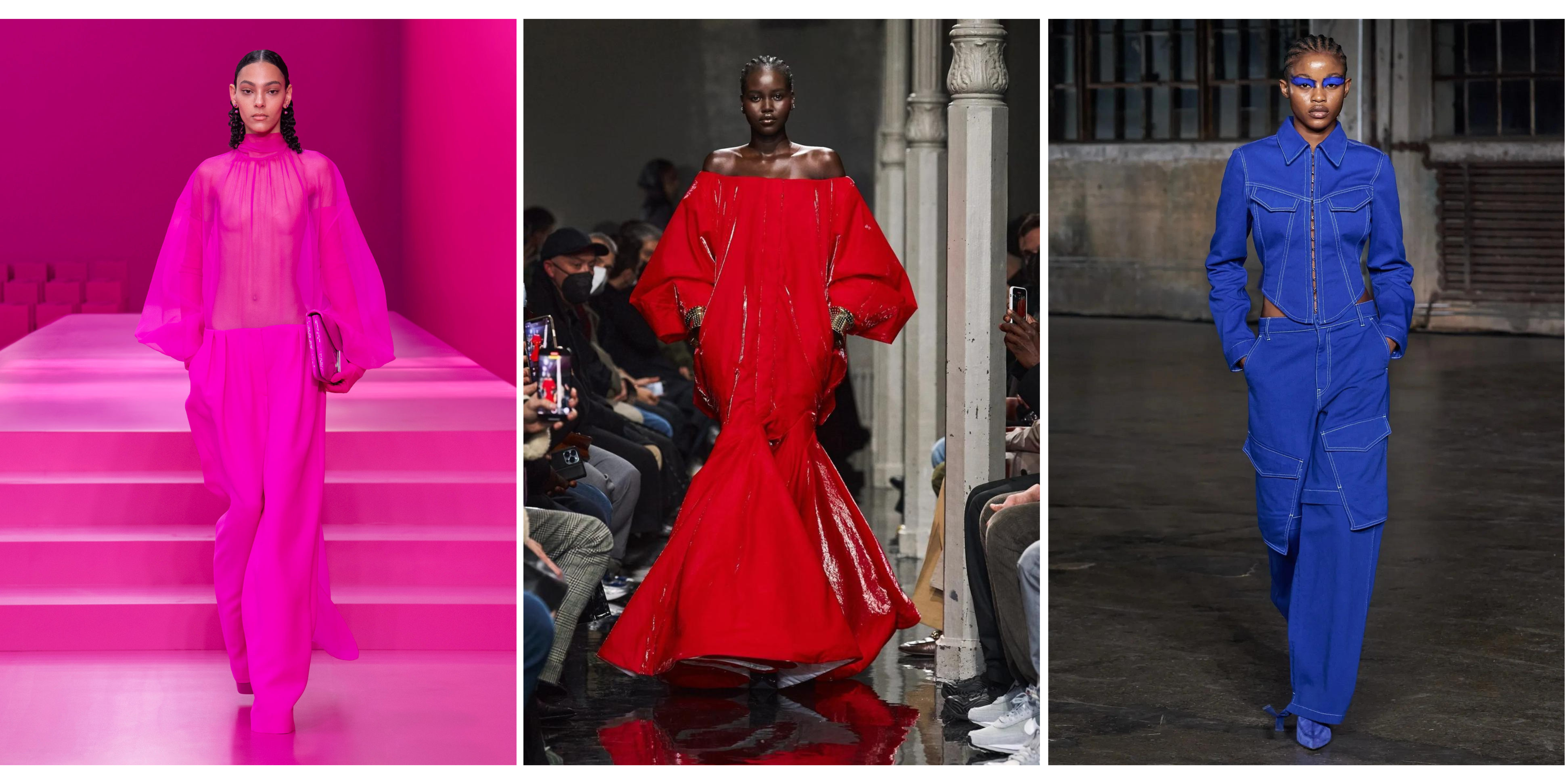 This season is all about being bold. As we reported after Paris Fashion week, this season is truly committed to color, and especially so to bold shades like barbie-core pinks and bright and fiery reds. A newcomer on the fashion trend color stage? Pacific ocean blue. Introducing any of these shades into your fall assortment is sure to invigorate it.
Red is the color of adrenaline and a shade that breaks convention. The power of a little red dress goes unnoticed by no one and is a simple way for designers and brands to attract consumers' attention. Max Mara offered up cozy head-to-toe knits for the season, but made them daring in a fiery red shade, accompanied by a fluffy crossbody bag in the same hue. Alaïa presented an ultra-high shine moment with a red ball gown, and Versace tapped into the shade by sending both of the Hadid sisters down the runway in corseted scarlet looks. Shoppers are jumping on the trend, and global consumer searches for 'red dress' are up 55% YOY.
Hot pink is another key shade that is accompanying the fashion industry into fall. Valentino put it on the map by sending 40 head-to-toe vivid pink looks that breathed barbie-core down the runway, and celebrities and consumers alike have not been able to get enough of this colorful aesthetic that exudes confidence and playfulness. The striking fuchsia comes in all forms for the new season, and retailers are fully embracing the shade to keep up with demand. StyleSage data shows that pink comprises 9% of womenswear items introduced in the last month, only topped by black (20%) and neutrals (13%).
Pacific ocean blue is a fresh and vibrant hue that serves as a newcomer and welcome addition to fall's major color selections. Vogue recently described that the hue "packs a bit more punch than, say, a traditional navy shade, yet it still has the ability to seamlessly mix and match with other items". Dion Lee presented a striking denim suit in the color, and Christopher John Rogers' opening look featured it as well - a classic wool coat with a matching turtleneck peeking out underneath the collar. One can expect this vibrant shade to continue trickling its way down into stores even further, because it has already started to make an impact. In the last month, blue comprised 8% of recently introduced items in womenswear.
Key Themes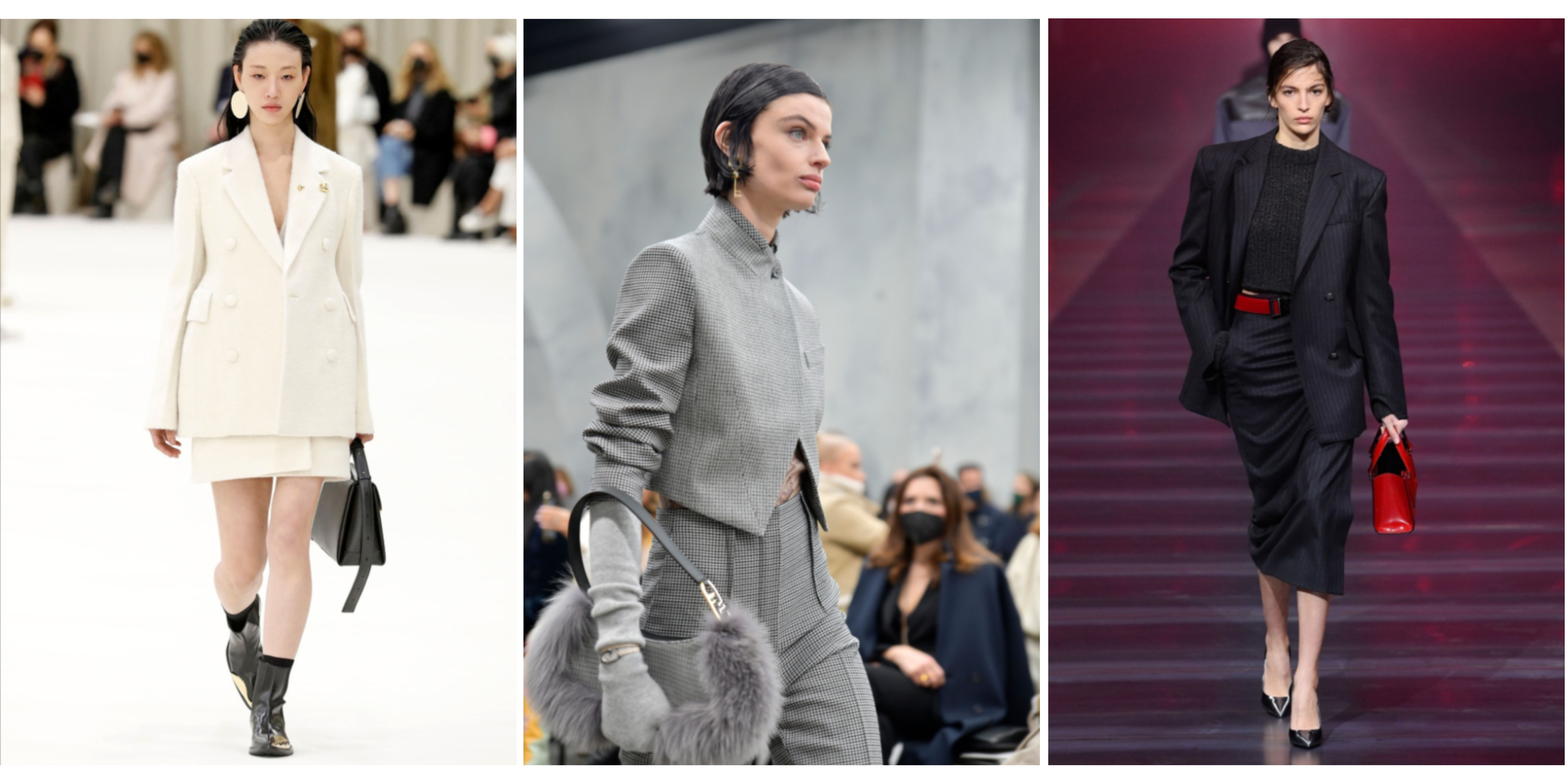 As we reported after New York Fashion Week Fall 2022 shows, the suit has officially made a comeback. The return of the suit speaks to an overarching theme of menswear influences on the women's fashion scene, which comes as no surprise as genderless fashion is gaining more and more traction in the industry. Power dressing for the season ranges from oversized blazers with strong shoulders, to more tailored and chiseled couture creations. Designers influenced by this aesthetic for the season included brands like Ferrari and Schiaparelli, who both showed their version of pinstripe suiting, and Balmain and Jil Sander who presented more gentle but still striking silhouettes in winter white.
In addition to amped-up suiting and also speaking to power dressing from a less traditional perspective, is the biker and motocross trend. The aesthetic, exuding attitude and confidence, is a main focus for fall that evokes feelings of freedom and escapism like no other. The biker jacket was seen on multiple runways for the Fall '22 season, ranging from classic ones to more contemporary and conceptual iterations, and other key indicators of the trend included edgy matte hardware, moto gloves and racing stripes.
It is evident that consumers are ready for both of the above themes, judging from StyleSage trend radar - global searches for menswear inspired pieces like 'grey suit', 'double breasted suit', and 'bomber jacket men' are each up more than 50% in searches YOY. The bikercore theme speaks of a similar trend, with YOY global searches for 'biker jacket' and 'motorcycle jacket' up 22% and 21%, respectively.
StyleSage: Trend Radar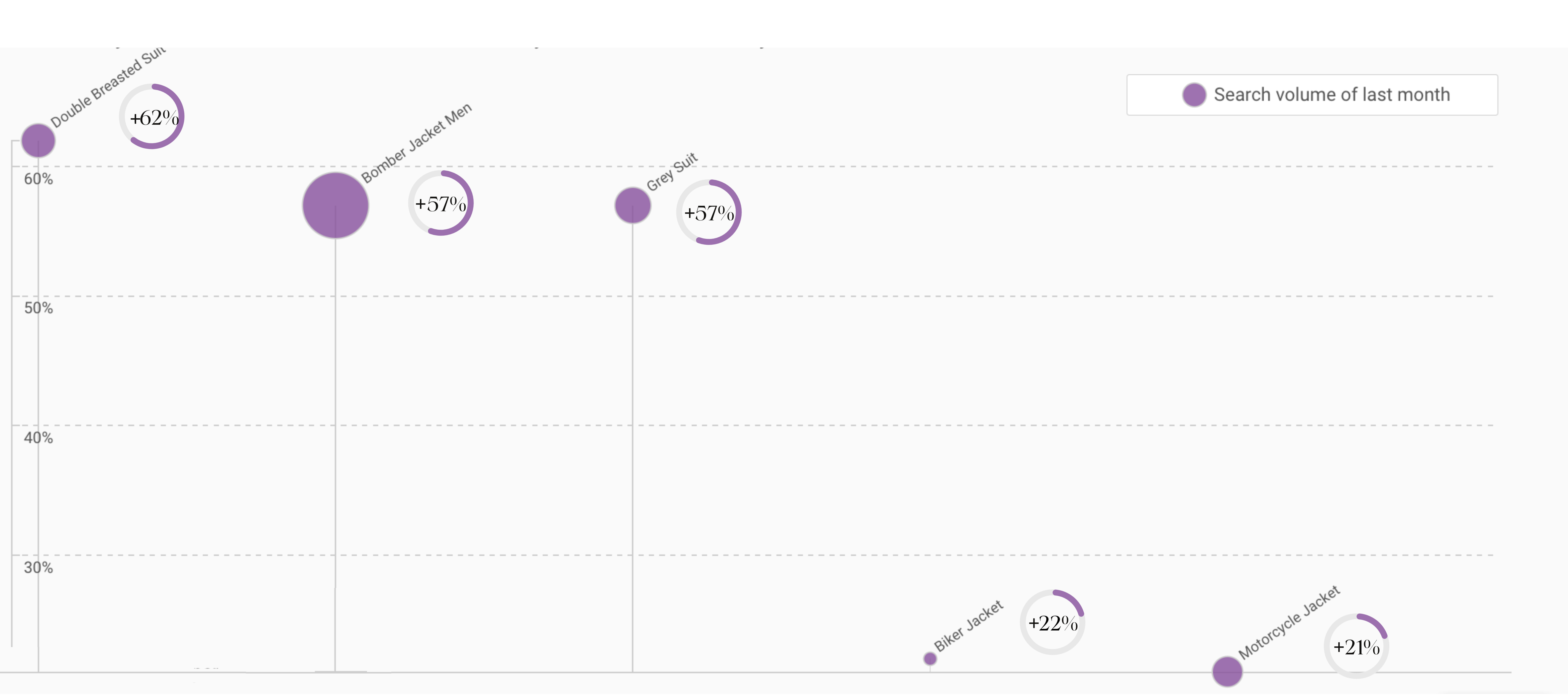 Knitwear Rises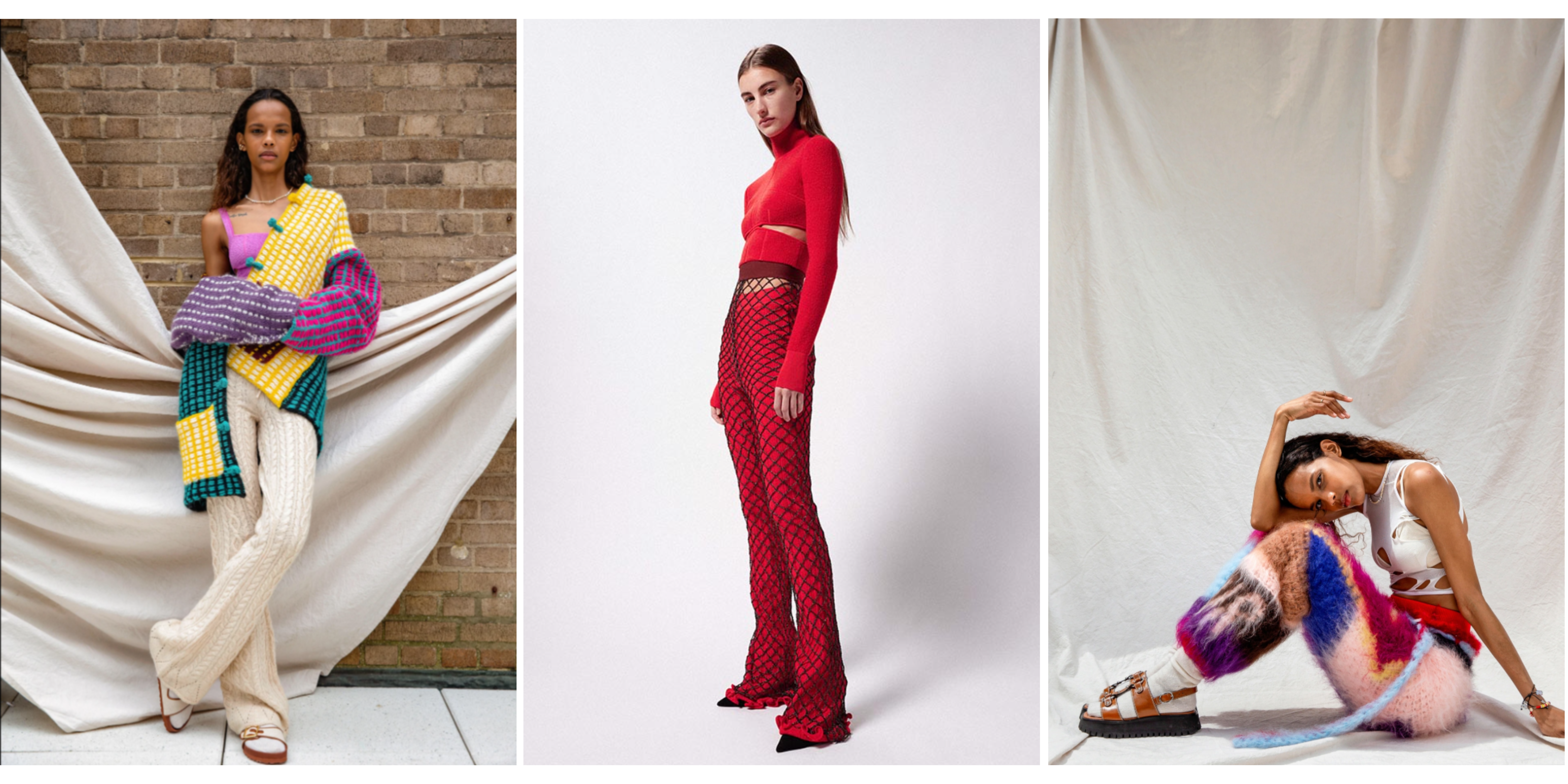 Fashion is all about contrasts, so it should be to no one's surprise that one of the other key trends of the fall 2022 season is a polar opposite to the edgy and powerful aesthetics above.
The rise of soft crochets and handcrafted knits evoke feelings of folklore, and these materials are no longer reserved only for blankets. Rooted in a theme that speaks to heirloom pieces and craftsmanship, and often featuring hand-spun and hand-dyed materials, these knits fit in perfectly with the narrative of a more conscious consumer who is growing more environmentally conscious and values quality over quantity. At Hervé Léger, we saw delicate and airy mohair knits in trending reds and pinks, featuring  "gossamer-like technical yarns knit with rayon to create an effect reminiscent of caviar beading." Rising knitwear- and creative studio Nong Rak is another player at the forefront of this trend, who offers one of a kind pieces that are handcrafted from carefully sourced deadstock vintage, cruelty-free, and artisan hand-spun yarns.
StyleSage: Trend Radar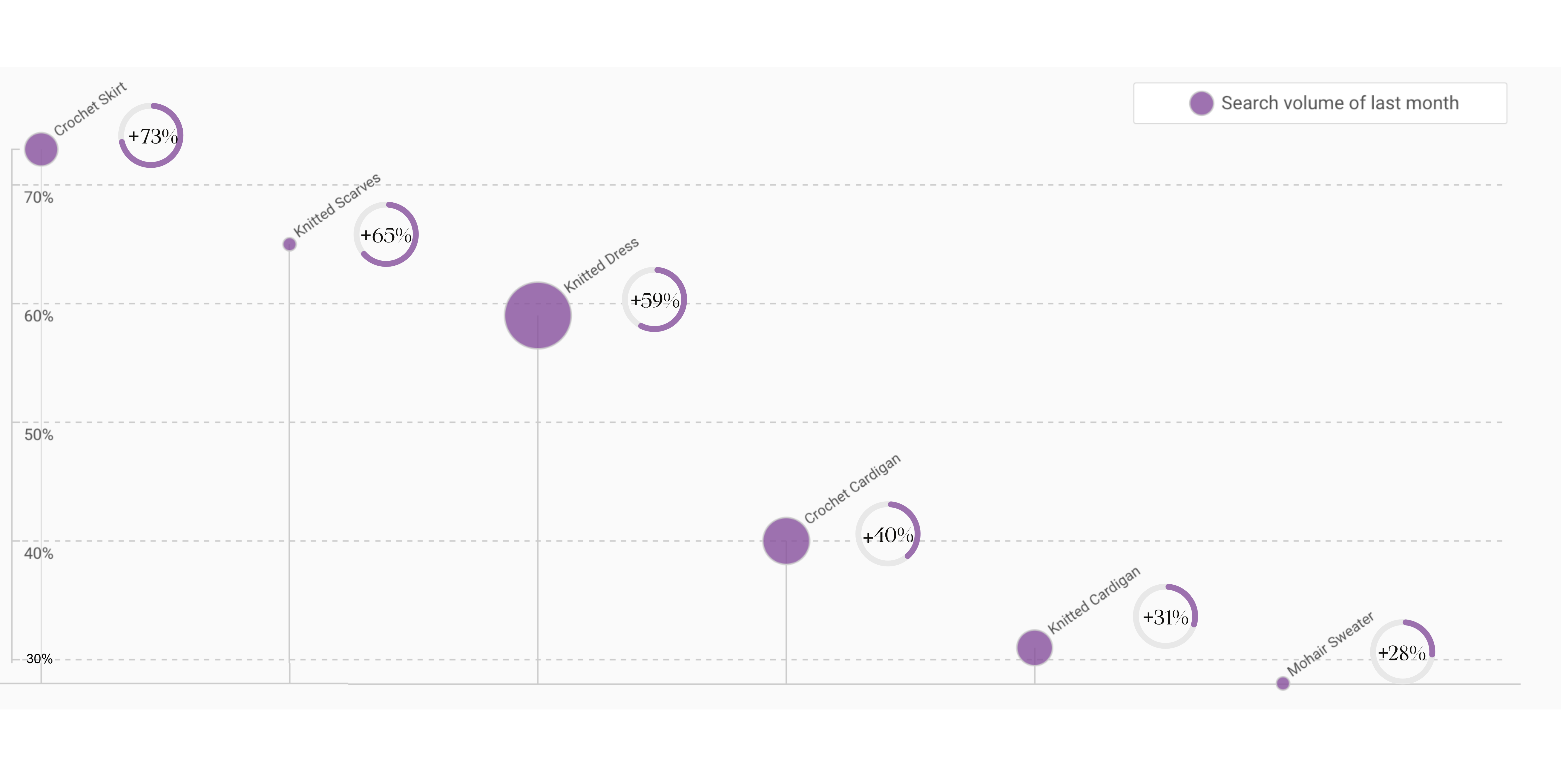 Micro Skirts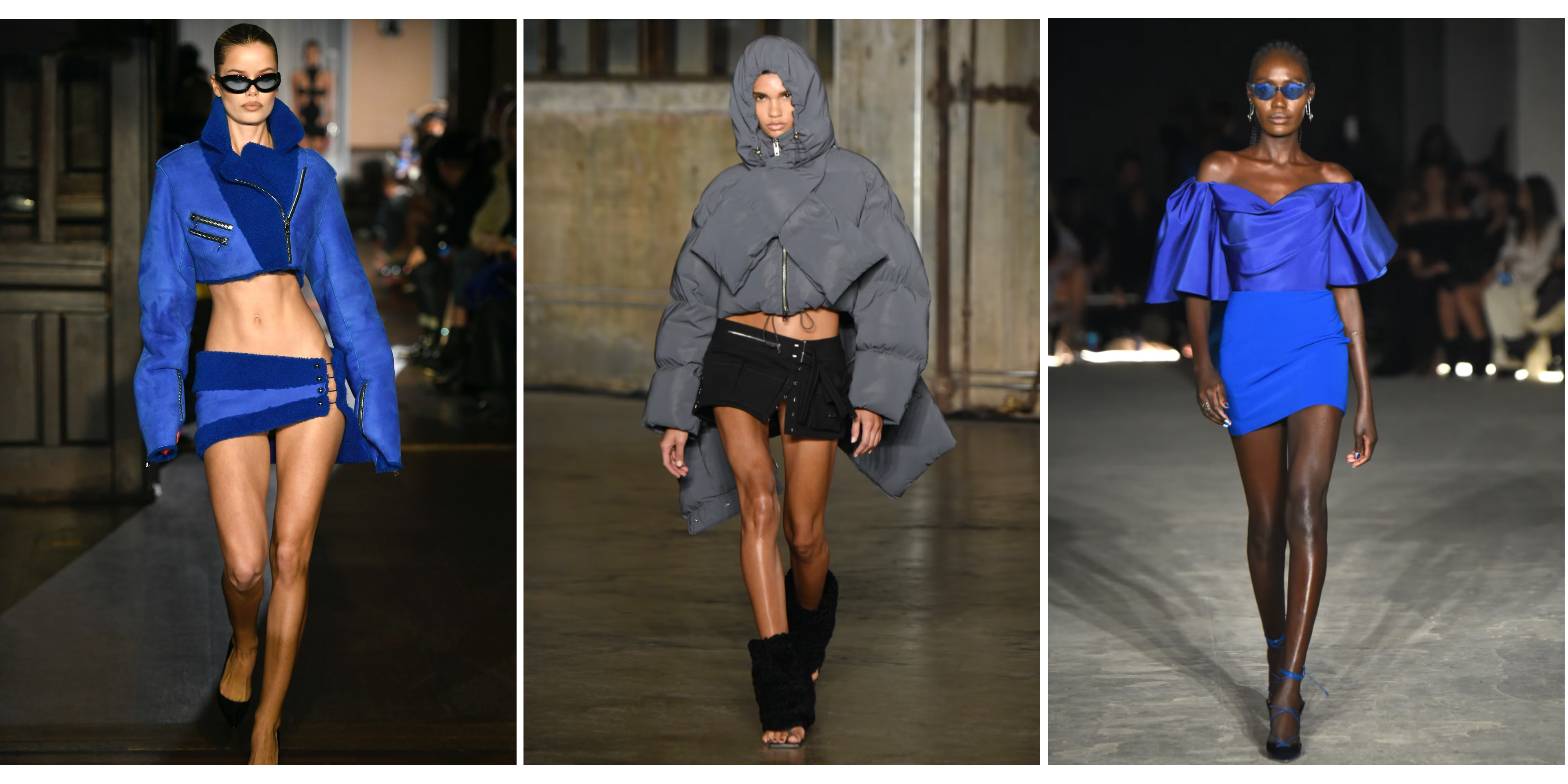 The revival of the micro mini skirt is here to stay for the season, even in dropping temperatures. Miu Miu set something in motion when they presented their ultra-cropped, low-rise skirt on the Spring '22 runway. The Italian fashion house created a trend that was to stay relevant even after summer passed, and designers are continuing to offer up fresh versions of it in new fabrics in order to cater to consumers' ongoing appetite for the bold and somewhat risqué style. Dion Lee presented it with bold zipper- and hook-and-eye detailing, in contrast to Christian Siriano who opted for a sleek version in trending color pacific blue. Consumers are showing all signs of still wanting to wear the itty-bitty skirt through the fall and winter - global monthly searches for 'micro mini skirt' are up a whopping 110% since last year.
The above trends are a few of the key themes that define the new season, and for a successful fall assortment, retailers and brands should bank on a carefully curated selection that ideally taps into each category. Interested in more insights on tools for competitive assortment mixes? Learn more here!