After some time of virtual-only events, the industry asked itself if the digitization of fashion week would be here to stay. Would the fashion show as we know it ever come back? Being forced to forego the traditional catwalks during the pandemic undoubtedly sparked innovation with brands and designers - but physical fashion month has certainly returned at full force, albeit enhanced by the digital. The first half of September brought back New York and London Fashion Week, both with jam-packed in-person schedules featuring everything from traditional runways and appointment-only viewings to immersive experiences, and New York's event was even half a day longer than last year to make space for the full lineup. We analyzed some of the key emerging trends to sum up part one of fashion month, to keep you ahead of the upcoming SS23 season.
Genderless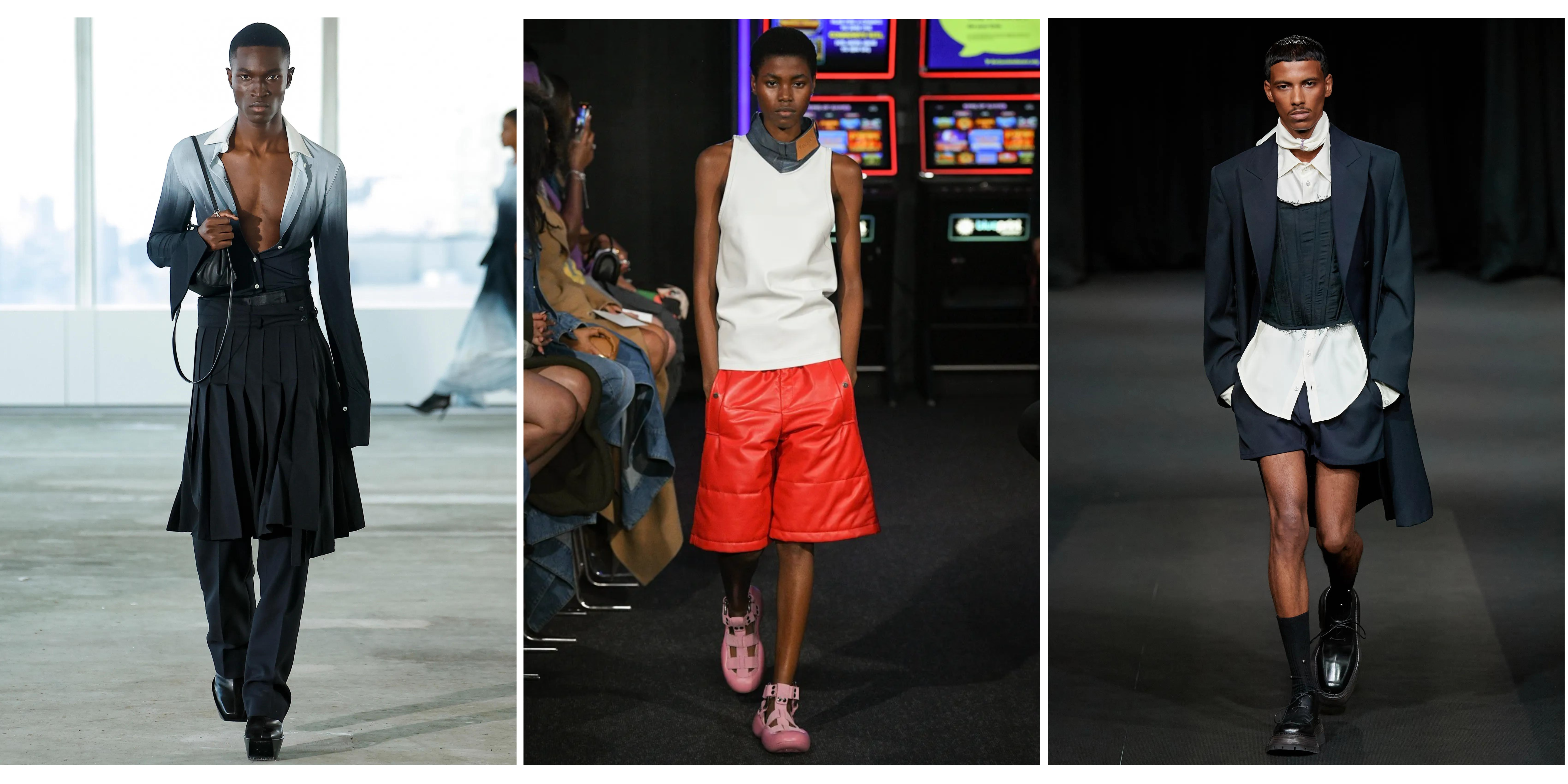 A growing number of designers are starting to embrace genderless fashion as a new generation of consumers demand greater inclusivity within the industry, and genderless dress codes are starting to take up more and more space on the fashion calendar. NYFW was kicked off with New York Men's Day, where multiple designers showed genderless collections that proved that wearing skirts and bustiers is not restricted to gender. In both New York and London, plenty of luxury brands showed collections for SS23 that did not adhere to the traditional binary rules, but rather were set to fully deconstruct gender traditions.
New York based designer Peter Do has a unique way of looking at designing with gender in mind, and his show set out 60 looks that were for him, her, and them at the same time. Deconstruction was a central theme, and design details like adjustable waistbands that could accommodate different sizes was truly an homage to both size and gender inclusivity. Another collection highlight was his pleated skirt that got attached to the models' belts, and could be clipped on and off.
"During the fitting process we try everything on both, 80% is pretty genderless," Do explained. "A lot of things we make [for women] generally fit men anyway, so now we're moving toward small, medium, large sizing, instead of 34, 36."
It's clear that consumers are responding to the contemporary uniform that Do is designing, as the brand reached a sold out rate of 42% in the US over the last 30 days.
In the UK, gender neutrality has been predicted as the future. London Fashion Week went gender neutral during the pandemic, and the chief executive of the British Fashion Council has suggested the format is here to stay. During this season's event, an ongoing theme was a diverse nature of apparel that subverts gender norms. JW Anderson showed an androgynous line on a neon-lit runway, featuring everything from sparkling tailored sequin suits to bulky puffer shorts, all making up a collection that was truly gender non-conforming. As if that wasn't enough, the opening show of the week was Daniel J. Fletcher, who presented a totally genderless line featuring bustiers and floor sweeping drapery for all. Overall on the EU market, average product counts of apparel marketed as genderless or unisex are up 81% compared to last year.
Utilitarian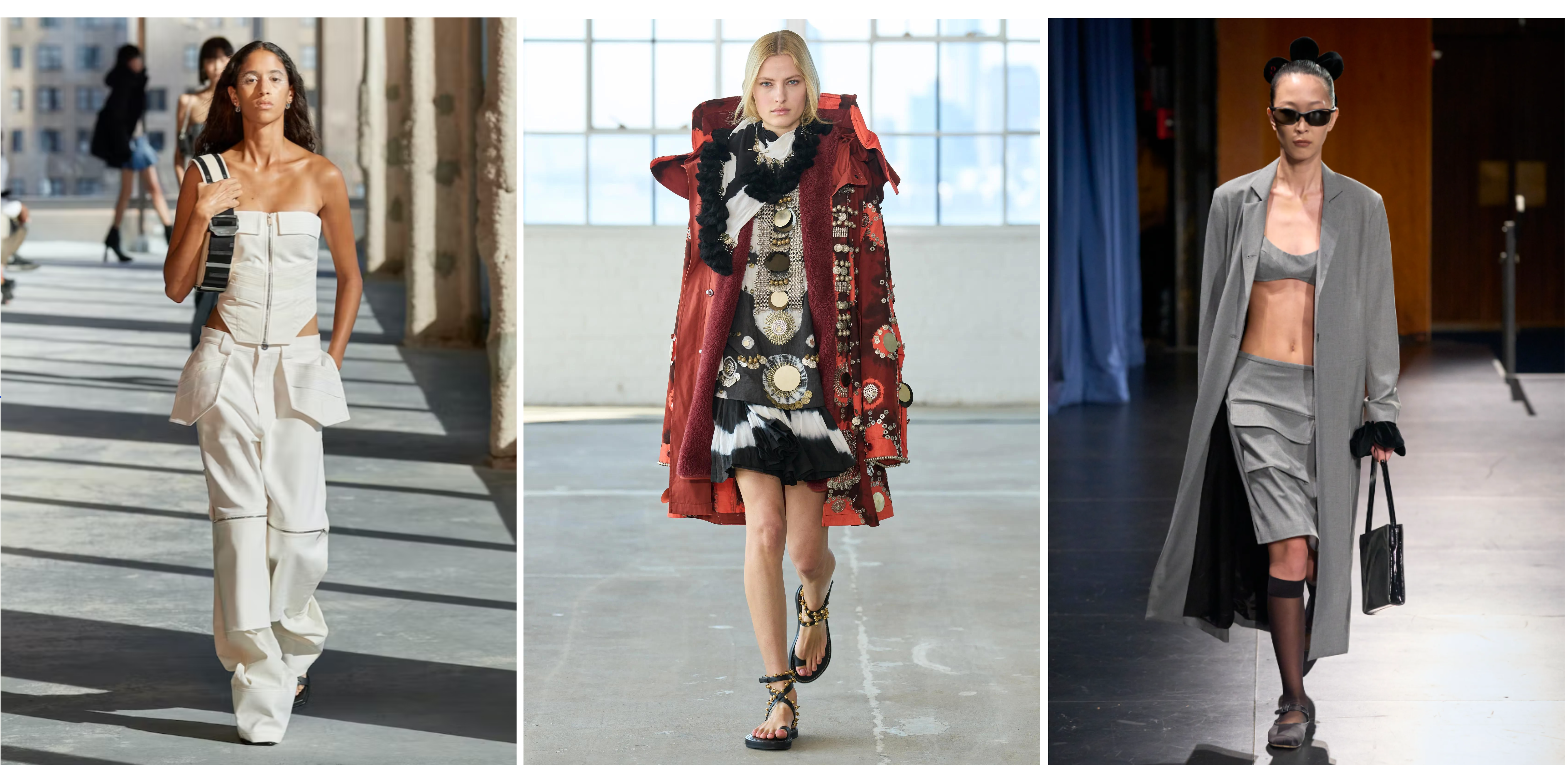 Another central theme of the new season was fashion's ongoing love story with utility and workwear, and the latest twist on the matter involves more than just the classic cargo pant. The upcoming season featured a clean and minimalistic take on workwear with oversized pockets on both skirts and dresses, as well as several designers reinventing and reworking utilitarian denim and workwear garments into new shapes.
Altuzzara explored "this idea of a trip and nature as an entry point for psychedelic experiences", and relaunched a utility parka, dyed and embellished with oversized paillettes, beads and bells, to the delight of his earliest fans. Denim was also a heavy focus in the line, and so were exposed zippers and oversized, heavy-duty canvas totes. All in all, the collection came together as a beautiful hybrid between pure utility and psychedelic fantasy.
At both Dion Lee and Sandy Liang, the cargo pocket took center stage, and it no longer has to look bulky or overly casual. Both brands presented ultra-chic versions that were appropriate for any upscale event and could be mixed and matched for a corporate office setting. SS23 is certainly all about cargo chic, and consumers have already jumped on the trend. StyleSage data shows that US consumer searches for 'cargo skirts' are up 689% since last year.
Even at Simone Rocha in London, the designer known for her unique pieces with a strong sense of femininity, the workwear movement was present, as she incorporated utility inspired strap details and parachute tapes in conjunction with voluminous tulle dresses. Evidently, the future of fashion seems to be all about merging workwear with elegance.
Citrus Hues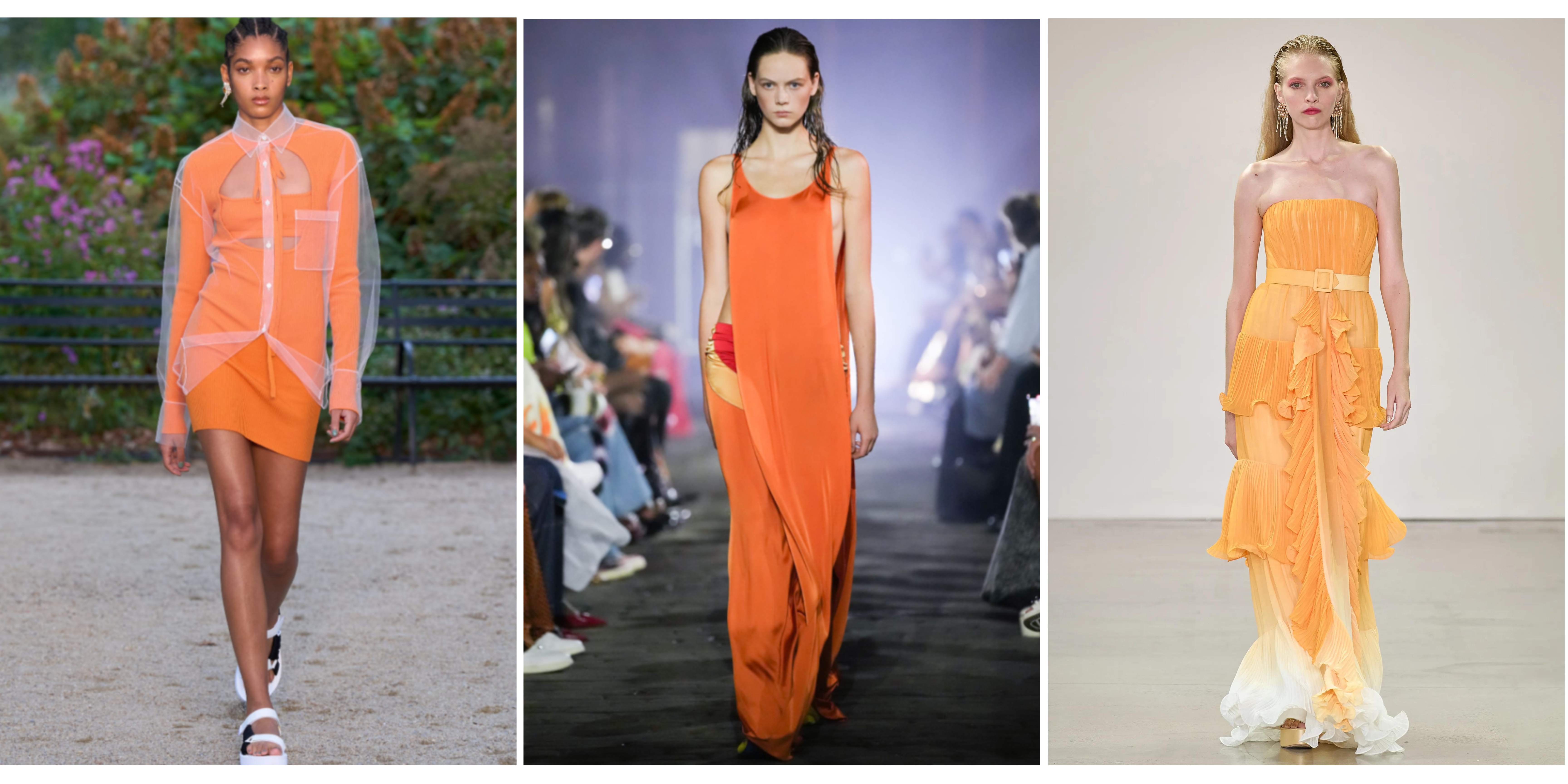 In terms of a new color palette, the SS23 season welcomed a vibrant vitamin C infusion. Pantone color Tangelo, a tangy, tasty vitamin enriched orange, was mentioned as a shade to watch by Pantone Color Institute experts, and this hue was seen in every shape from standalone runway moments and patterns to bold eyeliner looks.
The bold and invigorating citrusy shade was spotted in both cities at major runways like Marni, Molly Goddard, Erdem and Badgley Mischka. It was clear that designers were feeling playful and sunny for the new spring season, and aimed to convey a sense of optimism and cheerfulness with their clothes. Badgley Mischka especially felt deeply connected to the shade, and told Reuters that "We do oftentimes do neutrals, but to us, evening clothes just come to life when they're in color," said Badgley. "We find that our friends, people, the press, whatever, they'll remember her and that beautiful tangerine dress."
On the US market, apparel in the orange color family only makes up 2% of total assortment. If the runways are any indication, that is a number to watch, and tangerine is a wise shade to incorporate for a fresh spring assortment.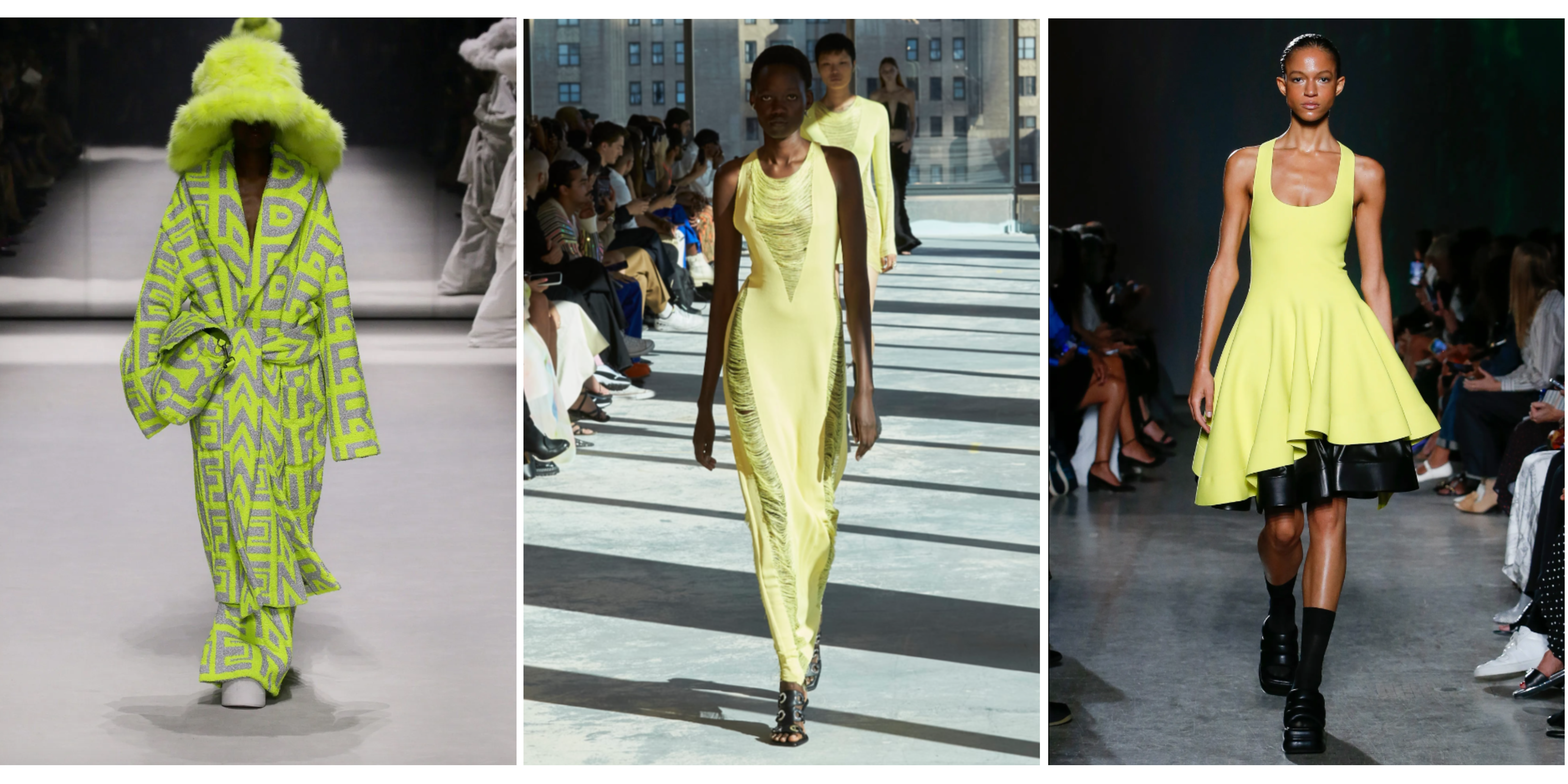 Another new shade that has made a strong appearance for the SS23 season so far is the spring version of lime green, a softer and more summery rendering of the intense neon that skews more towards pistachio. Pantone calls it Love Bird, and describes it as "an exotic green with a lively character." Seen on runways of Fendi, Dion Lee and Proenza Schouler, the limey summer color feels fresh and energetic for the imminent season.
Deconstruction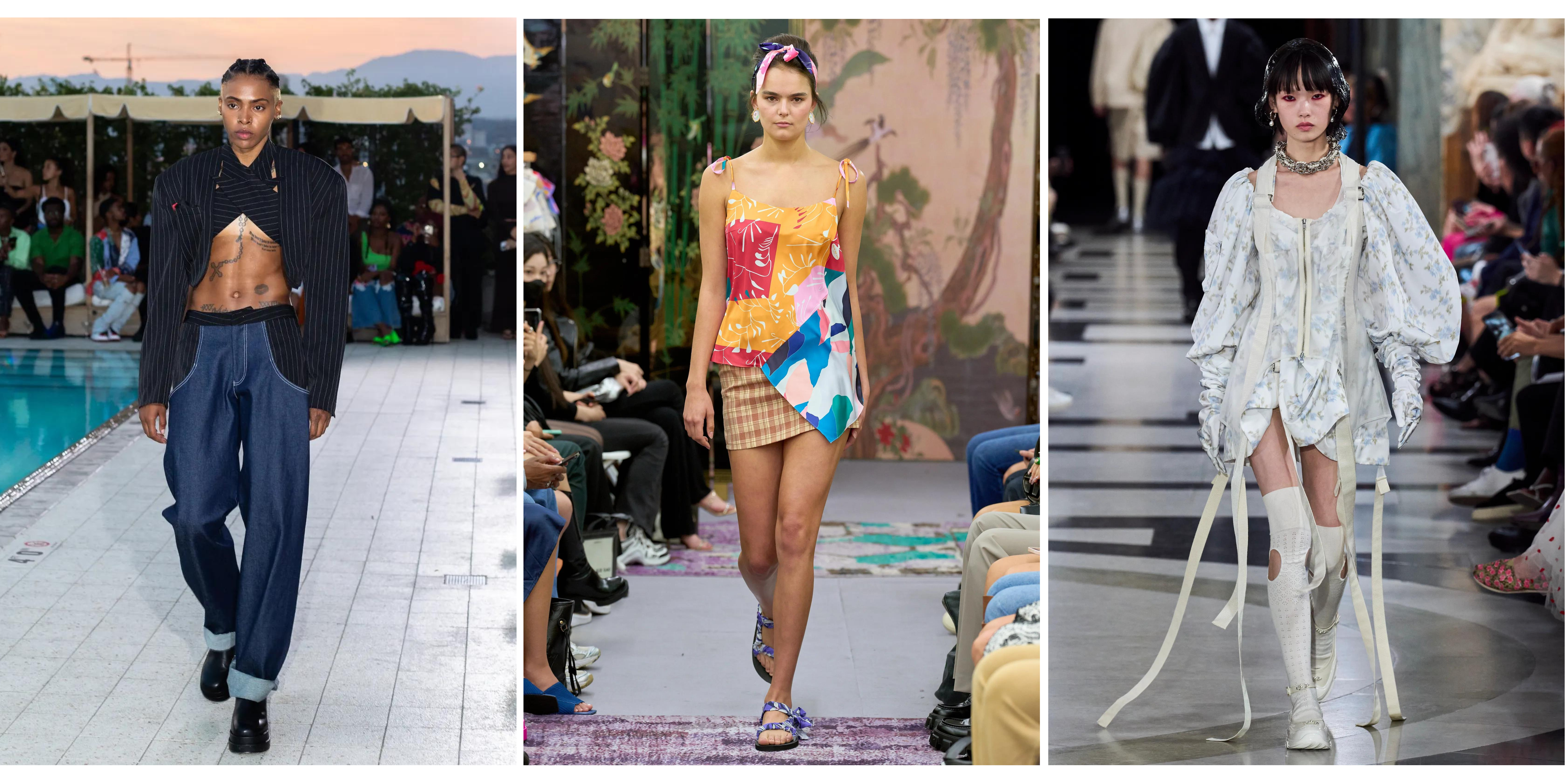 Lastly, the first half of fashion month presented an array of geometric shapes and tailoring through the lens of deconstruction and reconstruction. At Ghanaian designer's Kwame Adusei's label Kwame, the theme was interpreted thoughtfully through a deconstruction of a classic blazer that came to new heights with criss-crossed lapels wrapped around the chest.
Snow Xue Gao presented a line inspired by the neighborhood and the people on the Lower East Side, in SoHo and Chinatown, and honored them with a contemporary collection of geometrically deconstructed mixed prints that took the form of silk and cotton creations.
Aforementioned Simone Rocha took deconstruction to new heights in deconstructed corsetry, and the theme was also seen in an artful way at Collina Strada.
September is an ultra-important month for all industry professionals to stay updated on what direction upcoming trends and themes for the new season will take. To get an even closer look on what is shaping the fashion market and e-commerce landscape, clients can check out our in-depth trend reports here.