September 20th marked the start of the second half of fashion month for the SS23 season, starting in Milan and continuing with Paris. In both cities, most of the mega-brands who took a pause during the pandemic made their returns, and the schedules were also invigorated by newcomers and emerging talents. In many ways, both events were something out of the ordinary, a response to the tumultuous societal landscape designers and consumers alike are trying to maneuver. In Paris, a Ukrainian Designers Pop-Up took place, where six Ukrainian designers came together to celebrate Ukrainian culture, creative energy, and consciousness. Milan, often referred to as a heritage city with the most classical output of the big four fashion capitals, felt like a breath of fresh air and rejuvenation.
Both European fashion weeks were strong, clearly ready to emerge in a post-pandemic world, and characterized by welcome doses of inclusivity on the runways. We analyzed five of the key trends and themes from both cities, to sum up our reporting on the SS23 season.
A Gothic Fairytale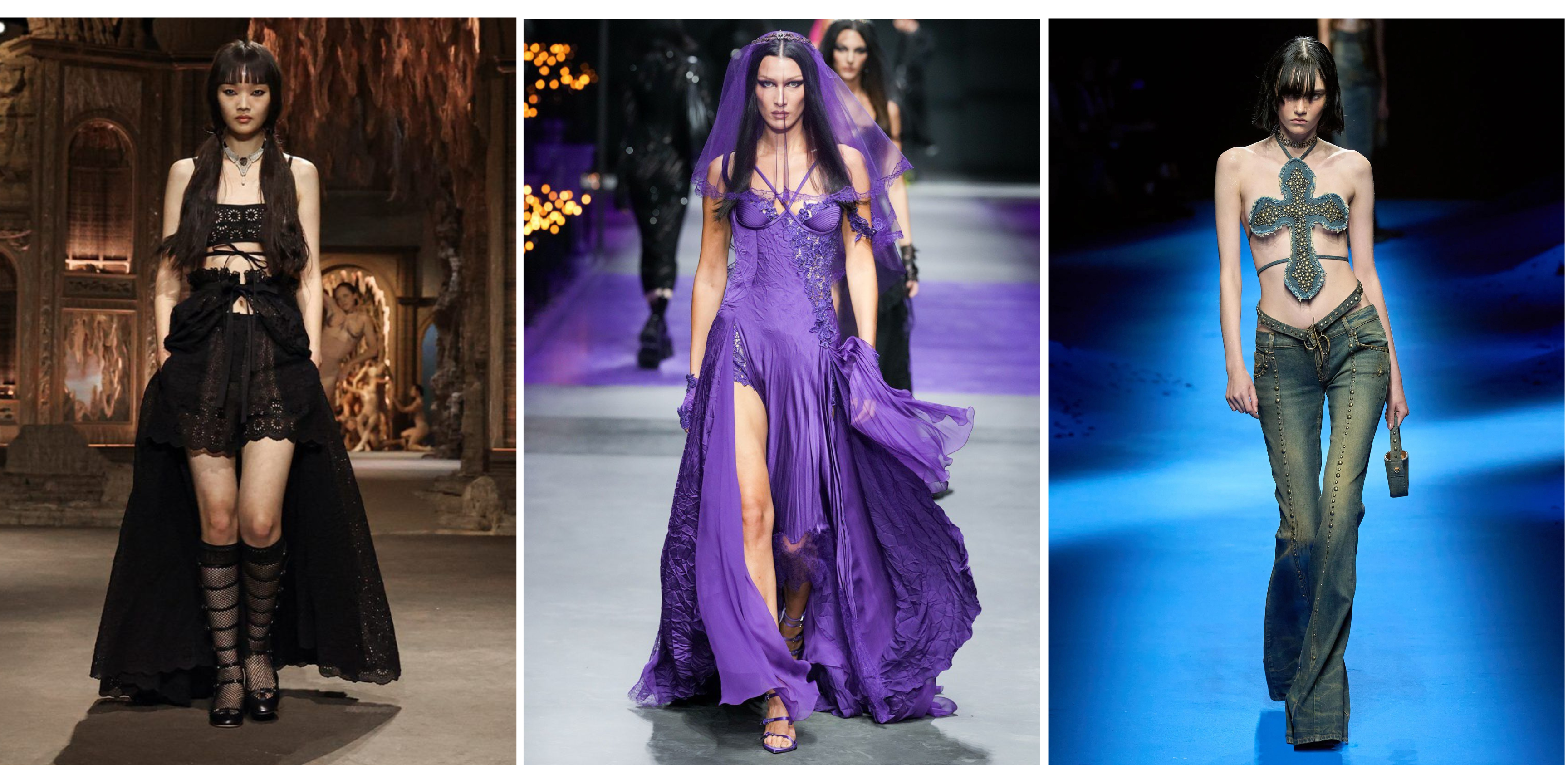 The spring season, generally characterized by optimistic florals and joyful brights, brought something different to the table this time around. A new theme - gothic, ultra-sensual and mysteriously dark - was spotted on several big name runways, often merged with historical Catholic references. This toying with gothic sensuality remained polished yet eccentric, and truly spoke of a dark fairytale that drew on the divine.
At Versace, the models walked out in a church setting decorated with black candles and stained glass, on theme with pieces like veiled negligees and hooded gowns. Clingy jersey creations and lace detailing further spoke of the gothic storyline on a runway that was dominated by all black looks, but occasionally broken up by an acidic, directional purple that felt both rebellious and refreshing. Blumarine, known for their bright and glamorous mermaid-vibe, pivoted this season into a darker presentation that felt romantic yet sinful.  "Intriguing and sexier, less pop, much dirtier," said their creative director Nicola Brognano, and he channeled exactly that in his collection. The silhouettes were contouring and slinky, featuring ultra-long trains, crystal-studded crosses, and black lace. Elsewhere, the gothic black lace also took center stage and was spotted on runways like Antonio Marras, Dolce & Gabbana and Dior.
StyleSage data shows that out of the total lace apparel available in the EU right now, 27% is colored black. For the upcoming season, the number can be expected to rise even more, and it is evident that retailers and brands would be wise to tap this dark romanticism in order to cater to the emerging gothic goddess trend.
Metallic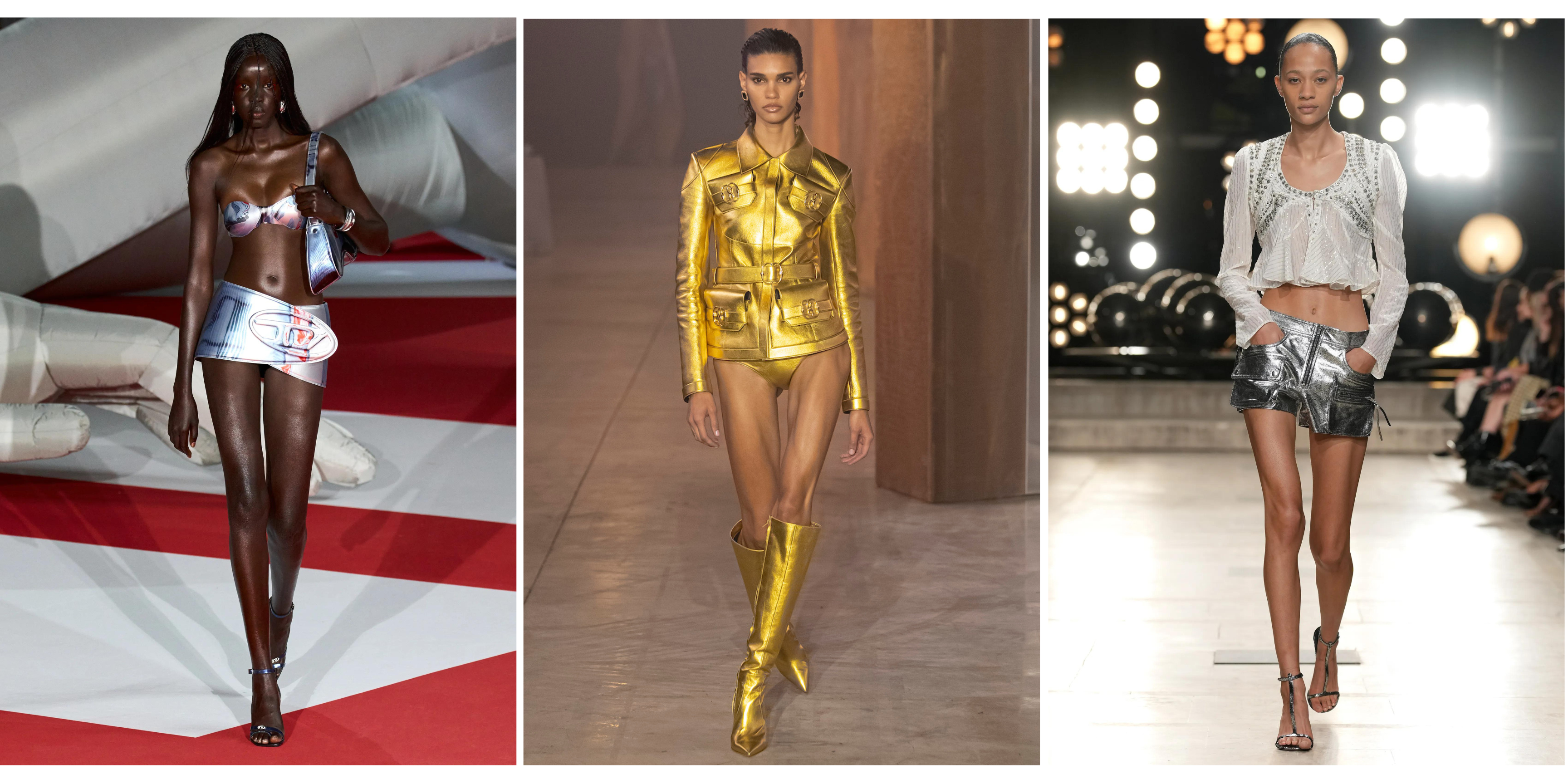 In contrast to the moody darkness from the goth theme, the SS23 season also offered up all that glitters. Versatile shades of gold, silver and iridescent multi-colors graced the runways and confirmed that lamé and shimmer will reign supreme for spring. Isabel Marant presented metallic embroidery, while Tom Ford had metallic tailoring take center stake. At Diesel, metallic was being infused throughout the collection in everything from a full golden jumpsuit to a chrome finished bralette + skirt set. The culmination of it all? Fashion dreamer and creative director Rhuigi Villaseñor for Bally made his debut in Milan, and did so with a bang. He described the line as being all about opulence and sexiness, which truly took form in the head-to-toe ultra-high shine looks he sent down the runway. A bubblegum pink metallic moto jacket with matching thigh-high boots, as well as a gold version of the same look, were highlights of the show.
The takeaway? High shine has officially returned. In the US, average product counts with the key word 'metallic' are up 26% YOY. For retailers and merchandisers who are thinking about which product category to introduce the trending finish, both the dress and skirt categories are strategic moves. The dress category is the top one in the metallic space and makes up 45% of the total assortment, and consumer searches in the US for 'metallic skirt' are up 111% YOY.
Slip Dresses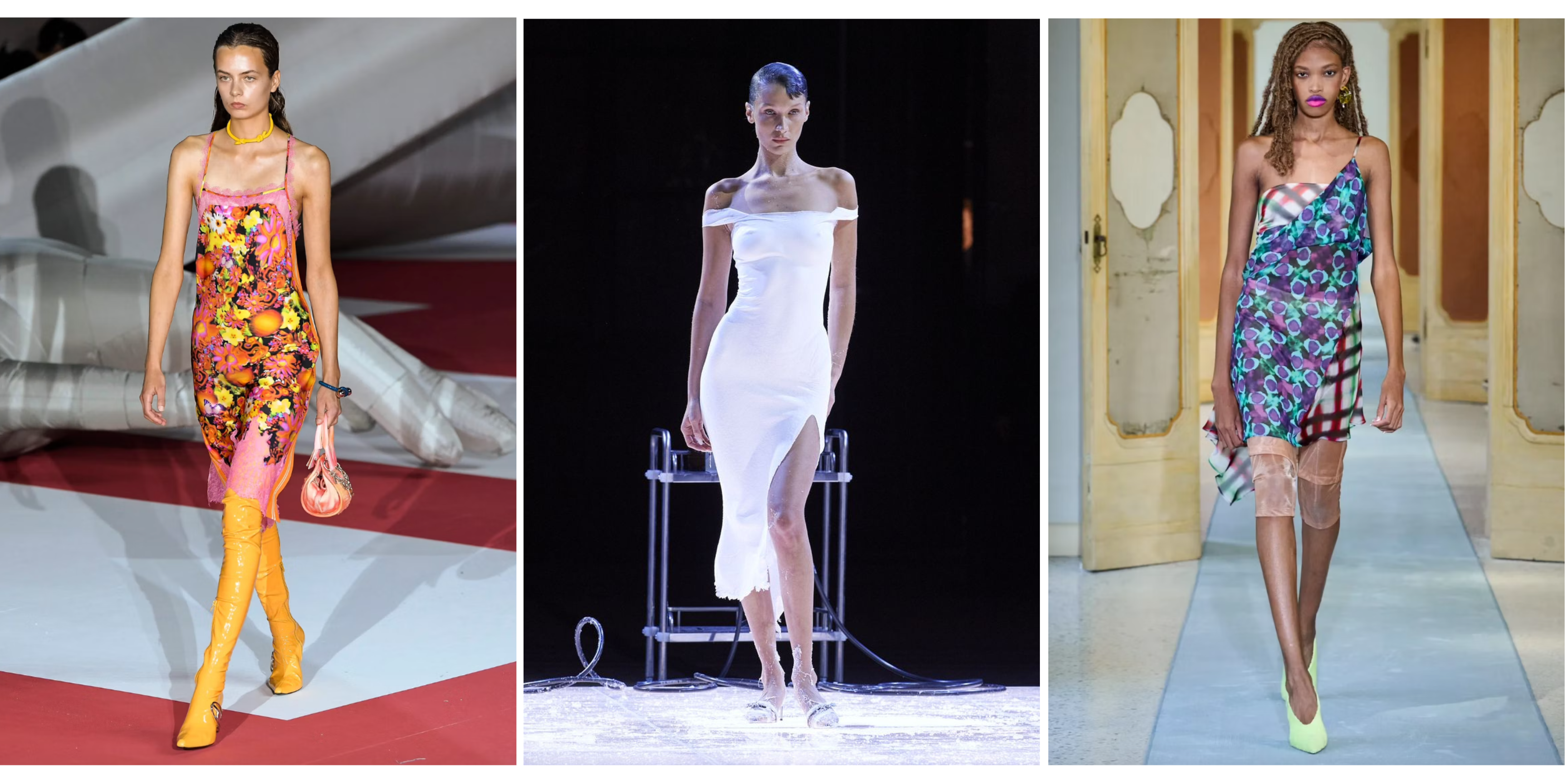 The slip dress, layered or worn bare, was another central theme during the second half of fashion month. Diesel's interpretation somehow managed to feel both gothic and evoke feelings of spring at the same time, featuring a daisy-print on a black background and a lace trim, and DSquared2 sent down a fresh contemporary take on the wardrobe staple in mixed prints layered over transparent mesh.
Without doubt, Coperni closed out their show with not just the slip dress of the season, but also the final look of the season. In a truly show-stopping moment, Bella Hadid had a one-of-a-kind bodycon slip sprayed onto her body. Made from Fabrican, a patented spray-on material that hardens into a wearable textile, the dress was truly a celebration of the female shape and confirmed Coperni as innovators to take note of.
Midi Length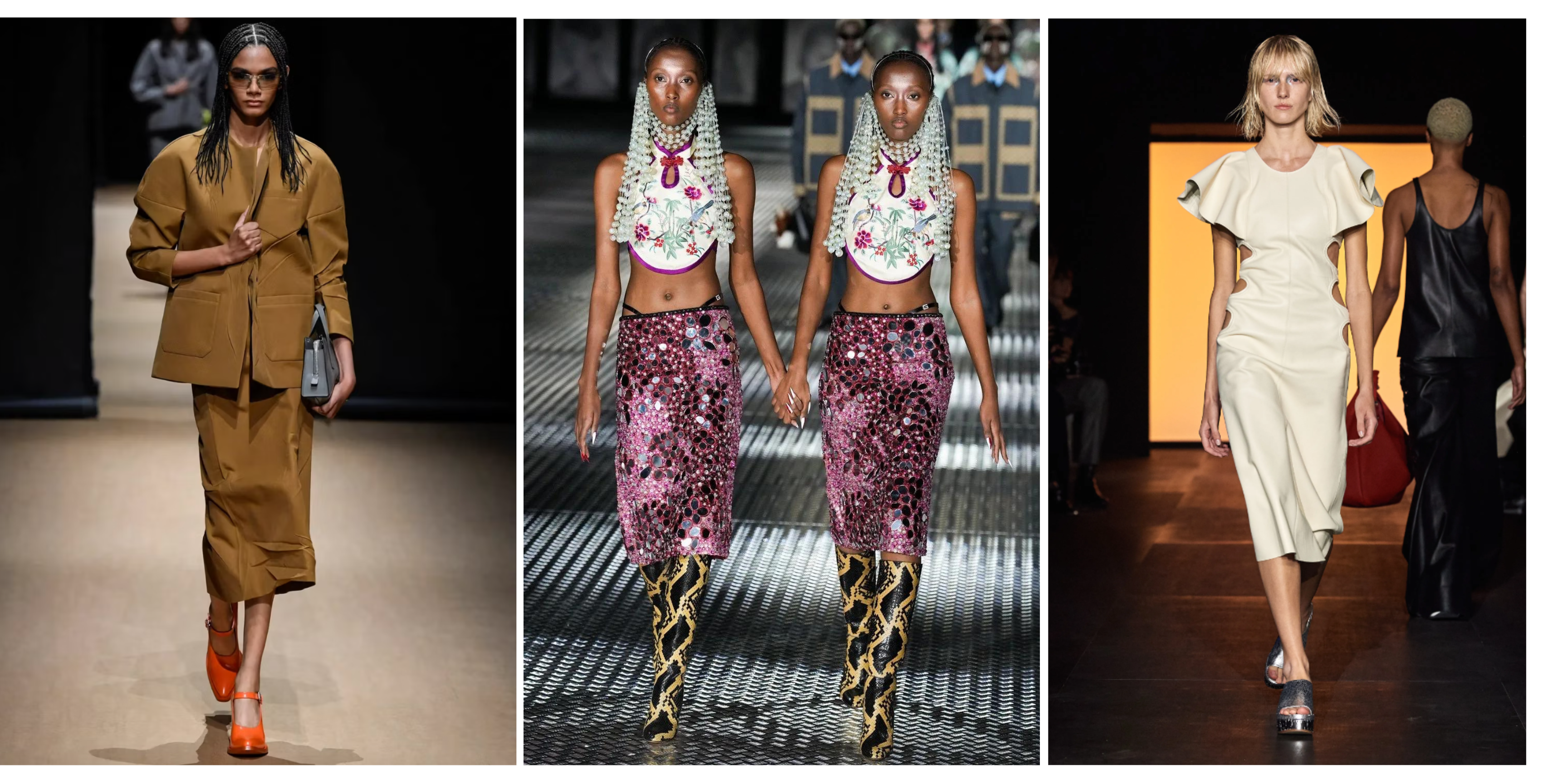 After some time of the ultra-mini claiming the spotlight as the skirt length du jour, hemlines have extended again. Both Paris and Milan presented a mature take on spring fashion in terms of length, where midi skirts and midi dresses were prevalent throughout. A mid-calf pencil silhouette was sent down the runway courtesy of Miuccia Prada in Milan, and one of the midi highlights in Paris belonged to Chloé and their leather dress with cut-outs that hit perfectly right below the knee. Gucci's iteration of the midi skirt featured metallic paillettes, hemlines touching right where the snake-printed embossed boots started.
Consumers are certainly ready for the return of the midi length - global consumer searches for 'black midi skirt' are up 88% since last year.
Double Bags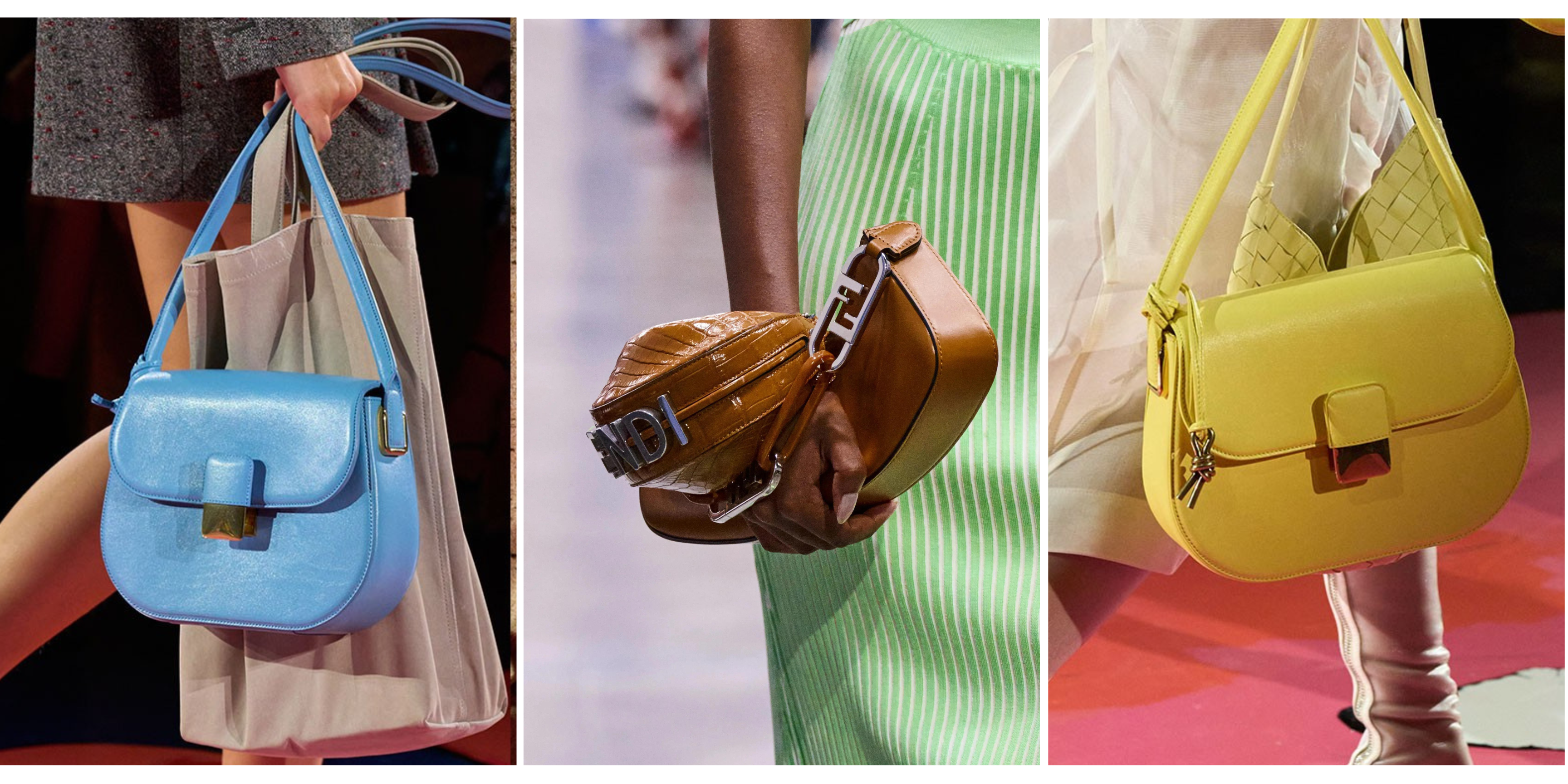 For SS23, handbags are pulling double duty. Several designers tapped into the double bag theme and sent models down the runway carrying more than one purse. We all know that fashion is so much more than just utility and moreso an expression of self and identity (Gucci even had models walk down the runway carrying plush Gizmo stuffed animals), and what better way to tap into that than to double up on everyone's favorite accessory. Bottega Veneta combined crossbody bags with bigger totes for an impactful look, and Fendi threw in clutches being worn together with wristlets as well as tiny mini bags worn as pendants on necklaces.
Why carry one designer bag when you can carry two? If anything, this trend truly signals that our lives are back in motion again, and is a fashionable nod to the world returning to normal where consumers can actually be dressed up with somewhere to be.
As we close out fashion month for the SS23 season, one thing is certain: fashion week is back like it never left, demonstrating the resilience of the industry and its ability to bounce back. Want even more insights on trends and the e-commerce landscape? Request a demo here!