I'm sure we're not alone in our curiosity, considering all of the broad-sweeping changes Fashion Month has undergone over the past few years as to how different the runway will be in a few year's time. Whether it's "See Now, Buy Now," or designers opting to switch to a June/December showing schedule, each season brings a new set of developments that are getting the industry more in touch with the consumer and market at large. Who's to say where the dust will settle, but we know that with any change, albeit necessary, there will be those who got ahead of it and those who get caught up in it.
Contemplations aside, you're really here for the fashion, right? Fret not, because as part of our full report across all the shows in New York, London, Paris, and Milan, where we use our image recognition technology to break down the key color and profile data points, we're bringing you an excerpt of the key trends you need to keep an eye on (and be thinking about how to add to your assortments.)
In no particular order, here are this year's Fall/Winter runway stars. ✨
Western, Again
As an urban creature through-and-through, I find this trend puzzling, but nonetheless, it's one that has come up before (Coach 1941 and Calvin Klein) and it once again was front-and-center on this month's runways.
There's a new kind of prairie girl (a mix of urban and country) out there on the runway, and she's sporting the cowboy boot, fringing embellishments, heavy carpet-like materials, and yoke stylings. We think the cowboy boots and yoke stylings are likely to see the most fast fashion uptake.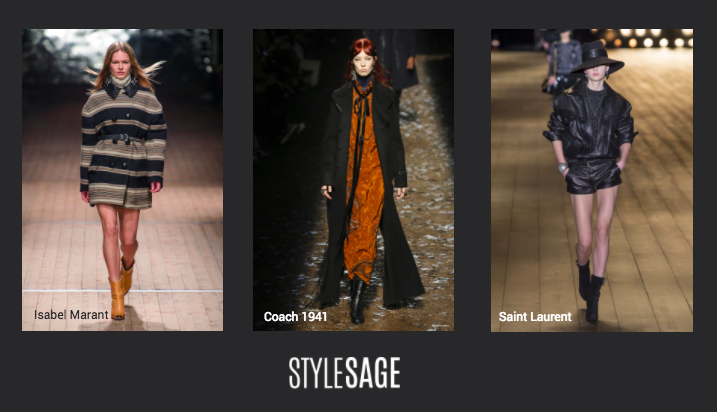 New School Plaid
Call it Clueless 2.0. Bright plaids straight from 1995 are being applied in 2018 head-to-toe in jackets, skirts (yes, even pleated ones), tops, and accessories. Michael Kors mixed different plaid stories together, while Versace took the patchwork approach. We're already seeing retailers like Bershka bringing their own versions into their assortments, and we think this is going to be a heavy-hitter starting, well, right about now, and continuing through the end of the year.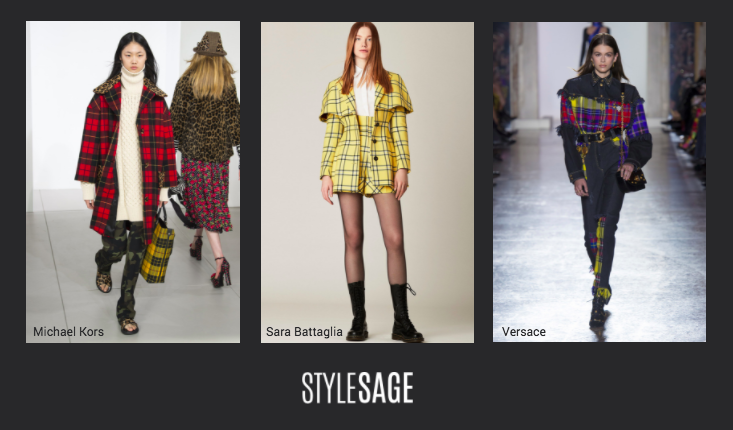 Collegiate
Fall's runways are often inspired by the back to school theme, and this season was no different. The trend takes its current shape in appliques, argyle and plaid prints, and are finished off with key accessories like scarves and beanies.
Newer stars on the Paris scene including Undercover and Y/Project gave us a fresh take, with patches that looked like they were straight off your high school boyfriend's varsity jacket and classic argyle patterns, respectively. We're digging this trend, especially as it means that we can pretend to be young again, minus the homework.
Neon
In yet another blast from the past, 1980's neon is back to entertain haunt us. For the Fall/Winter runways, it was aggressively applied in solid and printed silhouettes (Tom Ford favored the animal print version.) One of the lower-risk (but high-impact) applications we saw was by way of hosiery. With this, we think major retailer adoption will be polarized between accenting or head-to-toe coordinated sets.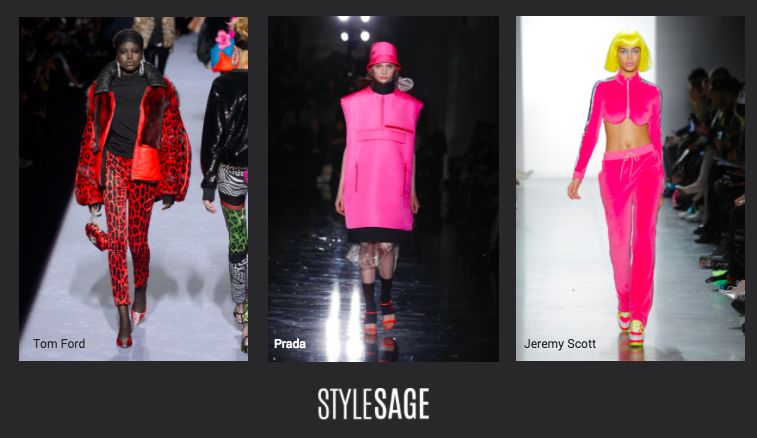 So now that you've got a leg up on the hottest trends, get our full Fashion Month report here.