When it comes to fashion, who is the fastest? While there's certainly an emphasis on slower fashion these days, there's another side of the industry where speed is the name of the game, especially when it comes to courting the youngest consumers. In our latest case study, we take a look at what it means to be a competitive fast fashion brand in 2021.
But first, some background on the brands you'll see here today. Let's start with ASOS, a UK-based, "global fashion destination for 20-somethings" which stocks both its own and wholesale brands. It has most recently made the news as the potential acquirer of the Topshop, Topman, and Miss Selfridge brands.
Next up is Boohoo, another UK-based brand who calls itself "your fashion bestie," who carries its namesake brand across lines that include men's, women's, inclusive sizing, and more. It has been on an acquisition spree in recent months, snapping up distressed brands from the UK including Debenhams, Oasis, and Karen Millen.
If you haven't heard of the next competitor on our list, Shein, you're probably over the age of 25. You also might've missed this Chinese export, because its rise has been nothing other than meteoric. Started in China in 2008, it's only been in the last few years that it's found its global audience: Western shoppers who find its low prices and styles irresistible. To understand just how big it's become, consider this: it is reportedly the third-most visited fashion site in the UK, behind Asos and Next.. It also happens to be vying for the Arcadia brands (which includes Topshop).
Last but not least, we're including Topshop here. It has struggled to keep up with the other retailers here, and its parent organization filed for bankruptcy in November 2020. Nonetheless, it still owns a particular legacy as to what fast fashion first was, and as such, it retains a strong brand value even in today's digital age. It also provides a meaningful benchmark for today's analyses, especially as we consider it potentially becoming a part of ASOS's or Shein's brand portfolio. With that, let's see how these various retailers stack up to each other.
Newness is the name of the game
One of the key things to know about these retailers is that they cater to the shopper who is roughly between the ages of 16-30. And to keep the attention of this super-savvy digital consumer, you've got to stay fresh. These retailers do this by introducing tons of new product every week...and even every day.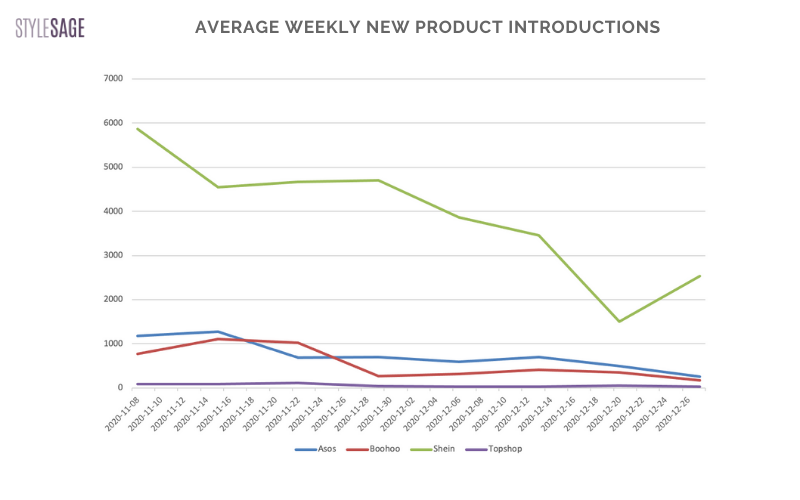 "How much new product," you might be wondering? Consider Shein, who introduced an average of nearly 4,000 womenswear clothing items a week over the last two months of 2020. Compare this with Boohoo and ASOS, who averaged 554 and 735 new womenswear products per week, respectively. And to illustrate the difficult and slowing state of Topshop's business, our research shows they averaged only 60 new womenswear products per week during the same timeframe.
Champagne taste on a beer budget
Fast fashion has always been about delivering high style to the masses, and today this is still very much the case. In fact, you might be shocked at how low some retailers are pricing certain categories. Let's take a look.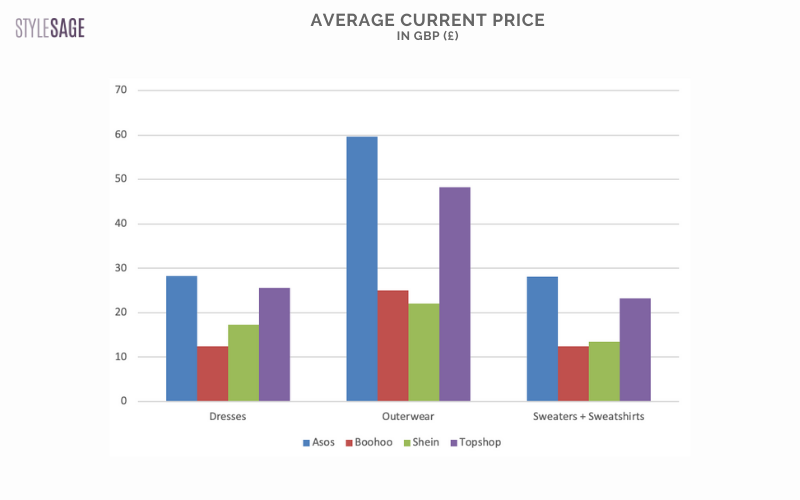 We're looking at a couple of key womenswear categories (prices recorded in GBP), and we can first see that average current prices benchmark most closely between Boohoo and Shein, and then separately, between Asos and Topshop. Generally, Shein averages the lowest prices, while ASOS averages the highest.
But what's most interesting is just how much lower Shein is pricing its assortment. In outerwear, Shein is priced 63 percent lower than ASOS, in dresses 39 percent lower, and in sweaters and sweatshirts, 54 percent.
It's worth noting that a differentiator in ASOS's model is that mix of wholesale and owned brands, and in fact, Topshop is amongst those wholesale brands. But it's interesting, particularly in the light of a potential acquisition, to see how Topshop's pricing benchmarks to ASOS's existing assortment. Specifically, we see that Topshop is currently priced 20 percent, 7 percent, and 18 percent cheaper than ASOS in the outerwear, dress, and sweater categories, respectively.
Low prices with a side of discounts
With low prices like these, discounts can't also be part of the equation, right? Actually, not exactly. Promotions abound, and with an average promotional discount for the past week ringing in at 35.8 percent, these deals are hot (data not shown).
But aside from just looking at how high discounts are, we also like to take a look at the average number of days until an item is first discounted. This tells you, "How long does an item stay at full price?" (Irrespective of additional, promotional discounts.)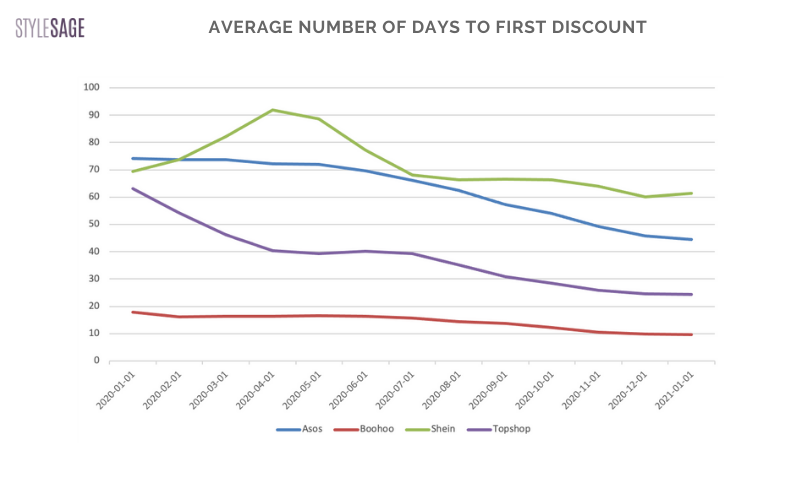 Turns out the answer varies widely by retailer. So, if you're Boohoo, items get marked down pretty much immediately, taking an average of ten days to reach first discount. If you're Shein, the number is significantly higher, averaging around sixty days to first discount. If you're wondering why Shein and Boohoo's average prices are similar, despite differing different "first discount" strategies, it's because Shein comes in at a low price and stays there, while Boohoo comes in slightly higher but quickly takes those item-level markdowns. Complicated, right?
Lastly here, we would like to point out the downward slope of these lines at retailers, starting around the April-May 2020 timeframe. What this tells us is that during the onset of the pandemic, retailers began to decrease the number of days until a product would first get that discount, to cope with depressed demand and increasing inventory levels.
So now you know how more about the assortment and pricing strategies of today's leading fast fashion brands. How do you stack up? Ask us for a demo here!