The footwear industry had a difficult 2020. Lockdowns meant most occasions for footwear went out the window, while styles like slides were the easiest choice for quick jaunts outside. In fact, NPD data shows that even athletic footwear sales declined by six percent in the US during 2020. While experts expect the footwear industry to stabilize through 2021, it's worth looking back to see where footwear categories have been and where they might be headed.
"Slides" are most searched by consumers
A good starting point is examining what consumers are looking for in a given category. Our Trend Radar shows what's growing or decreasing in search volume, down to relevant category details. From the left, you can see the trends growing at the highest rate, and as you move to the right, below the x-axis, you see those declining in search interest. The larger the bubble, the greater the overall number of searches.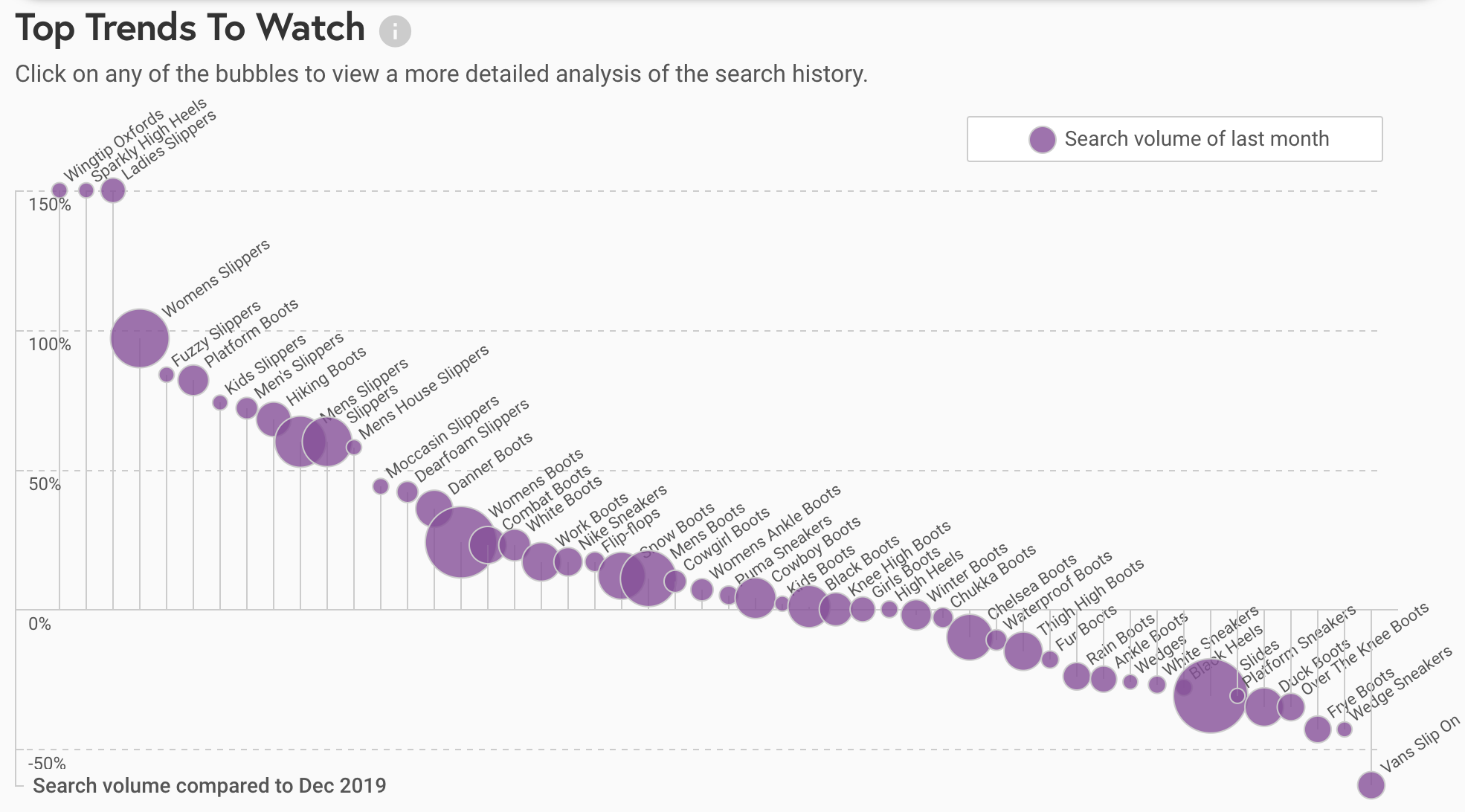 Here we see the top 100 keywords for the footwear category. "Slides" were the most searched, although they've decreased from one year ago. Along the same lines, "slippers" were included in 22 of the top 100 footwear category searches at the end of 2020. However the most common keyword to be searched at year's end? "Boots" of various types were included in 50 of the top 100 consumer searches for footwear by the end of 2020.
Newness has been declining in shoe categories for some time
One way to understand where a category might be headed - and how it might have recently performed - is to look at new product introduction rates.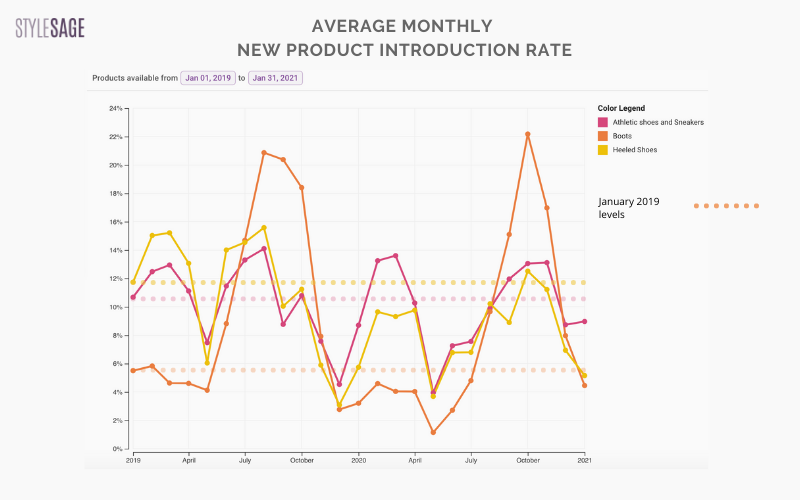 We pulled in data from 2019 to give context to what happened in 2020, and with that we can compare January 2019, 2020, and now 2021. What our data showed is that heel introduction rates have been declining YOY, since January 2019. In January 2019, the new product introduction rate was 12 percent, in January 2020, 6 percent, and January 2021, 5 percent. A similar theme also emerged for sneakers. In January 2019, introduction rates were 11 percent, in January 2020, they decreased to 9 percent, and in 2021, they have remained at the 9 percent mark.
Another interesting phenomenon is that retailers delayed introducing boots into their assortments in 2020 (understandably so), waiting for October to dial up category newness. Compare that with 2019 where August and September had the most new products introduced in the boot category.
Despite major discounting, products selling out slowed
One tool that retailers often utilize to move aging inventory is the discount. And with much of the footwear category depressed throughout 2020, discounting was frequently utilized.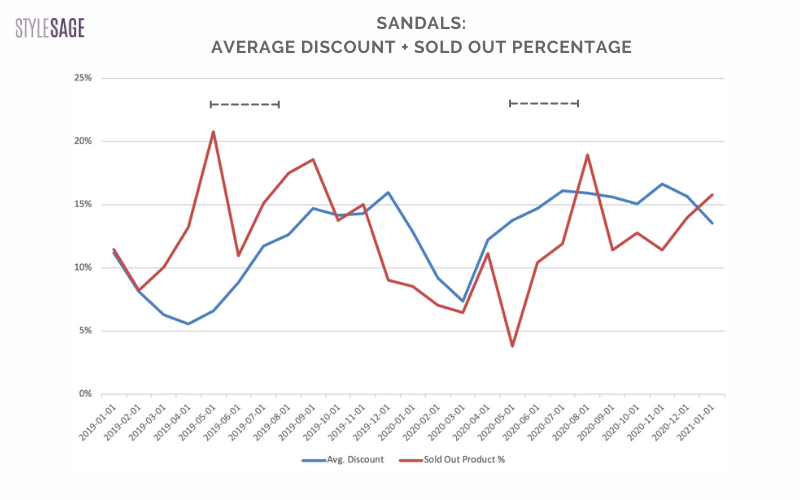 We wanted to see if there was any relationship between discounting and subsequent sold-out product rates. For this example we used sandals, a summertime footwear staple, to see what these category dynamics looked like. During the peak selling period for sandals, May-August, average discounts in 2019 were 10 percent, while the sold-out rate averaged 16 percent. However, in 2020, the average discount during this same timeframe increased to 15 percent, while the sold-out rate decreased to 11 percent. This tells us that in 2020 increased discounting wasn't enough to balance out depressed demand for the category.
It's good to be Dr Martens and Birkenstock
Last week, British footwear brand Dr Martens became an unlikely IPO darling, with demand pushing its valuation past the $5 billion mark. And the company isn't alone in its bucking the negative footwear sales trends of COVID. Birkenstocks, the "official home-office shoe," has seen its pre-COVID momentum continue, still clocking double-digit growth.
To give you a sense of demand for these two brands, we put together a chart which includes Birkenstocks and Dr Martens, with Nike included for benchmarking purposes. Our analysis shows that average discounts have historically been higher for Nike than for both the Birkenstock and Dr Martens brands, with the exception of a three-month time period between July and September where Dr Martens ticked discounts upwards. Otherwise, Birkenstocks average discount was never above 3 percent, and Dr Martens, 6 percent. For context, Nike's peak average discount was 14 percent during this period of observation.
The outstanding performance of these brands can be attributed, not only to a continually interesting product, but a mindset of being nimble and responsive to the times.
So what shoes are you wearing most these days? And which shoes are you planning on wearing out when you get the chance? Let us know here!