An analyst note from NPD a few week's back noted that, year-to-date, handbag sales are down 20% from the same time period two years ago. It's data that also happens to mirror the latest teen research from Piper Jaffrey where they found that the average amount reported spent on handbags was the lowest it's been in the survey's 18-year history.
So why's this happening? Turns out the handbag, both mid-premium and luxury brand alike, is not immune from the things ailing other fashion categories. NPD's analyst, Beth Goldstein, noted that there are a number of factors they believe are contributing to the decline in handbag sales. She believes that handbags are competing for wallet share not only with other fashion categories, they're also dealing with increased competition from non-fashion categories, like travel, dining, and wellness experiences.
As always, we want to examine the data behind these reports to see what we might be able to further understand about the forces in play here.
Which Styles Are Most Plentiful?
First off, we wanted to get an understanding of whether YOY there's been a significant shift away or towards a particular category of bags. To make sure we had as complete a picture of the category as possible, we also included wallets and backpacks.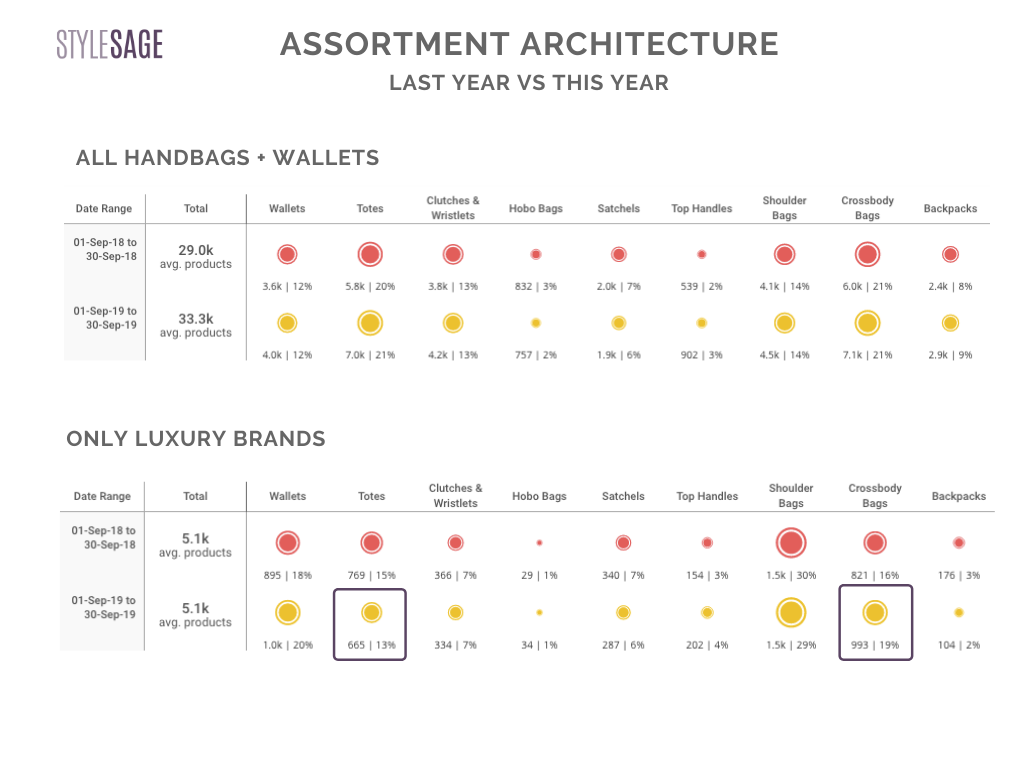 Our analysis shows that overall (top chart), there hasn't been a dramatic shift in category distribution from last year. Nonetheless, we still want to be tuned into those smaller shifts to get a sense of where the market might be going. And those smaller shifts do show up in the Totes and Top Handles category, where overall share of category slightly increased in 2019, indicating with NPD's sales data there might have been some market mismatch. However, there was also an increase in backpack's share of category YOY, which corresponds with NPD's findings that backpack sales are up 12% this year (compared with the same period in 2016).
We also wanted to zoom in on a sample of luxury brands here (bottom chart) to understand if there's any indication as to where the mainstream market might be headed. Totes saw share of category decrease, while the cross-body bag saw its share increase which aligns with the consumer's desire to travel light. Interestingly, amongst luxury brands, backpacks' (already low) share of category decreased this year. There's two ways to interpret that - either they have missed the opportunity for backpacks, or these luxury brands see a pullback on the horizon for this category. What's your take on the backpack trend - is it an offshoot of the sportswear shift that's here to stay or temporary trend?
Have Prices Changed?
Next up we examined original prices - that is the price before any discounts - to see whether there's been any changes in the average price of a handbag at six different retailers. Check out what we found.


Five out of six of the retailers we looked at saw their average handbag price decrease. What's notable is that these retailers were mid-to-premium department stores. The only exception here was Nordstrom, where average handbag prices were up since the beginning of 2018.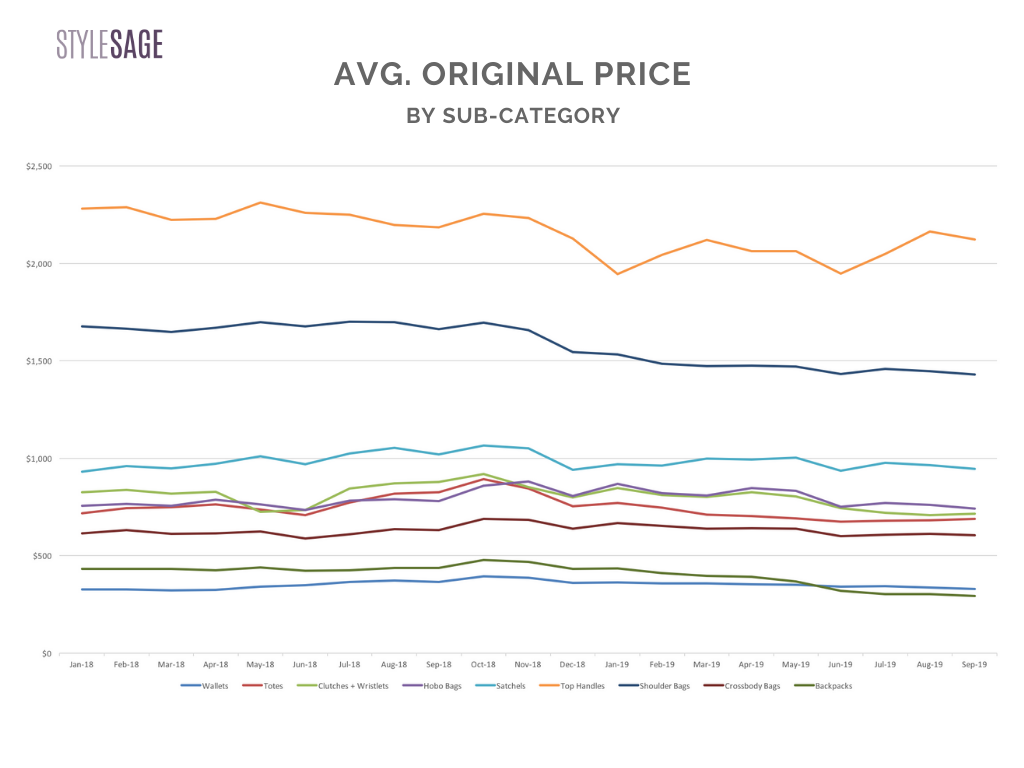 We also examined the pricing by category to understand which categories might be feeling the most downward pressure. Our data shows that shoulder and top handle bags have decreased the most since the beginning of 2018, and it's worth noting that these styles also have the highest average prices by far of all the bag categories. Aside from just lifestyle factors, we believe that one factor driving the popularity of cross-body and backpacks is their lower starting price points compared to other bag styles.
What's Popular?
What better to tell you what's working - and not working - than by looking at what's selling out? We took a look at this trend - can you guess what we found?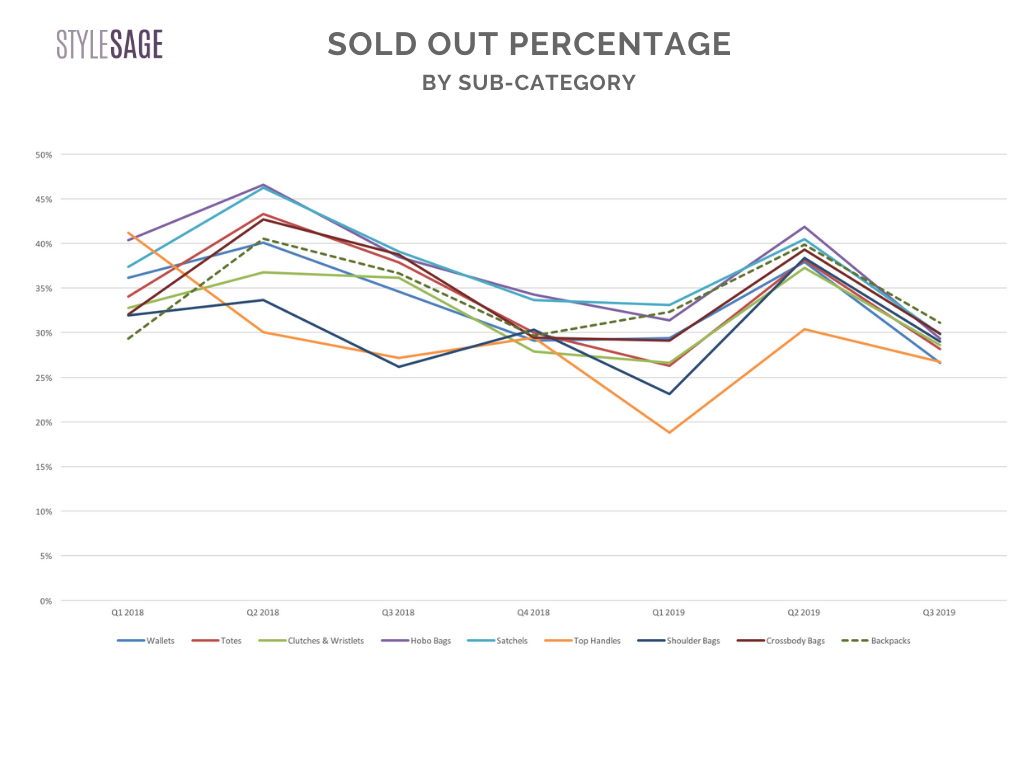 It's true that, overall, sold out products are down from the same time last year (Q3 2018 - 36% vs Q3 2019 - 29%). It's a worrying trend, especially heading into the holiday season. So what's a bag manufacturer to do to fend off the "bag" news?
A few different areas to focus on when it comes to bags. When it comes to the everyday styles, focus on functionality - but of course not at the expense of style. Help shoppers visualize how a bag will work for and with them.


A great example of this in a visual merchandising context is Dagne Dover, who provides a set of props for their shoppers to try putting inside their bag to understand fit and comfort in a real-life context.
On the note of digitally native brands - the likes of Dagne Dover - keep in mind your price buckets. It's easy enough to understand the under $300 and over $1,000 price points but it's that share in the middle that's up for grabs. Brands like Staud, Wandler, Simon Miller, and Cult Gaia are vying for the handbag shopper's attention, offering up great social content and delivering on unique, yet wholly wearable styles for the modern-day shopper.
What's in your bag? Have more questions about the handbag market? Check out these trending styles.