If you're like most of us, seeing the same undecorated wall or sitting in a makeshift office chair, every day over the past eight months, has been a prompt to make some much-needed improvements to our living situation. Whether the investment has been a cosmetic or a more extensive one, one thing's for certain. This is a good time to be a retailer specializing in home goods.
These headlines sum up the sector's performance in an otherwise tough year for retailers.
Wayfair makes a profit as Q2 sales spike 84%
Some of the best-selling marketplace products during Prime Day were home goods
Why the Bed Bath & Beyond turnaround finally has come true
So what has been performing well and how can retailers capture this opportunity to reach home-bound consumers? Let's take a closer look.
Consumers want those finishing touches
It's true that some of the most overlooked things for the home were also of the most interest. We know this from looking at data from our Trend Radar, which tells you what people are searching for, including detail on categories, brands, colors, and types of products.
In the visualization below, the larger the size of the bubble indicates a greater overall volume of searches for the month. And from left to right are the search terms with the greatest increase in search volume from one year ago.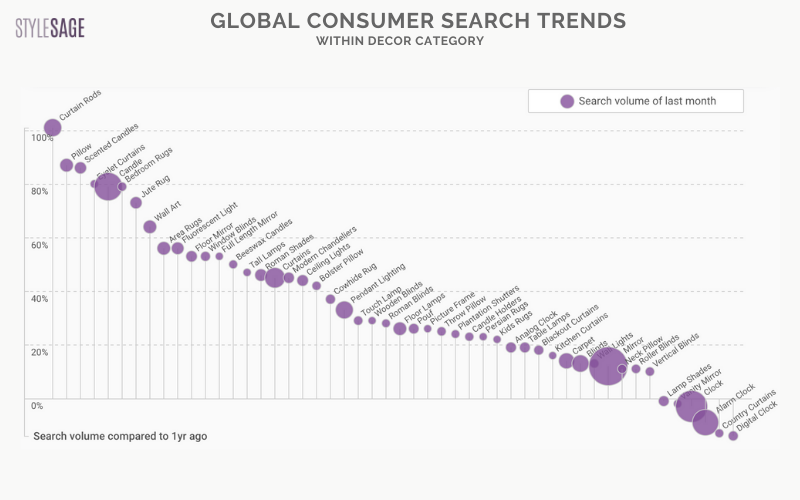 So when we looked into decor search themes during the past month, we saw that searches which included "lighting" or "candles" made up 16 of the top 100 searches in the home decor category. On that note, "scented candles" saw the third greatest increase in searches from one year ago. We also saw that searches including the words "rug" or "carpet" were in 14 of the top 100 searches.
What do these search trends tell us? It's certainly nesting season for the foreseeable future. Consumers will be looking for things that bring comfort and warmth throughout the cool season ahead.
The home office was the obvious starting point
One study showed that more than half of working adults didn't have a home office before the pandemic started. And for those fortunate enough to be able to work from home, a makeshift version had to be set up.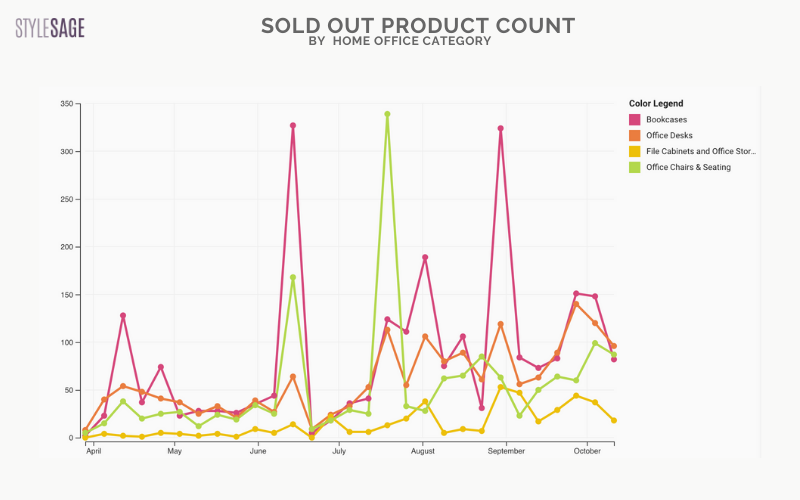 During April, we saw early increases in sold out products in both bookcases and desks. Then, as the pandemic continued, office chairs also started to see higher rates of sold-out products (during June).
However, there's an important point to take note of here - sold-out product numbers have shown some slowing from September into October. This could be telling us that most of those who have invested in their home office, are done doing so.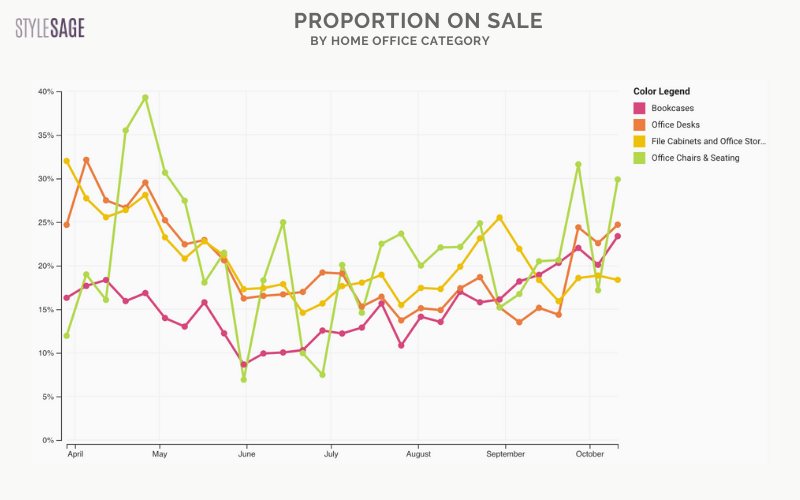 Another indicator this might be the case is illustrated by the chart above. We also see an upwards trend of home office goods being marked down in recent months.
We drink and we organize
(We don't recommend doing so in that order, however.) When we can't go to our favorite cocktail bar, it's time to bring the cocktail bar to the home. Both off-premise and online sales of liquor have skyrocketed, according to researchers. Indeed, when we looked at the past months of data, we saw that glassware had some of the highest counts for sold-out products.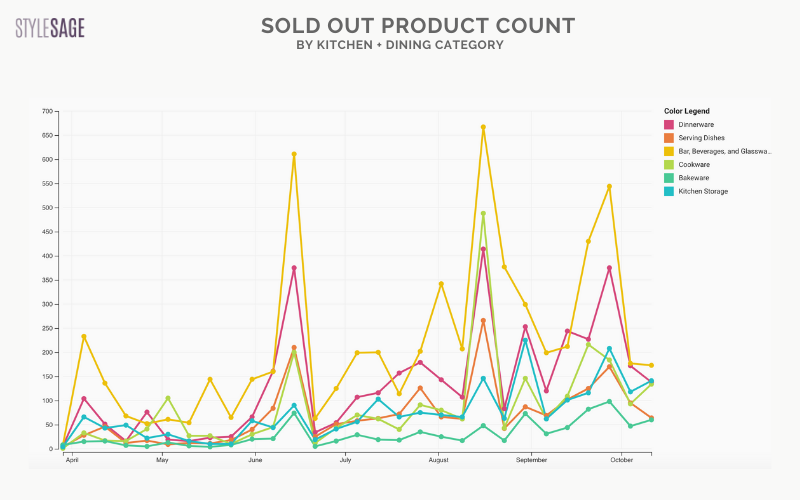 We also saw that dinnerware was right behind glassware in terms of sold-out product counts. Interestingly, both bakeware and cookware had lower sold out product counts during the period in question, as (unsurprisingly) did serving dishes.
One of the most interesting things here is also the strong performance of kitchen storage products. In particular you see this picking up in September timeframe. We'd attribute this to the early September release of the show "Get Organized with the Home Edit," where two professional organizers help to declutter and straighten up people's homes.
Speaking of Clutter
It wasn't just the kitchen where folks were organizing and tidying up, it was all over the house, as this data clearly shows.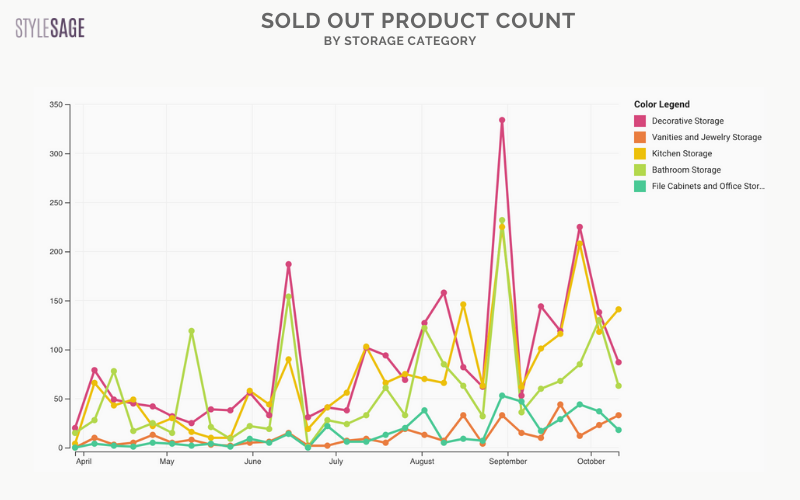 The most popular storage categories? Decorative was, far and away, the most popular, while bathroom and kitchen were next in line. Interestingly, office organization and filing cabinets picked up in the August-September timeframe, likely due to virtual and home learning needs.
Curious to see more insights about the home goods business? Get in touch with us here!