Many of us are heading out into the world, after many long months of being stuck at home. And while you might think that means that people have stopped buying stuff for their homes, that's not necessarily the case. The US housing market has been surging, with demand for single family housing hitting unprecedented levels, and the purchase of a home naturally leads to investments in items to fill that space. Now, all that being said, rising prices on just about everything, along with delays in getting merchandise from China, is creating concerns that the home goods business might be facing some near-term challenges. To understand in more detail what's happening in the market for home goods, we took to our platform to dig into the data.
Understanding what consumers are searching for is one lens into where the market for home goods is heading. To do that, we took a look at global data from our Trend Radar. This tells us what people are searching for and breaks it down to the category and brand level. We can further see which keywords are growing or declining in search volume on a monthly basis.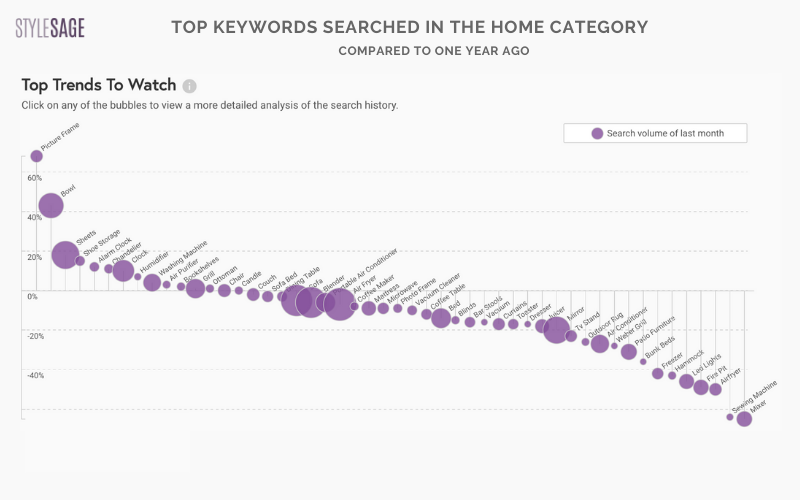 First, the size of the bubble indicates search volume, so the bigger that bubble, the greater the number of searches. The top five most searched keywords in the home category right now are "air fryer," "sofa," "blender," "sheets," and "mirror."
What else you can glean from this chart is monthly search volumes compared to one year ago. So we see some of the things that are showing the greatest increases in searches include "picture frame" (+68%), "bowl" (+43%), "sheets" (+18%), "shoe storage" (+15%), and "alarm clock" (+12%). Now on the other hand, the biggest declines in monthly searches from one year ago include the keywords "mixer" (-65%), "sewing machine" (-64%), "fire pit" (-49%), "LED Lights" (-46%), "hammock" (-43%). These decreasing searches seem to indicate that many consumers already purchased the tools, like mixers and sewing machines, that they needed for their pandemic hobbies.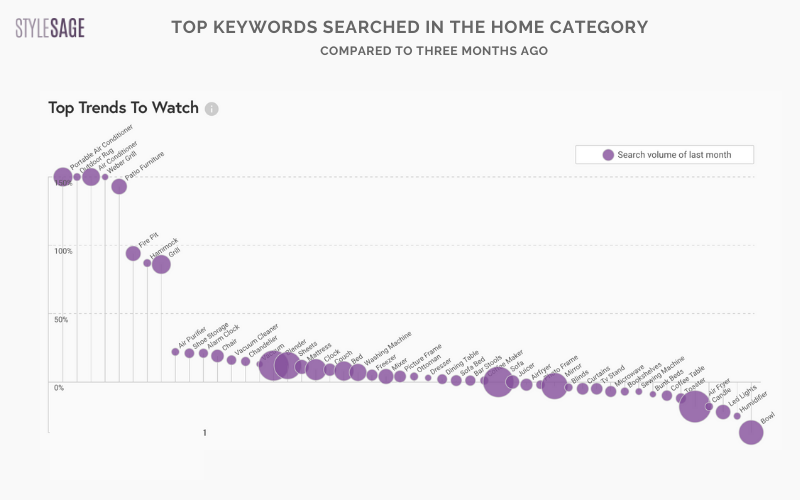 If we look to what's more recently increasing in consumer searches, we looked at the big movers within the past three months. Perhaps unsurprisingly, home items geared towards the outdoors and warmer weather are the ones with the greatest growth. This includes "portable air conditioner" (+533%), "outdoor rug" (+251%), "air conditioner" (+231%), "Weber grill" (+160%), and "patio furniture" (+143%). And recently, the fastest decliners are "bowls" (-37%), "humidifier" (-25%), "LED lights" (-22%), "candle" (-18%), and "air fryer" (-18%). Keep in mind that while some of those keywords might still have high monthly search volumes, they are indeed slowing their roll.
Lastly, we can shed light into which specific brands of home goods are top of mind for consumers with our new Brands dashboard.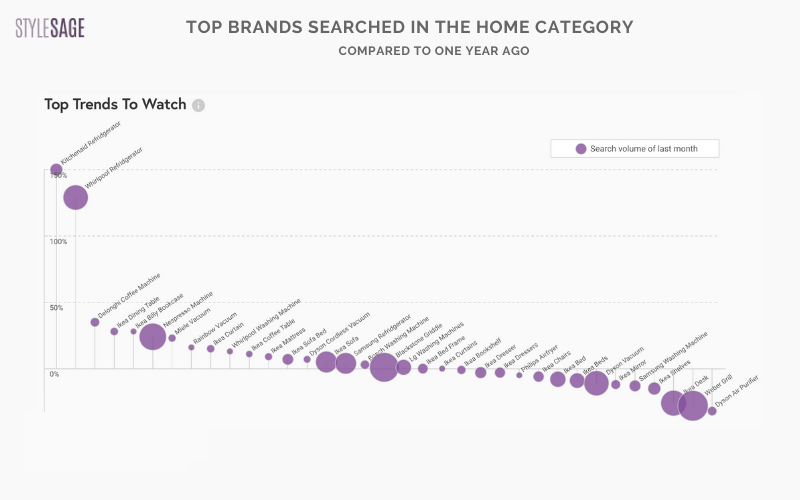 Here we see that big-ticket appliances are a big part of consumer searches, with both "Kitchenaid refrigerator" (+209%) and "Whirlpool refrigerator" (+129%) showing the greatest growth in searches from one year ago. Declining searches include "Dyson air purifier" (-32%) and "Weber grill" (-28%). The "Weber grill" search history is a good example of a highly searched category that's up from three months ago (when it was not in season) but down from one year ago (when many shoppers were buying it for the first time). Last but not least, it's also interesting that "Ikea" is top of mind for shoppers when it comes to various home furnishings.
Now that we have a more nuanced understanding of what people are searching for, let's see what the e-commerce data has to tell us. This gives us a nearly real-time look at what's sold out at key home retailers in the US market.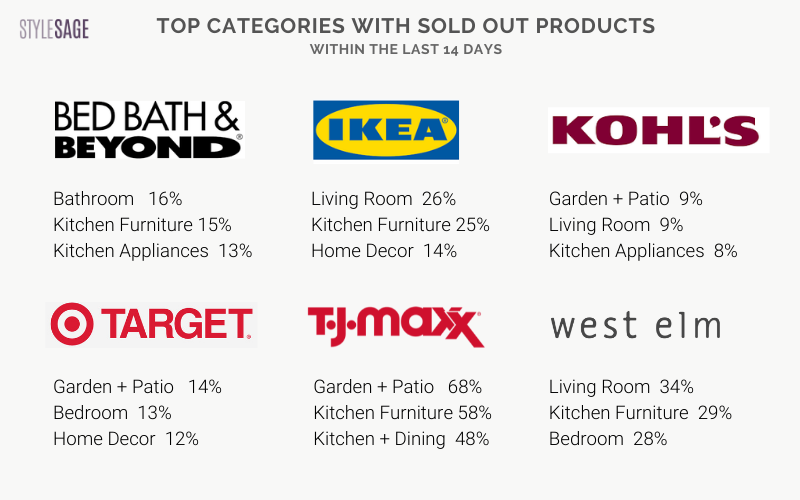 What's selling out really varies by retailer, with a couple common themes. First is that at Target, TJMaxx, and Kohl's, Garden and Patio products, like furniture and outdoor decor, are top movers. As it is currently peak summer season, this category movement makes a lot of sense. We also see that Kitchen Furniture is a top seller at four of the six retailers in this sample, while Living Room goods, which includes products like sofas and coffee tables, are also a top seller at three of these retailers. What's also interesting to note is that the limited nature of TJMaxx's online assortment lends itself to much higher sold-out rates than other retailers in this sample
Subscribers, don't miss out on the latest home goods data in our platform! Not familiar with StyleSage and interested in learning more about our data on the home goods industry? Get in touch with us here.