We know well what's happening in retail in the middle these days - particularly in the US department store sector, but is the prognosis as bleak for luxury retail this holiday season? While 2016 saw major setbacks in global luxury retail sales growth, this year the market is anticipated to grow between 2-4% globally, on the heels of strong consumer spending in markets here and abroad (particularly in Europe and China.) And two of the largest luxury players, conglomerates LVMH and Kering, have had banner years with double-digit organic sales growth.
But there's a lot playing out behind the scenes, so before we launch into our latest analysis, we wanted to pull in some macro- and micro-trends, to give context to what we're seeing playing out in luxury retail this season.
While this year is expected to close out with the overall luxury industry seeing growth, the results are not equally distributed amongst global brands in this space. In fact there's been continued challenges with American luxury brands, specifically Coach, Michael Kors, and Ralph Lauren, challenges that stand in stark contrast to the luxury conglomerate Kering's (Gucci, Saint Laurent, Stella McCartney) latest financial reportings in October which cited comparable YOY revenue growth nearing 30%. In 2017, what's differentiated the winners from the losers is a strategy that plays to the growing millennial contingent of luxury shoppers - who are expected to comprise 45% of personal luxury purchases by 2025. (We'll talk more about how Gucci has executed its millennial strategy flawlessly over the past few years later in this piece.)
Another noteworthy trend of 2017 in luxury - is that despite it having held out when it comes to embracing e-commerce - this year we've seen the launch of LVMH's 24sevres, the first appearance of Celine online this very week, and global luxury marketplace FarFetch's reported YOY sales growth of 60%. So while brands like Chanel are still reticent to go full-in online, market pressures would seem to indicate that point-of-view's days are numbered.
Next, self-gifting has never been more prevalent - and if you're honest - you probably bought as much for yourself over Cyber Weekend as you did for others, right? NRF's Holiday Playbook reported seven in ten shoppers buying for self last year - and the number is expected to increase as self-gifting is coming into its own, especially on the heels of record-shattering Singles Day. And hey, what better to self-gift than that $$$ handbag you've had your eyes on for months - and is finally on sale.
Speaking of on sale - the last trend in luxury that plays out during holiday is seasonal discounting. While not as rampant as it is in the value and mid-tiers of retail, holiday is the rare time of year where you will see major adds to the clearance section and in some cases, a small token sitewide discount. In fact, our Cyber Weekend analysis showed that 37% of luxury assortments were on sale and the average discount was 43%. So yes - sales do happen in luxury - but they are much less frequent during the course of the year, and importantly, shoppers very much are aware of the luxury discount's elusive nature.
So let's dive into some of the most recent data in luxury - how pervasive discounting really is, what's selling out, how prices are trending, and shine a light on this year's (continued) luxury superstar, Gucci.
Yes, Luxury Does Discount!
It may seem counterintuitive, but even luxury brands have end-of-season merchandise to offload. And holiday is where you really see a push to get rid of aging inventory. When does it happen? Our data showed that between the week before Thanksgiving to the week of, there was a 12.7% percentage point increase in how much of luxury inventories were on sale, and an increase of 32.8% percentage points in the average discount amount. But how high were discounts among key luxury brands?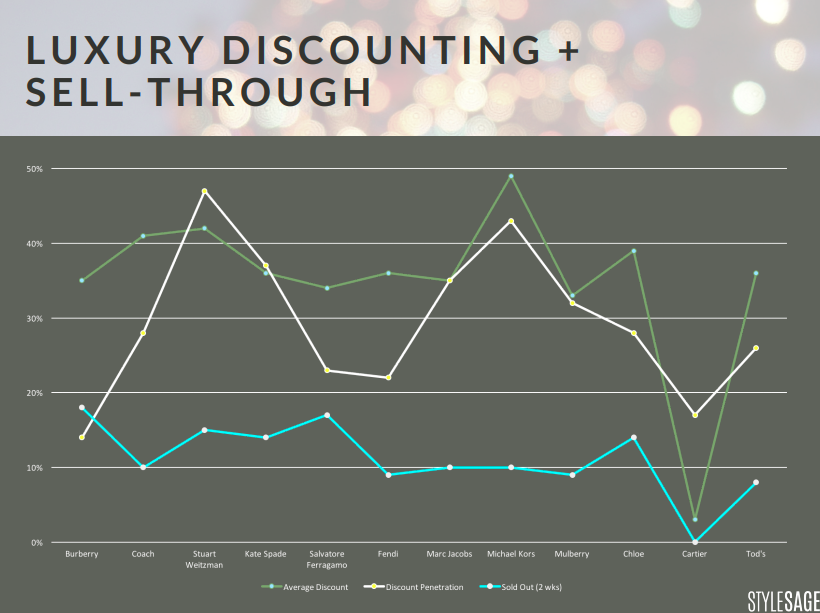 Remember what was mentioned earlier about the continued struggle of American luxury brands - much of it related to its department store distribution network? Well, here you can see, for example, that Michael Kors had both the highest discount penetration and discount amounts across the channels in which it's distributed. It is also interesting to note that shoe-focused brands, Tod's, Stuart Weitzman, and Ferragamo also had relatively higher average discounts throughout their assortments.
What's The Demand Like?
It's important to look at sell-through at discount versus at full price. Whether gifting for others or self, luxury product flourishes on the concept of scarcity, and if something is highly sought after, you're likely to see increased rates of sell-through at full price. What was interesting to note is that with the exception of one brand, sell-through rates on full-price product remained below 6%.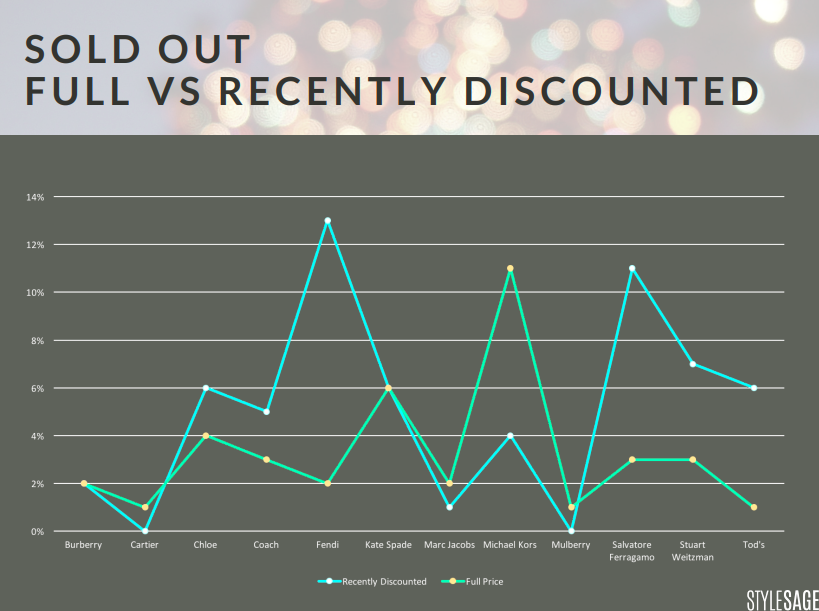 The one exception was Michael Kors, and it emerges as an interesting example, having some of the highest levels of discounting, and we see that for its recently discounted product, sell-through was low (4%). Yet for its full-price merchandise, you actually saw healthy rates of 11% sell-through, which speaks to the brand's ongoing efforts to upgrade its product assortment and pull its stock out of brand-tarnishing department store channels.
Where we saw discount incentives working their magic on shoppers was with Fendi and Ferragamo. To the previously surfaced notion of the fleeting luxury discount - shoppers knew that they better move quickly on newly reduced prices if they wanted to get their hands on the goods.
As we get closer to the December 25th holiday, we would anticipate these sell-through rates should be on the upswing - and undoubtedly, retailers year-end results are dependent upon a strong close.
What Do Changes in Price Tell Us?
A number of factors can play into pricing, including currency fluctuations, the chosen channels of distribution, and overall assortment mix. But the importance, at the very least, of being able to hold firm to a given price, must be emphasized. Moreover, a luxury assortment mix overly skewed towards lower-priced goods must be viewed with a degree of concern.
While we've seen the Euro on the rebound from last year's lows (currently trading at 1.18), we're not seeing luxury prices of Euro-based brands on the upswing. In fact, across nearly all the brands in our sample, we are seeing both single- and double-digit decreases in the average price point.
Where have we seen the biggest decreases YOY in average prices? Interestingly, UK-based Mulberry and Burberry (rhyming but not related) have seen 22% and 16% decreases, respectively, despite the GBP also rallying this year. The two brands have also been going through some pretty major growing pains, with slowing revenue growth at Mulberry and changing of the guard (and also slowing sales outside the UK) at Burberry.
Other brands in our index seeing major YOY decreases in average price were Michael Kors and Fendi.
As European currencies are slated to continue their rebound, and the global marketplaces, including FarFetch and Net-A-Porter, continue to grow their customer bases, it is important that these brands keep a close eye on pricing, in order to protect their bottom lines and their prestige images.
The Favorite Child, Gucci
Whether it's the furry slides, the gold logo belt, or an snake-embellished handbag - the Gucci brand is all over social media. They've been one of the most digitally-engaged luxury brands - their following on Instagram is nearing the 20 million mark and their mobile app incorporates VR. The result of this is consecutive YOY growth (under designer Alessandro Michele) exceeding 40%. And while other luxury brands are still trying to figure out the millennial market - Gucci reports that already half its customers are millennials.
But does the data back up their continued growth trajectory? We took a look at the data points - and aside from Tiffany - the average price of Gucci clocks in significantly higher than its category counterparts - at $1,841, and it's one of the few who showed increases YOY in average price. And did we mention, only 2% of Gucci product is on discount? All of these metrics tell the story of why other brands are and should be benchmarking Gucci. We suspect there will be lots of golden snakes and furry slides wrapped up under the tree this holiday season.
So in conclusion - if the world of luxury seems complex - indeed it is. Those who are winning are doing so with aplomb, those who are struggling - well, their struggles can be clearly seen through the data.
Want to gain more insight into the luxury market? Talk to us here.