In this world, there are two types of people. People who eat to live, and people who live to eat. And then you have a curious bunch of outliers, people who wear what they eat. In all honesty, it's to no surprise how food and fashion have converged, as all things related to social class do. Just as fashion draws inspiration from all kinds of culture (e.g. sports, music, art), food is another social identifier that captures the attention of our daily lives. Case in point, let's compare two Starbucks orders and how you would interpret the people who made them: Grande Black Coffee versus Venti Iced Skinny Hazelnut Macchiato, Sugar-Free Syrup, Extra Shot, Light Ice, No Whip. I can hear the assumptions you're making in your head already.
The concept of wearing our food is not new. Take for example, the traditional fruit headdress commonly associated with dancing girls from the tropics. The fruit hat was popularized by "The Brazillian Bombshell" Carmen Miranda in the forties, when she made the fruit hat her signature look in the American film The Gang's All Here. History also remembers Josephine Baker, who shocked audiences with her iconic Banana Skirt in 1926 and lives on as a symbol of subversion and empowerment. It might be out of fashion to wear rubber fruits anymore, but designers have since repurposed fruits in a variety of prints, embellishments and accessories on the runway.
So there you have it. Fruits are acknowledged as part of the cycle of fashion. Even vegetables are not spared, as you can see from Dolce & Gabbana's 2012 spring collection. In case you haven't noticed yet, fruits made a comeback on the runway for Spring/Summer 2017, and our StyleSage trend dashboard is seeing more and more influencers jumping aboard that swinging fruit basket.

On the topic of influencers, I would like to digress a little. Fashion influencers are making a shift into becoming lifestyle influencers, and it seems common sense to do so because fashion, travel and food make up the triumvirate dictating the aspirational life. And seeing as I look at over 1900 instagrams a day, I can tell you at the top of my head the three types of food posts out there: 1) the hipster coffee break/lunch, 2) the gourmet group dinner spread, and 3) the self-made healthy yogurt/oatmeal/smoothie. All of the above makes me guilty about either my indulgent portion sizes or the fact that most of my homemade lunches are not pretty. Like this article if you feel me.

Fashion's relationship with food is not just limited to those of the raw, healthy variety. No matter if you have a sweet tooth, are a pizza junkie or breakfast lover, our favorite designers have you covered. Yes, I would like a Moschino happy meal to go. With large fries and a diet coke. And breadstick hats as the finishing touch? You can keep 'em coming (as long as they're complimentary).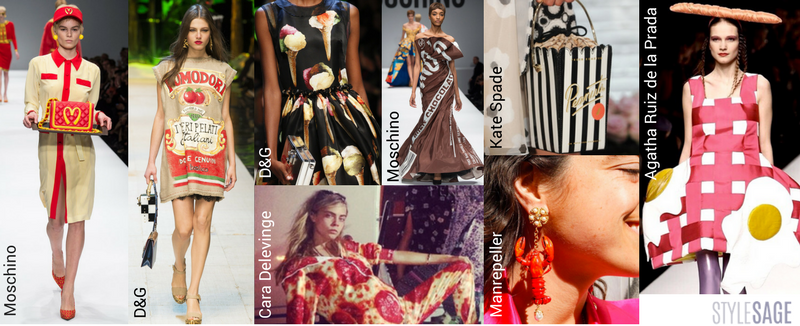 It's pretty amazing how just about anything can be a source of fashion inspiration. Take gingham for example. I still remember wearing a plaid dress when I was 14, and my sister told me upfront that I looked like I was wearing a tablecloth. Now, gingham is all the rage for spring 2017. Go figure.
All bold fun and tongue-in-cheek humor aside, there is a point to all of this. I guess the point I'm trying to make is that the concept of food has extended beyond simple functionalism. It is an almost universal experience that anybody can relate to, and wearing food is a simply another medium of expression through which we declare our individualism. Some take it further as a form of activism and art, like how Lady GaGa broke the Internet with her unforgettable meat dress that TIME crowned as the number one fashion statement of the year. In any case, I would think that designers have a lot of fun trying to encapsulate the food experience into their designs.
Before I let you guys go on your tutti-frutti way, let me show you two ordinary artists that make wearable food their business.


Olivia Mears' Taco Fairy is giving me so many ideas for Halloween now. And Rommy de Bommy's delicious-looking bags are actually functional. I kid you not.
I am waiting for someone to design a bowl of ramen bag. Still waiting… and waiting... My hope will never die. Okay, time for a lunch break.