To understand what's been going on at J.Crew in recent months, consider what it's like to see a friend after some time and realize they've gotten some very subtle, yet tasteful work done.  It's natural, yet simultaneously compelling, and you know there was some deep expertise involved to achieve these results.  (Okay, so you get the idea.) Indeed, J.Crew has gone through a transformation recently that deserves a second look.  Today we're breaking down the classic American preppy brand's makeover.
So What's Happening?
Like many fashion brands, J.Crew has seen a tumultuous number of years.  Even before the pandemic, it struggled with finding the right product mix and pricing strategy.  Its creative and critical success under the design leadership of Jenna Lyons hadn't seen corresponding sustained business success, and in the years leading up to and after her departure in 2017, J.Crew suffered from frequent discounting and lackluster merchandising. These pre-existing challenges in the business pushed the struggling retailer to file for Chapter 11 in May 2020, during the worst days of the pandemic.  
Since then, a sort of regrouping has been underway.  Last year, J.Crew announced new design leadership on both its womenswear and menswear sides of the business.  They hired Brendon Babenzien for its menswear business, who had spent time at Supreme and founded menswear brand Noah. His design background draws on the subcultures of skate and music, making for an appealing fit as the brand looks to refresh itself for a younger consumer who wants a mix of preppy and streetwear.  On the womenswear side, they brought back Olympia Gayot, who happened to also have been its Design Director for much of the 2010s.
In recent days, we've started to see the initial results of this new leadership.  Let's take a closer look.
Rightsizing the Assortment
As we've dug into the data behind the brand's new strategy, a few things become clear.  The first is that, compared with a year ago, they've actually pulled back product counts in key womenswear categories, while adding in menswear ones.  From 30,000 feet, it looks like this: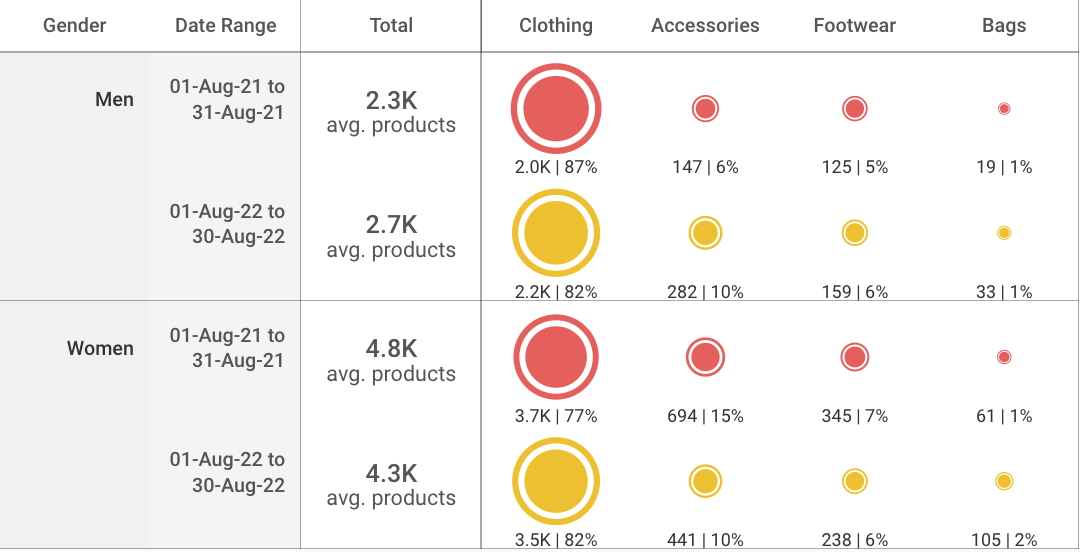 StyleSage Historic Assortment Architecture
Counts for women's clothing are down 5% YOY, while men's clothing counts are up 10%.  This follows the idea that brands are doubling down on the menswear market opportunity, while being more focused in their efforts in the ultra-competitive womenswear space.
Improved Pricing Power
But upon closer inspection, we see a second theme emerging, which is that the brand has reduced counts in womenswear categories with lower average price points, like shirts, shorts, and pants, while increasing average prices in all categories, in particular, higher priced ones like outerwear and blazers.


StyleSage Historic Price Heatmap: Womenswear
But this renewed pricing power isn't just apparent in its womenswear assortment; here we can see that the amount of the assortment on discount has also been trending downwards, a sign that more of the assortment has been able to sell through at full price than it historically has.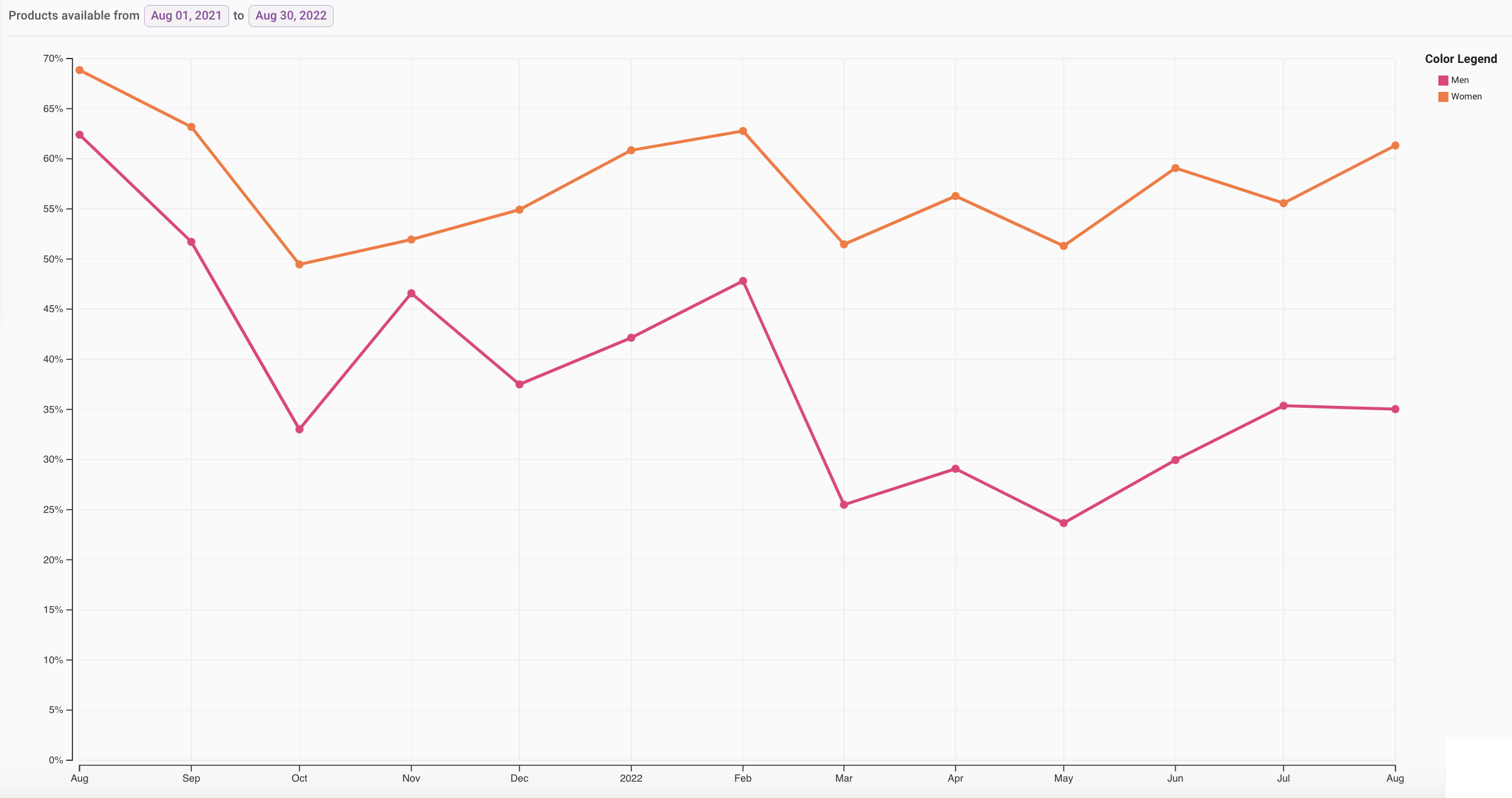 StyleSage Historic Timeline: Discount Penetration
Men's discount penetration is at 35%, down substantially from where it was at one year ago, 62%. Womenswear is also down, albeit more modestly, from 69% to 61%. These metrics show progress, yet there is definitely more room for improvement in terms of discounting.
Improving Key Metrics
With a tough retail operating environment, due to inflation and readjusting to lives post-Covid, one has to wonder, how are consumers responding to these changes at J.Crew?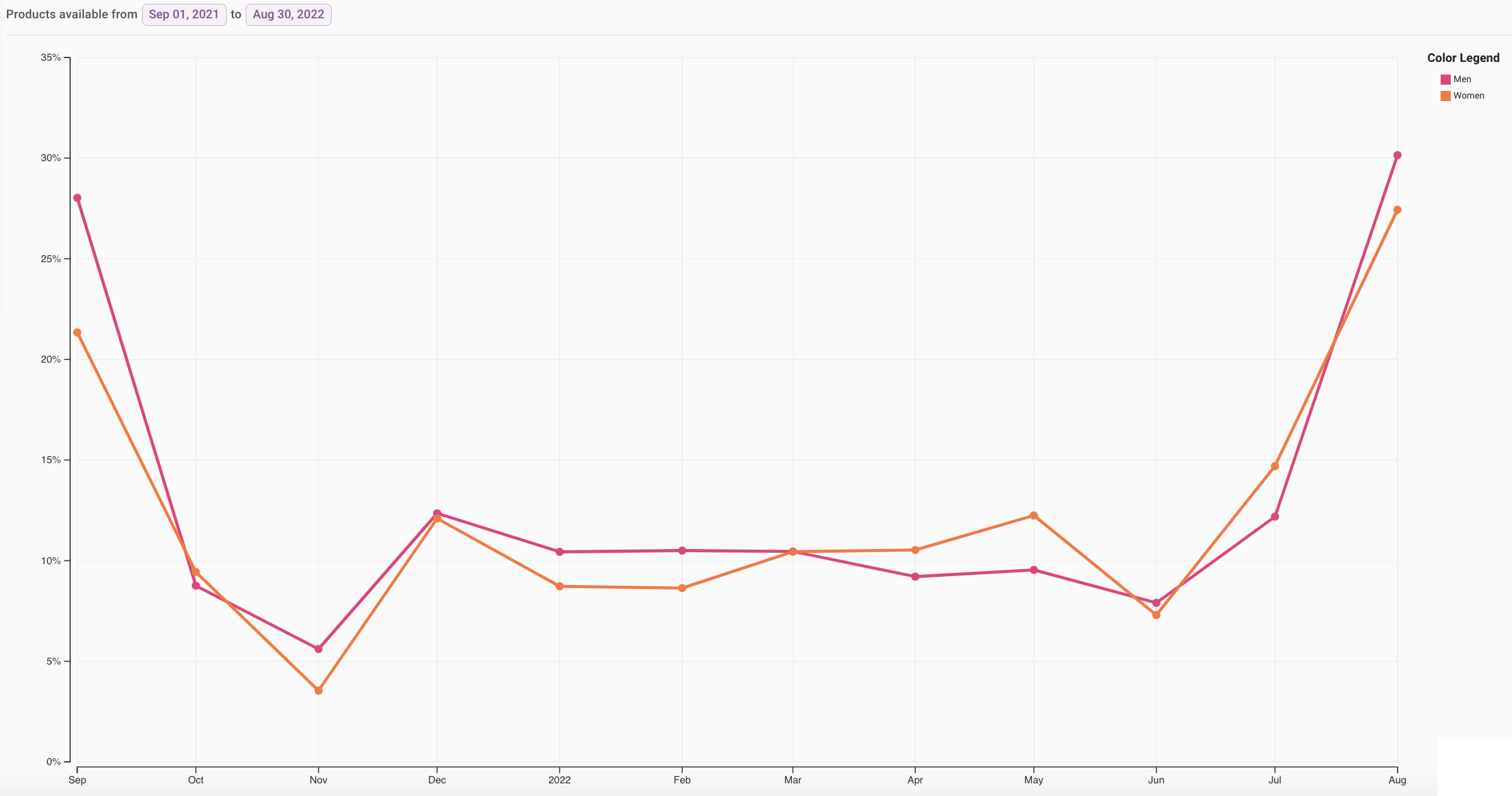 StyleSage Historic Timeline: Sold Out Rate
The initial data looks promising, as August sold out rates for both menswear and womenswear are up markedly.  They are also up 7% from September 2021 in menswear and 29% for womenswear. This momentum is a few months underway, so the key question is whether or not this will continue to be the case for the remainder of the year, a critical part of the retail selling season.
The Fashion Details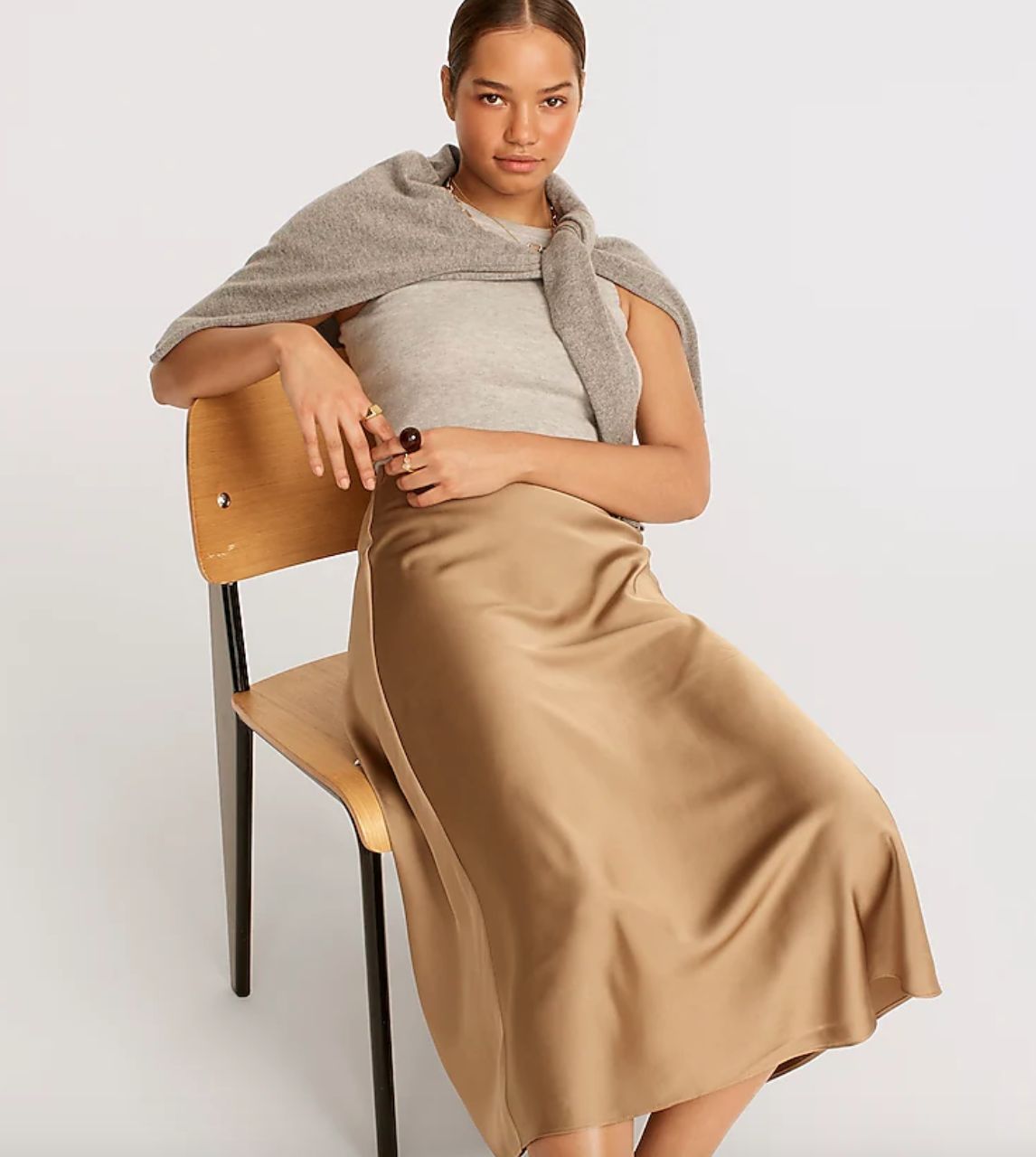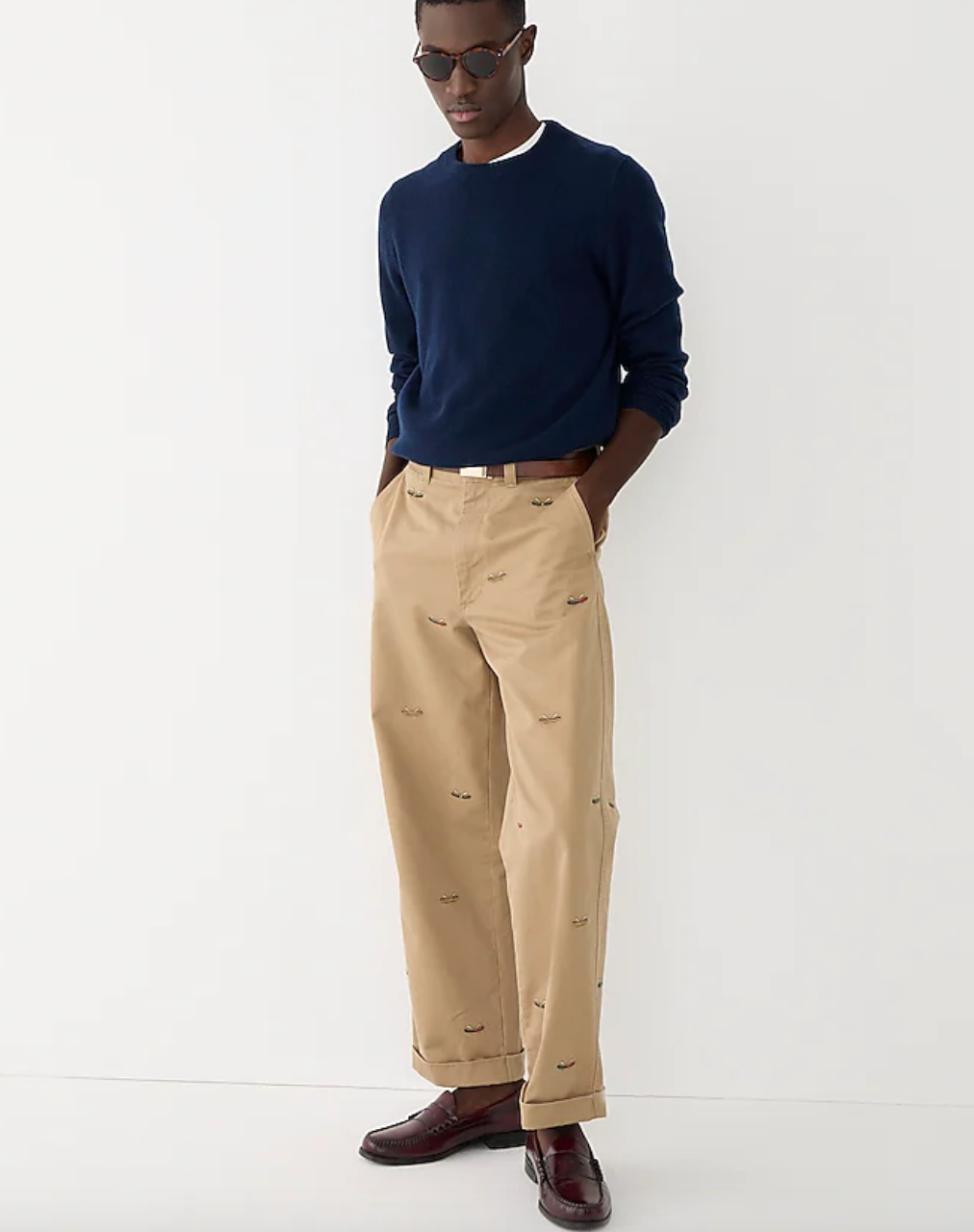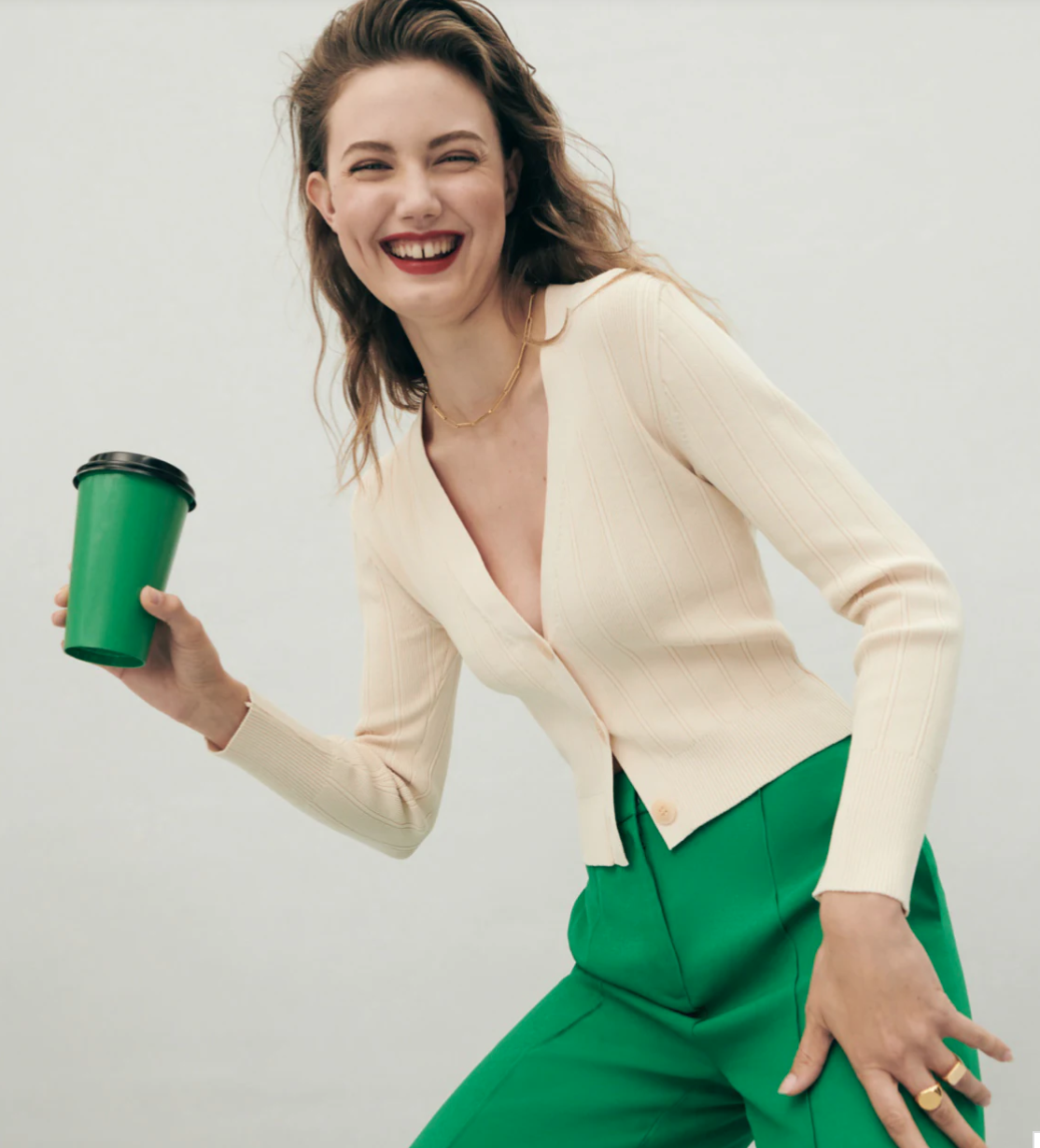 We all know the difference between good and great in fashion is in the details, and we'd be remiss if we didn't mention how these subtle updates to J.Crew's line are helping it push the brand forward from a fashion perspective.  Whether it's the sold-out giant fit chinos for men, or incorporating its own take on the trending "Bottega green" colorway in its womenswear line, the new design leadership appreciates the nuance of what makes something J.Crew in its essence, but also something very appropriate for this moment.  This is a balance not easily achieved, and lest we forget, very easily undone with a few missteps.
Another part of the brand's strategy to push the fashion narrative forward is to selectively partner with brands on exclusive items, or as they call it "Brands We Love." Whether that's cult brand Beams from Japan or dress brand Eveliina Vintage, these tie-ups help to attract new shoppers to the brand and are an important testing ground for new ideas and partnerships.
We'll be keeping our eyes on how J.Crew progresses on its path of revitalization. Will it continue with this new pep in its step or fizzle with fashion's finicky taste?