Image courtesy of LVMH
A recent feature in Business of Fashion focused on luxury brand Loewe and the next gen of diffusion brands. They were speaking specifically of its diffusion line "Paula's Ibiza" which at first glance might not seem congruous with a Spanish luxury label known for its leather handbags. It's an unusual pick because Paula's was a shop in Ibiza in the 70s and 80s, known for being the epicenter of a bohemian and hippie lifestyle, with its signature floral wares and even more famous clientele. The whole "scene" was overseen by a German architect named Armin Heinemann.
In a feature in Vogue, its evolution to the present is highlighted, "In 2016, Loewe reached out to Heinemann about reviving his store and collections; creative director Jonathan Anderson had vacationed in Ibiza growing up and had become familiar with local Paula's lore. The results have been co-branded as Loewe Paula's Ibiza, a collection of womenswear, menswear, and accessories that's been released yearly since the summer of 2017." The stuff of great fashion stories, we'd have to say.
Jonathan Anderson (who also has his own namesake label) said of the line, "I don't see Paula's Ibiza as being a secondary product. I think it complements the brand. It's about addressing an aesthetic niche that was missing, dressing for that summer vibe." That summer vibe means tie-dye, smiley faces, and neon colors - a true departure from the Loewe brand.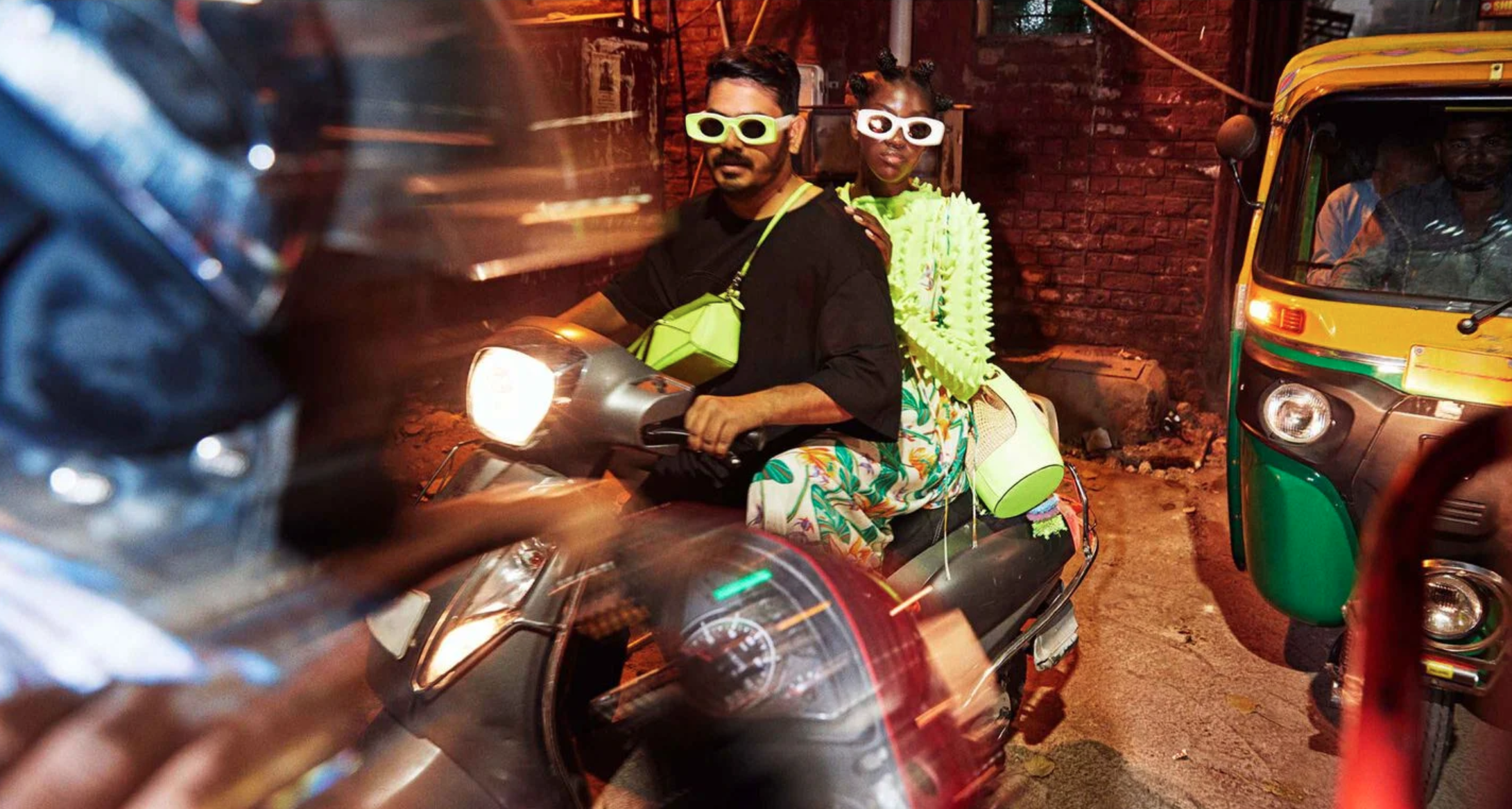 Image courtesy of LVMH
It's in Anderson's logic that you see a different approach to a Loewe and this diffusion line. Paula's Ibiza complements the main line, and gives it a shot of youthful personality that of course makes it more attractive to a younger customer. It also establishes them as a seasonal leader, with a line that's focused on vacationwear. With that in mind, let's examine some of its assortment and pricing data to understand other ways that Loewe is approaching this diffusion line.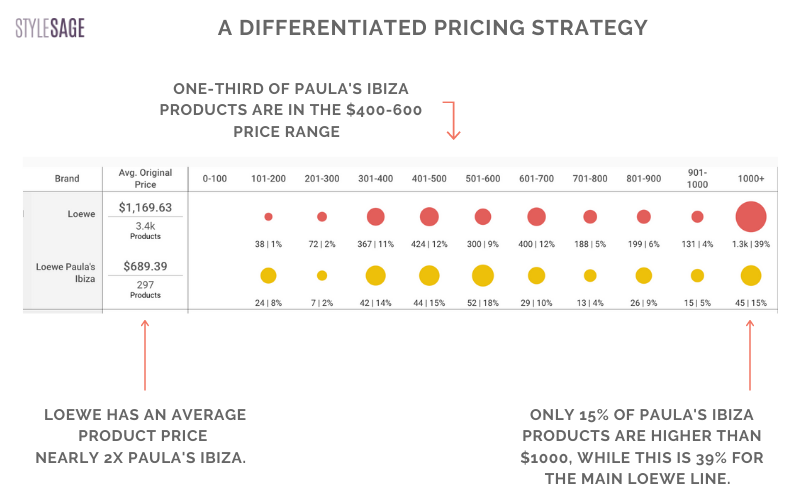 A few things immediately stand out in terms of pricing. First is that, as expected, average price points are significantly lower for Paula's Ibiza compared to Loewe. In fact, its average price is nearly half that of the Loewe main line. What else you see in the distribution of the price points is that nearly 40% of Loewe's pricing is north of $1,000 (USD), while that is only 15% for Paula's Ibiza. Instead, one-third of Paula's prices fall between $400-600.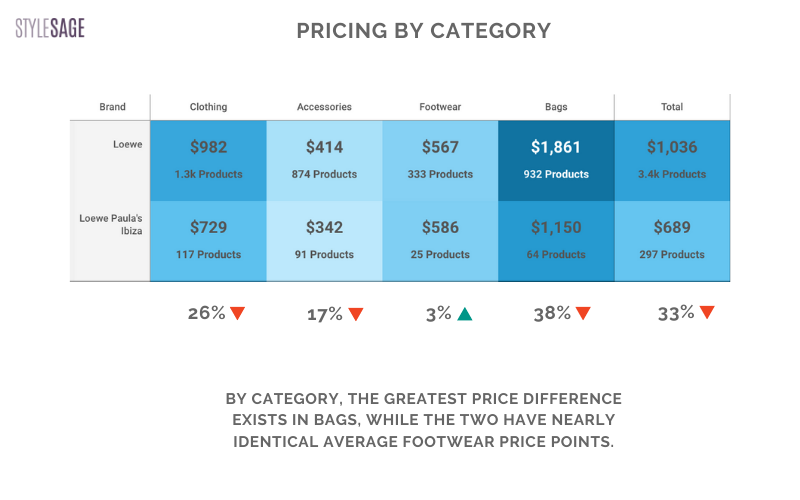 Broken down even further by category, we see that in the bags category, this is where the greatest difference between the two lines exists. Paula's bags cost an average of 38% less than Loewe. In big part this pricing difference comes down to material. Most of Paula's bags feature materials like palm and raffia, while Loewe's bags are known for their leather craftmanship.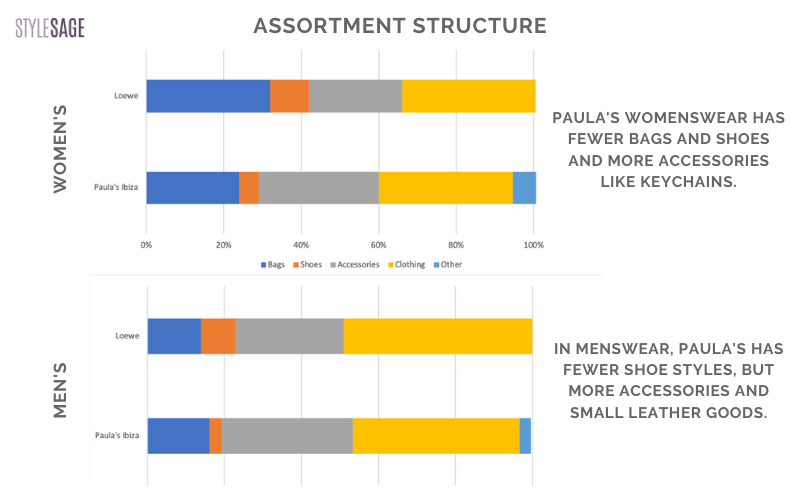 When we take a look at what kinds of products make up each discrete line, clear differences emerge. (Here we broke it down by menswear vs womenswear.) Paula's has a smaller proportion of bags for women, compared with Loewe, but it has a much higher proportion of accessories like keychains and small leather goods. For both womenswear and menswear, Paula's has a smaller proportion of footwear as well. Ready-to-wear is similar between the lines for womenswear, while Loewe has a slightly higher proportion of ready-to-wear for men.
All in all, there are certainly differences, not only in the type of products in Paula's Ibiza line, but also in price point. We'll be curious to see how it evolves and if it continues to resonate with consumers in the coming seasons.