A few weeks back, an announcement was made that has long-term impact for luxury online retail. The news was that Alibaba and Farfetch would be creating a joint venture, Farfetch China. As part of this deal, Richemont and Alibaba will be making sizable investments in Farfetch, and Kering's investment arm will also be increasing their ownership stake in Farfetch. The news is game-changing on several levels, not least of all because it shows that Farfetch is in the industry leading position in terms of online luxury retail. But what else is interesting here is that industry competitors are teaming up on this venture. Don't forget Richemont also happens to own Yoox Net-a-Porter (YNAP), competitor to FarFetch.
Why the tie-up with seeming competitors? In a recent in-depth feature in Business of Fashion, it was pointed out that Johann Rupert, Richemont's chairman, had previously advocated a "neutral" platform for all luxury brands as the online luxury market was so big, no one company could successfully go it alone.
As far as what this means for YNAP, he also noted that their investment in Farfetch wasn't a signal that they were "disappointed with YNAP," but that YNAP and Farfetch each had their respective strengths. "YNAP was started by people who love the fashion side and gave a curated view for a very loyal clientele. Farfetch started from the tech side," Rupert said. Don't forget that Farfetch is a platform for luxury boutiques and brands to sell their goods to consumers all over the world, and they offer these boutiques and brands "digital storefronts, inventory management tools, logistics tools, analytics tools, and other software."
With all these eyes on luxury online retail, it's an opportune time to check out some relevant stats highlighting what's happening in this space - specifically how Farfetch stacks up to Net-a-Porter, as well as up-and-comer Matches Fashion.
Luxury at scale
Luxury often communicates itself by way of curation of goods, something that Net-a-Porter has long been known for. However, the data below shows that Farfetch is taking a different approach, scale.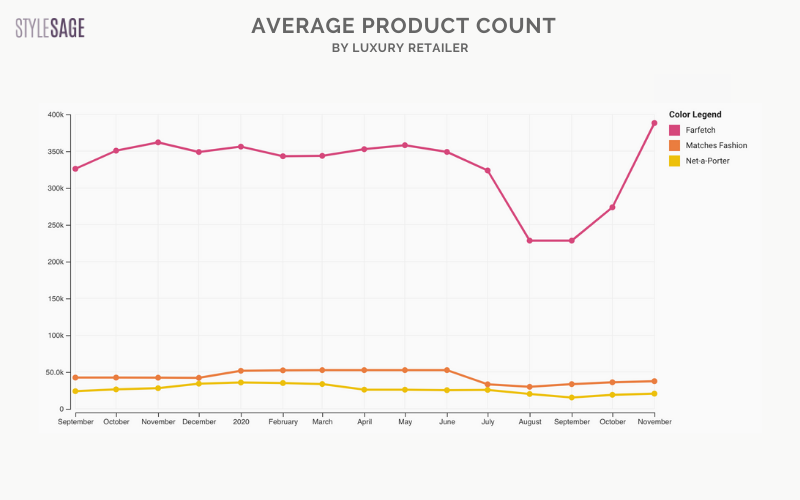 You can see clearly here that Farfetch is offering a significantly larger (and growing) number of products compared to both NAP and Matches. Both NAP and Matches Fashion show a generally stable number of products in their assortment over the year of analysis.
Another way that you can see the scaling approach to Farfetch's business is through the number of brands on offer.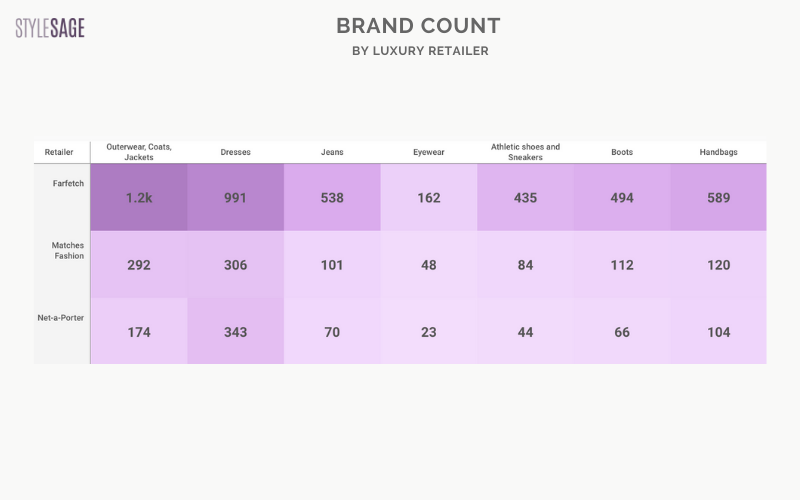 Specifically for these key categories, we see that Farfetch offers far more brands than its competitors. In outerwear alone, Farfetch offers four times more brands than Matches Fashion, and more than six times the number of brands than NAP. This trend carries across other categories including handbags, sneakers, jeans, and sunglasses.
In our next section, let's discuss exactly why Farfetch has so many more brands.
"Asset light" model means discounting is treated differently
One of the big differences between Farfetch and many of its e-commerce and brick and mortar competitors is its revenue model. While many retailers operate on a wholesale model, Farfetch generates revenues from commissions, meaning they don't own any product. Their commission on a sale is reported to be 25 percent, with an additional 8 percent added if Farfetch handles fulfillment. What else this means is that there can be a different approach to both pricing and discounting than what you would see in a wholesale model.
For Farfetch, control over pricing is down to the brand and boutique, while for NAP and Matches Fashion, this is at their discretion. Arguably, there are pros and cons to each approach. Variance in price on a site like Farfetch might send shoppers looking elsewhere for a better deal, and it could also signal the wrong things about a brand who is occupying a premium position. On the other side, a more rigid wholesale approach means that you're locked into specific payment terms and you've got to do your best to move that product without resorting to discounts.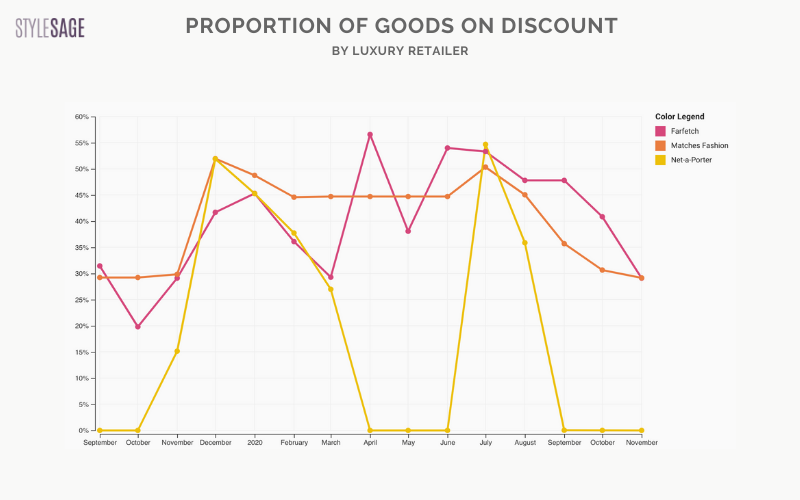 Our analysis shows the varying approaches of these three luxury retailers. Net-a-Porter, for example, takes discounts only periodically, while both Matches Fashion and Farfetch have some amount of discounting happening on an ongoing basis.
We also can see the three retailers' varying pricing strategy when we look at average prices across a group of select categories.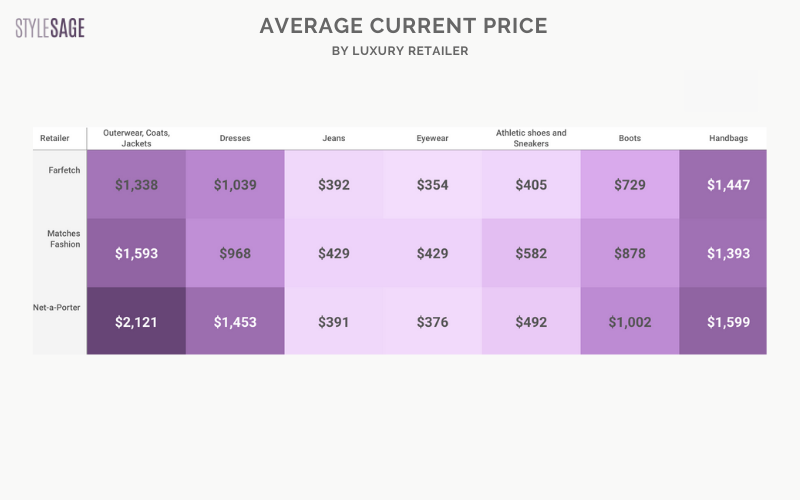 In four of the seven categories here, Net-a-Porter takes the most premium price approach of the retailers in our sample. Notably, these are also the four categories with the highest average price points. It makes sense that, as stated earlier in the piece, NAP has always been about the curated, super premium approach in its merchandising, and this data certainly reflects that. Matches Fashion takes a middle of the road approach in pricing, between NAP and Farfetch.
Big picture questions
These data points show that each retailer here offers up its respective strengths and weaknesses, but there are certainly other questions on what's ahead for luxury e-commerce, as the luxury consumer gets younger, access becomes wider, and more.
First, can curation and a luxury "experience" scale? Farfetch has done a good job of attracting desirable luxury brands like Prada and Burberry to its platform, but does it hit the outer limits of what's considered luxury as it continues its growth trajectory? Specifically, could too much choice of brand and product dilute the luxury perception? And related to this, what's a retailer like NAP's or Matches Fashion's "distinct point of view" worth to its clientele?
Another question worth considering is how price variance on Farfetch's site might impact both shopper conversion and perceptions. It makes sense, considering that goods on Farfetch ship from all of the globe, but the differences in prices can be confusing at times.
And last but not least, it's worth considering, how will these digital luxury retailers consider and interact with physical retail in the future? Matches Fashion might have started as a store, but it was also one of the first UK luxury retailers to go online. Despite COVID, its stores will likely remain a critical part of its brand experience in the future. And prior to the pandemic, Farfetch had also unveiled its "Store of the Future," a physical and digital merging experience. And let's not count out the luxury department store. They might've been battered during recent months and years, but that doesn't mean that they won't come back stronger than ever.
No matter the answer to these questions, we look forward to seeing how the digital luxury space grows and evolves in the years ahead.